Strawberry Lemonade Popsicles
Can the weather have multiple personality disorder? We had frost last week, shorts weather over the weekend and next week will plunge back to highs of 50-something. I am going to stop trying to plan planning and just keep Strawberry Lemonade Popsicles in the freezer!
But summer will come—and I'm determined to take full advantage!
Right now I am working on recipes for sweet treats that also include healthy fruit! Isn't that a perfect summer mission? (Or even if you have leftover frozen local fruit from last year ;-).)
Have you heard the news about teen fruit consumption and breast cancer risk? In a recent study, teen girls who got 2.9 daily servings of fruit had a 25% lower risk of breast cancer as adults. Another reason to count your 5-9 servings a day—and convert your desserts to fruit-filled.
While I am also trying to reduce added sugar, these Strawberry Lemonade Popsicles include maple syrup because the lemon juice needed a little sweetening–and it is really easy to work with a liquid sweetener. If you don't have real maple syrup, you can use honey or make your own liquid sweetener by heating the water and equivalent sugar ahead of time, stirring until the sugar dissolves. Then refrigerate until cool and blend with the remaining ingredients.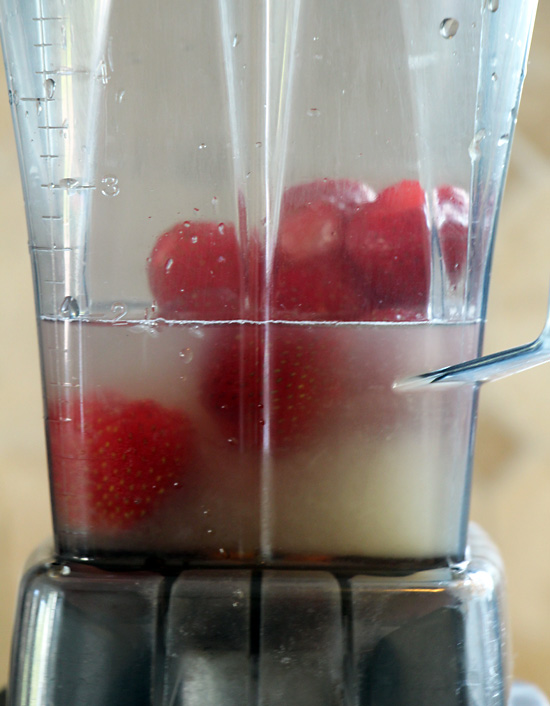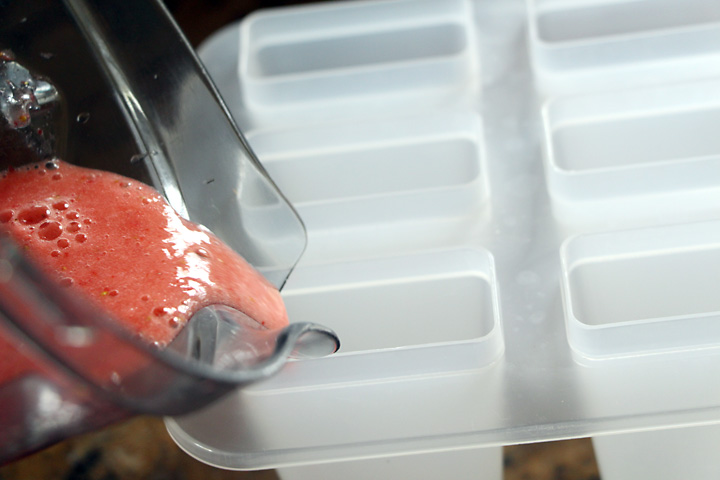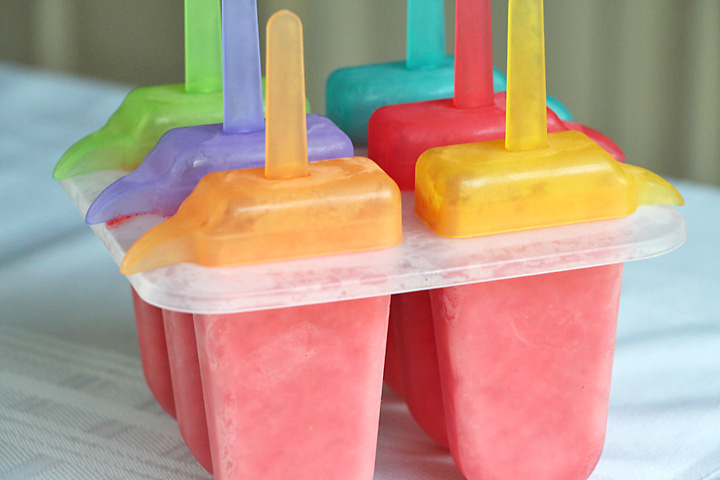 Strawberry Lemonade Popsicles are super simple to make. Just whir up the ingredients in the blender, pour into molds, and freeze until solid. If the recipe makes too much (or you increase for a bigger popsicle mold size and have extra), the leftovers make a delicious mini-smoothie. No molds? You can always freeze in small paper cups or even use a larger container and scoop out (after thawing slightly) of there. (And I have seriously considered trying this in an ice cream freezer for a sorbet.)
Strawberry Lemonade Popsicles
2016-05-22 13:47:46
Serves 6
A sweet tart treat, Strawberry Lemonade Popsicles are perfect for summer snacking--and for counting up your daily fruit servings.
Nutrition Facts
Amount Per Serving
* Percent Daily Values are based on a 2,000 calorie diet. Your Daily Values may be higher or lower depending on your calorie needs.
Ingredients
6 ounces cored strawberries - see note
¾ cup water
1/3 cup maple syrup (or other sweetener)
1/3 cup lemon juice (fresh or frozen, not bottled, about 2-3 lemons)
Instructions
Blend ingredients in a blender until well-pureed.
Pour into popsicle molds.
Freeze for at least 4 hours, until solid.
Notes
I prefer frozen berries which reduces any tendency for the juice and pulp to separate while freezing. For fresh, this is about half of a 1 lb container after coring the berries.
The amount fits my 6-unit popsicle molds as well as the vintage Tupperware molds.
Calorie count should be about 58/popsicle
Art of Natural Living https://artofnaturalliving.com/
Save