Strawberry Schaum Torte (Meringue, Ice Cream & Berries)
I just got word from my CSA—the strawberry harvest is in! This means that for the next two weeks, I will be eating strawberries in every conceivable form, then preserving more to last out the winter.
One of my favorite super-easy treats is strawberries in cream. Simply slice the berries, top with cream or half & half, then sprinkle with sugar. But when I really want to indulge I have a strawberry schaum torte.
A base of fluffy-crisp meringue topped with ice cream, drizzled with strawberries and finished with whipped cream, it was the quintessential restaurant dessert here in the 70s.
Akin to the more famous Pavlova, "the meringue dessert most familiar to Wisconsinites is the schaum torte, a specialty of German origin. (Schaum is German for foam.) The schaum torte can be traced to Wisconsin in the 1870s, according to "The Joy of Cooking"" (source: Milwaukee Journal Sentinel)
In my youth I always brightened to hear these listed on the dessert menu. Yes, back then, I could polish off a full dinner and still have room for a good sized dessert.
So now I'll skip dinner!
If you can find bakery meringues, these are super easy to make (in a pinch you can even make a base of crumbled meringue cookies). But in truth, meringue isn't hard to work with even from scratch. See my earlier Strawberry Meringue Cup post for instructions.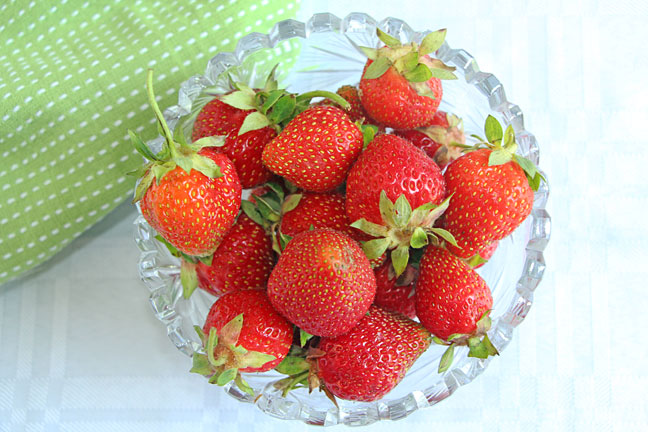 Here's to a bountiful Strawberry Harvest!
Strawberry Schaum Torte
Fluffy-crisp meringue topped with ice cream, strawberries and whipped cream, Strawberry Schaum Torte is perfect to celebrate the strawberry harvest.
Ingredients
1

pint

strawberries

1

tablespoon

sugar

1 ½ - 2

cups

vanilla ice cream

or frozen yogurt

1/2

cup

whipped cream

or part of a nice spray bottle
Instructions
Slice strawberries into a bowl. Sprinkle with sugar. Mash a few berries, then stir to combine. Let sit for at least 10 minutes to macerate (bring out the juice)

Set meringues on individual serving plates. Top each with a scoop of ice cream. Drizzle with berries and finish with a dollop (or squirt) of whipped cream. Serve immediately.
I am not a health professional and nutrition data is calculated programatically. Accuracy may vary with product selection, calculator accuracy, etc. Consult a professional for the best information.