Sun Dried Tomato Vinaigrette
With bright tomato flavor and savory Italian seasonings, this Sun Dried Tomato Vinaigrette is an easy and tasty dressing for salads, marinades and more.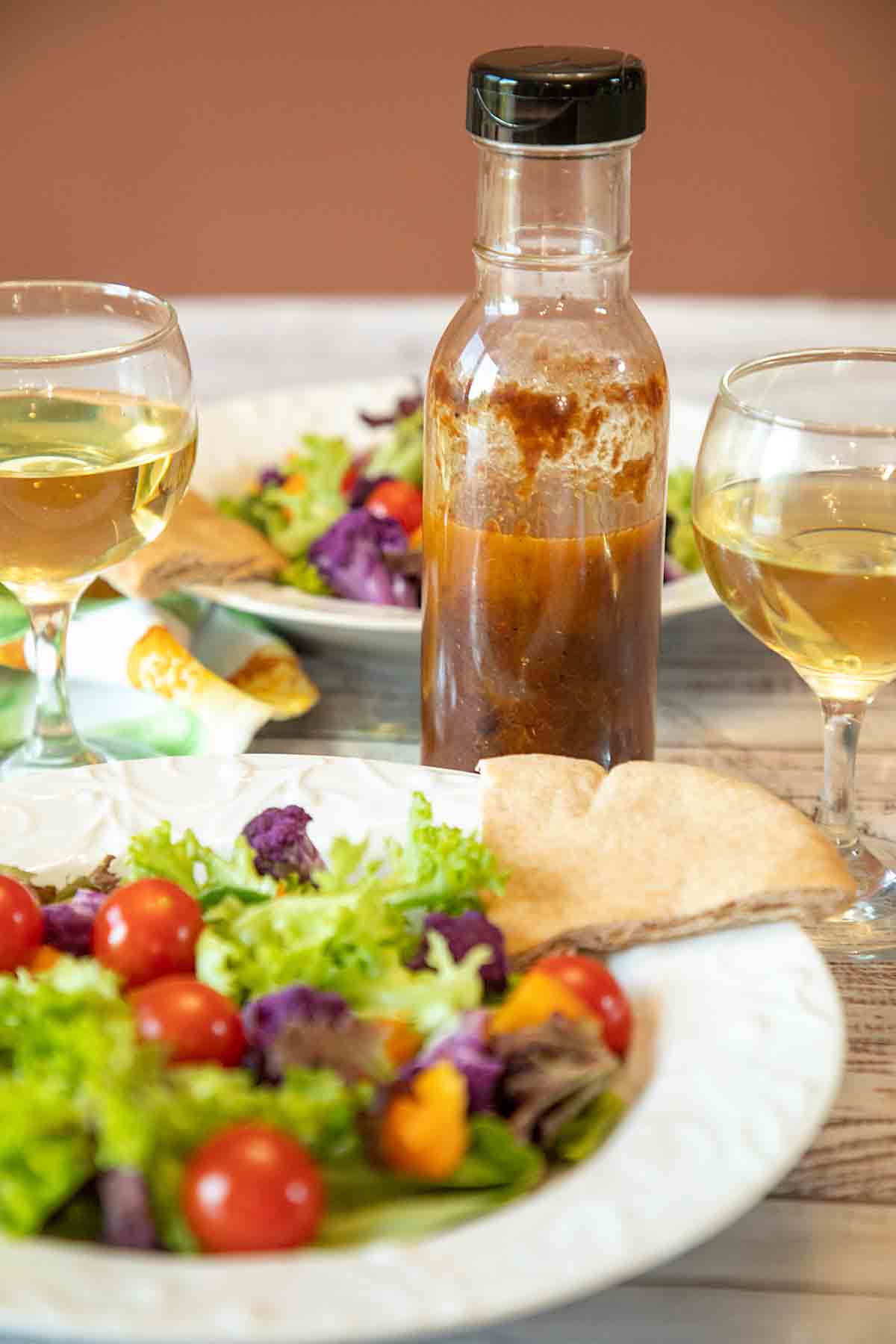 Have you ever looked at the ingredient listed in a bottle of commercial salad dressing? I am always surprised at how often the first ingredient is water! Perhaps that's why some dressings don't have a whole lot more flavor than… well, water.
But this sun-dried tomato vinaigrette dressing is robustly flavorful with a bright punch of tomato and tasty Italian seasonings like oregano and garlic. Yum!
Now besides flavor, there are lots of other advantages to making your own dressing. Because with homemade, you control what goes in! There are no preservatives or mystery ingredients–and you can adjust flavors to suit your tastes. I go with healthy extra virgin olive oil and my homemade organic vinegar (with live cultures even). And you can go all organic too!
And last but not least, my sun dried tomato vinaigrette is easy! Just put the ingredients in a blend and whir away! And if this makes you crave a salad every day, all the better!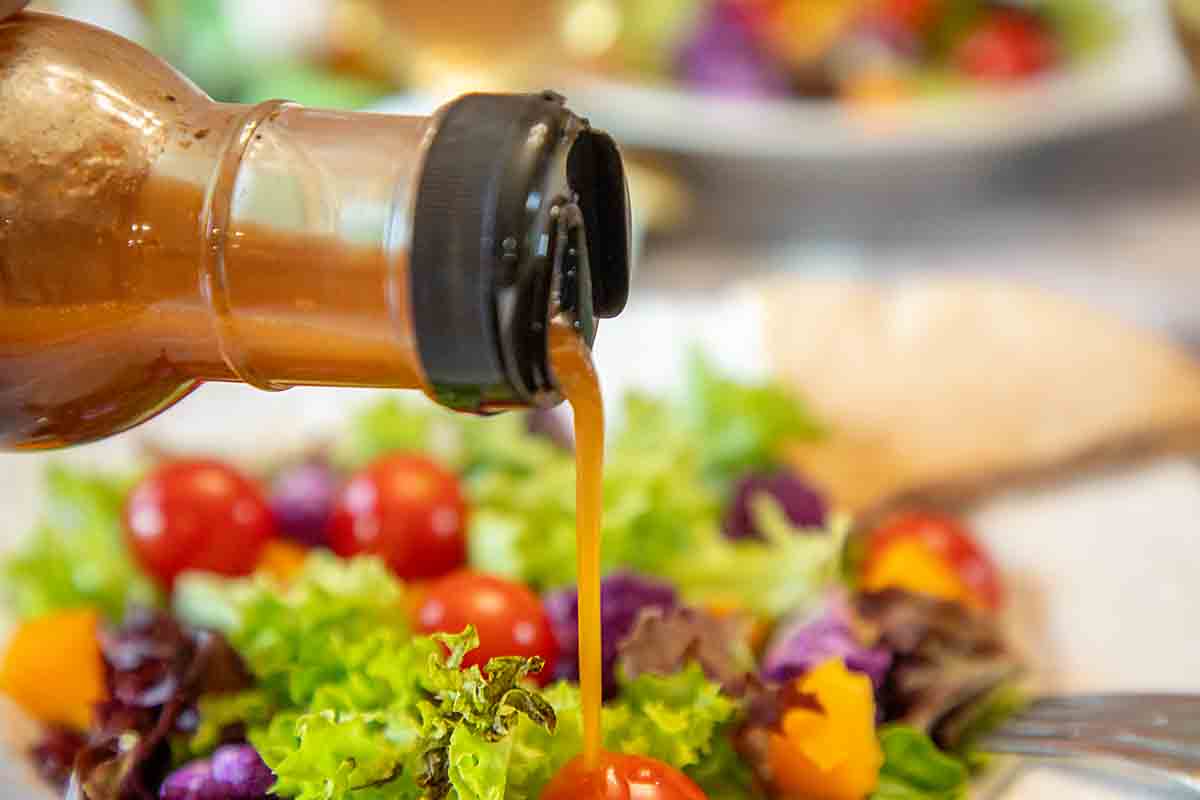 What are Sun-Dried Tomatoes
Per Wikipedia, "Sun-dried tomatoes are ripe tomatoes that lose most of their water content after spending a majority of their drying time in the sun. … After the procedure, the tomato fruits will keep their nutritional value. The tomatoes are high in lycopene, antioxidants, and vitamin C."
Now many "sun-dried" tomatoes aren't actually dried in the sun but the results are still delicious. That's because dehydrating concentrates flavors and makes them a prized ingredient in many recipes from salads like this Tuscan Kale Salad to quiches such as this Spinach and Sun-dried Tomato Quiche!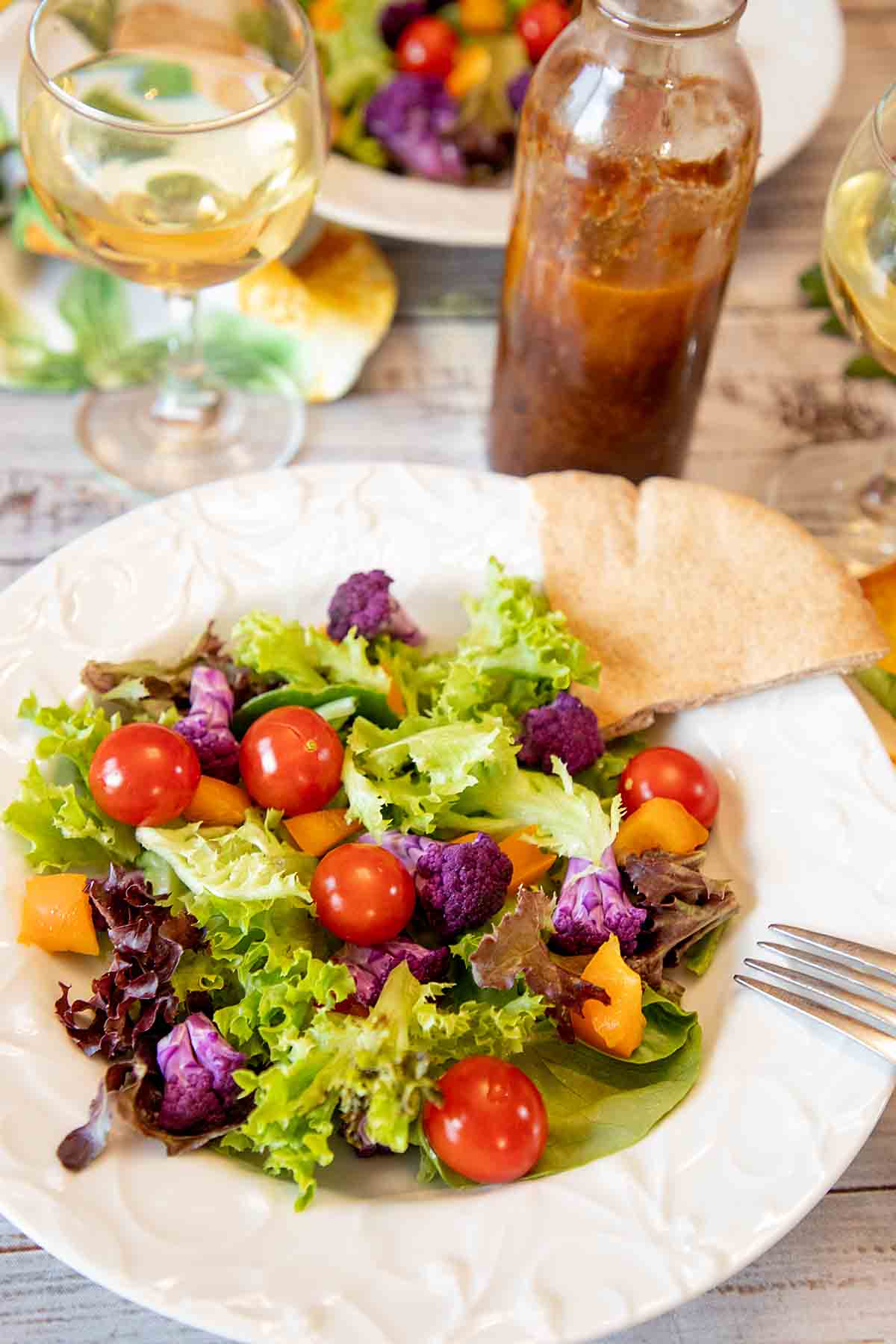 Why You'll Love This!
Flavorful. With quality oil, vinegar plus tomatoes and seasoning, this dressing is loaded with flavor!
Easy. Just blend it all up in a blender. Or if you happen to have access to tomato powder, you can simply whisk everything together.
Quality control. With your dressing you control the quality. Pick your oil, go organic avoid preservatives. It's up to you!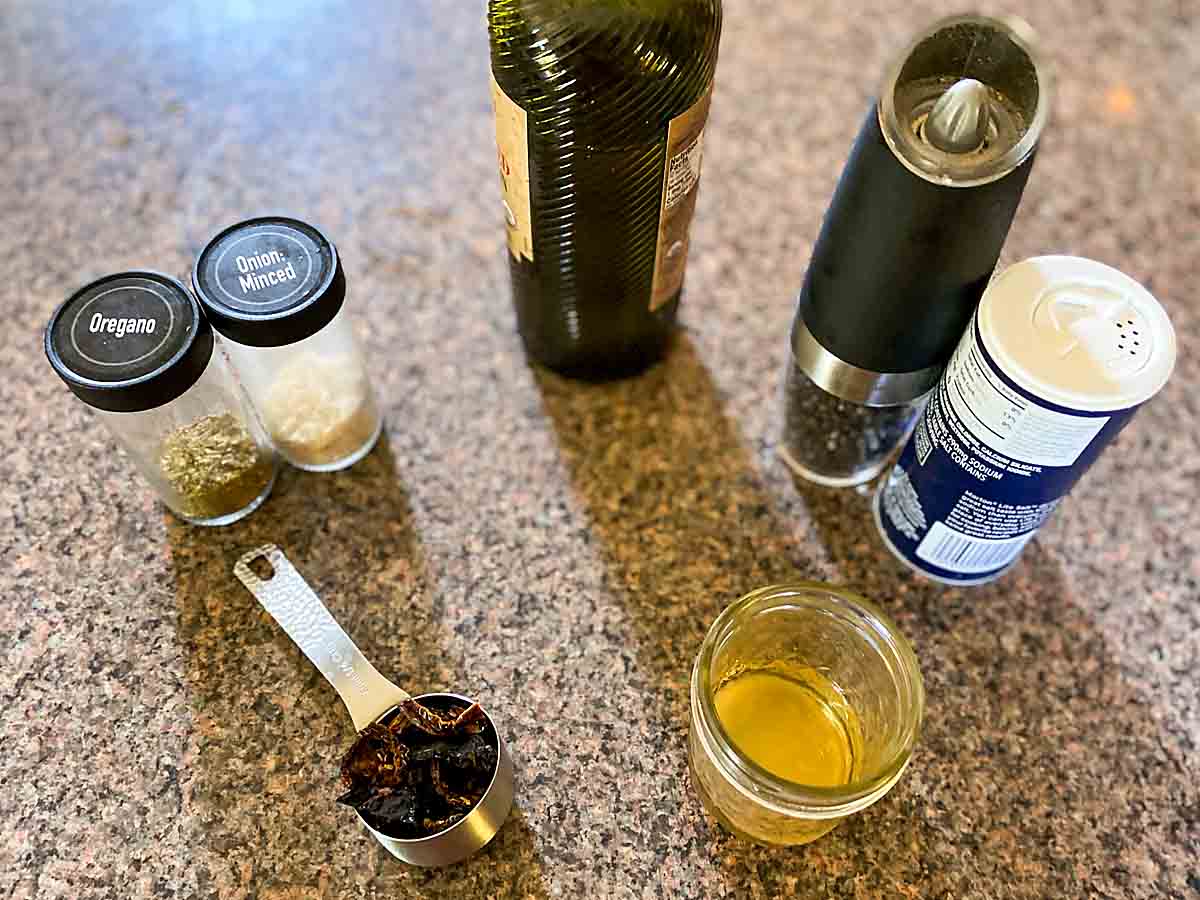 What You'll Need
Ingredient Notes
Extra virgin olive oil. This forms the base of the vinaigrette, along with the vinegar.
Red wine vinegar. This forms the base of the vinaigrette, along with the olive oil.
Balsamic vinegar. This adds extra flavor.
Sun dried tomatoes. This provides the tomato flavor. You can use commercial, homemade or even tomato powder.
Oregano, dried minced onion, garlic powder, salt, pepper. These add flavor.
Pinch of honey or sugar. This balances the acidity of the dressing, but you can omit if you can't have them.
Water. Given all the dried ingredients, this can help achieve a pourable consistency.
Special Tools
A good blender is needed unless you are using tomato powder.
Step by Step Directions
Re-hydrate or drain tomatoes as needed.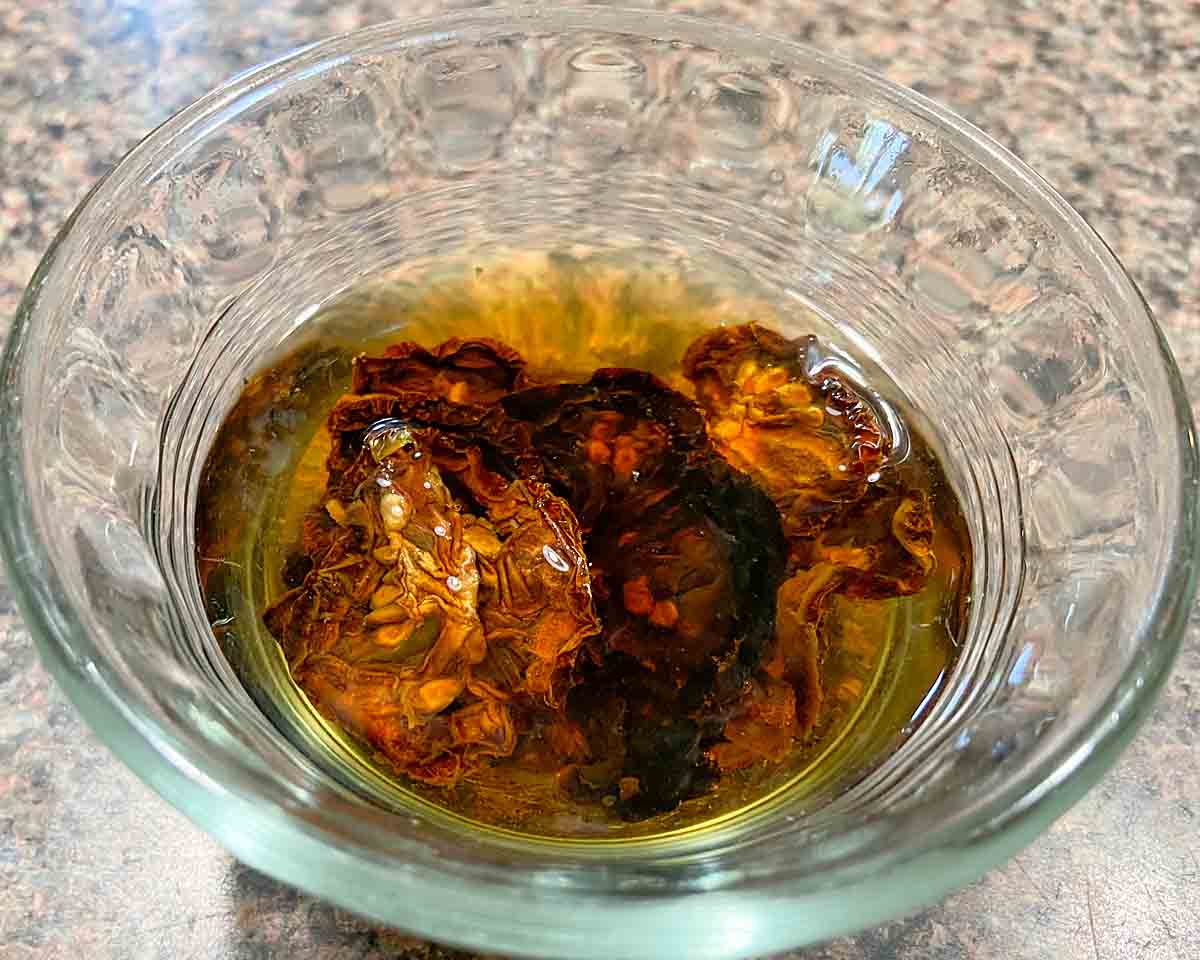 Blend ingredients in blender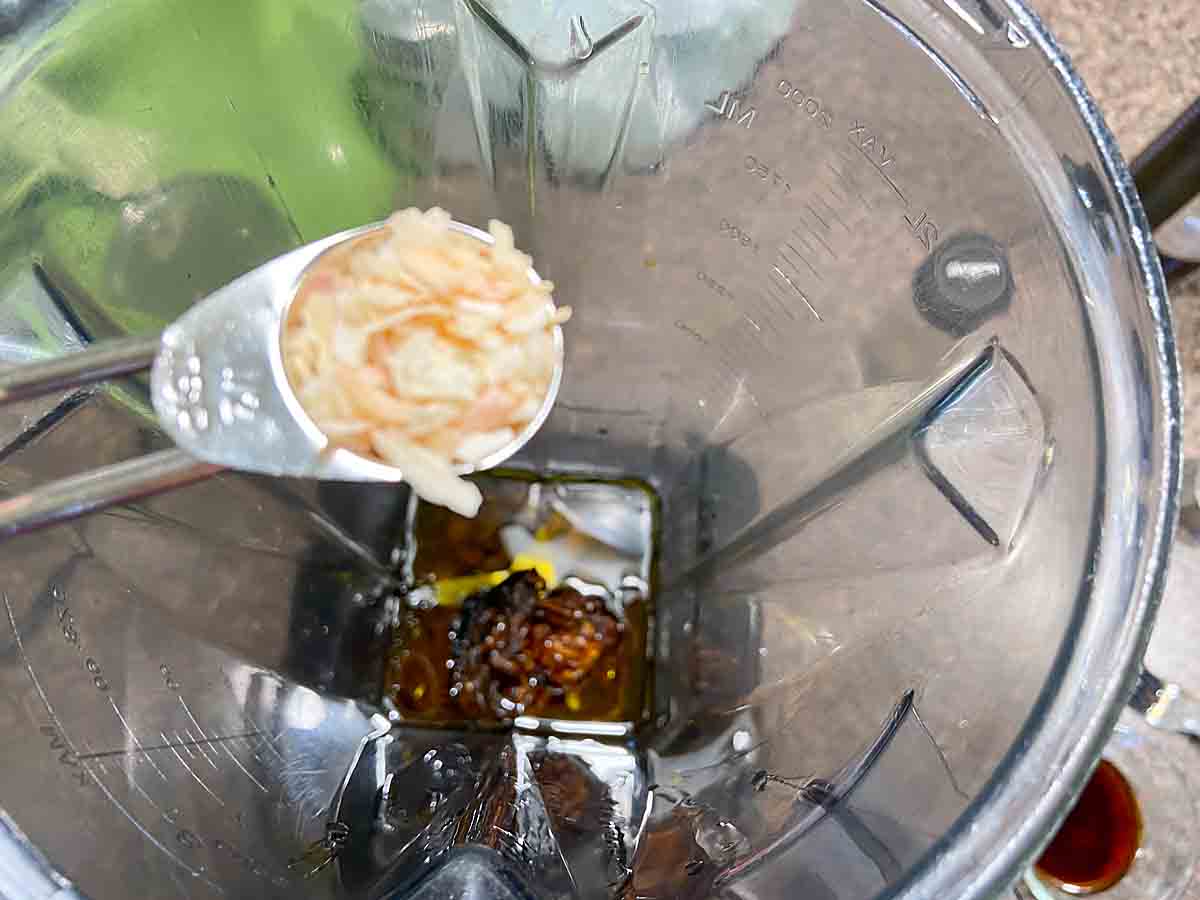 Transfer to serving bottle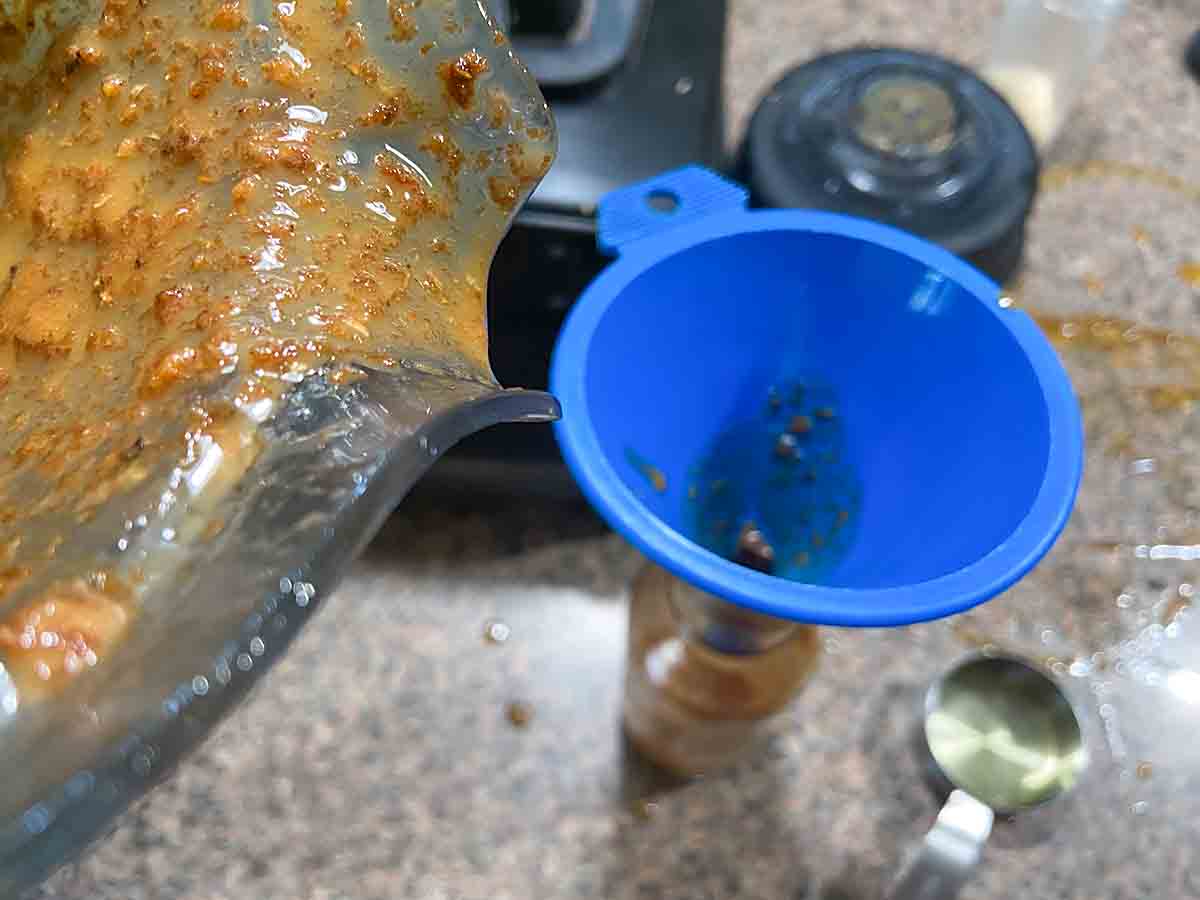 Enjoy!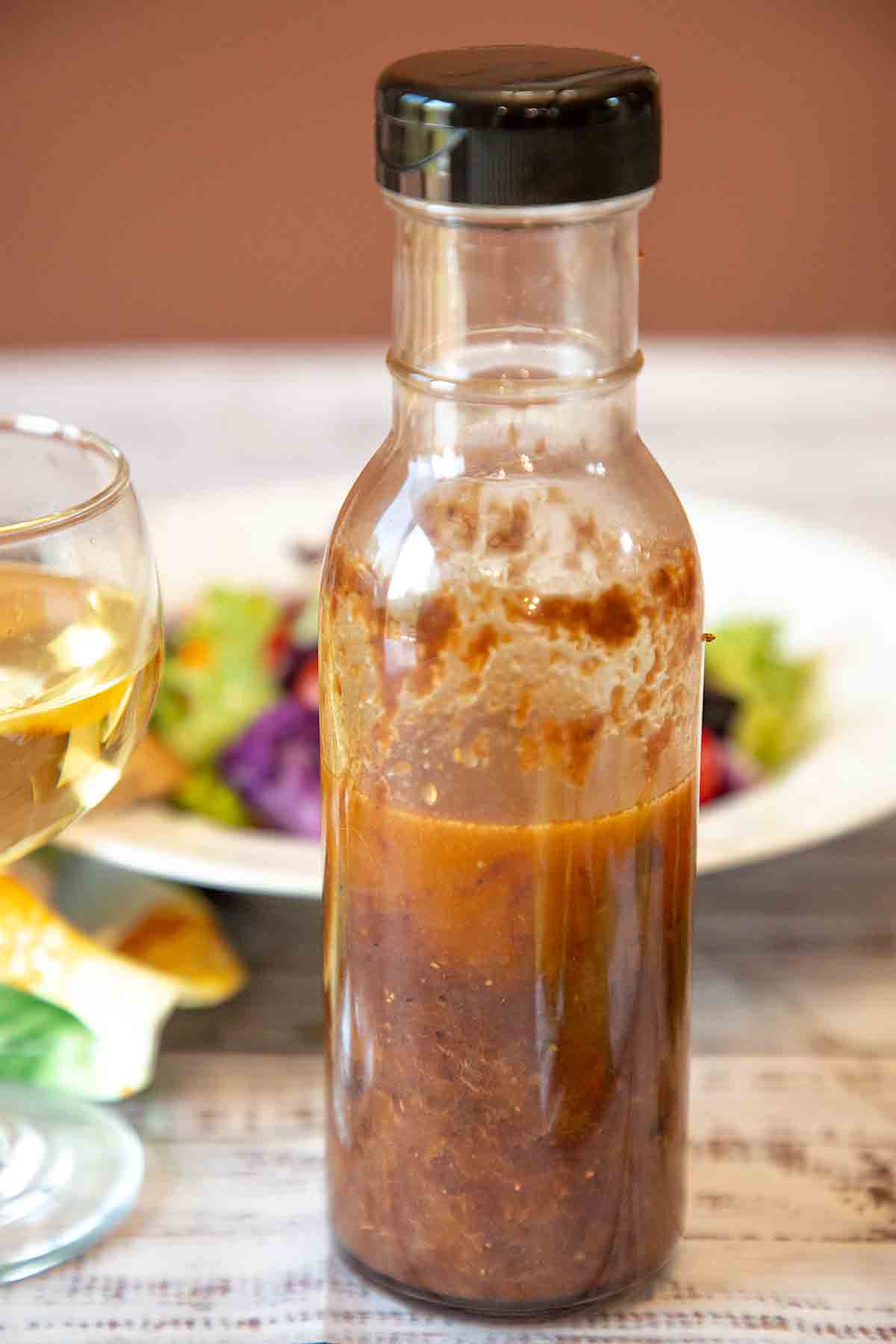 Can I make my own sun dried tomatoes?
If you live somewhere hot and dry like Arizona, you can probably make actual sun-dried tomatoes. The trick is getting them dry before they mold! But most of us, in places like Wisconsin, will have to make just plain ordinary Dried Tomato Slices using an oven or dehydrator. But those are great too.
I usually dry some of my tomato harvest every year and use it throughout the winter. It's an easy way to preserve the seasonal bounty and, unlike jarred sun dried tomatoes, it's effectively free! I like using this Nesco dehydrator (this is an affiliate link so I may receive compensation if you click and buy, but I am truly a happy user) because it has an adjustable temperature (I go around 140F for tomatoes, lower for fruit) that gives you the very best results!
But many people dry their own tomatoes in their ovens. Just use the lowest bake setting, typically 170F, set on a parchment lined baking sheet and flip the slices periodically.
When dry but pliable, they can be stored, dry, in a sealed container at room temperature. Just soak in very hot water for a few minutes before using.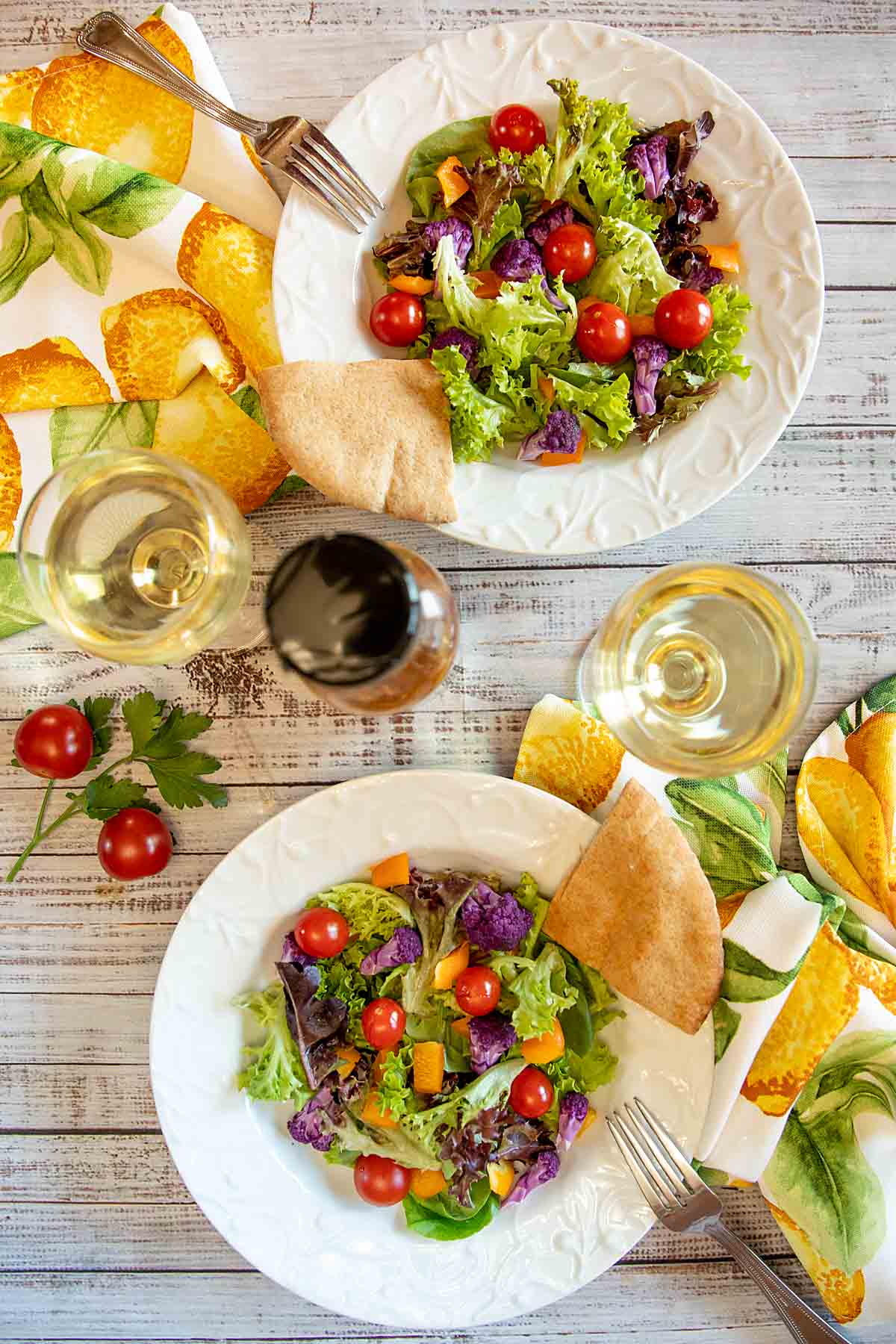 How to Serve
My favorite way to use this dressing is on top of a salad–and just about any salad will work! To serve, I often reuse an old glass commercial salad dressing bottle, complete with pop top and pour spout.
For a unique treat, try using this dressing as a vegetable marinade! It's even good as the dressing in a pasta salad like this Spicy Italian Pasta Salad.
You can also use it to marinade meat or fish. (Be sure to discard any excess marinade used on meat, poultry or fish since it can pick up bacteria.)
Variations
This can be made with sun-dried tomatoes in oil (drain first), dry tomato slices (soften in hot water first) or tomato powder (easiest). All good!
If you have none of the above options but have fresh tomatoes, you can turn this into a roasted tomato vinaigrette, by roasting a handful of cherry tomatoes or romas and using them instead of the dried tomatoes. In that case, omit the water when you blend the dressing.
If you want a homemade creamy balsamic dressing–for pasta salad or simply for variety–add a spoonful of mayo, yogurt or sour cream. You'll have all the flavor and a little extra richness!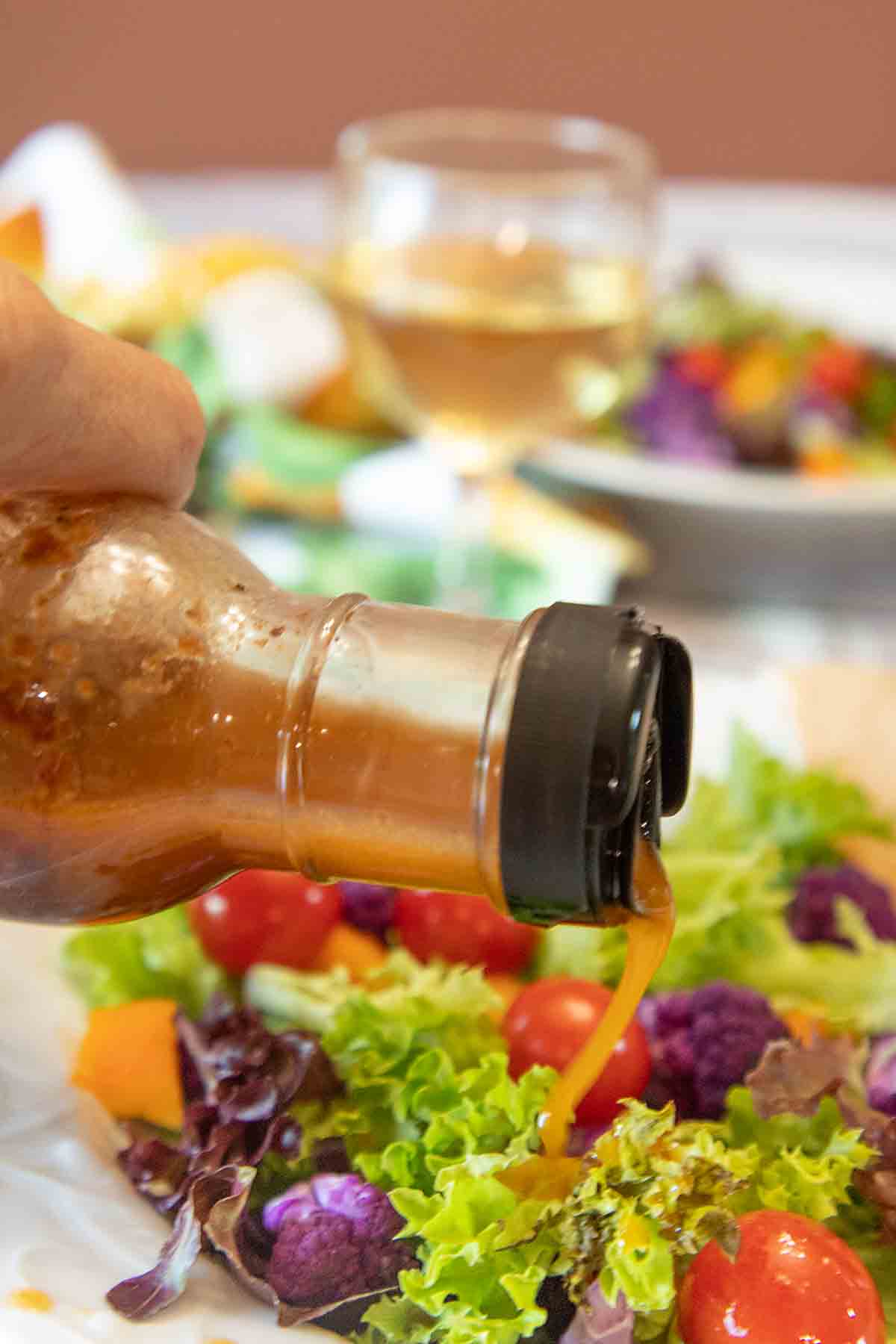 Leftovers
Store leftover dressing in the refrigerator. The olive oil will harden from the cold, so to liquify it again, set the bottle in warm water for a few minutes or microwave it briefly (only if in glass). When mostly liquid again, shake to recombine.
Tips & FAQs
Why don't you use the oil from the sun-dried tomatoes in oil jar? When I did a survey of processed sun dried tomatoes in oil, the majority used olive oil, but not extra virgin olive oil which I prefer. A few were even stored in other types of oils. Of course, given the cost, go ahead and taste your oil and use it if you like it.
Why do you add water? I know I just ragged on commercial dressings leading off with water. But the water in mine is a minor ingredient and with the dried tomatoes and dried seasonings, the dressing was a bit thick after it sat a little. So the addition of a small amount of water worked well to keep it pourable.
How did you arrive at your vinaigrette's oil/vinegar ratio? A standard oil to vinegar ratio is about 3 to 1 but a few people are in the 2:1 camp, including me.
Per Bon Appetit "All good vinaigrettes are made from a combination of fat and acid. The most common ratios are 1:2 or 1:3 parts vinegar:oil. Only you—and your dining companions—know how acidic you prefer dressing."
And for more great fall recipes, take a look at some ideas from my friends below!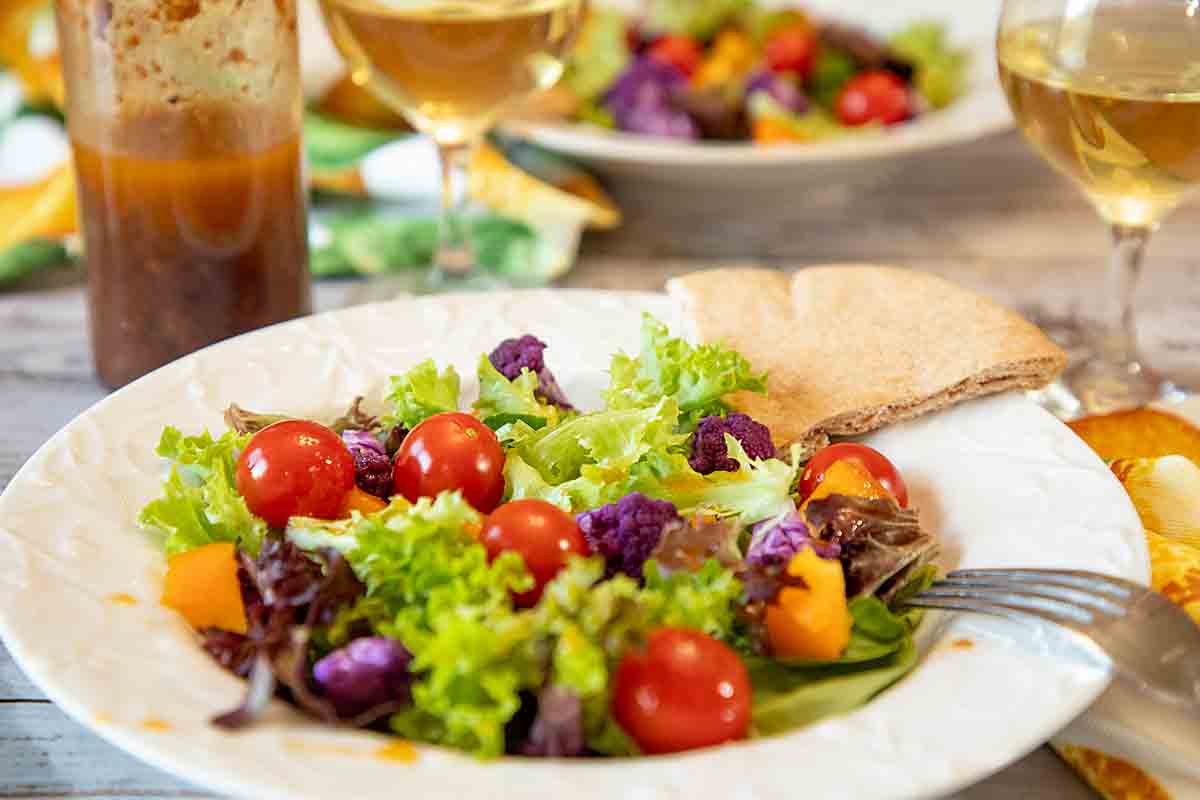 Welcome to the fourth annual #FallFlavors! We have 21 bloggers sharing over SIXTY recipes using fall ingredients like squash, apples, maple, pecans, and many more. Follow #FallFlavors to see all the delicious recipes on social media.
Friday #FallFlavors Recipes
Appetizers and Beverages
Breads
Sauces
Sun Dried Tomato Vinaigrette from Art of Natural Living
Mains Dishes
Desserts
Follow the Favorite Fall Recipes Facebook group and follow the Favorite Fall Flavors Pinterest board for more fall inspiration!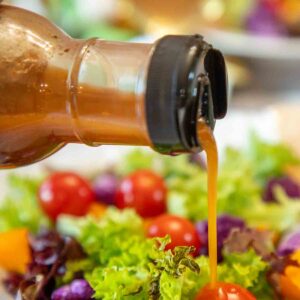 Sun Dried Tomato Vinaigrette
With bright tomato flavor and savory Italian seasonings, this Sun Dried Tomato Vinaigrette is an easy and tasty dressing for salads, marinades and more. 
Ingredients
2/3

cup

extra virgin olive oil

¼

cup

red wine vinegar

2

Tablespoons

balsamic vinegar

¼

cup

drained tomatoes in oil or re-hydrated plain dried tomatoes

2

Tablespoons

water

1

teaspoon

oregano

1

teaspoon

dried minced onion

¼

teaspoon

garlic powder or a small garlic clove

½

teaspoon

honey or sugar

½

teaspoon

salt

¼

teaspoon

pepper
Instructions
If using tomatoes in oil, remove enough to fill ¼ cup, drained. For plain dried tomatoes, top with boiling water to soften and measure ¼ cup.

Place dressing ingredients in blender and blend until tomato is mostly broken down. Scrape down the sides of the blender if needed. This will take a few minutes. Taste and adjust salt and pepper.

Shake before serving and store leftovers in the refrigerator, heating slightly in a bowl of hot water if needed to reliquify the olive oil.
I am not a health professional and nutrition data is calculated programatically. Accuracy may vary with product selection, calculator accuracy, etc. Consult a professional for the best information.