Burrata with Cherries in Wine
Start with warm cherries in a sweet-savory wine sauce. Drizzle over a cream-filled fresh mozzarella Burrata for Burrata with Cherries in Wine Sauce. Mmm!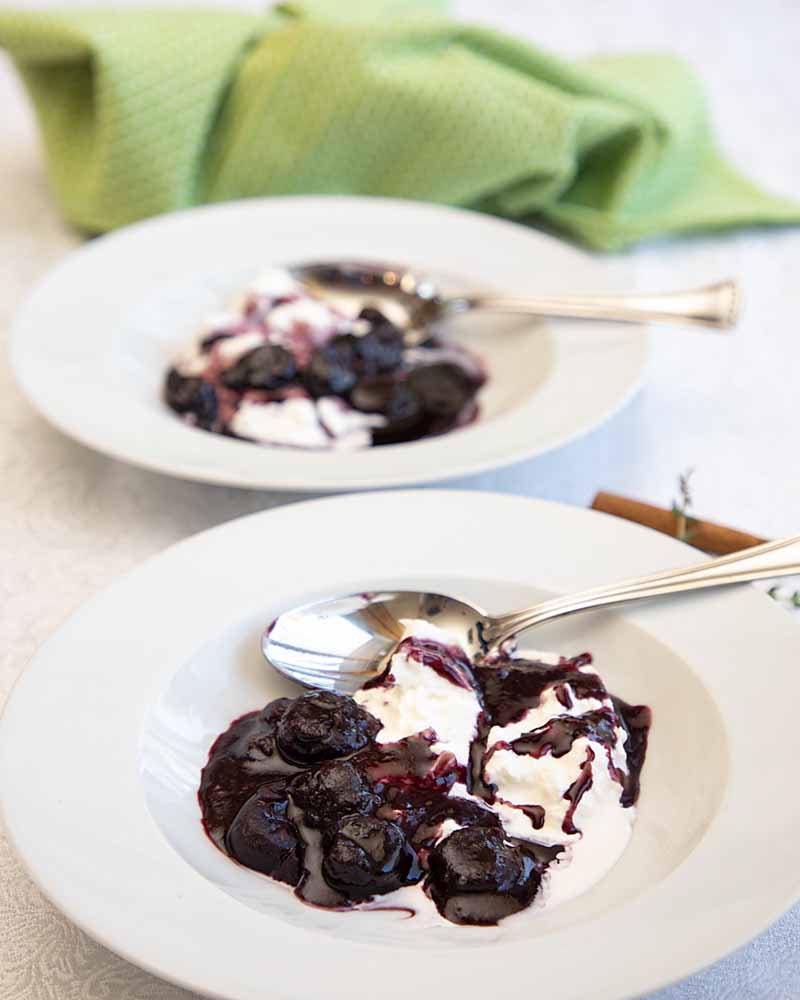 Valentine's Day is coming. So, it's time for a beautiful dessert. Red if possible.
I've done cherries in red wine before and we loved it. But always as a canning recipe. And I wondered, could I do it more simply, as a standard (not canned) recipe?
And would it work with an artificial sweetener for dieters? In the end, it was all possible. And so worth it.
Now of course, NO ONE would think a Valentine's dessert needs to be healthy. But what if the dessert is so good you want to have it other days? Then, a little healthier is always good.
In this Burrata with Cherries in Wine Sauce, the cheese provides protein and calcium while the sauce delivers healthy fruit. The combo comes off as sweet, rich, creamy and slightly sophisticated. Pretty win-win as dessert goes.
And I won't mention it's healthier, if you don't…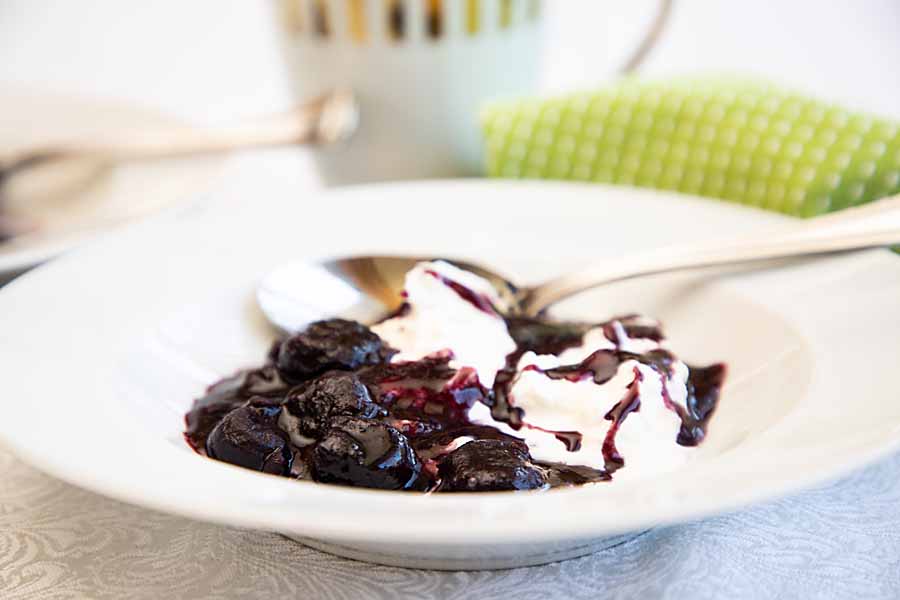 Burrata in Red Wine Sauce
2020-01-18 11:16:28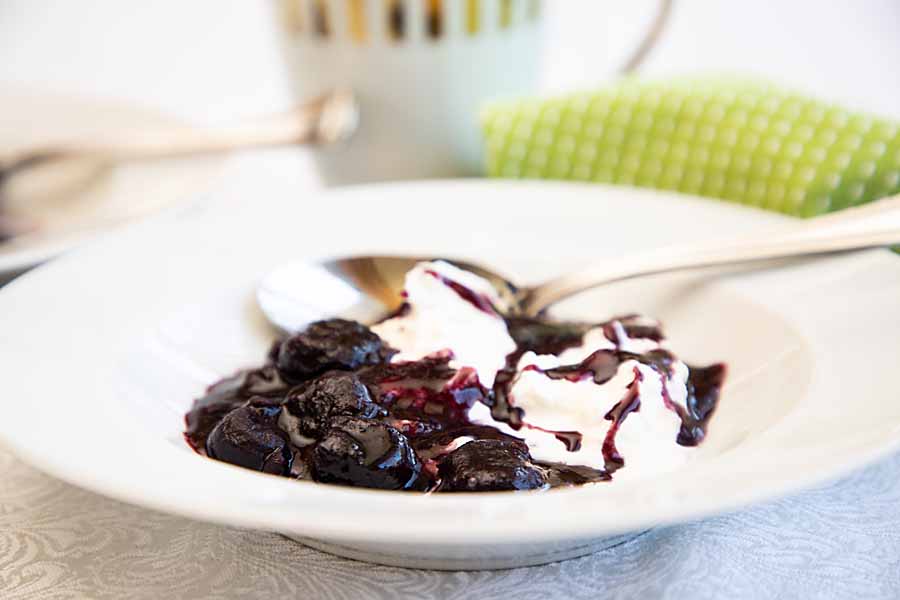 Serves 4
Think warm cherries in a sweet-savory wine sauce. Drizzled over a cream-filled fresh mozzarella pillow for Burrata in Red Wine
Nutrition Facts
Amount Per Serving
* Percent Daily Values are based on a 2,000 calorie diet. Your Daily Values may be higher or lower depending on your calorie needs.
Ingredients
• 1 vanilla bean
• 1 ½ cups red wine.
• ¼ teaspoon black peppercorns
• ¼ teaspoon fennel
• 1 bay leaf
• Cinnamon stick
• 3 sprigs thyme
• 1/3 cup sugar or sugar equivalent sweetener (or to taste)
• ½ teaspoon lemon zest
• 28 pitted cherries, frozen okay (a generous cup)
• ½ teaspoon cornstarch to thicken (optional)
• 8 ounces Burrata balls (2 balls)
Instructions
Cut vanilla bean in half lengthwise and strip out seeds. Add seeds and pod to a small saucepan with the wine and the other herbs. Cook on medium high until reduced by half, about 15 minutes. Strain out the spices.
Return the spiced wine to the pot. Add cherries, zest and sugar (or sweetener, see note) then cook until cherries are tender and syrup is reduced a bit more, about 10 minutes. Adjust sugar if desired.
Optionally, you can thicken the syrup by combining the cornstarch with a tablespoon of the wine syrup, then stirring back in and cooking to thicken.
Cut the two burrata balls into quarters and place in two quarters each into four serving bowls. Top with warm cherries and syrup. Serve immediately
Notes
If you use a sweetener containing erythritol be aware that there may be some crystals formed if the syrup cools. Simply reheat to dissolve them and be sure to serve warm.
Art of Natural Living https://artofnaturalliving.com/


.
Sweet Valentine's Day Desserts
We share Recipes From Our Dinner Table! Join our group and share your recipes, too! While you're at it, join our Pinterest board, too!