Lemon Parmesan Roasted Cauliflower
Golden roasted, plus lemony and cheesy, Lemon Parmesan Roasted Cauliflower, delivers loads of flavor–with an easy prep secret!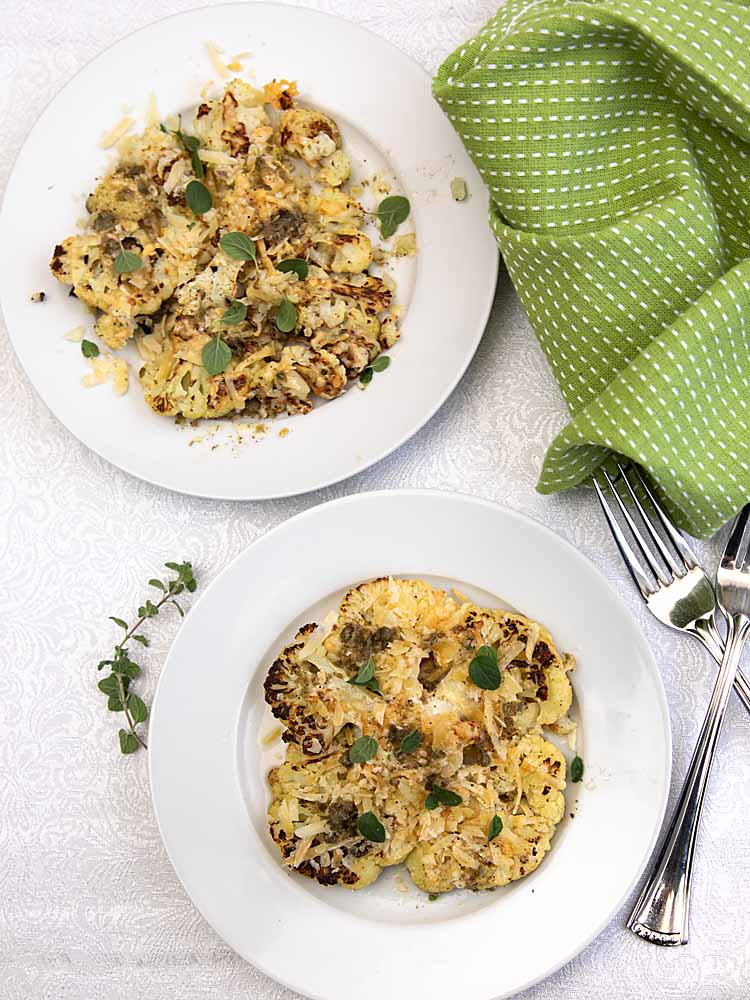 The other day I bought an old Bon Appetit magazine. It caught my eye at a charity store–I'm a sucker for a good food magazine.
But lucky for me, it had an interesting looking cauliflower recipe—just when I had two in my refrigerator!
The recipe was a variation on roasted cauliflower. But what I loved most was an innovation that made perfect browning a cinch. You see, the best browning comes from turning your veggies over part way through baking. But individually turning a whole panful of bite-sized vegetables is ridiculously time consuming!
For Lemon Parmesan Roasted Cauliflower, however, the cauliflower is left as large "planks" (also called "steaks"–more on that later), so a full cauliflower can be turned in about six flips of the wrist. How easy is that!
When it's done, you can serve the slabs whole, or break into florets. Since I've always been suspicious of "cauliflower steaks", ("can't wait to dig into that juicy cauliflower steak" – what?) I tried the florets version first. With the second cauliflower I served as "planks" and we all thought that was actually better. But if you are stretching the cauliflower further, breaking it apart and tossing would be fine.
I did experiment with a few innovations. First I added roasted garlic and anchovy to the dressing, but neither added enough flavor to be worth the extra effort. I also reduced the roasting time since the cauliflower was tender early. The final change was to double the Parmesan in the recipe. 'Cause twice as much cheese is always better.
Wisconsin girl here.
Lemon Parmesan Roasted Cauliflower
2020-01-14 07:59:38
Serves 6
Golden roasted, plus lemony and cheesy, Lemon Parmesan Roasted Cauliflower, delivers loads of flavor--with an easy prep secret! 
Nutrition Facts
Amount Per Serving
* Percent Daily Values are based on a 2,000 calorie diet. Your Daily Values may be higher or lower depending on your calorie needs.
Roasted Cauliflower
• 1 large head of cauliflower
• 3 Tablespoons extra virgin olive oil
• Kosher salt, freshly ground black pepper
• 1 ounce coarsely grated Parmesan
Dressing
• 1 Tablespoon capers, drained
• 2 Tablespoons extra virgin olive oil
• 1 medium lemon, juiced, about 2-3 Tablespoons of juice
• ¼ teaspoon salt
Topping
• 1 ounce coarsely shredded Parmesan
• 1 Tablespoon fresh herbs (optional) - we liked marjoram a lot
Instructions
Place a rack in lowest position of oven; preheat to 450°. Clean cauliflower, trim stem then cut into one-inch thick planks (some pieces will fall off and that's okay)
Transfer cauliflower to a rimmed baking sheet and drizzle with 3 Tablespoons oil. Turn pieces to coat both sides. Season with salt and pepper
Roast cauliflower on bottom rack until pieces are browned around the edges and on the undersides, about 15-20 minutes.
When cauliflower is browned on the underside, remove baking sheet from oven and place on a work surface. Using a spatula, turn cauliflower pieces over so browned sides are facing up. Sprinkle one ounce of the Parmesan over cauliflower. Return sheet to oven and continue to roast until second side of cauliflower is browned and Parmesan is toasty, about 10 minutes.
While cauliflower is finishing, coarsely chop capers, then whisk in a small bowl with 2 Tablespoons oil and lemon juice.
When cauliflower is browned on both sides, remove to a serving dish. It can be left as large planks or broken into florets. Drizzle with dressing, then top with remaining parmesan and herbs if using. Season to taste with additional salt and pepper as needed.
Adapted from Bon Appetit
Art of Natural Living https://artofnaturalliving.com/