Cheesy, creamy & loaded with vegetables, this Broccoli Cheddar Soup adds extra spices for depth of flavor.  Perfect as a one dish meal!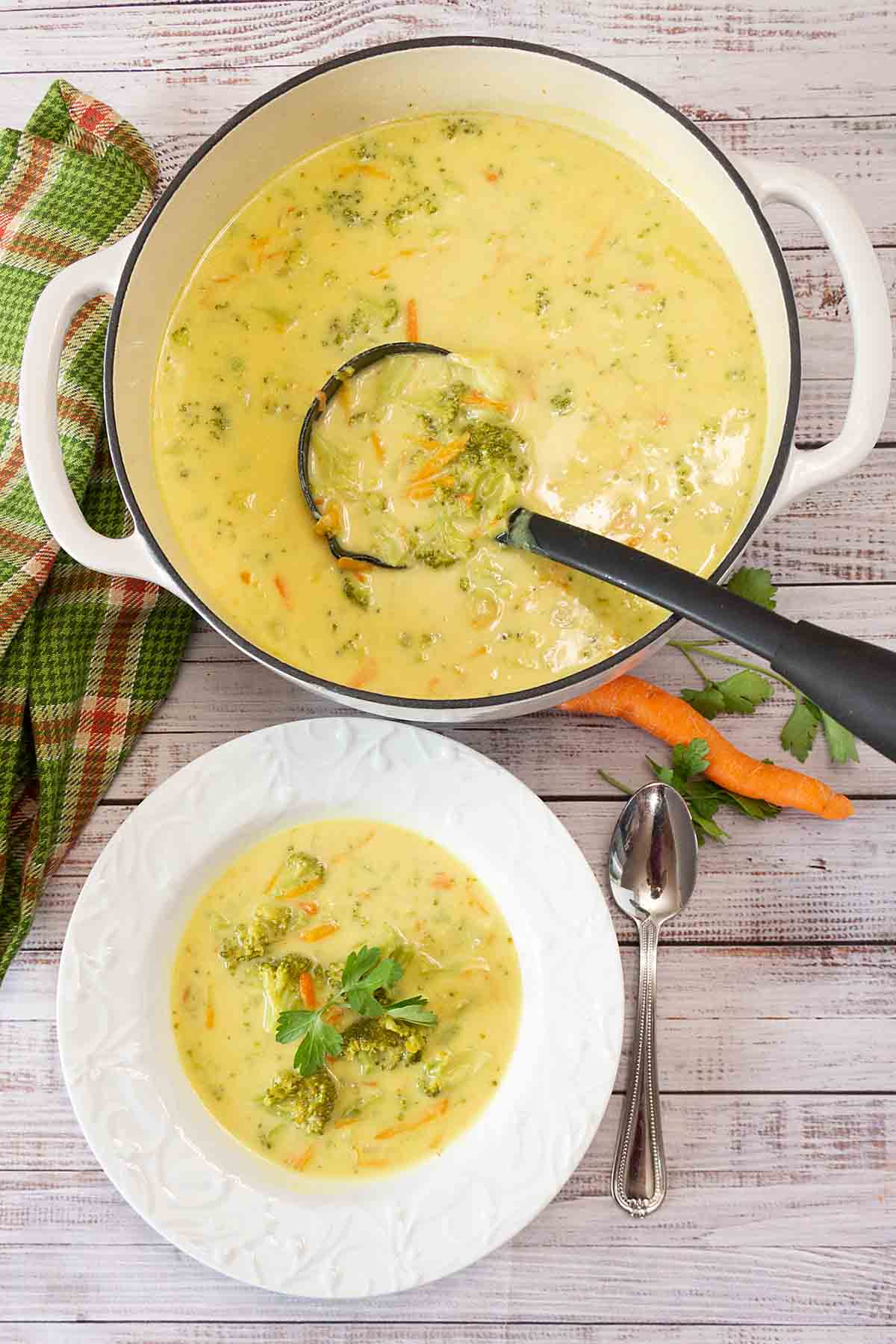 Broccoli Cheddar Soup is all over the internet.  Many people have been inspired by Panera's Broccoli Cheese soup, but mine was inspired by my CSA.  They sell soup all winter–made from their wonderful harvest.  It brings in a little extra cash for them and keeps members like me well-fed all year. 
Yes, when I spooned into the tasty soup back in 2017,  I knew I needed to learn to make it myself. And this week, blessed with an abundance of broccoli, it was time to reprise my post.  I guess I can freeze some of my own for winter now!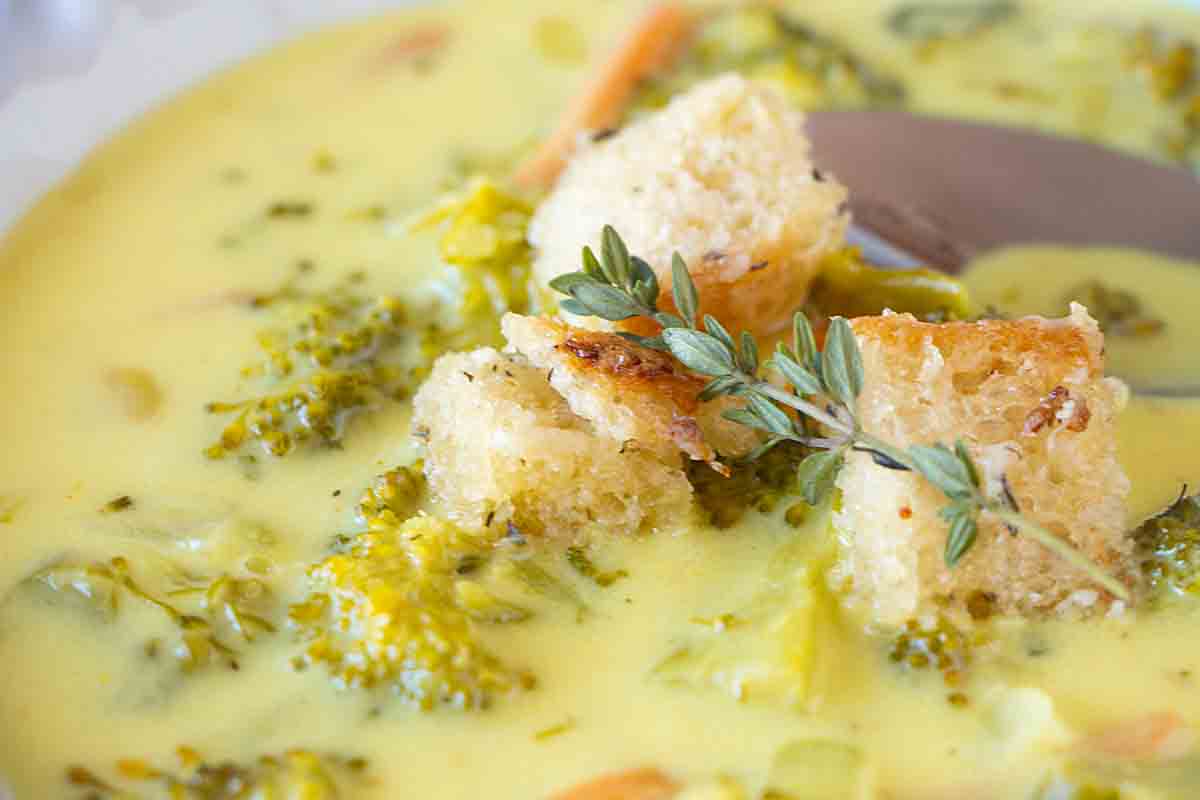 Step by Step Directions
This Broccoli Cheddar Soup recipe is quite easy and the only time consuming activity is is the chopping.  I was feeling obsessive and hand-chopped everything, but feel free to buy pre-cut, or pull out your food processor.
To start, you melt butter in a large saucepan. Add onion and garlic and sauté until tender.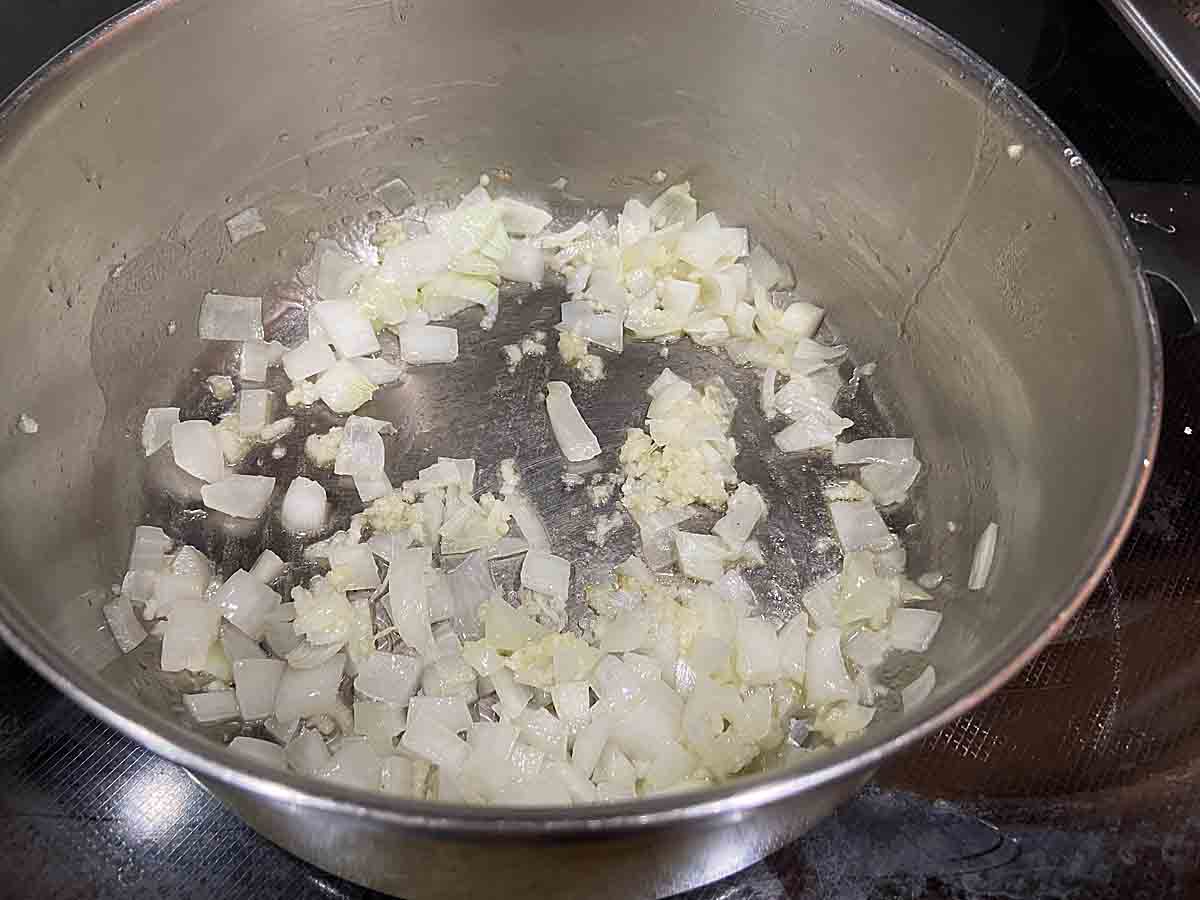 Stir in mustard, cayenne and turmeric, then add flour and stir until completely combined.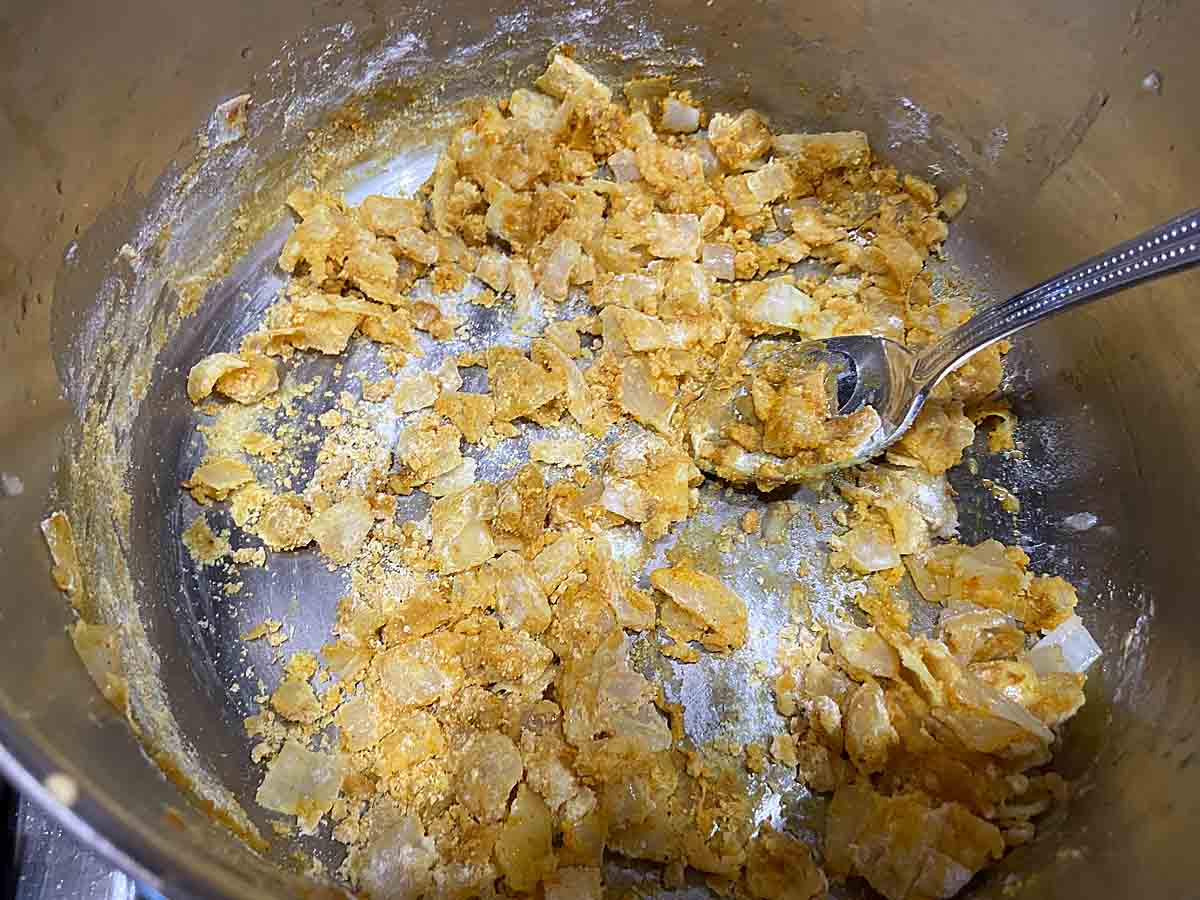 Add broth slowly, a half cup to a cup at a time, whisking to keep lumps from forming. When incorporated bring back to a boil and stir until thickened.
Add carrots and broccoli and simmer until tender, 10-15 minutes.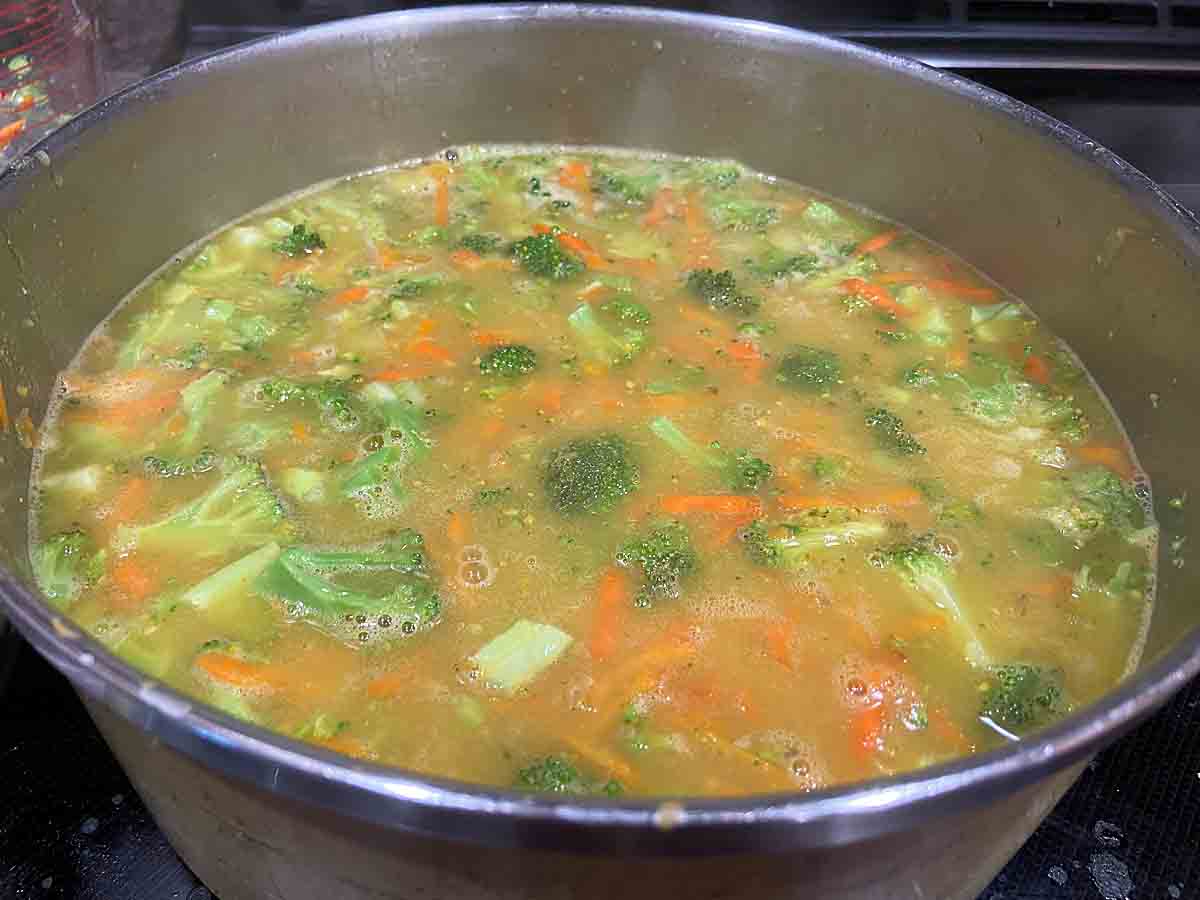 Stir in half and half, then add cheese in handfuls, stirring to melt.  Heat, still stirring, until combined.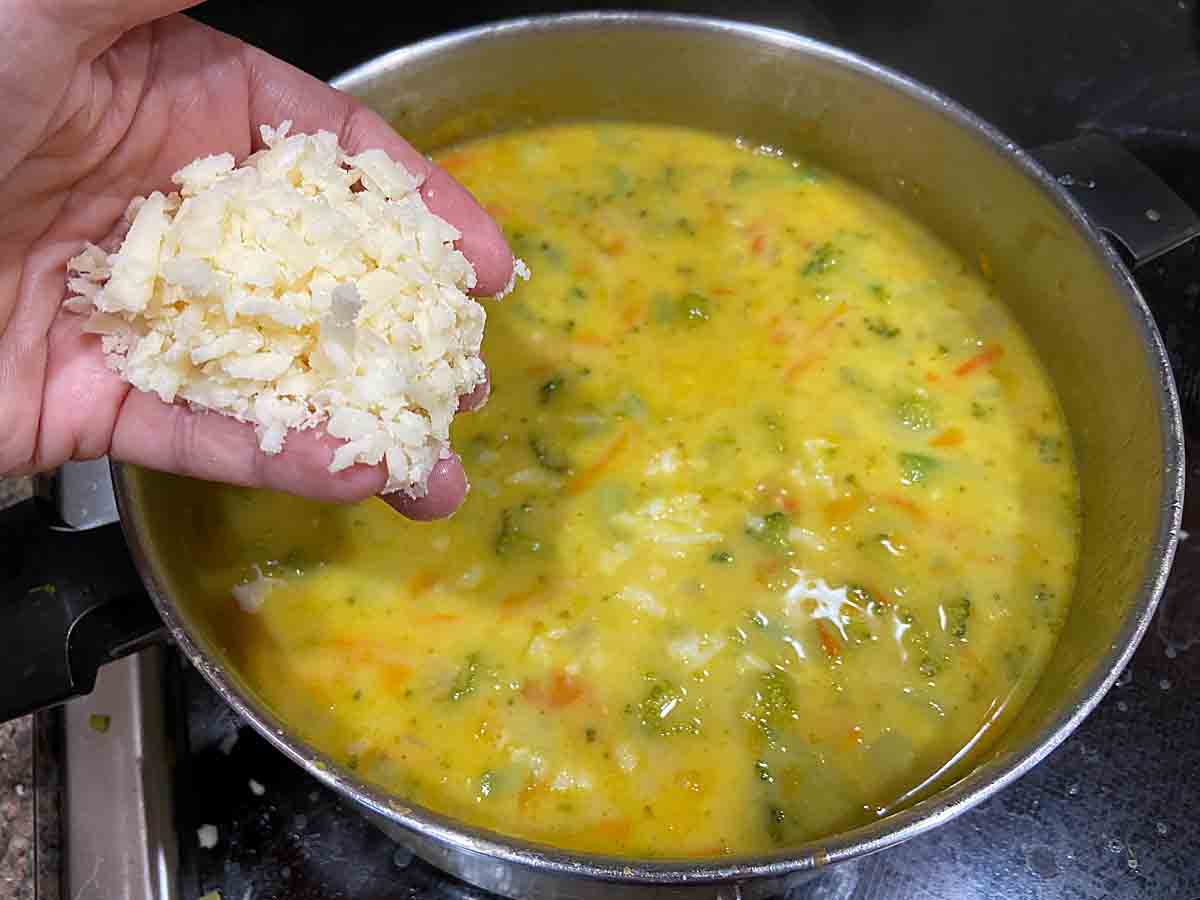 How to serve
For a lighter eater, Broccoli Cheddar Soup is easily a complete meal by itself. Don't you love a full entree soup!  For a nice presentation, just garnish with croutons and herbs or grated carrots and parsley or whatever inspires you!
For a hearty eater, a simple add would be a nice crusty bread with butter or olive oil. And in my best "add a veggie" mode, a side salad is also a nice complement.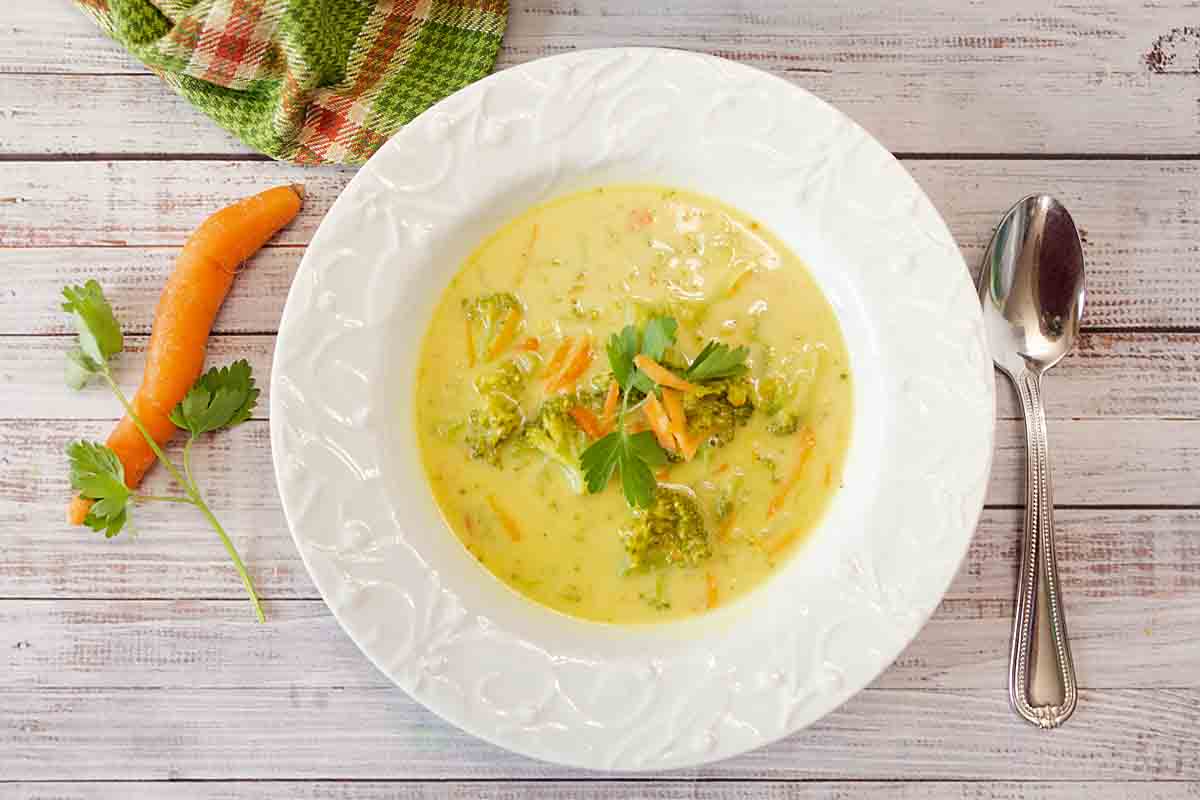 The Cheese
Cheese is critical to this dish and you have a few decisions to make. 
White vs Yellow Cheddar. The color of the soup will change slightly depending on the color of your cheese. But the sunny yellow color of the turmeric in this recipe will give your soup a "cheesy" look no matter which you pick. Yellow/orange cheddar will look slightly more vibrant, but I used white since that's what I had. 
Did you know that white versus yellow cheddar is a regional distinction, not one based on quality or fat content? Yellow predominates in the Midwest –though Wisconsin has some lovely white Wisconsin cheddars too. The yellow color is created naturally (usually) with a seed called annatto that's been used for ages. In general I ignore the color and pick my cheese based on flavor.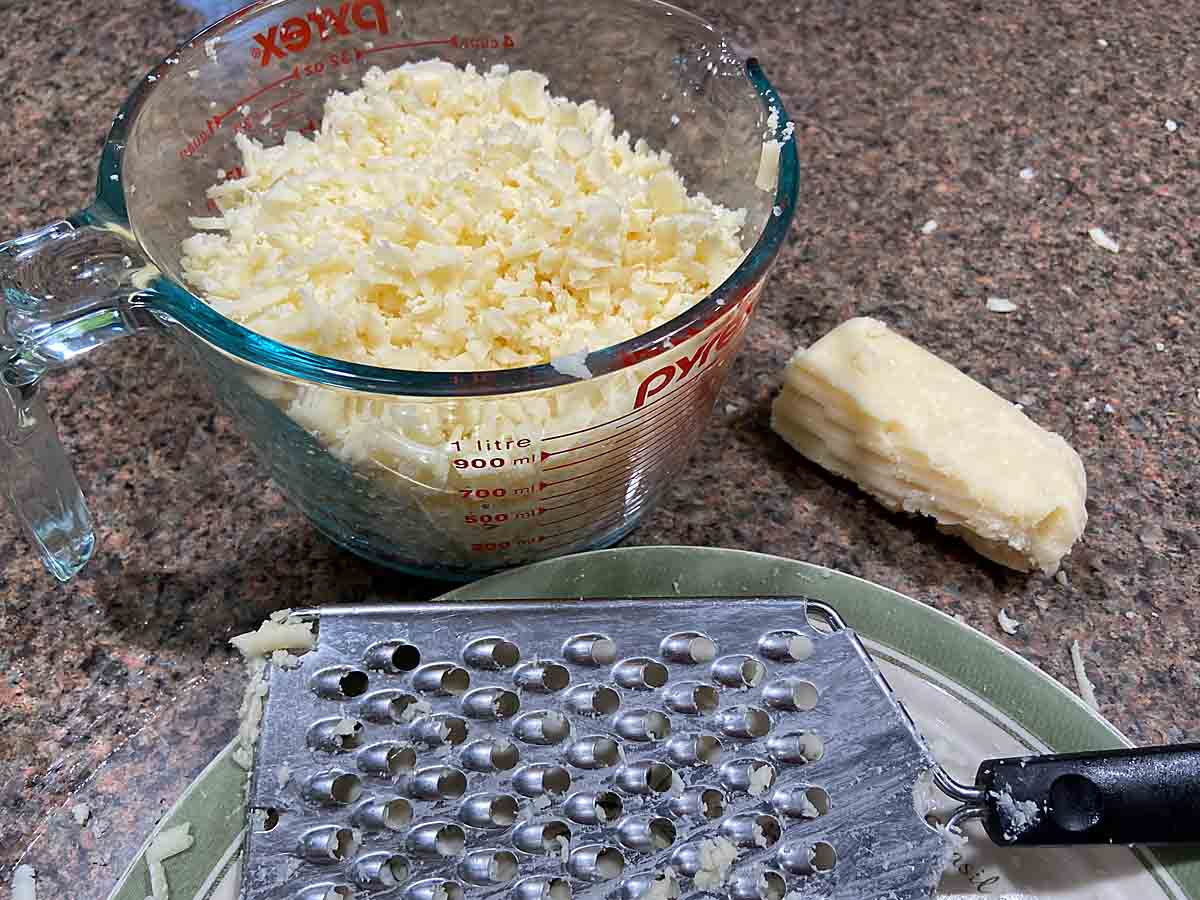 This was not always the case however. According to NPR, adding color to cheese has a long and checkered past. 17th century cheesemakers sometimes skimmed off part of the valuable cream and disguised the change with additional yellow coloring. Today however, you will find excellent (or mediocre) cheeses in both colors.
Sharp vs Mild The final question is whether to go with sharp or mild cheddar. Of course, this Wisconsin girl expects her cheese soup to have serious cheese flavor!  So unless you really, really, really hate stronger cheese, go with a sharp cheddar.
The flavor of the cheese will already be diluted by the broth, vegetables and cream and it really can use the boost!
The Spices
While the spices are not dominant, they really help pull the soup together!  The cayenne gives the soup the slightest bit of a kick, but it doesn't make it hot.  My husband orders everything "mild" and there are times mild is too hot for him, but this soup is no problem.
My most unusual addition is turmeric. I learned that from my mother who used to add it to soups way before it was "in!"  Turmeric has health benefits though probably not in these quantities.  But it does add flavor and according to Plant Prosperous, it "has an earthy bitterness… which adds depth to the flavor profile." Of course the color is a plus too especially if you use a white cheddar.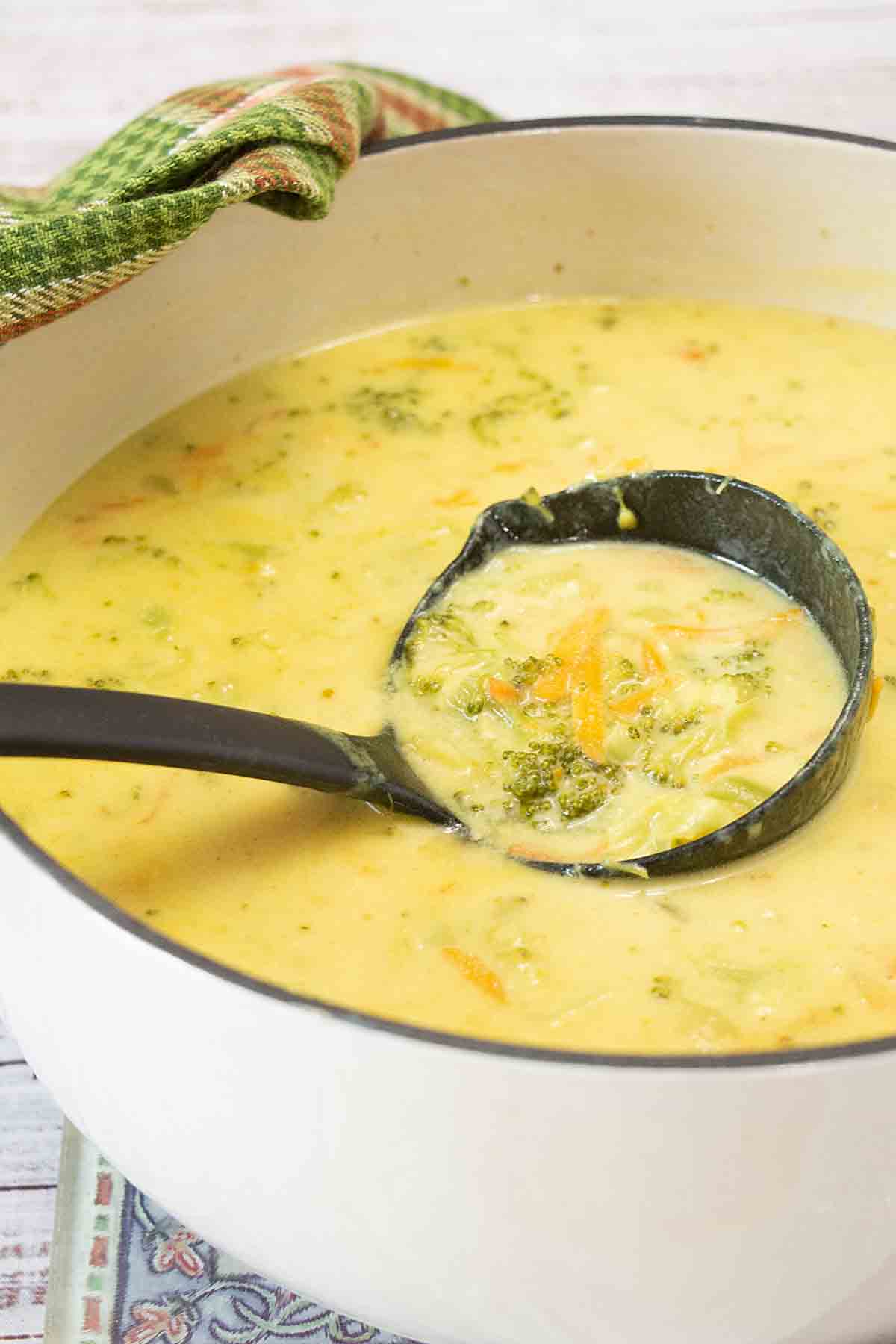 Leftovers
Store leftovers in the refrigerator and eat within a few days. I try to reheat, stirring regularly, until just hot to minimize any risk of the cheese separating. To microwave, I heat briefly, then stir, heat, stir, etc., until hot.
Should you have leftovers, contrary to many recommendations, I have successfully frozen this soup. As when you reheat from refrigerated, try to stir while it reheats and stop before it boils. Previously frozen soup may be slightly thinner when thawed but is still lovely.
Finally remember that if you let your leftovers sit for 3 days, then freeze, you're "keeping" time is up and you need to finish it the day you thaw.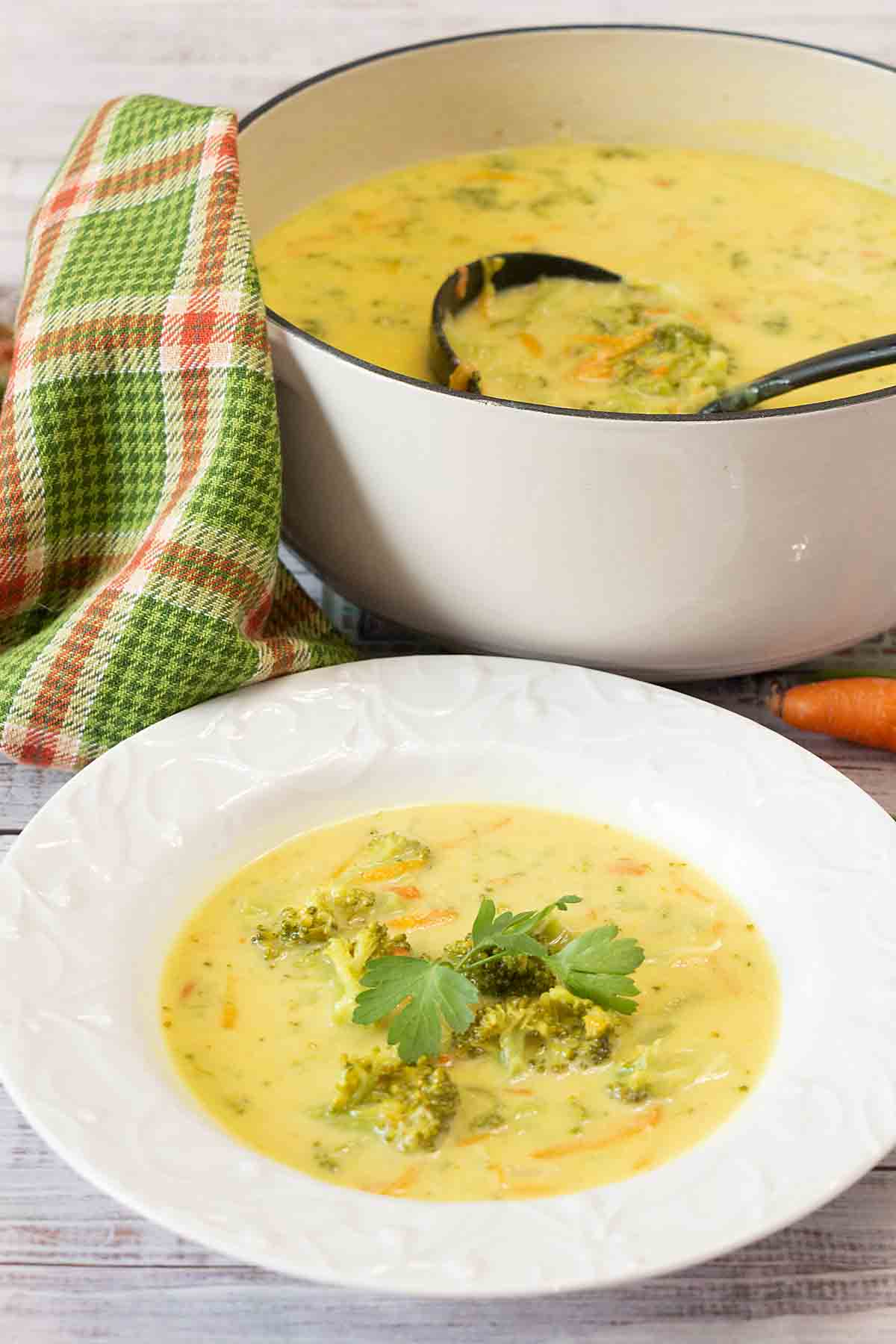 More Tips & FAQs
In cutting up the broccoli, I didn't use the woodiest piece (the bottom) of the broccoli stem but I did use the thinner stem pieces. I chopped these smaller than the florets to make sure they'd get tender. If you are short on broccoli, you can peel and chop the bottom piece that I discarded (composted).
Frozen broccoli would be good in this too. It will have a softer texture so check for tenderness earlier, perhaps as early as 5 minutes.
Can I make this keto?I haven't run the carbs on this, but it's a great candidate for a keto or low carb diet. The most problematic ingredients are the flour and carrots—and to a lessor extend the half and half. So if you are trying to lower the carbs, omit the carrots, use an additional half cup of cheese for more thickening and omit the flour. Finally consider using cream or a dairy substitute that is low carb and thick(e.g. pea milk) instead of the half & half.
Can I puree a portion of the vegetables for extra thickness?  Some cooks will puree a portion of the vegetables to give the soup added thickness, but there is a story as to why I don't do this. Years ago, I pureed a spinach soup which my kids promptly re-dubbed "Cream of Pond Scum Soup."  They were pretty dead-on with the description and after that even I couldn't eat it.
The emotional scars may never heal.  Puree if you want, but you're on your own…
More Cheesy Soup Recipes
Broccoli Cheese Soup
Ingredients
2 tablespoon butter
1 small onion, chopped
2 cloves garlic, minced
½ teaspoon Dijon mustard
⅛ t cayenne powder
½ t turmeric powder
⅓ cup flour
5 cups chicken or vegetable broth
4 cups coarsely chopped broccoli
1 cup matchstick-cut carrots
1 cup half & half (or half any milk, half cream)
2 cups shredded sharp Cheddar cheese
salt if needed
Instructions
Melt butter in large saucepan. Add onion and garlic and sauté until tender. Stir in mustard, cayenne and turmeric.
Add flour and stir until completely combined. Add broth slowly, a half cup to a cup at a time, whisking to keep flour lumps from forming. When incorporated bring back to a boil and stir until thickened.
Add carrots and broccoli and simmer until tender, about 15 minutes.
Stir in half and half, then add cheese in handfuls, stirring to melt. Taste and adjust salt.
Serve warm, with croutons if you would like.
Save