With steamed spinach and healthy salmon, all topped with blender hollandaise, Salmon Florentine is a quick, easy and tasty dinner.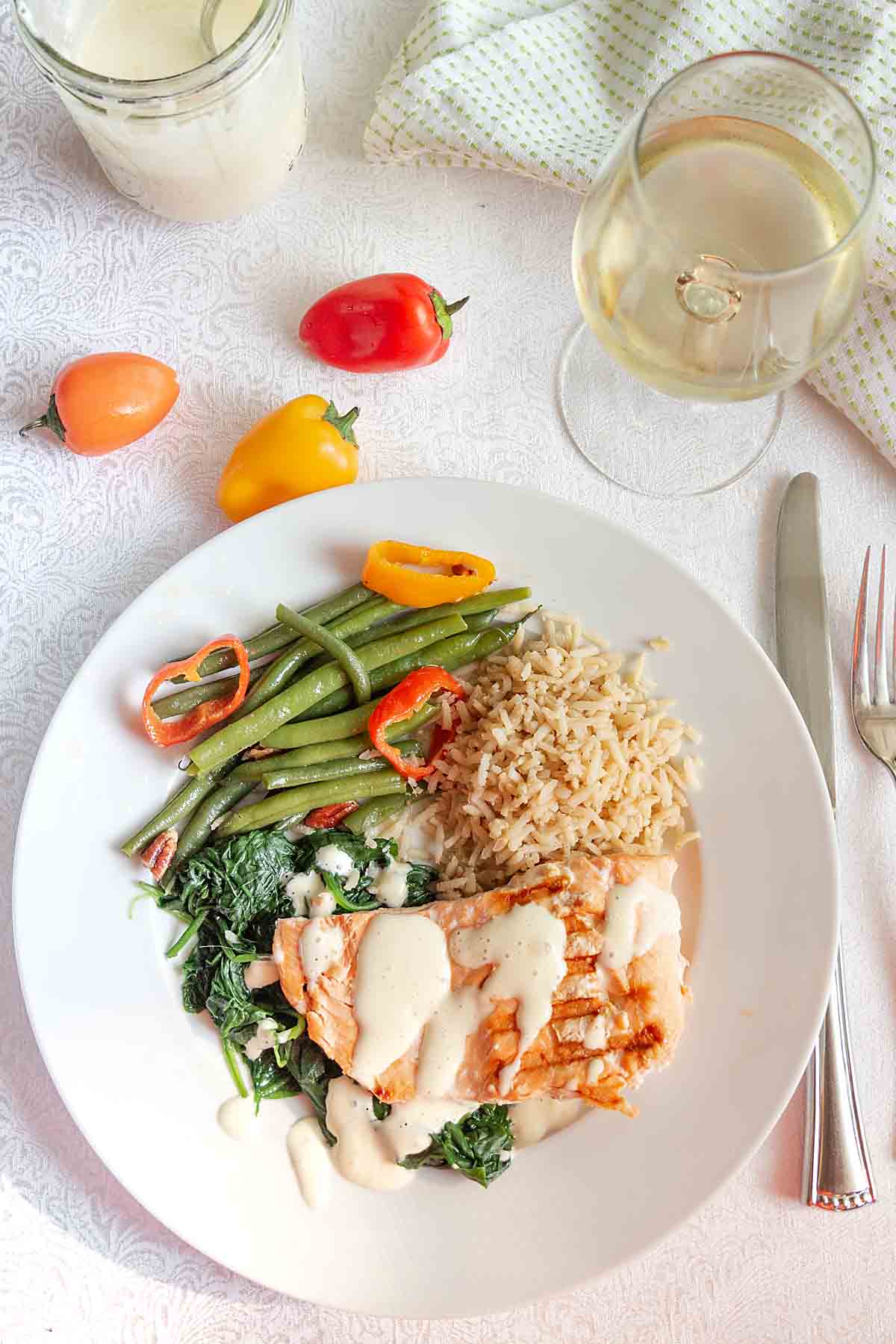 I decided to reprise this recipe, first published in 2012, in honor of this year's Olympic Games. The original motivation, however, was to deal with a deluge of spinach from my CSAs. They were harvesting overtime and I was looking for a recipe that my kids might possibly eat.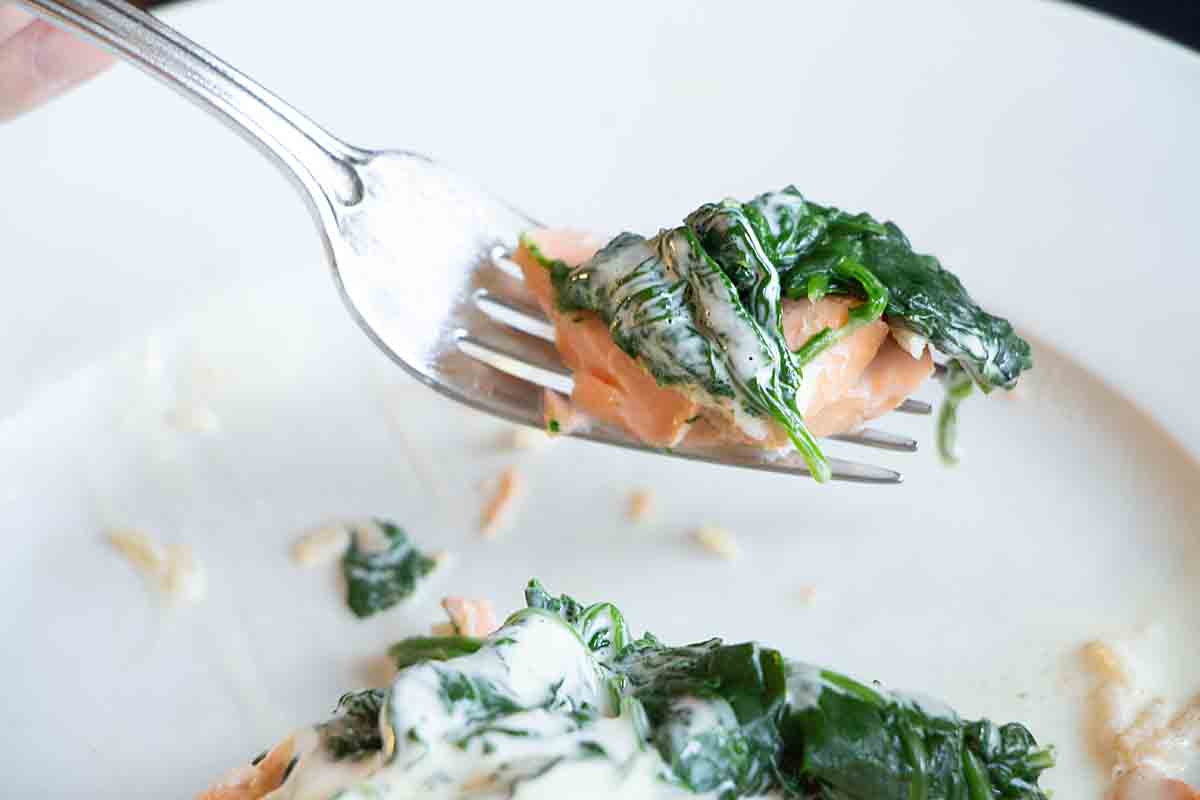 This brought me back to my youth when our mother used to serve Chicken Florentine, and we'd gobble it up. Now the term Florentine technically means in the style of Florence, but for my mother it meant anything served with spinach and hollandaise.
Yes, this was one of the few ways I'd eat a vegetable growing up. And since my kids (except my picky daughter) were all better eaters than I was, I had a chance! And in the end, it was a winner!
How is this recipe different from others?
There are versions of Salmon Florentine all over. But this recipe is simpler–as in Really. Super. Easy.
Without giving up seriously tasty! Okay, you douse almost anything in hollandaise and it's likely to be good—Spam Florentine anyone?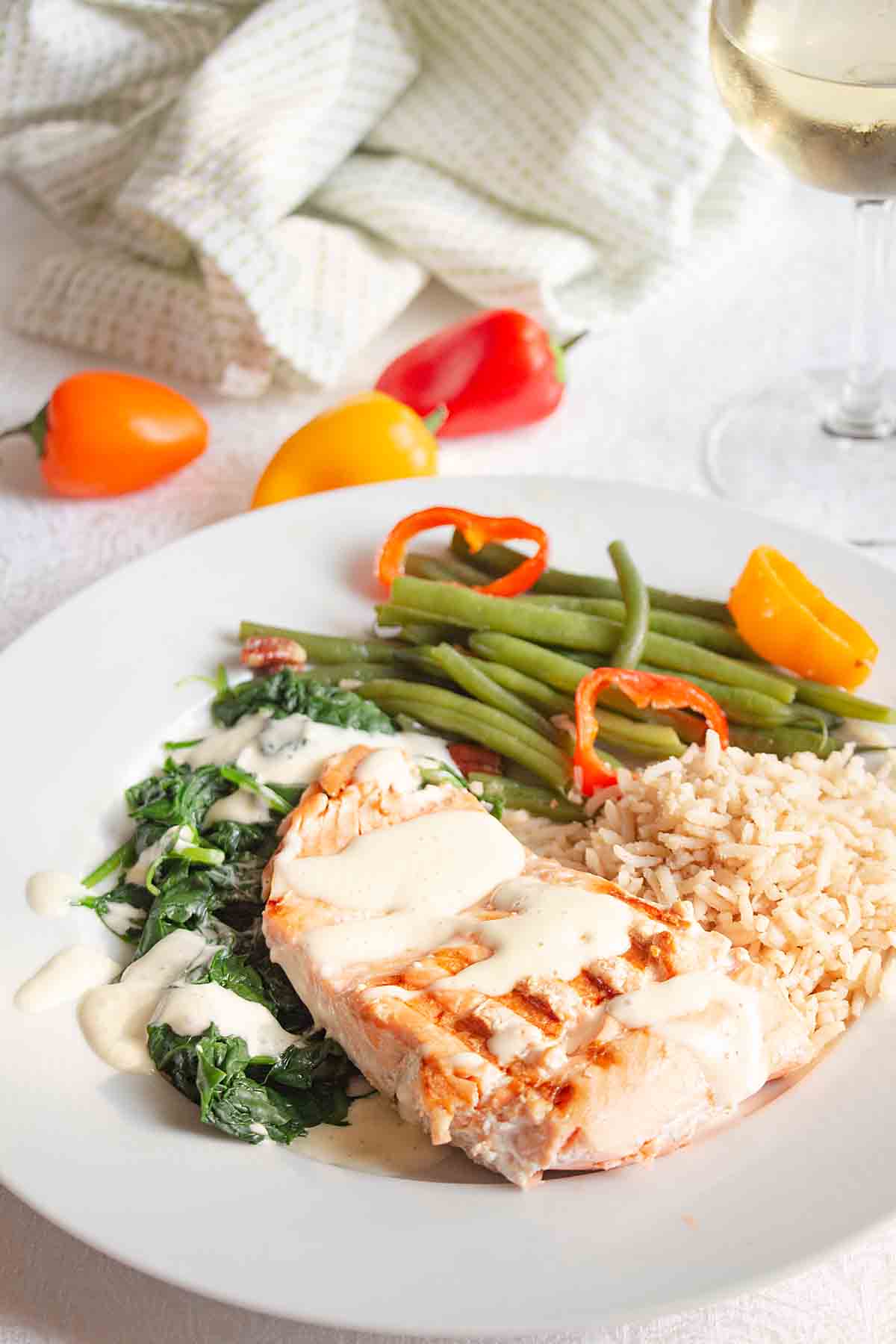 Yes, this skips steps like chop and sautee shallots or make a wine cream sauce. Lovely I'm sure, but this was meant to work even for a Desperate Mom dinner.
This means it must be doable even after the proverbial day from hell. Like when you arrive home from work so exhausted you could never possibly lift a roasting chicken. Or you forgot to turn the crock pot on.
Step by Step Directions
This recipe is ready in a few simple steps.
You start by steaming your spinach and cooking your salmon (remove pin bones if needed first) with a little salt and pepper. I like to use a grill pan for the salmon, but broiling or standard grilling is fine.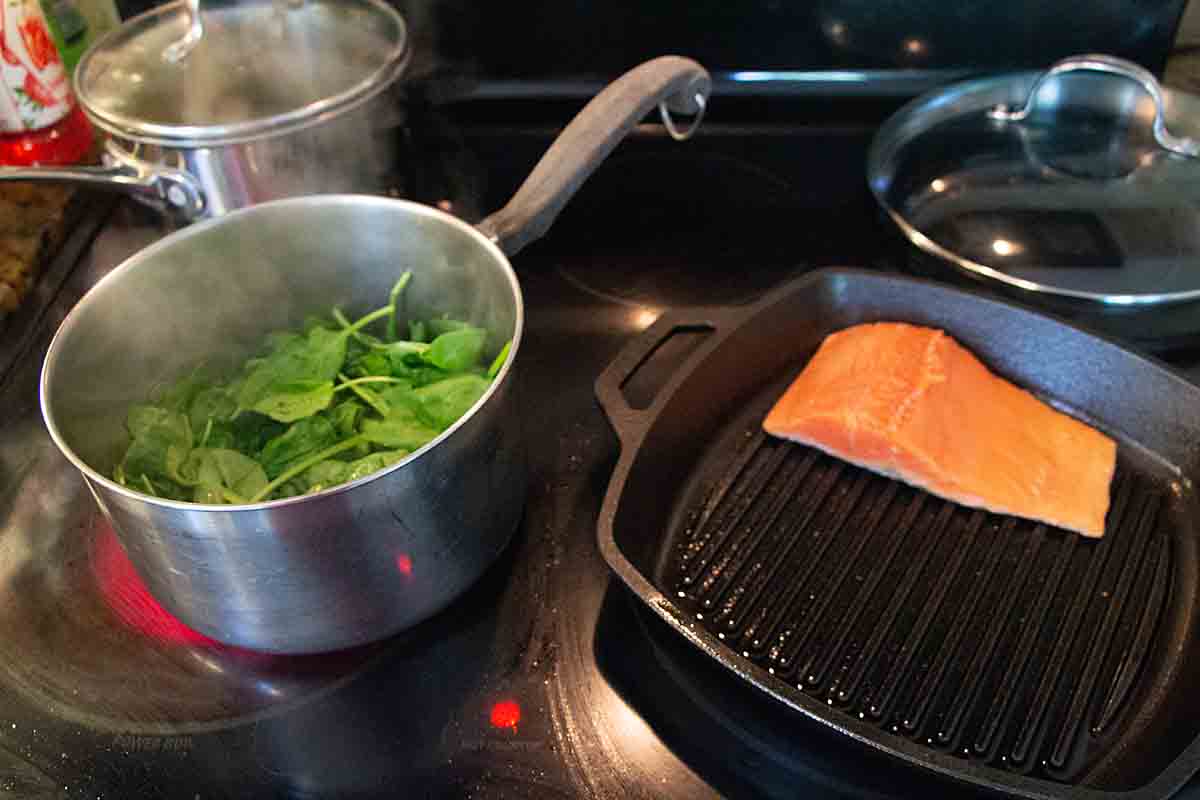 Then you make your hollandaise. If you use my immersion blender hollandaise, that involves putting 5 ingredients in a jar and blending with an immersion blender.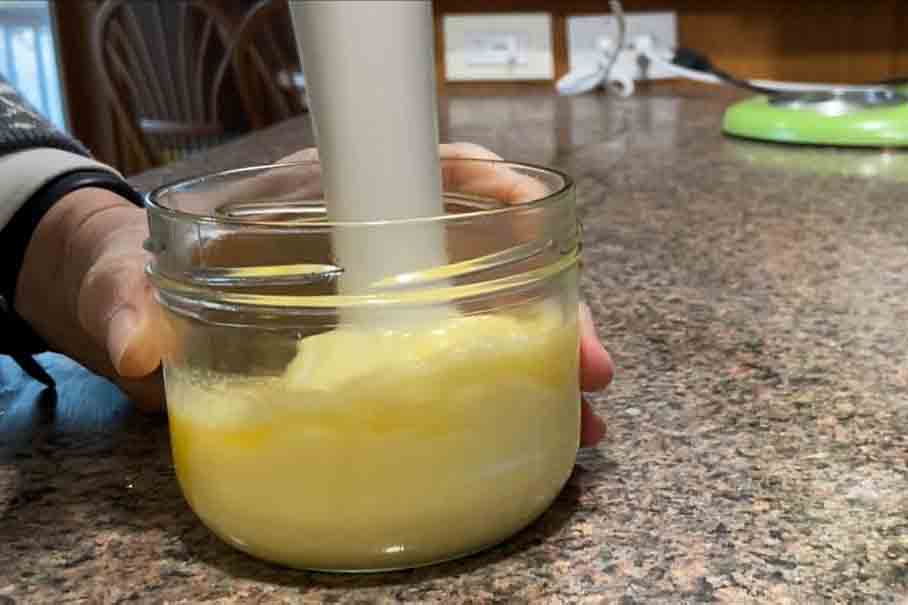 When everything is ready, you plate. Set out a dollop of spinach, partially top (overlap) with the salmon and drizzle everything with Hollandaise sauce.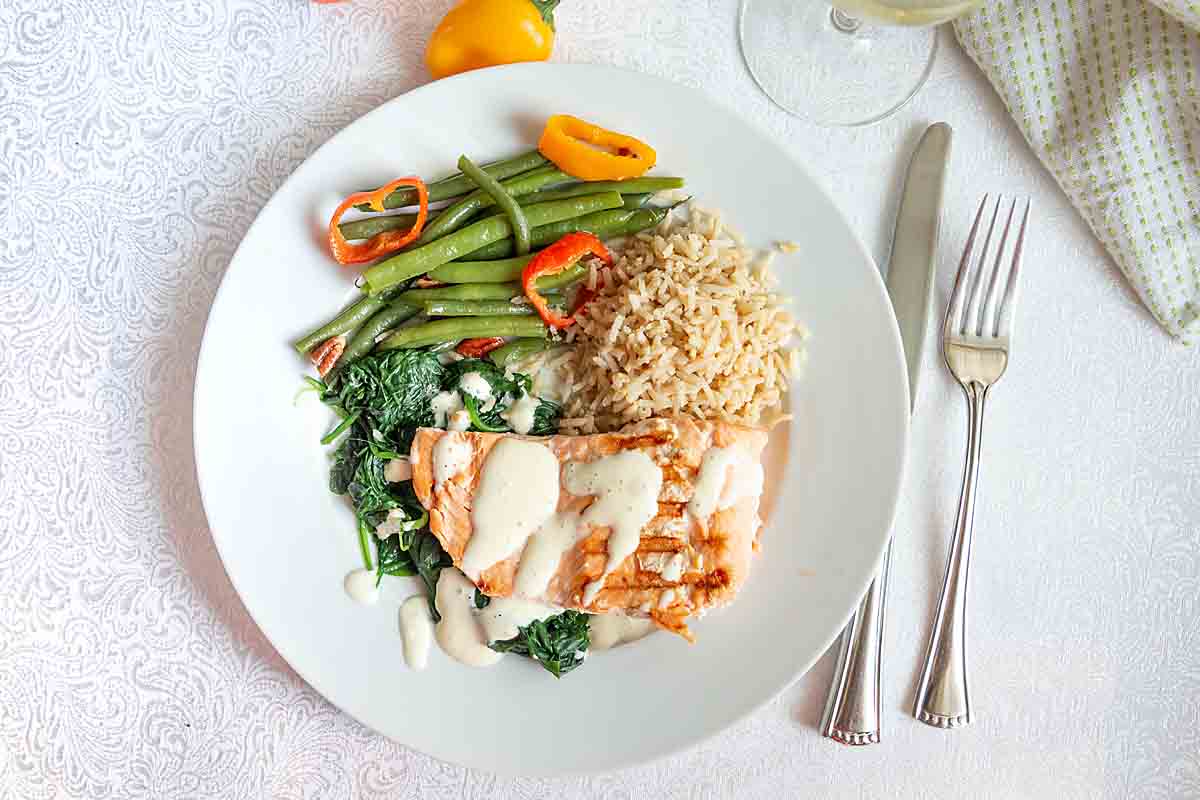 Easy peasy!
How to remove salmon pin bones
Before you cook your salmon you should check for and remove any pin bones. Fine Cooking explains this in detail. I now own a special "fish tweezers" for this, but for years I just used a (clean) pliers.
Selecting your Spinach
Organic or Conventional: Spinach typically ranks poorly in the Environmental Working Group's list of most contaminated fruits and vegetables, so go organic if you can. Remember, however, that it's generally considered better to eat a conventional vegetable than to skip it entirely.
Fresh or Frozen: Either fresh or frozen is good in this dish!
Wild vs Farmed Salmon
Sadly, between environmental degradation and sometimes questionable farming practices, selecting seafood isn't always simple and straightforward. The Cleveland Clinic, did a recent analysis and found that wild salmon is lower in contaminants, antibiotics and saturated (the "bad") fat. So go wild if you can!
Serving Suggestions
For the starch portion of the meal, rice, potatoes or a nice bread would be a lovely addition. If you actually are desperate, go with the bread.
At the risk of overwhelming a Desperate Mom, I'd like to suggest a second vegetable. Data on Americans getting their "5-a-day" servings of fruit and vegetables is unfortunately not good.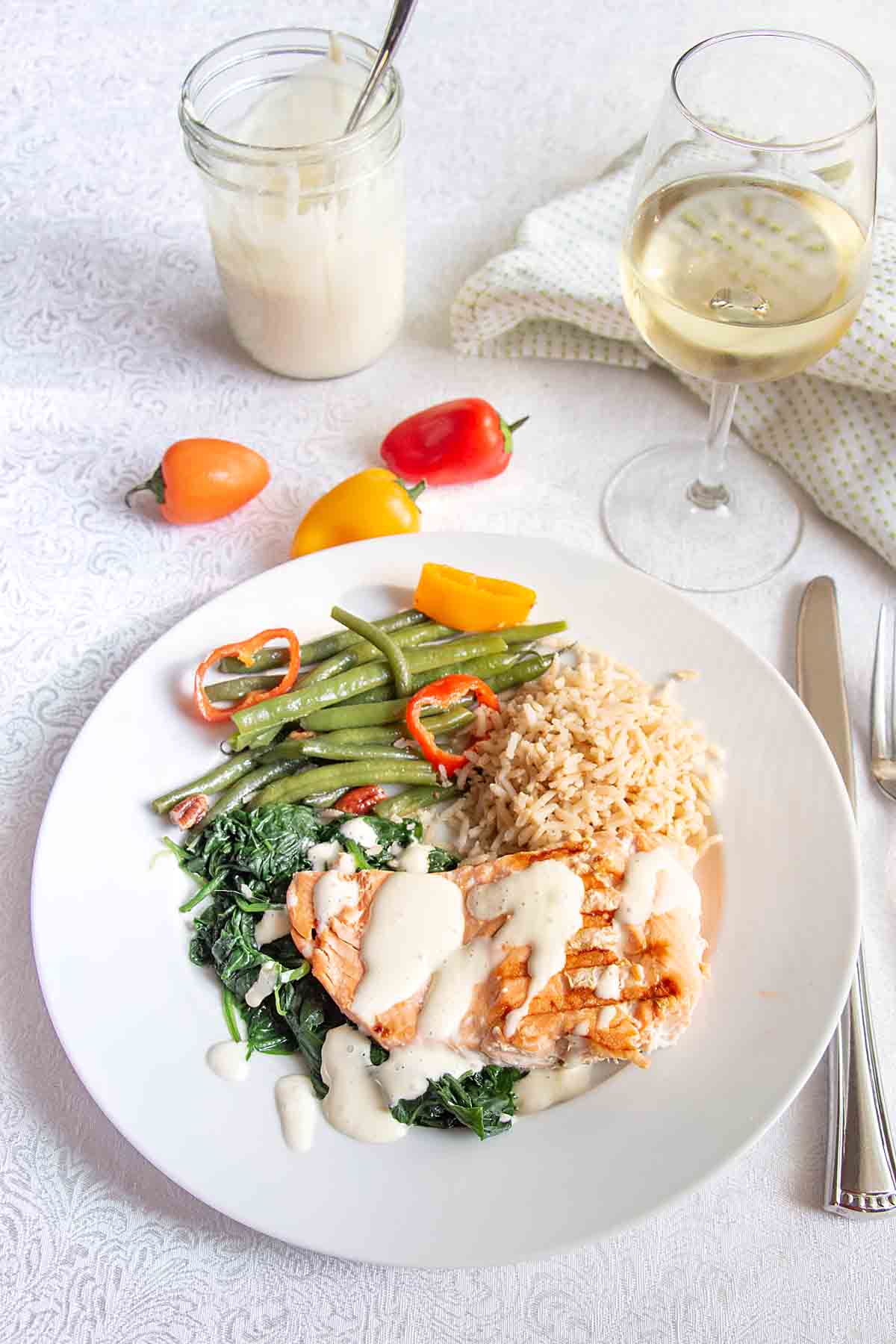 If staying super easy, frozen sweet potato fries are great, plus they add another color–"eat a rainbow"! A bagged salad or cole slaw is another easy option.
Otherwise any other vegetable that is currently producing seasonal windfalls (e.g. zucchini) or lingering in your refrigerator will do. Broccoli and asparagus are great with hollandaise, so those are particularly nice.
Friday #SummerGamesWeek Recipes in celebration of the 2021 Olympics
Easy Salmon Florentine
With steamed spinach and healthy salmon drizzled with quick hollandaise, Salmon Florentine is a quick, easy and tasty dinner.
Ingredients
1 1/2

pounds

salmon filet

in 4 pieces

12

ounces

fresh spinach

or a large bag of frozen

6

ounces

Hollandaise Sauce

see note
Instructions
Check for and remove pin bones in salmon, if any.  Season salmon with salt and pepper, then broil or grill for a few minutes on each side until fish is cooked to your liking (FDA recommendation is 145F)   

While fish is cooking steam spinach until warm and wilted, about 10 minutes.

Prepare your favorite Hollandaise (see notes for my recipe) 

Divide spinach on four plates, top with a salmon filet, and and spoon (or pour) hollandaise over both.
Nutrition
Calories:
372
kcal
Carbohydrates:
6
g
Protein:
37
g
Fat:
22
g
Saturated Fat:
4
g
Polyunsaturated Fat:
4
g
Monounsaturated Fat:
4
g
Cholesterol:
98
mg
Sodium:
363
mg
Potassium:
1308
mg
Fiber:
2
g
Sugar:
0.4
g
Vitamin A:
8043
IU
Vitamin C:
24
mg
Calcium:
105
mg
Iron:
4
mg
I am not a health professional and nutrition data is calculated programatically. Accuracy may vary with product selection, calculator accuracy, etc. Consult a professional for the best information.