Get on the Matcha bandwagon with these Honey Matcha Scones. Sporting a sweet exotic flavor plus fiber from whole wheat flour, there's no room for guilt.
Matcha is hot right now. And I'm finally getting around to trying it.
I've been following a Matcha blog and planning to buy some Matcha…for ages. Is your life like that?
For the uninitiated, matcha is, per Time, "a type of green tea made by taking young tea leaves and grinding them into a bright green powder." It's supposed to have lots of great health benefits—even more than green tea, and it might even help with weight loss.
Happily, this week, I finally took the plunge. And I was delighted to have success on my first try, with these Honey Matcha Scones.
Now I'd like to say I did this all for my health but what really pushed me into baking Honey Matcha Scones was International Scone week. My blogging friend Tandy at Lavender and Lime hosts an annual "scone party" that I wouldn't miss. After already baking cherry maple pecan scones, gingerbread scones, pecan pumpkin scones and more, I really needed to get creative.
Yes, I am a serious scone lover.
I based these Honey Matcha Scones on my recipe for Honey Lavender scones (last year's recipe), since I'm seriously fond of baking with honey. Happily, the honey was a great complement to the matcha flavor!
Yup sometimes you just get lucky!
And since we're talking scones, I wanted to share one other piece of my scone philosophy (does anyone else have a "scone philosophy"?). I generally go with a topping of coarse sugar rather than a glaze or drizzle of icing. The coarse sugar version comes in around 50 (or more) calories less than a glaze/drizzle, it tastes just as sweet, and I enjoy the little bit of sugar crunch.
Happy International Scone Week!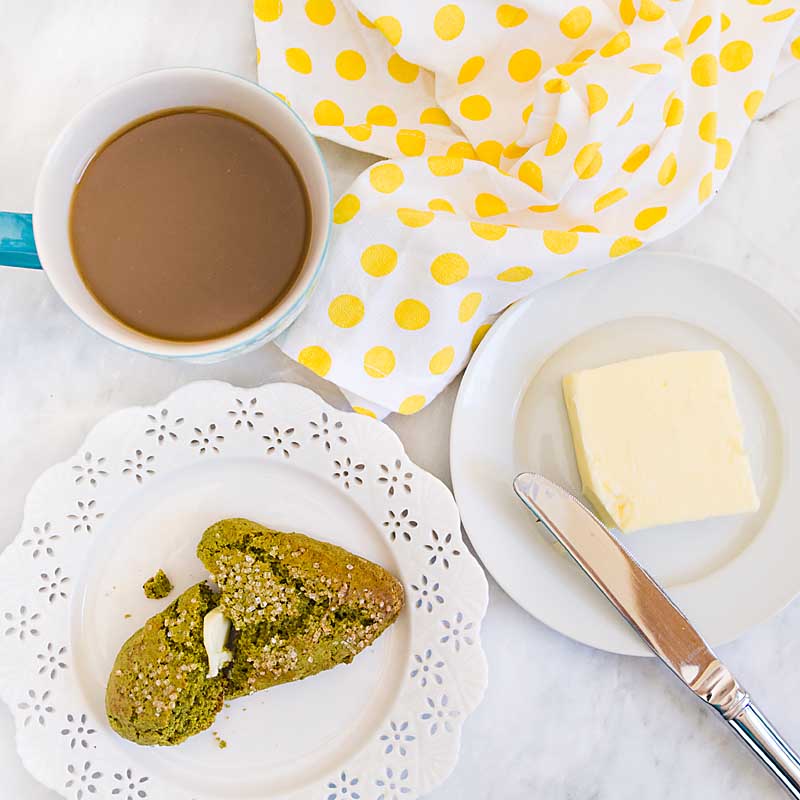 Honey Matcha Scones
2018-08-10 15:05:45
Serves 10
Get on the Matcha bandwagon with these Honey Matcha scones. Sporting a sweet exotic flavor and fiber from whole wheat flour, there's no room for guilt.
Nutrition Facts
Amount Per Serving
* Percent Daily Values are based on a 2,000 calorie diet. Your Daily Values may be higher or lower depending on your calorie needs.
Ingredients
1 cup unbleached flour
1 cup whole wheat four
½ tsp salt
2 Tablespoons matcha powder
1 Tablespoon baking powder
4 Tablespoon butter
2 eggs (pull out a tablespoon for brushing the scones)
6 Tablespoons honey
1 teaspoon vanilla
3 Tablespoons cream or milk
2-3 teaspoons coarse sugar for decorating (optional)
Instructions
In a large mixing bowl, combine flour, baking powder, matcha and salt.
Cut the butter into the flour mixture with a fork or pastry tool, until butter pieces are tiny and flour-coated. Mixture will resemble crumbs but will still be fairly floury.
In a separate bowl, beat two eggs. Remove about a tablespoon of the beaten egg and reserve for egg wash. Add the cream, vanilla and honey into the beaten eggs and combine well. Stir the egg mixture into the dry ingredients, being careful not to overmix. Add additional cream or flour if needed.
Remove scone dough to a floured surface. Knead once or twice, then pat into a 3x15 inch rectangle. It's okay if dough is a bit sticky. Cut the rectangle into five 3 x 3 squares, then cut each square on a diagonal to make ten scones.
Place each scone on a baking sheet topped with parchment. Brush scones with the reserved tablespoon of beaten egg and sprinkle with coarse sugar.
Place rack in center of over then bake at 400 F for approximately 12 minutes, until scones are slightly golden. Cool on a wire rack. Serve warm or cool.
Art of Natural Living https://artofnaturalliving.com/