Irish Soda Bread with Raisins
Soda bread is an easy bread and this Irish Soda Bread with Raisins is chewy, flavorful, slightly sweet and perfect for St Patrick's Day!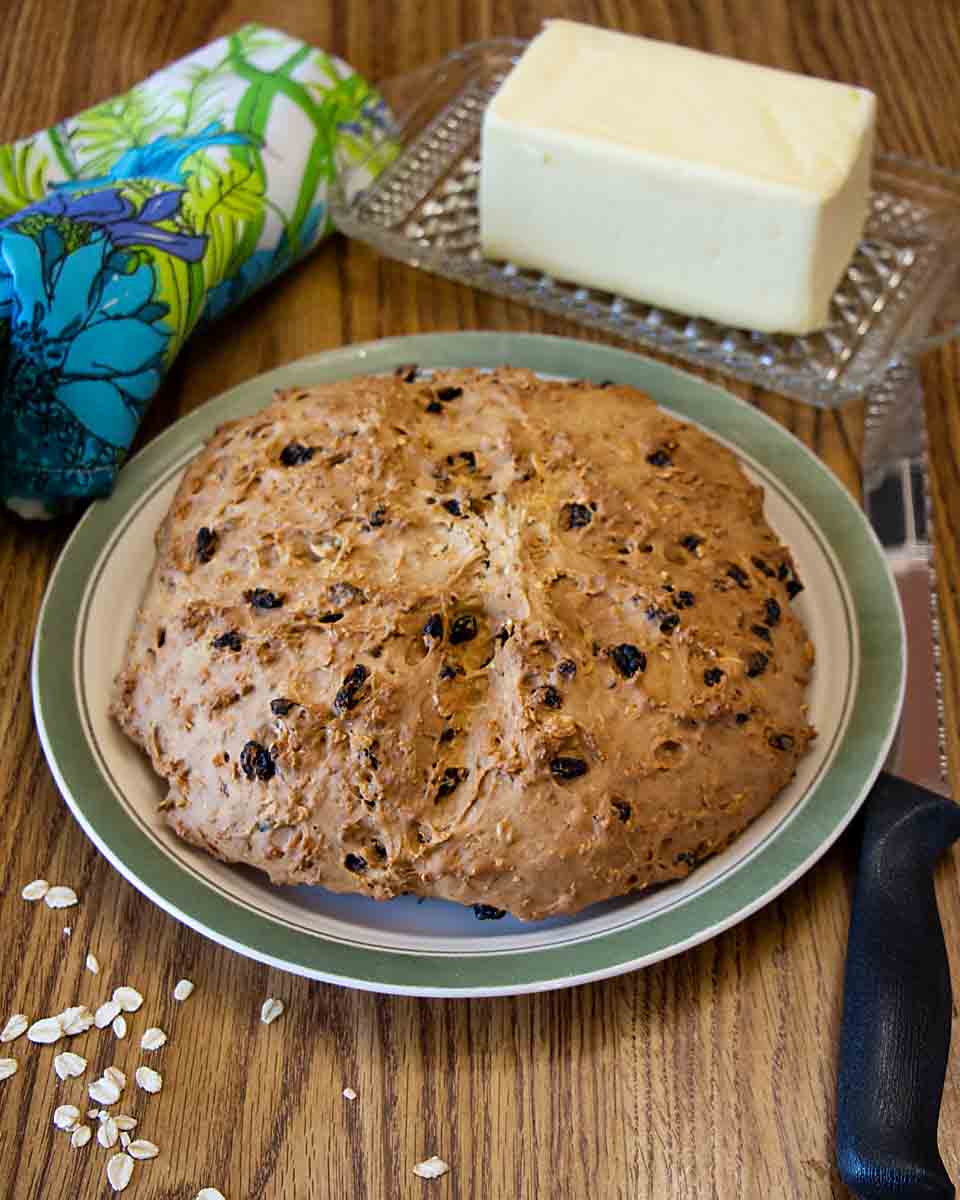 Patrick's Day is coming—and it will be the second year in a row where life isn't quite normal. I'll miss the live music and green beer! But perhaps a small Irish treat, something made right at home, can help make things a little better?
When I studied in Ireland many years ago, there were two types of Irish soda bread. The first was whole-grained and savory and I used to eat it with cheese and a pear for dinner on the run. The second was slightly sweet with raisins and seemed more treat-like to me. I posted the first a number of years ago here.
This Irish Soda bread comes from the wife of a former coworker and I believe it was a family recipe. He brought the bread into work one year for St Patrick's day and it was a huge hit. I asked for the recipe and finally got around to making it.
How to Make Irish Soda Bread
If you aren't a regular bread maker, a soda bread is a great place to start. To make it, you just:
Mix the dry ingredients (except raisins)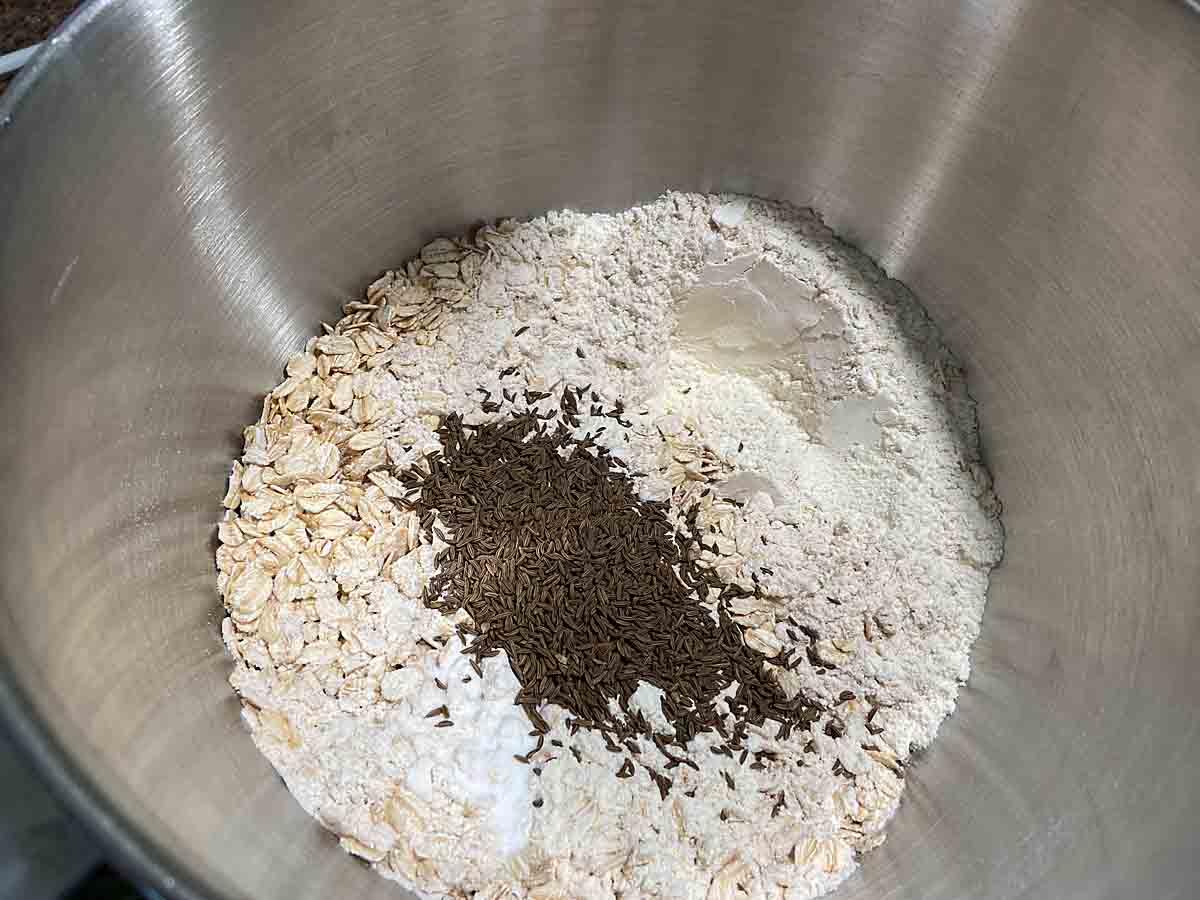 Work in the butter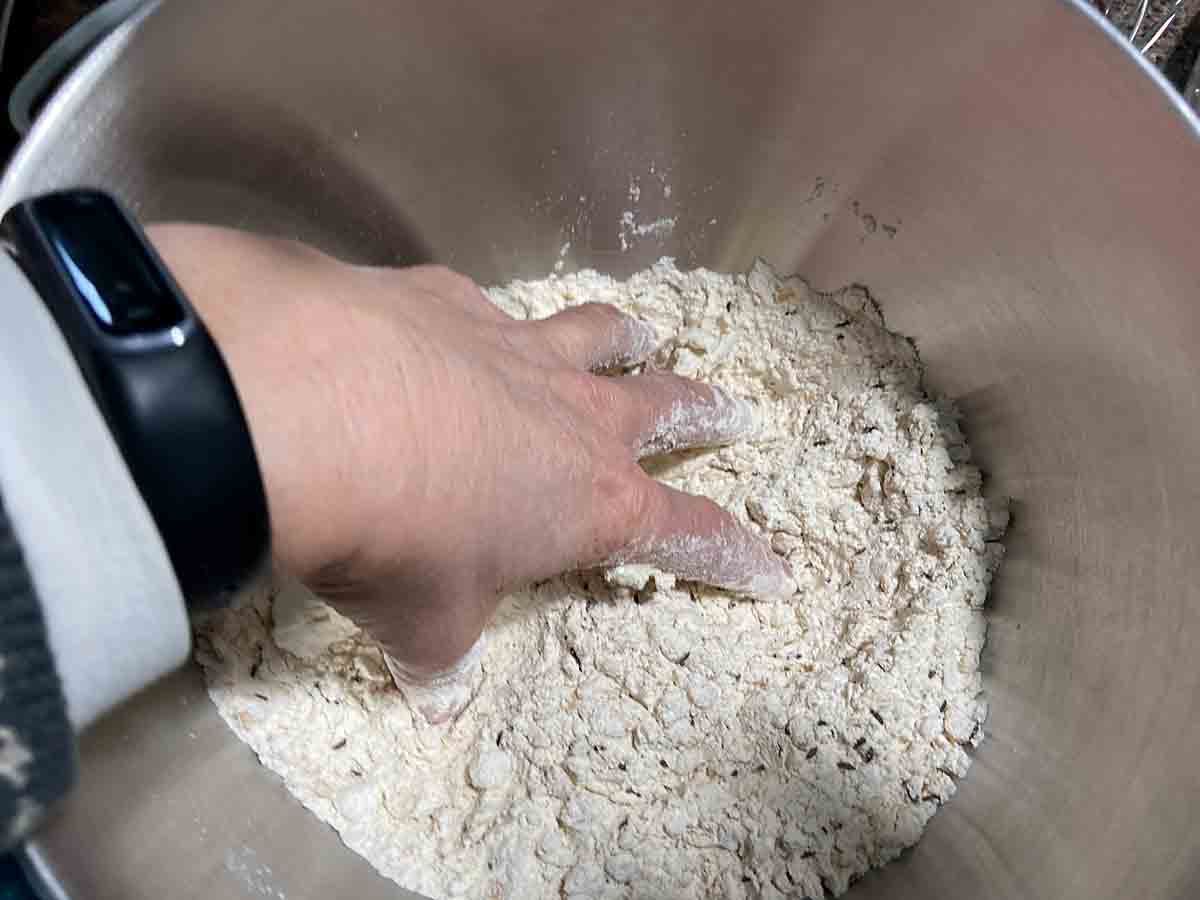 Add remaining ingredients and mix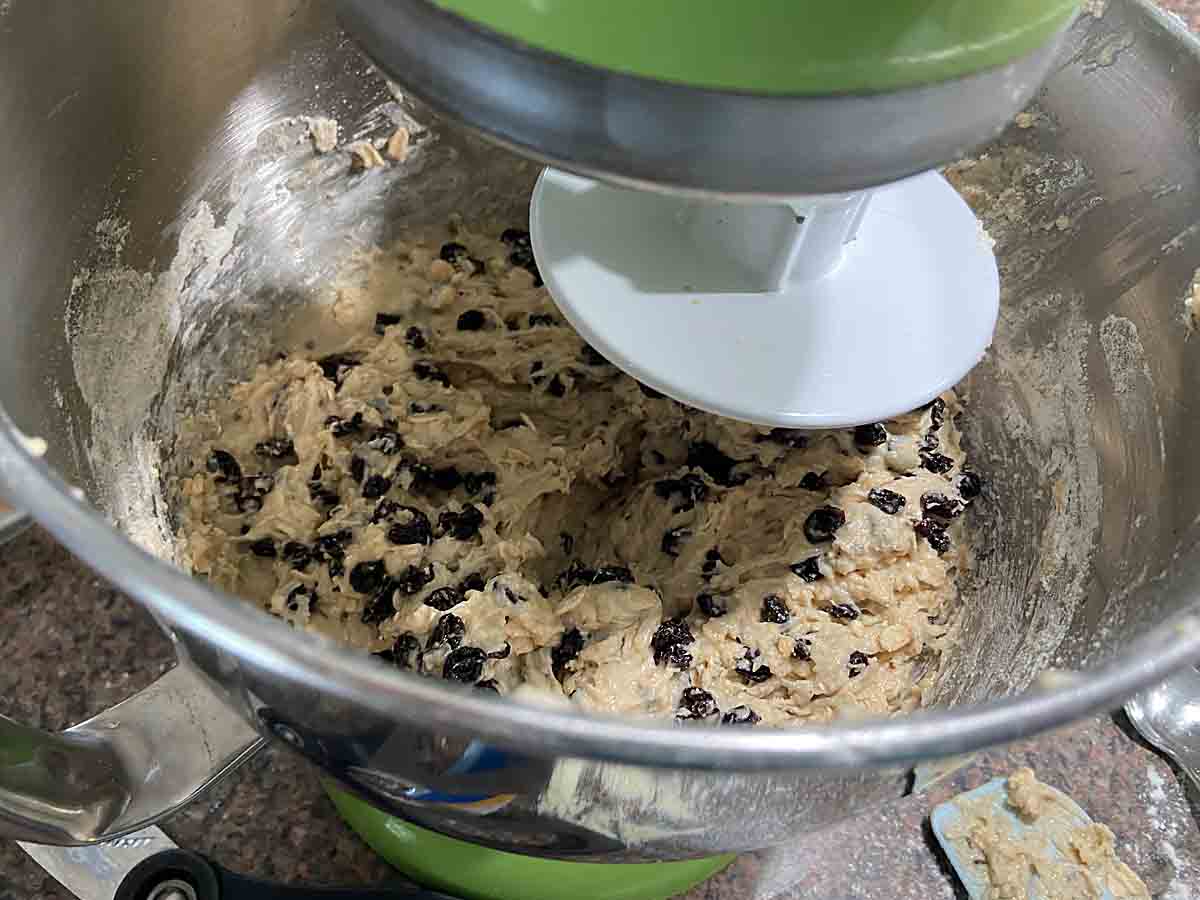 Form into a round loaf and slice a cross in the top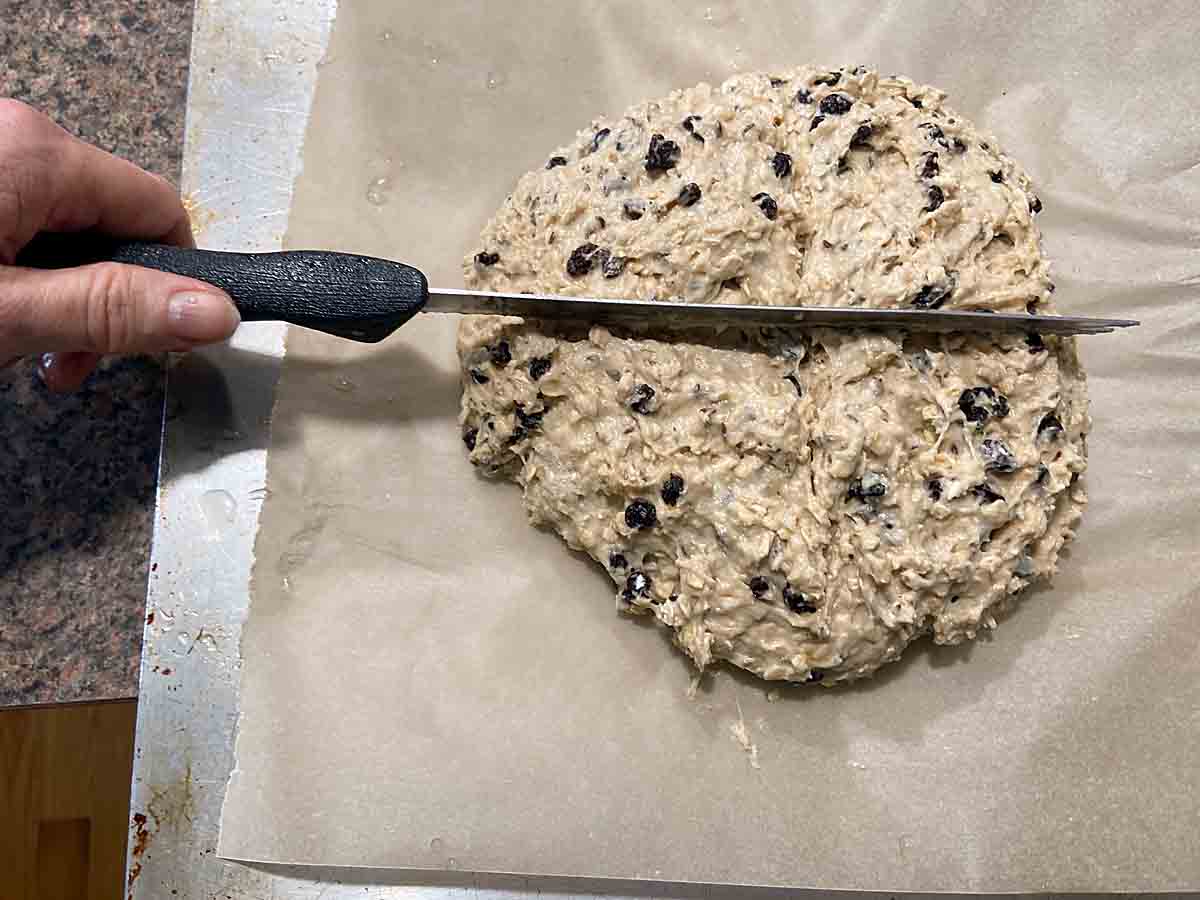 Bake, let cool and enjoy!
Tips and Comments
Since it uses baking soda for the rise instead of yeast, this bread is quicker and less tricky– you don't need to decide if it is kneaded well or has properly risen! The baking soda doesn't give you a light airy bread like yeast does, but I love the dense hearty feel that is enhanced by the oatmeal.
I usually use dried currants rather than raisins when I bake. Dried currants aren't actually from the currant bush but instead are a small dried grape, aka raisin. I like the fact that, being smaller, they can be distributed better in a baked good.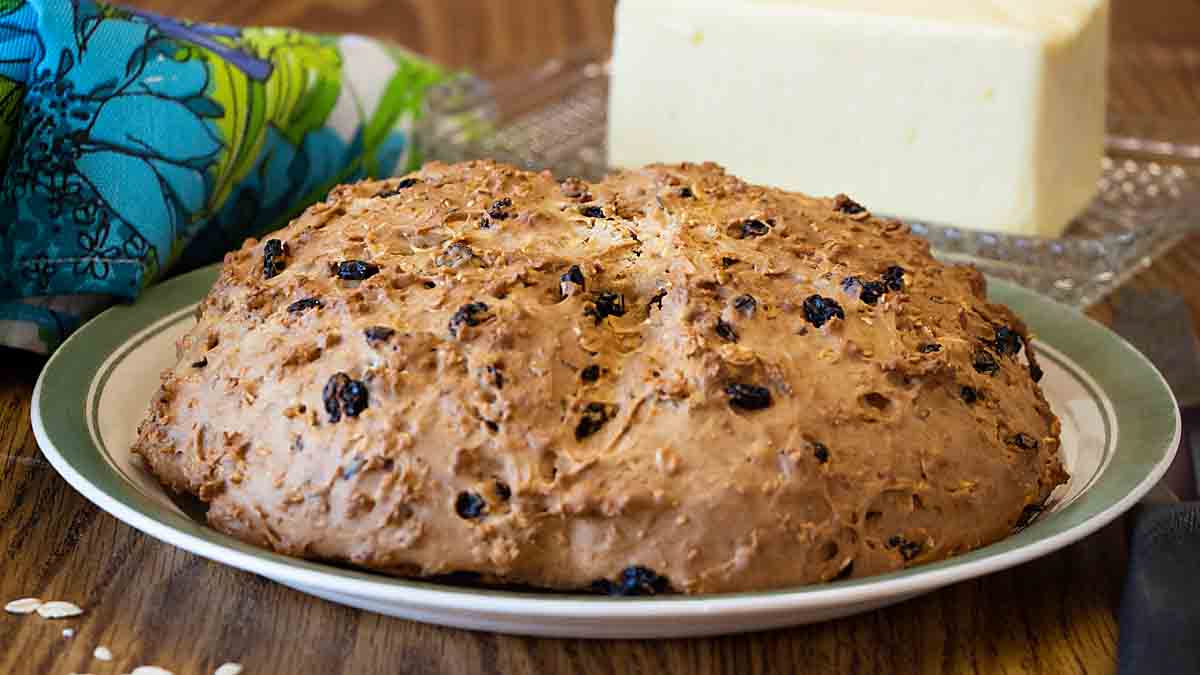 Per Food52,"Soda bread may have raisins or caraway seed but traditionally not both together". I admit I was skeptical when I saw them together in this recipe. But I knew I had eaten it at work and liked it so I went with the combo. And truly, I think they are a nice compliment.
This bread includes oatmeal making it a little more dense and healthful than some. That's a plus in my mind!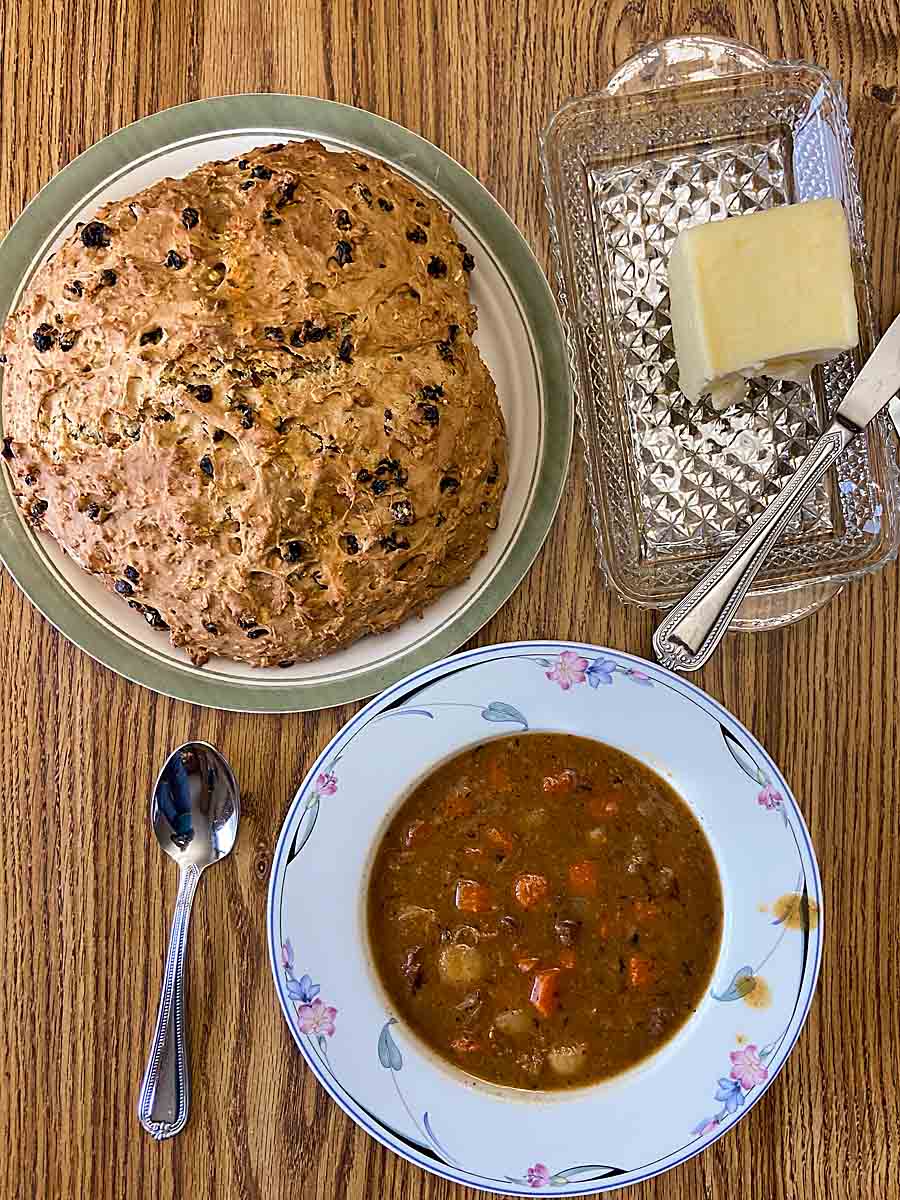 Irish Soda Bread with Raisins
Soda bread is an easy bread and this Irish Soda Bread with Raisins is chewy, flavorful, slightly sweet and perfect for St Patrick's Day!
Ingredients
3

cups

all-purpose flour

or up to 1/2 cup more as needed

1

teaspoon

baking soda

1 ½

cups

oatmeal

2

Tablespoons

caraway

1

teaspoon

salt

1/3

cup

sugar

1 1/2

cup

buttermilk

2

Tablespoons

butter

1

cup

raisins

or currants
Instructions
Combine dry ingredients except for raisins. Rub in the butter with your fingers. Stir in the buttermilk, mixing well. Add raisins and additional flour as needed if too soft. Dough should be sticky but hold a shape. Mix with a dough hook or knead by hand for a couple minutes.

On a parchment-lined cookie sheet, shape into a flattened ball about 10 inches in diameter. Cut a cross in the top.

Bake at 350 F for 50-60 min. Let cool before cutting.
Notes
This is a dense, hearty (very flavorful) bread, so don't fear your baking soda is old when it doesn't come our light and fluffy!
Nutrition
Calories:
191
kcal
Carbohydrates:
38
g
Protein:
5
g
Fat:
2
g
Saturated Fat:
1
g
Polyunsaturated Fat:
0.4
g
Monounsaturated Fat:
1
g
Trans Fat:
0.1
g
Cholesterol:
5
mg
Sodium:
285
mg
Potassium:
144
mg
Fiber:
2
g
Sugar:
6
g
Vitamin A:
53
IU
Vitamin C:
1
mg
Calcium:
19
mg
Iron:
2
mg
I am not a health professional and nutrition data is calculated programatically. Accuracy may vary with product selection, calculator accuracy, etc. Consult a professional for the best information.
Celebrating St. Patrick's Day!
We share Recipes From Our Dinner Table! Join our group and share your recipes, too! While you're at it, join our Pinterest board, too!