A heartier version of a classic, Seafood Pasta Puttanesca is flavored with capers, olives, & a hint of spice. Plus amazing seafood.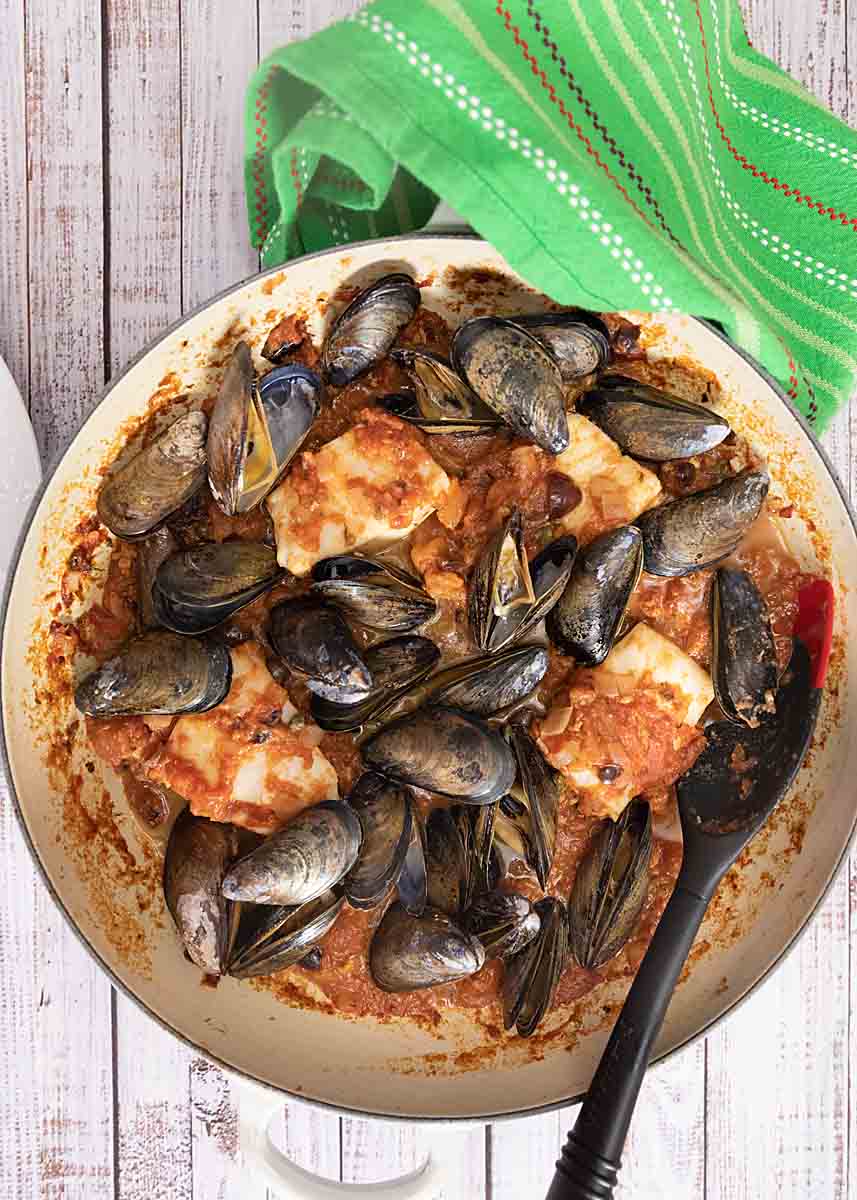 This post contains affiliate links. That means that if you make a purchase after clicking on a link and entering my code, I may earn a small commission at no extra cost to you. This enables me to continue to bring you free recipes such as this one. So, thanks! I was given seafood for purposes of this review but all opinions are genuine.
I've always loved a good puttanesca sauce. You can't get much more flavorful than the combo with tomatoes, crushed red pepper, capers and anchovies. Legend has it that "ladies of the evening" used to prepare the tasty dish to lure in customers with the aroma.
But the recipe has a downside. It is very light and sometimes you want a heartier meal. Maybe some… protein? Which is how I decided to enhance it with seafood.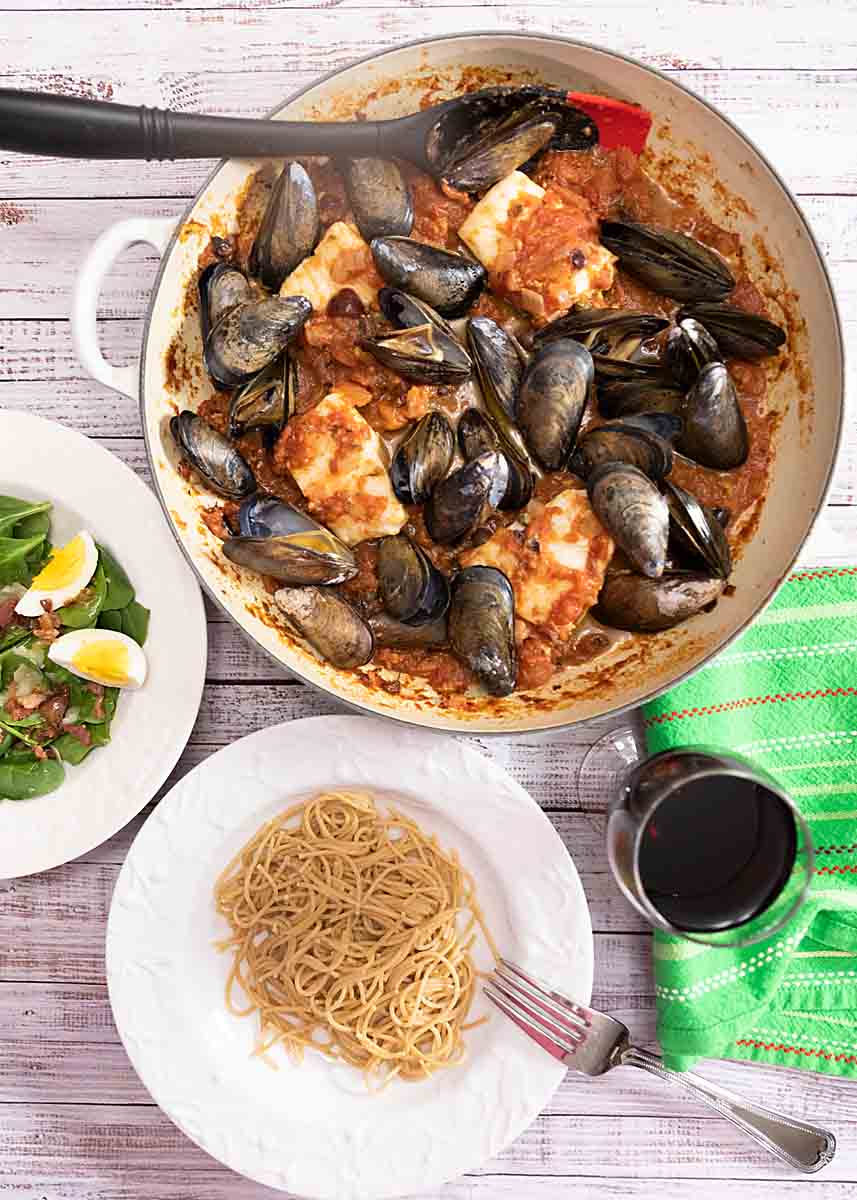 And thanks to my Sitka Salmon Shares subscription (more on this below), I always have a nice supply of seafood in my freezer.
How to Source Seafood
Stika Salmon shares is a subscription service that I originally joined out of frustration sourcing good seafood. Yes, I knew things like fish shouldn't smell fishy, but I had other concerns too, that were less obvious. Things like:
Is the fish safe to eat regularly or do I need to worry about mercury or other contaminants?
Is it environmentally responsible and not a threatened species or from an overfished area?
Does it taste good? (As in, consistently good)
Is it genuine? (See this Wikipedia article if this seems like a strange question)
Are the fishermen treated fairly and paid a living wage?
This used to mean a research project every time I bought a piece of fish. Ugghh!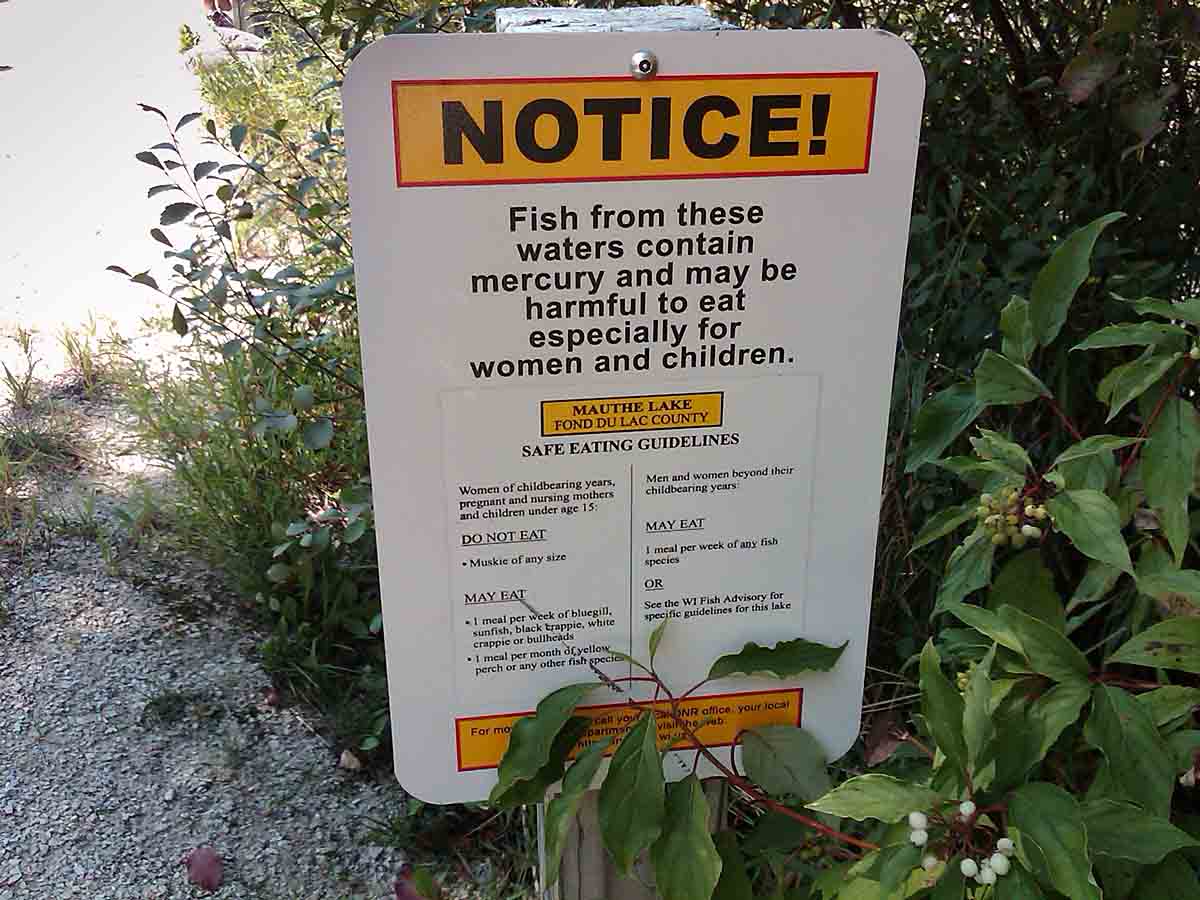 A Sourcing Solution
But a few years back I found a solution to my seafood sourcing dilemma and, since 2015, have been a subscriber to Sitka Salmon. (They sent me some extra fish in exchange for the post, but I was already a long-term subscriber, so you can be sure I love it).
Sitka works with a select group of (not factory) fishermen to bring you sustainable, high quality, wild seafood in a subscription model similar to a CSA. But instead of weekly local produce you get a monthly seafood box from Alaska. It's delivered frozen to your doorstep by their drivers or by UPS. How easy is that!
It is a commitment like a CSA but you can get an introductory share for as few as five boxes over five month. Subscriptions go up incrementally after that with options for more months, more premium (or just different) items and more quantity. They also may have special offers ("Would you like to buy an extra box of king salmon?" "Umm, yes, please!") throughout the year.
I find that besides taking the angst and frustration out of buying seafood, having it around in my freezer means that we eat it more often. Yes, just like my local CSA membership got me to eat my veggies, Sitka is getting me to eat more fish. Yum!
Special Offer
If this sounds interesting to you, I have a special offer for you–$25 off a 2021 Premium Share (note this does not apply to smaller shares). Just sign up here (affilate link) using code AONLFish. The code expires July 31, 2021.
The premium share subscribers have more higher end offerings and if something is short (you should have seen me sweat it out when King Salmon was short), Premium members will be supplied first.
But if this is too big a commitment, while I can't offer you a discount, there are many other great subscription plans as well, so take a look.
And in the meantime, how about some nice seafood pasta?
How to Prepare Seafood Pasta Puttanesca
Seafood Pasta Puttanesca is as easy as it is tasty! You:
Saute onion and garlic in olive oil until just soft.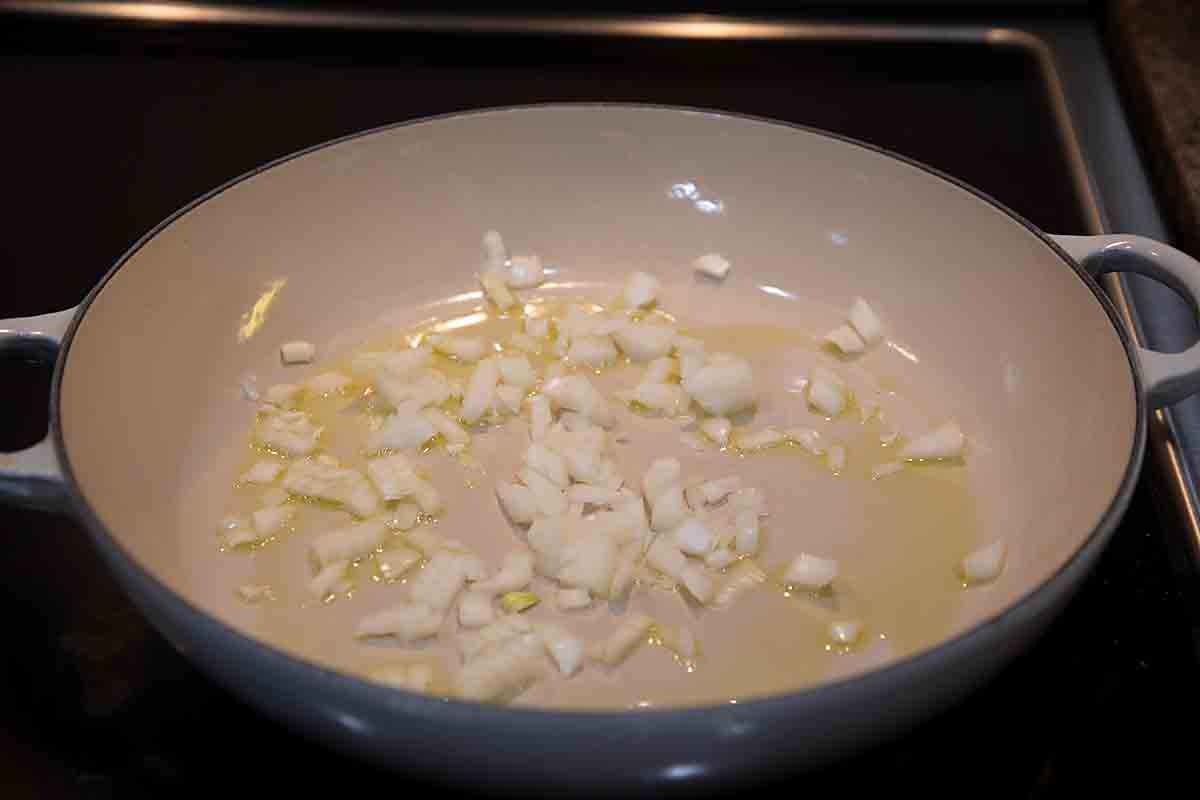 Add remaining sauce ingredients.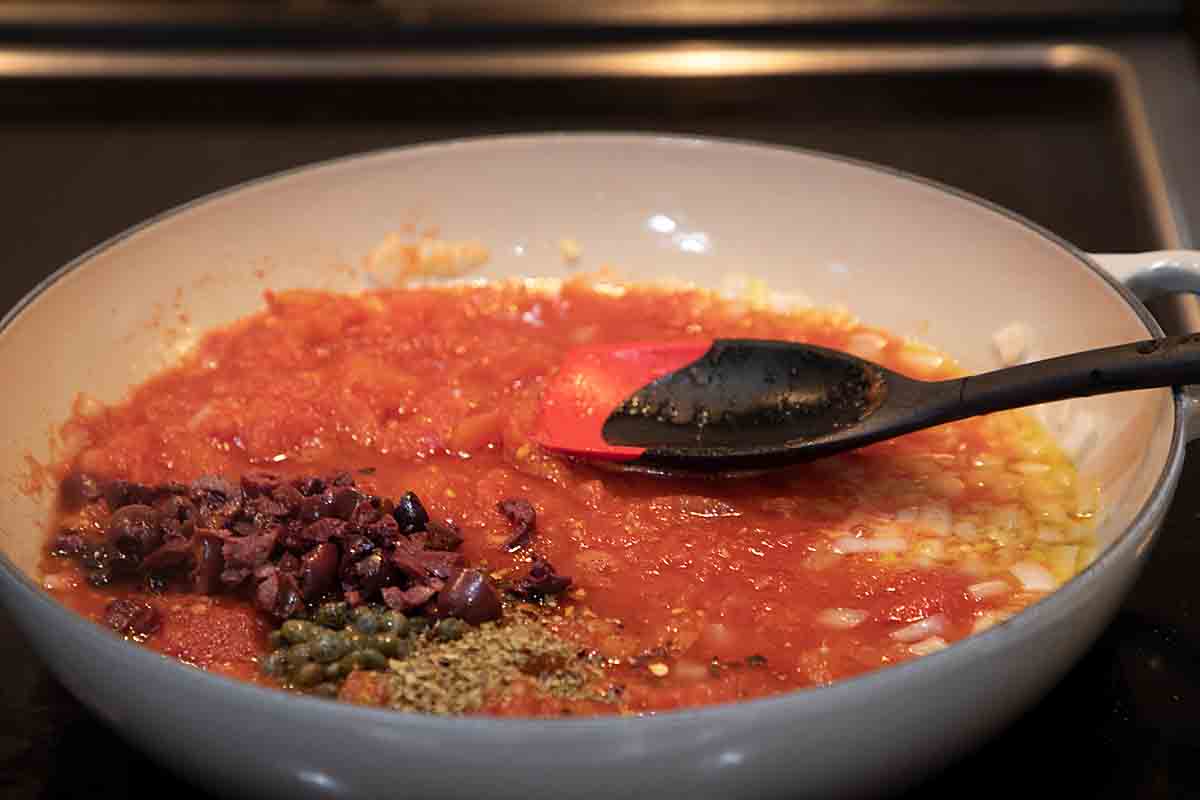 Add fish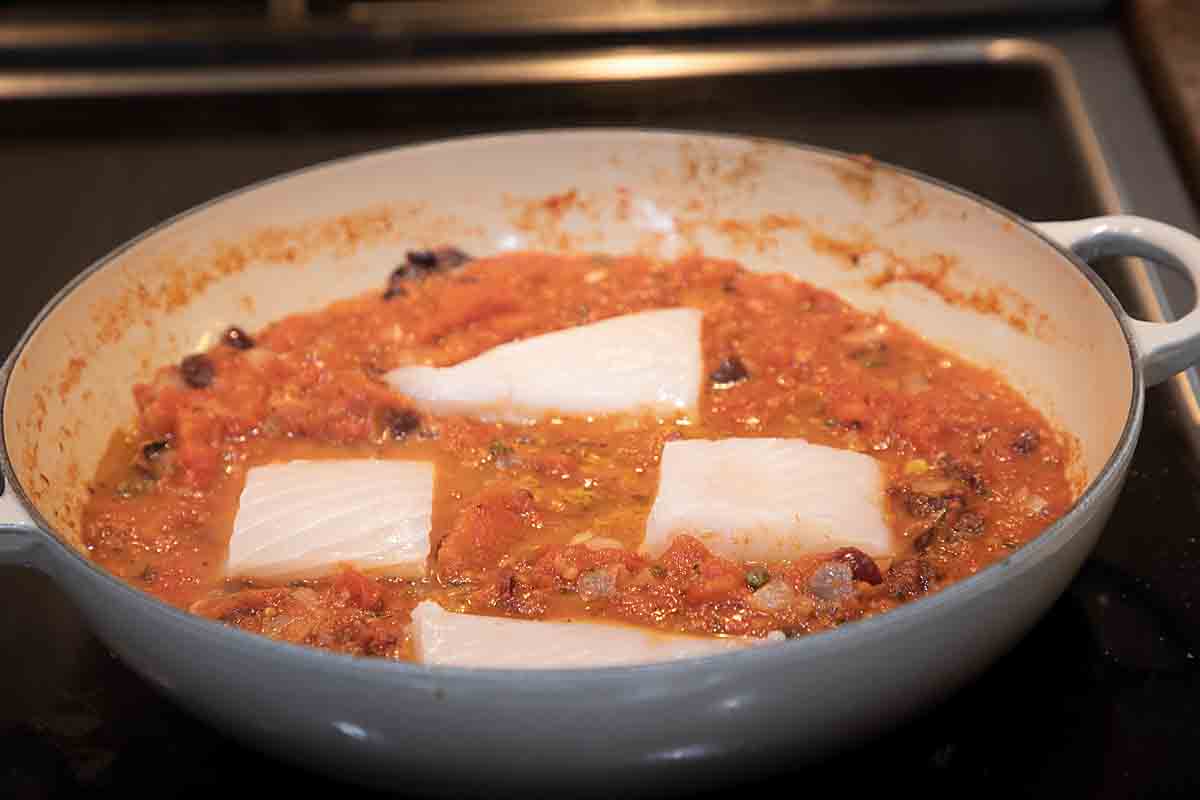 Add mussels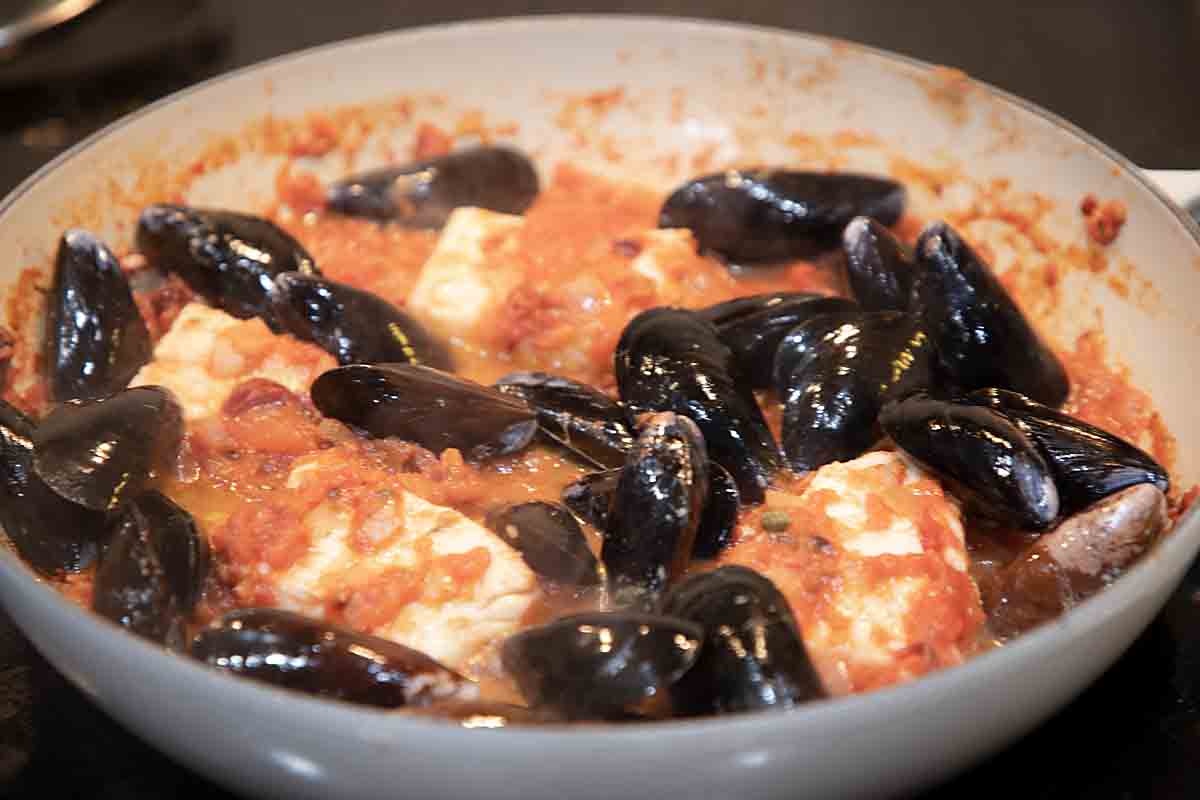 Serve over past and enjoy!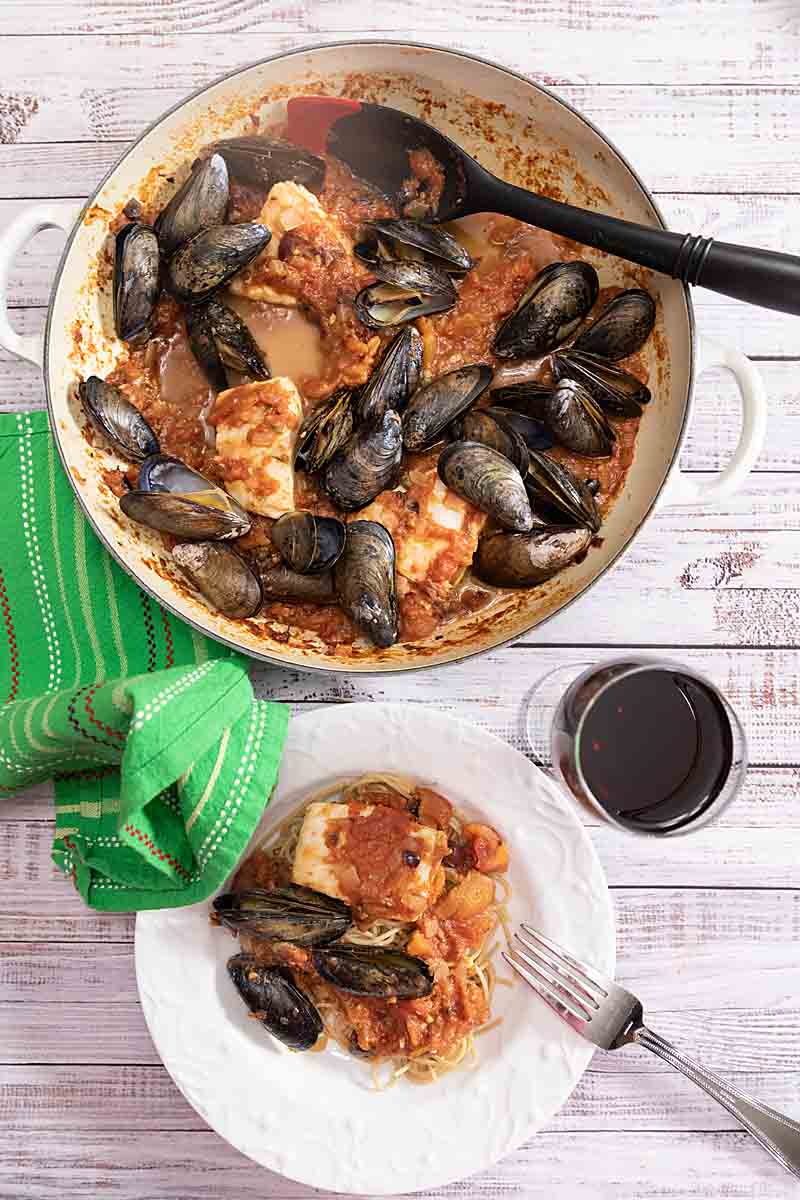 Notes on the Seafood Pasta Puttanesca Recipe
Mussels are tasty and cool-looking, but they can be intimidating if you haven't made them before. Feel free to substitute scallops (maybe from your Sitka box) or shrimp. If you do decide to use mussels, take note of these prep tips. First, discard any mussels that don't close when you clean or tap them and second, discard any mussels that don't open when you cook them.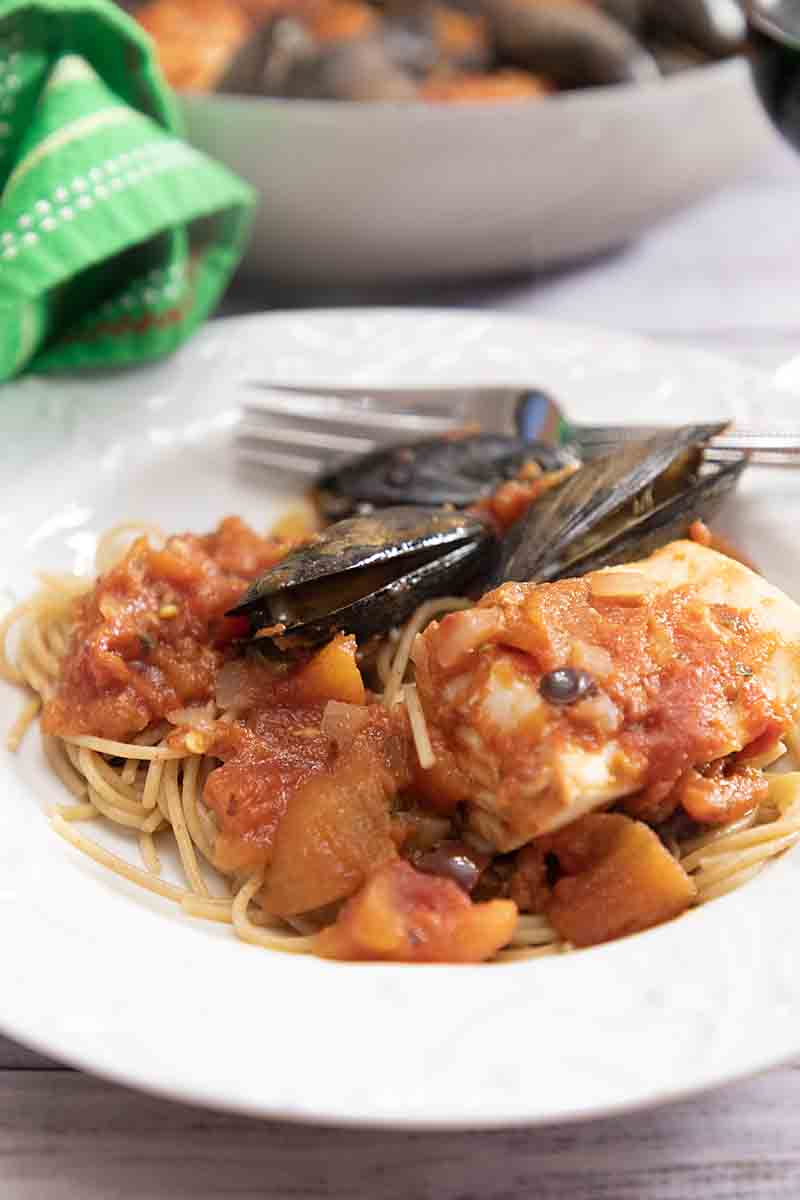 The sauce calls for either canned tomatoes or cherry tomatoes. In summer I'd use fresh but in late winter, canned was more convenient.
Finally, feel free to adjust the amount of crushed red pepper according to your taste—and the freshness of the spice in your spice rack.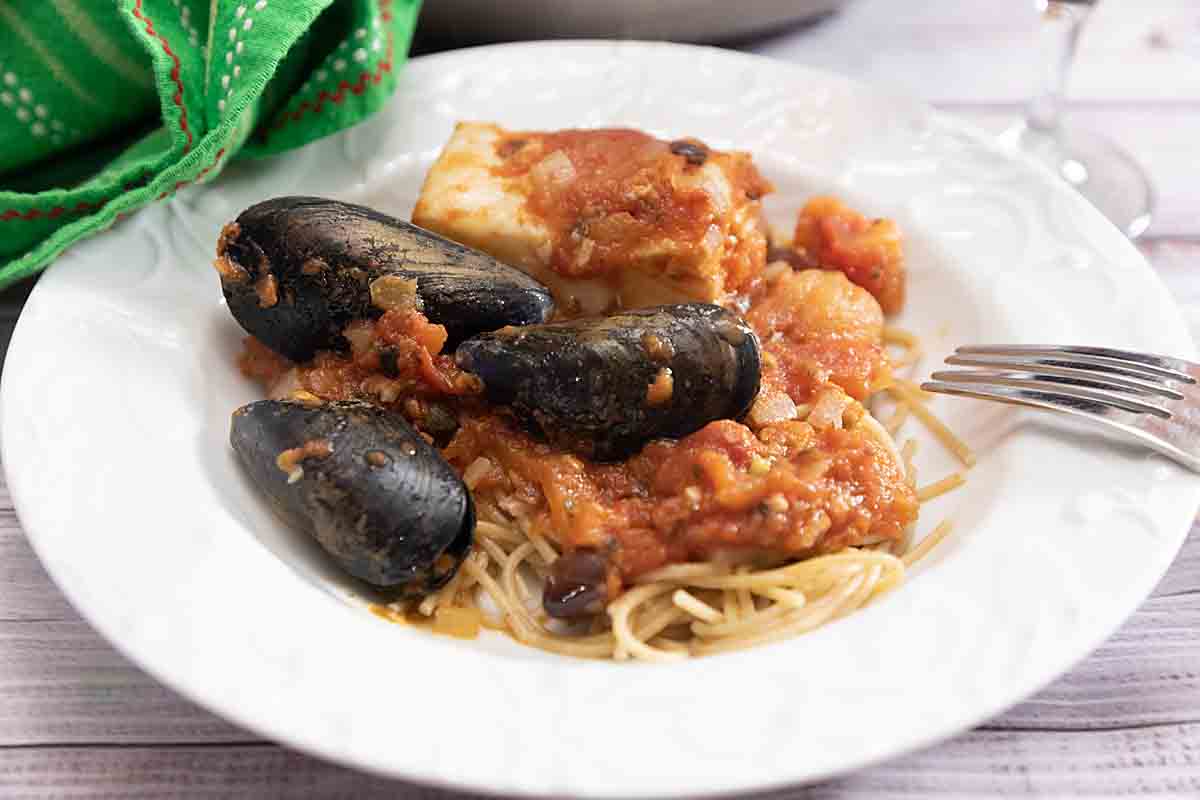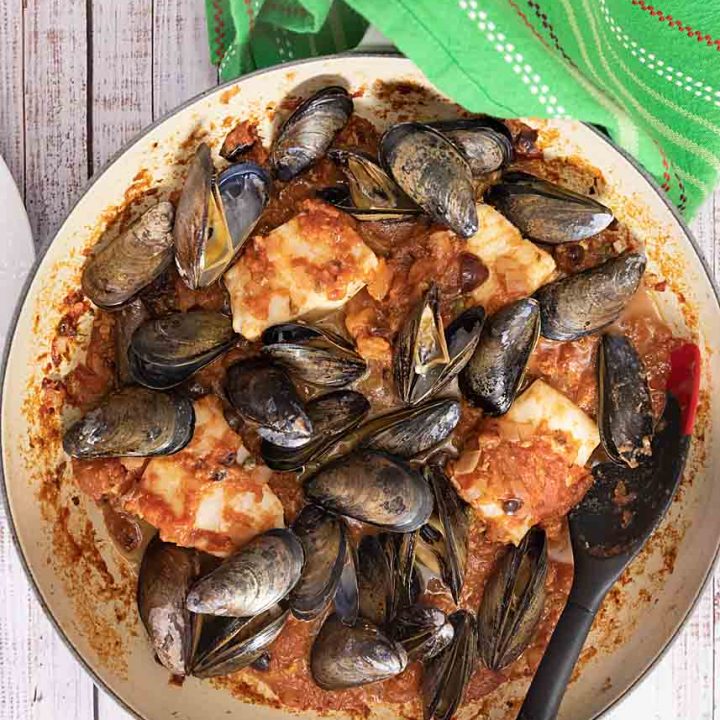 Seafood Pasta Puttanesca
A heartier version of a classic, quick Seafood Pasta Puttanesca is flavored with capers, olives, & a hint of spice. Plus amazing seafood.
Ingredients
2 T olive oil
2 cloves of garlic, minced
1 shallot (or 1/2 onion), chopped finely
1/2 - 1 teaspoon dried crushed peppers (to taste)
½ teaspoon oregano
28 ounce can canned tomatoes (see note)
¼ cup chopped kalamata olives
1 Tablespoon capers, drained
2 teaspoons anchovy paste
1 Tablespoon minced Italian parsley
salt, pepper to taste
1 lb mussels
1 lb firm white fish like halibut, cut in 4 pieces
8 ounces whole wheat pasta, cooked
Instructions
Clean mussels as needed and discard any that aren't closed or don't close when handled. Set aside.
Sautee onion and garlic in olive oil until just soft, about 5 minutes.
Add dried crushed red pepper, oregano, tomatoes, olives, capers, anchovies and parsley. Simmer until flavors combine and sauce thickens some, about 10 minutes.
Add whitefish to sauce, cover and cook until almost done, about 5 minutes.
Add mussels and cook until they open, about 5 minutes. Discard any mussels that don't open. Serve over hot cooked pasta.
Notes
You can substitute 2-3 pints of cherry or grape tomatoes for the canned tomatoes.
Nutrition Information:
Yield:

4
Serving Size:

1
Amount Per Serving:
Calories:

627
Total Fat:

25g
Saturated Fat:

4g
Trans Fat:

0g
Unsaturated Fat:

17g
Cholesterol:

164mg
Sodium:

1146mg
Carbohydrates:

36g
Fiber:

7g
Sugar:

6g
Protein:

65g
Nutrition data accuracy may vary with product selection, calculator accuracy, etc. Consult a professional for the best information.