Tasty sausage-covered Scotch eggs are a fun appetizer or snack that's at home anywhere, from pub to picnic to poolside cocktail party.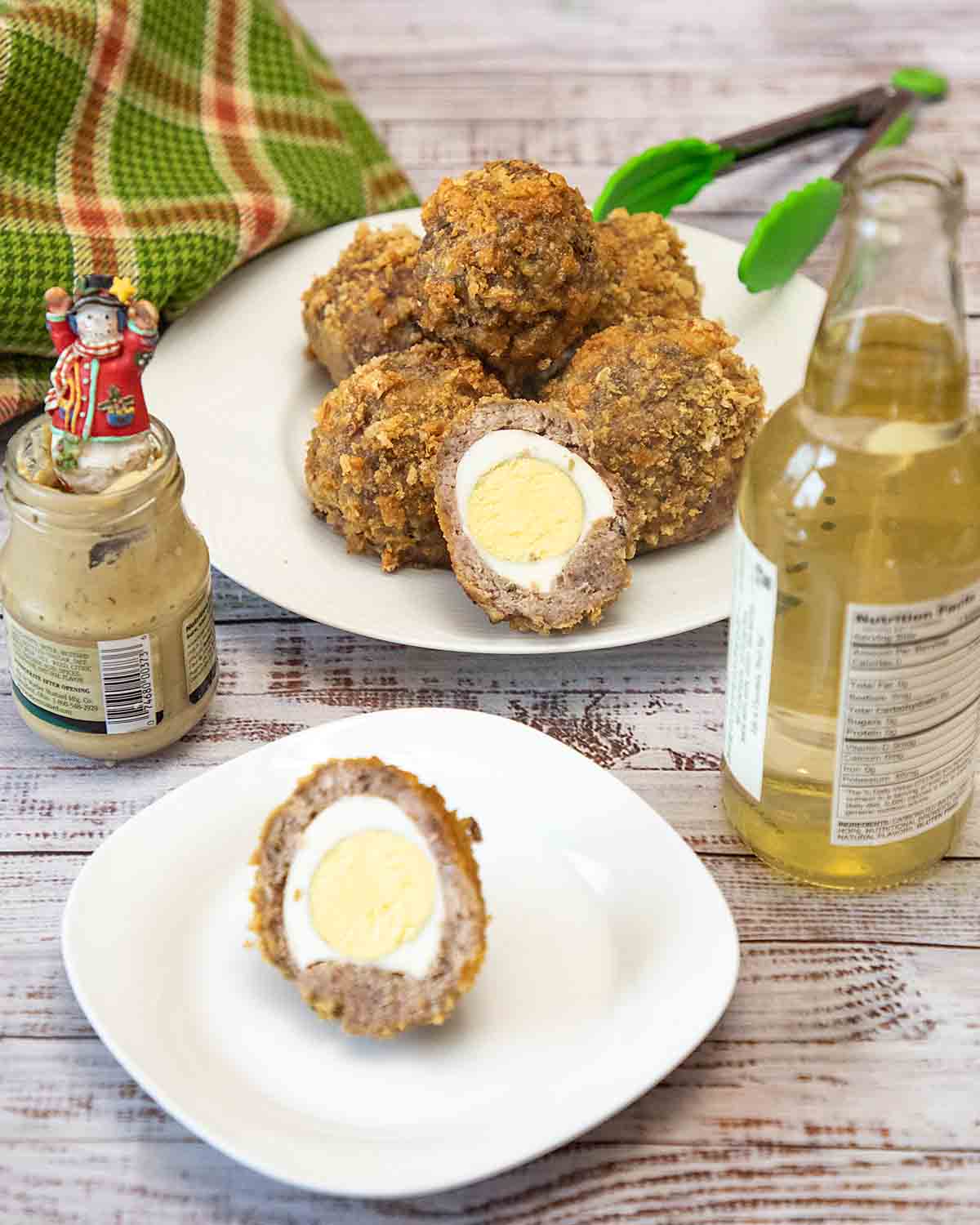 I had seen Scotch Eggs over the years. These unique snacks are comprised of hard-cooked eggs wrapped in sausage and breadcrumbs, then cooked until crunchy.
But truthfully, I found them a little off-putting.
This all changed during a Captiva vacation, before the devastating hurricane. Prior to a building cocktail party, there was an audible buzz, would there be Scotch Eggs?
They were clearly a favorite!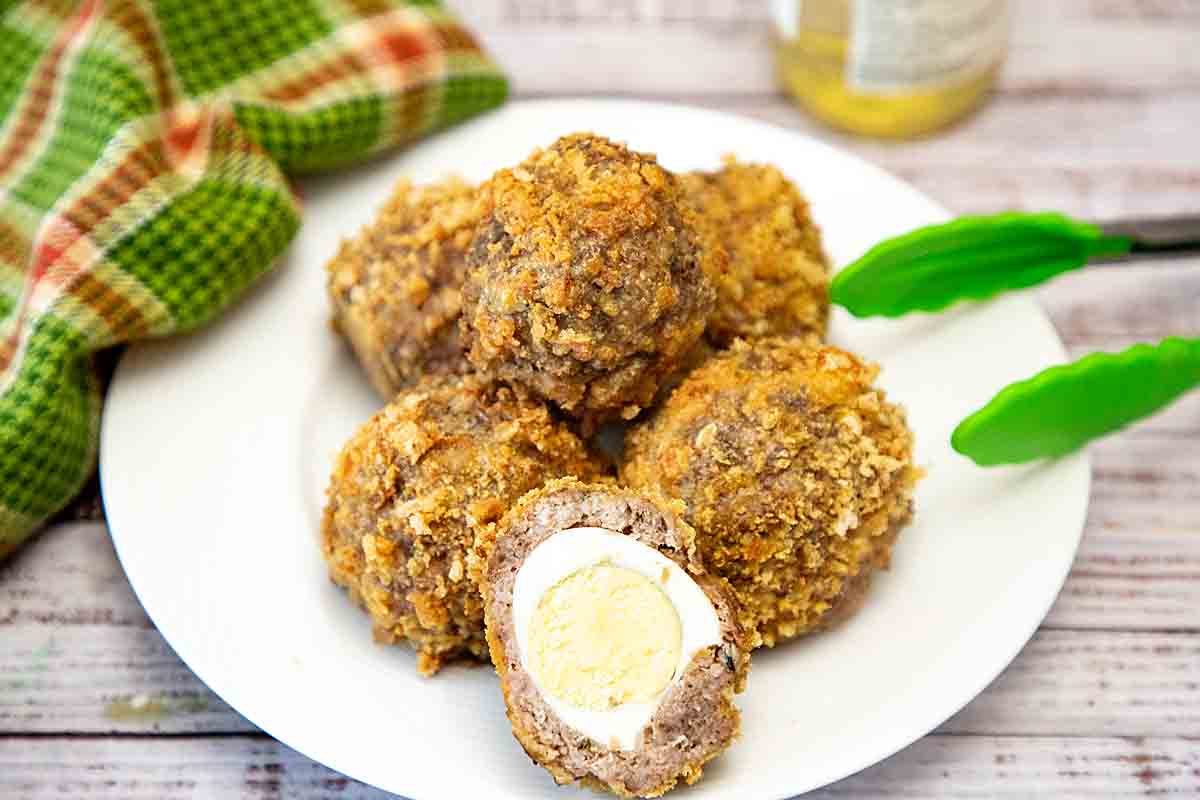 What is A Scotch Egg
Wikipedia says that "A Scotch egg is a boiled egg wrapped in sausage meat, coated in breadcrumbs and baked or deep-fried… Scotch eggs are a common picnic food. In the United Kingdom packaged Scotch eggs are available in supermarkets, corner shops and motorway service stations."
Why You'll Love This!
Tasty and Popular. The way these disappeared at the cocktail party, it didn't take me long to realize how popular they were. Yes, they're that tasty!
Versatile. While best known as pub food, these would also be at home for many other events.
Go Easy or Local. You can go all local with these, making your own homemade breakfast sausage and using farm fresh eggs. Or you can go the easy route and buy your sausage pre-made and your eggs already hard-boiled and peeled.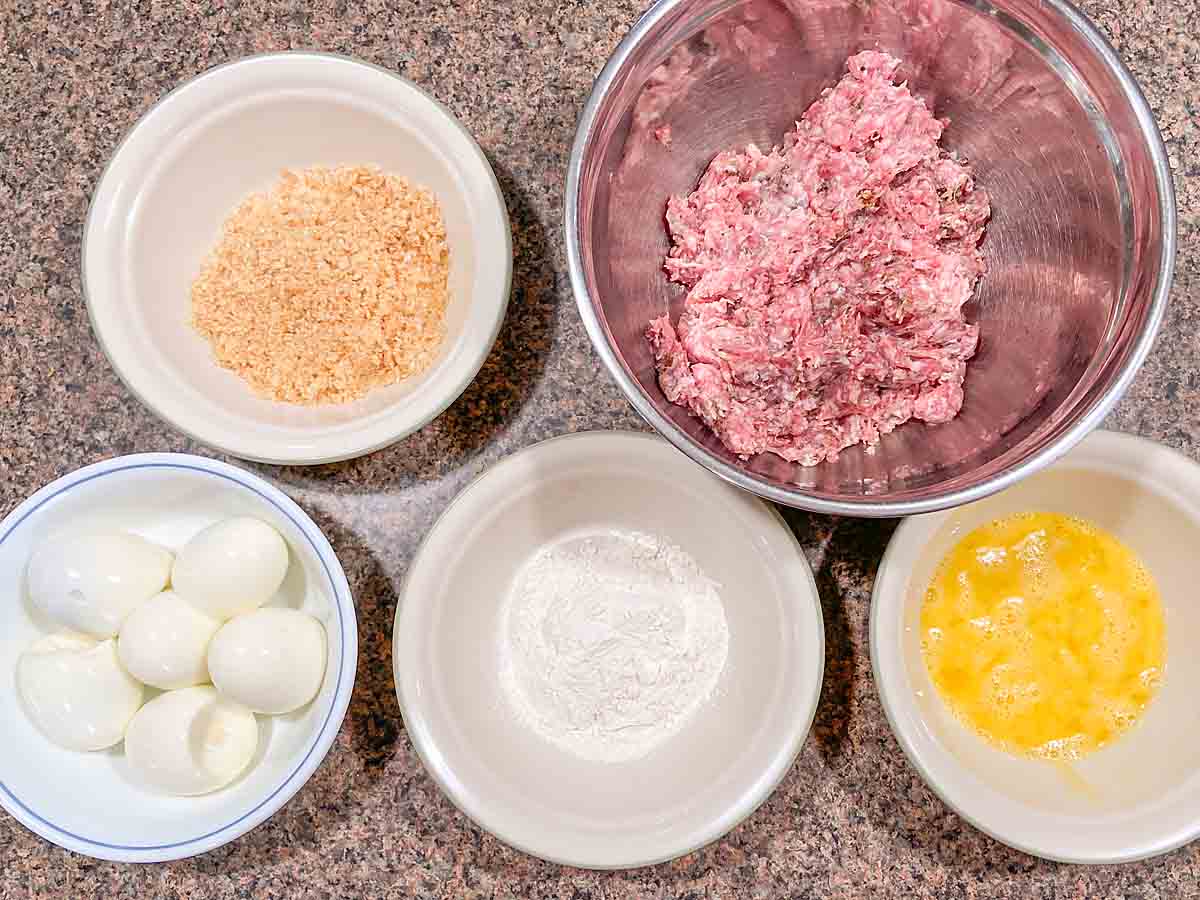 What You'll Need
Ingredient Notes
Breakfast Sausage. Use your own or a commercial sausage.
Hard-cooked Eggs. Boil your own, or buy them pre-cooked and peeled.
Raw Egg. Helps the breading adhere.
Flour. Helps the breading adhere. Use all purpose of for low carb, tery coconut flour or your favorite keto-friendly substitute.
Panko breadcrumbs. Provides a crunchy breading. Use crushed pork rinds for keto/low-carb.
Special Tools
No special tools are needed
Step by Step Directions
Divide the sausage into six pieces. Form an oval sausage patty to encase egg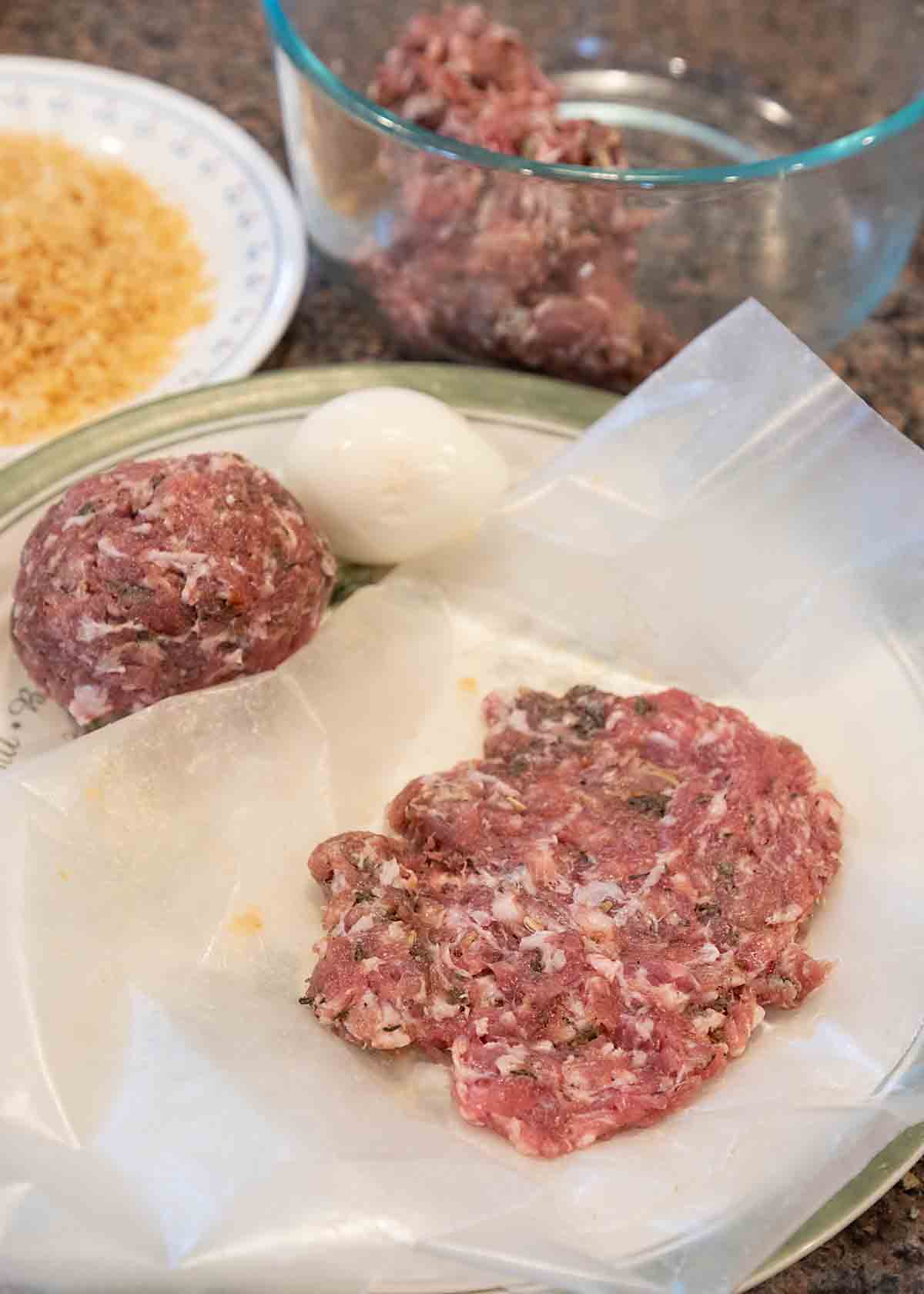 Wrap egg in sausage.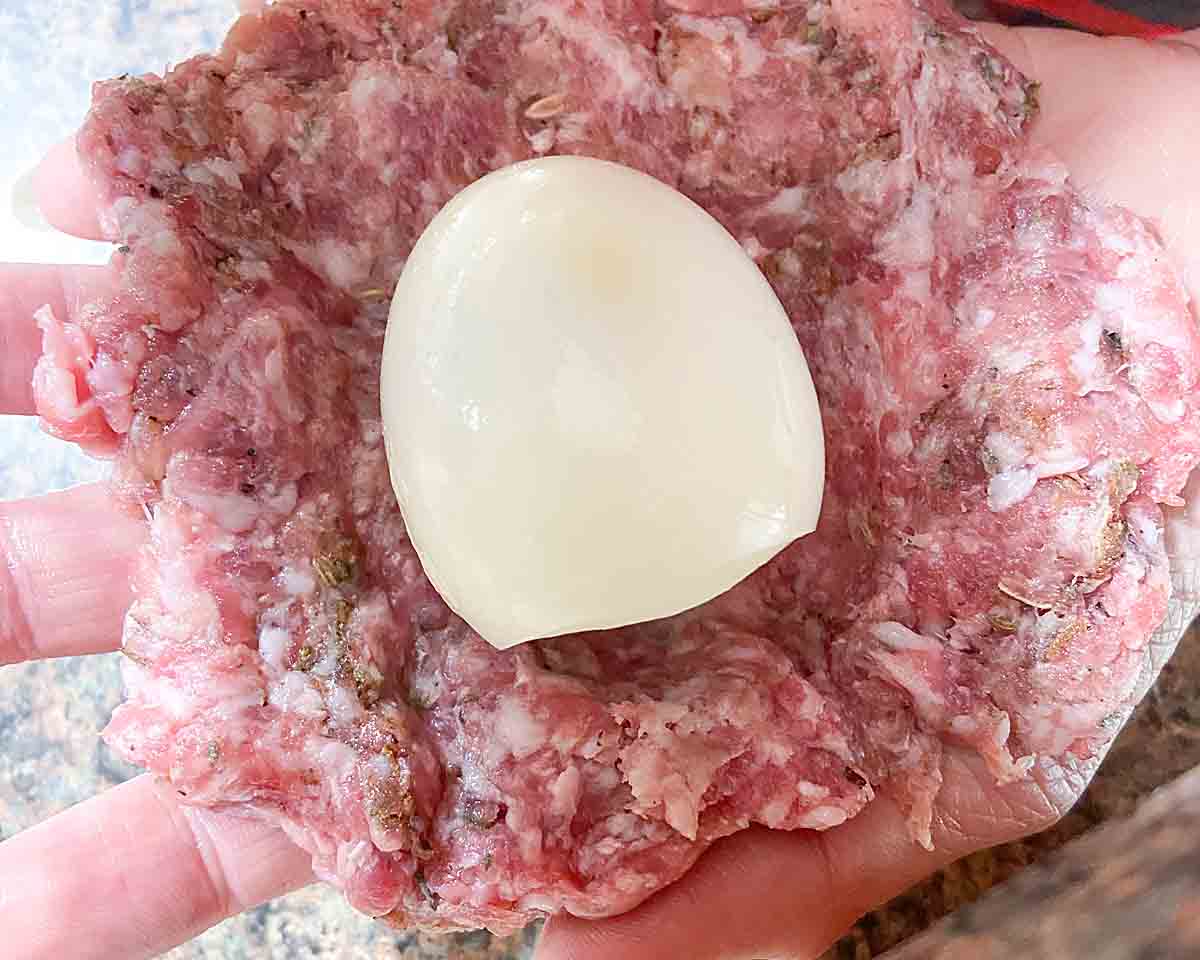 Dip sausage covered eggs in flour, egg, "breadcrumbs" (panko or keto substitute).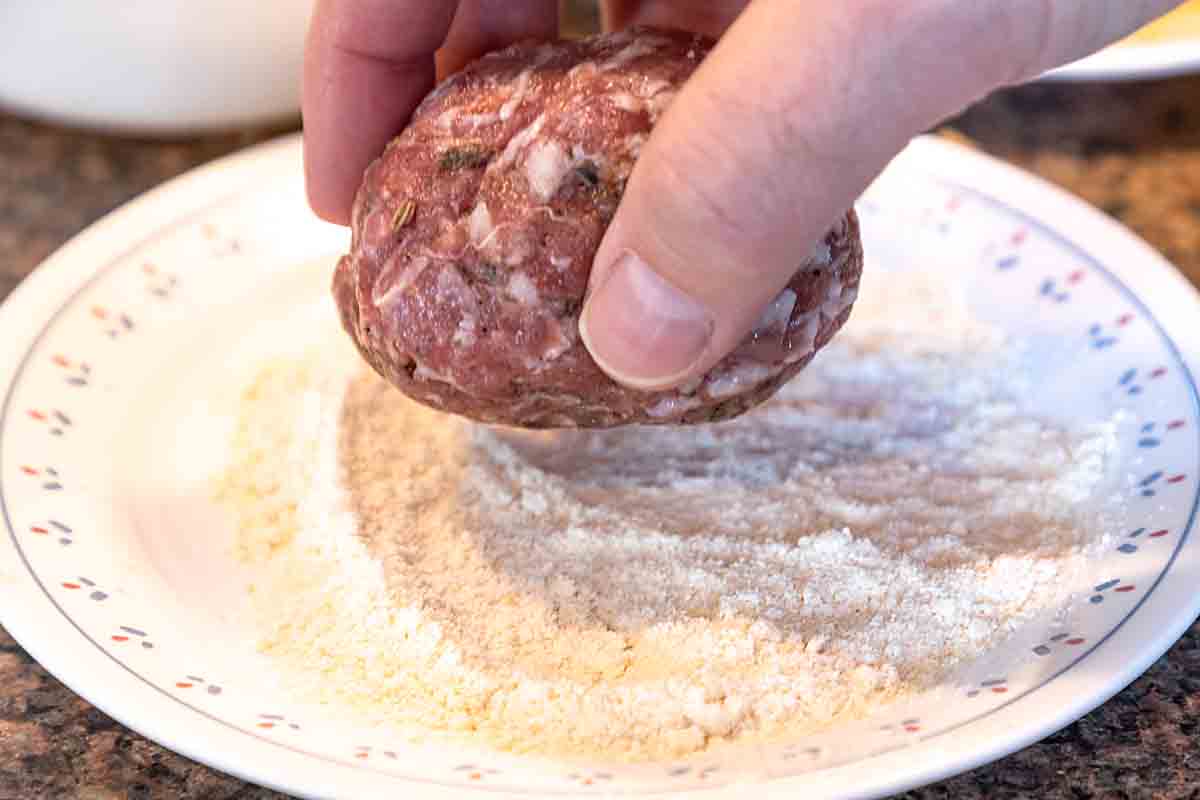 Bake. (Here I'm testing four different breading methods.)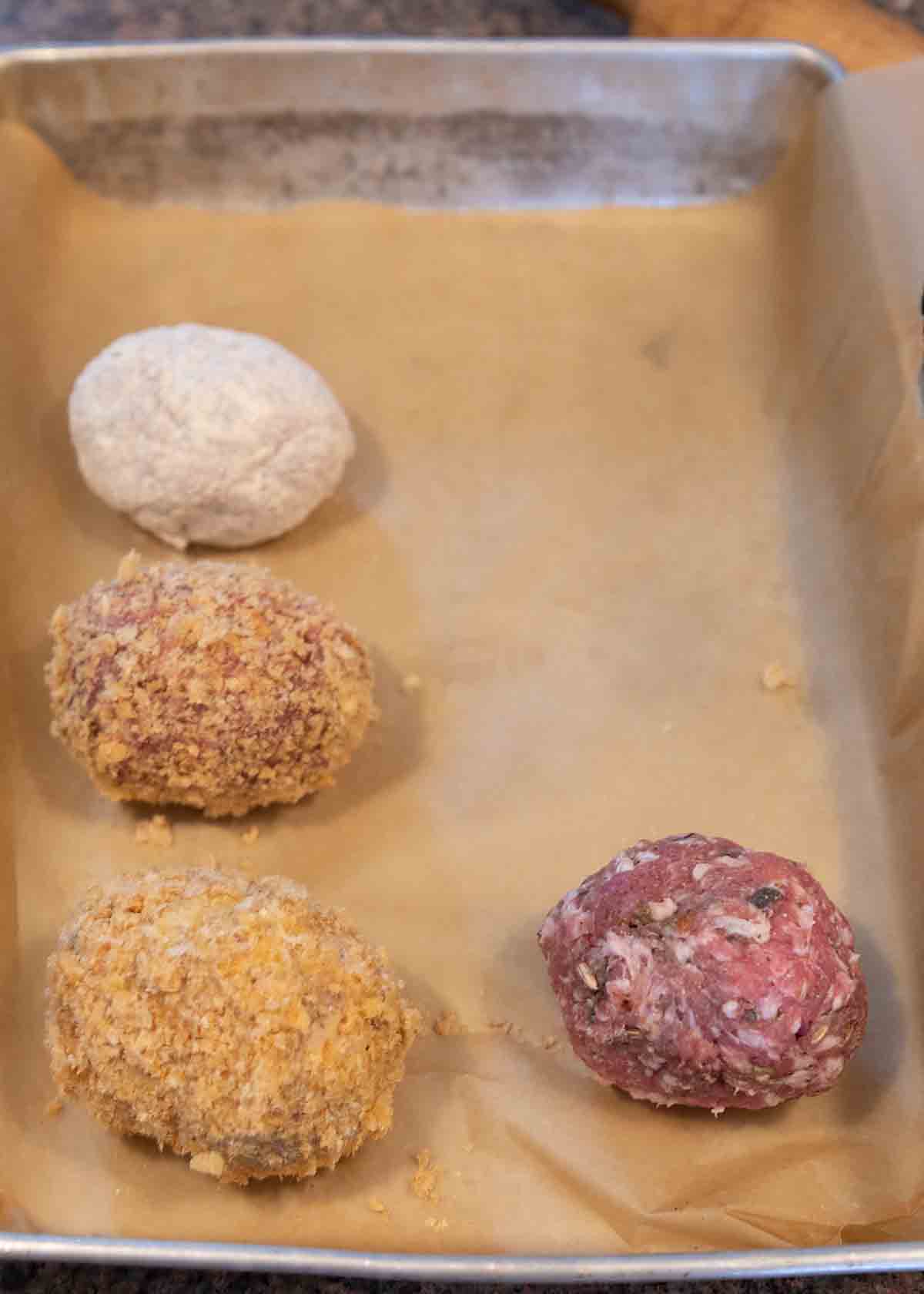 Enjoy!
How to Make Keto "Breadcrumbs"
Are you familiar with the popular keto hack for making "breadcrumbs"? You simply crush up a bunch of porkies pork rind snacks and use them instead of high carb breadcrumbs. I have rolled them with a rolling pin or simply crushed them by hand. It's easy and tasty!
And don't forget that you can also make regular breadcrumbs as home. Take a look at my Italian breadcrumbs recipe for a how to guide. (Just reduce the Italian seasonings if you want to use it for this.)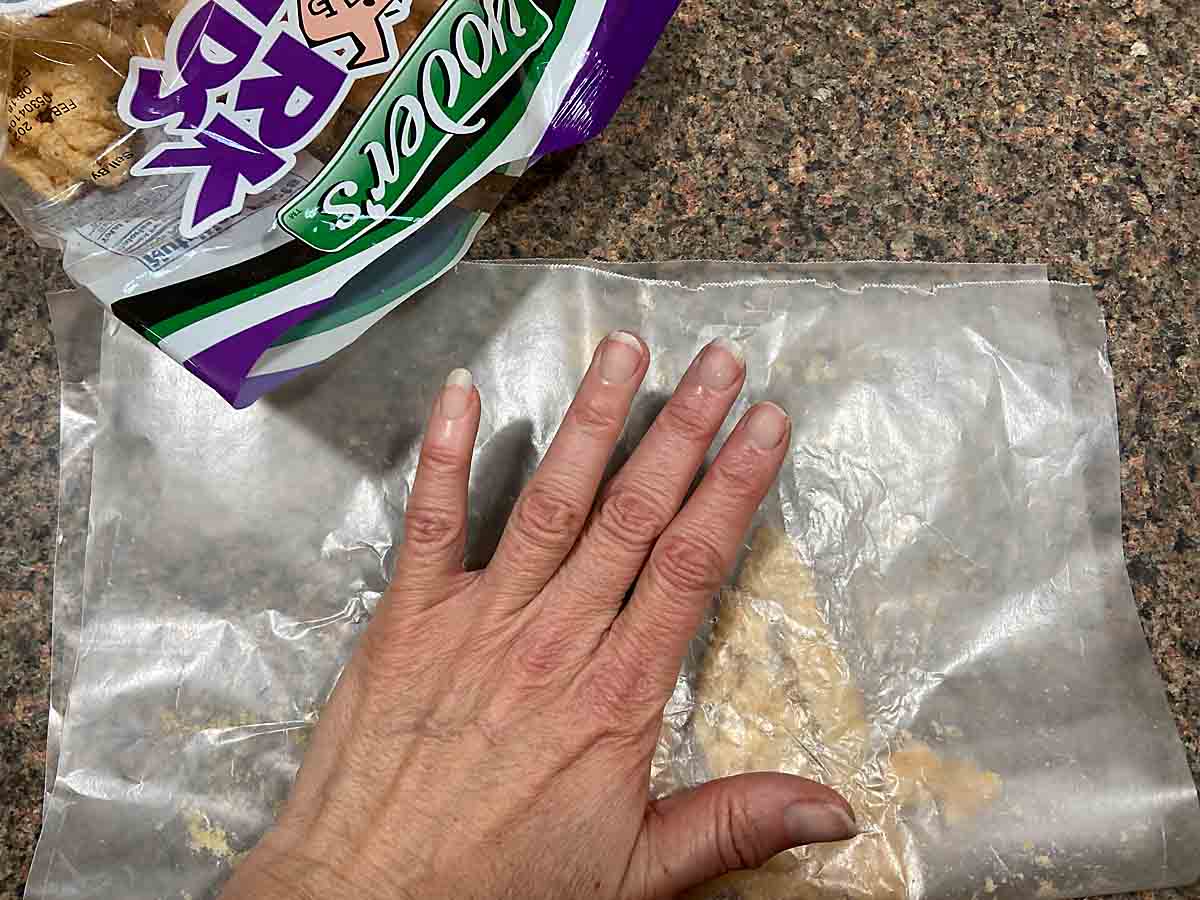 How to Serve
Scotch Eggs are usually served as a snack or appetizer. And while Brits may not generally consider them breakfast food, I'd totally take one for a breakfast on the go.
I like to dip mine in mustard, while my husband prefers his plain.
Scotch eggs can be served hot or cold and whole or halved. I hear people even slice them sometimes–wouldn't that look cool on a salad! I told you it was a versatile treat!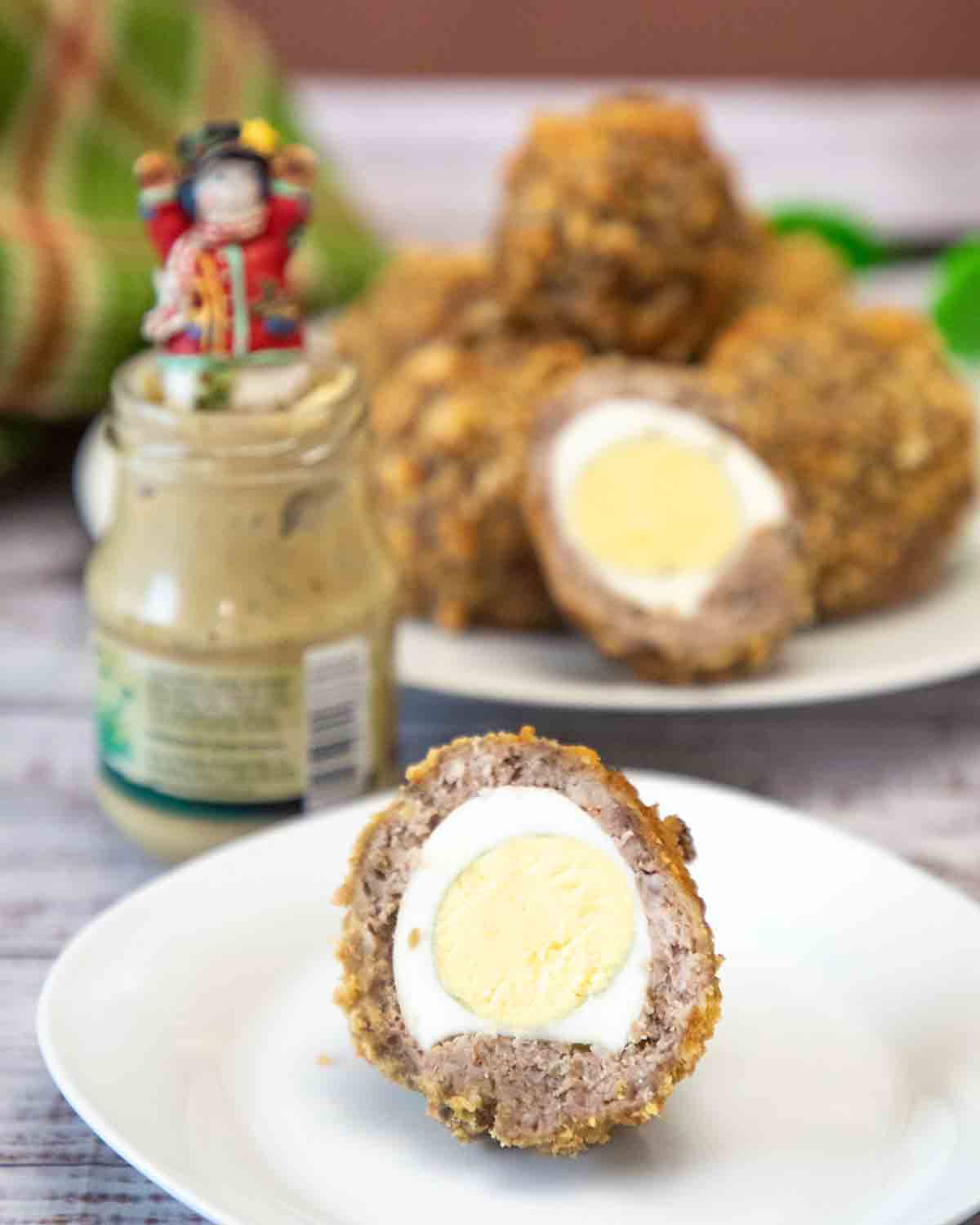 A Trial of Different Breading Methods
I actually tested the Scotch Eggs four ways based on different online preparation methods that I'd found.. I rolled the first in (coconut) flour, beaten egg, then pork rind "breadcrumbs". Second, just pork rind "breadcrumbs". Third just the flour. And the final had nothing coating the sausage at all.
From l to r, coated in: flour/egg/"breadcrumbs" (1st place), "breadcrumbs" (2nd place), flour (4th place), no coating (3rd place)
In the end, they were all good, proving the adaptability of this tasty snack. And since they were all good, you can happily make this dish even if all you have is egg and sausage!
Tips & FAQs
Traditionally Scotch Eggs are deep fried. Since I don't deep fry at home, I baked mine! Still good!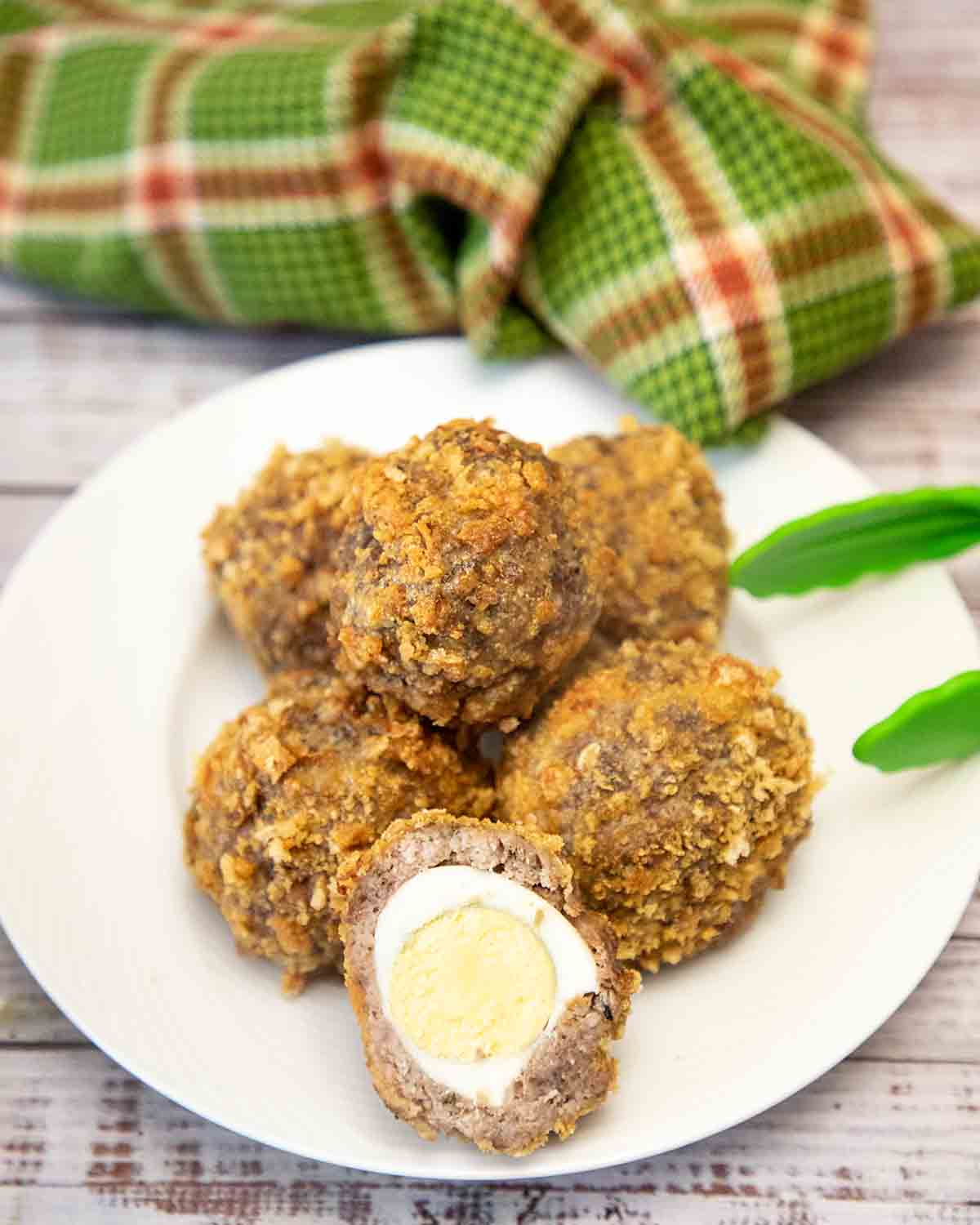 Favorite Finger Food Recipes
We share Recipes From Our Dinner Table! Join our group and share your recipes, too! While you're at it, join our Pinterest board, too!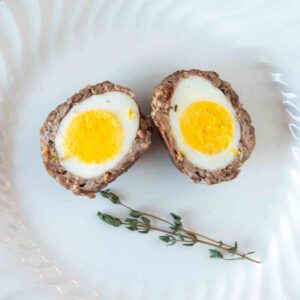 Scotch Eggs
Scotch Eggs, tasty sausage-covered cooked eggs, are a tasty appetizer that work great anywhere, from picnic to poolside cocktail party.
Ingredients
1

lb

breakfast style sausage

homemade or commercial

6

hard-cooked eggs

1

raw egg

¼

cup

flour

½

cup

crushed pork rinds or panko bread crumbs
Instructions
Cover hard-cooked eggs in a thin layer of sausage.

Beat raw egg in a small bowl.

Roll an egg in flour, then dip in beaten egg, then roll in breadcrumbs.

Bake at 400 until sausage is cooked through, about 35 minutes. Turn during baking for the best-looking eggs.

Cut in half to serve. Serve warm or cold.
I am not a health professional and nutrition data is calculated programatically. Accuracy may vary with product selection, calculator accuracy, etc. Consult a professional for the best information.
Originally published on 2/20/2020.