Cold and creamy with a tasty pumpkin spice flavor, this pumpkin milkshake is a fun fall treat! Who'd like a tasty dessert or snack in minutes!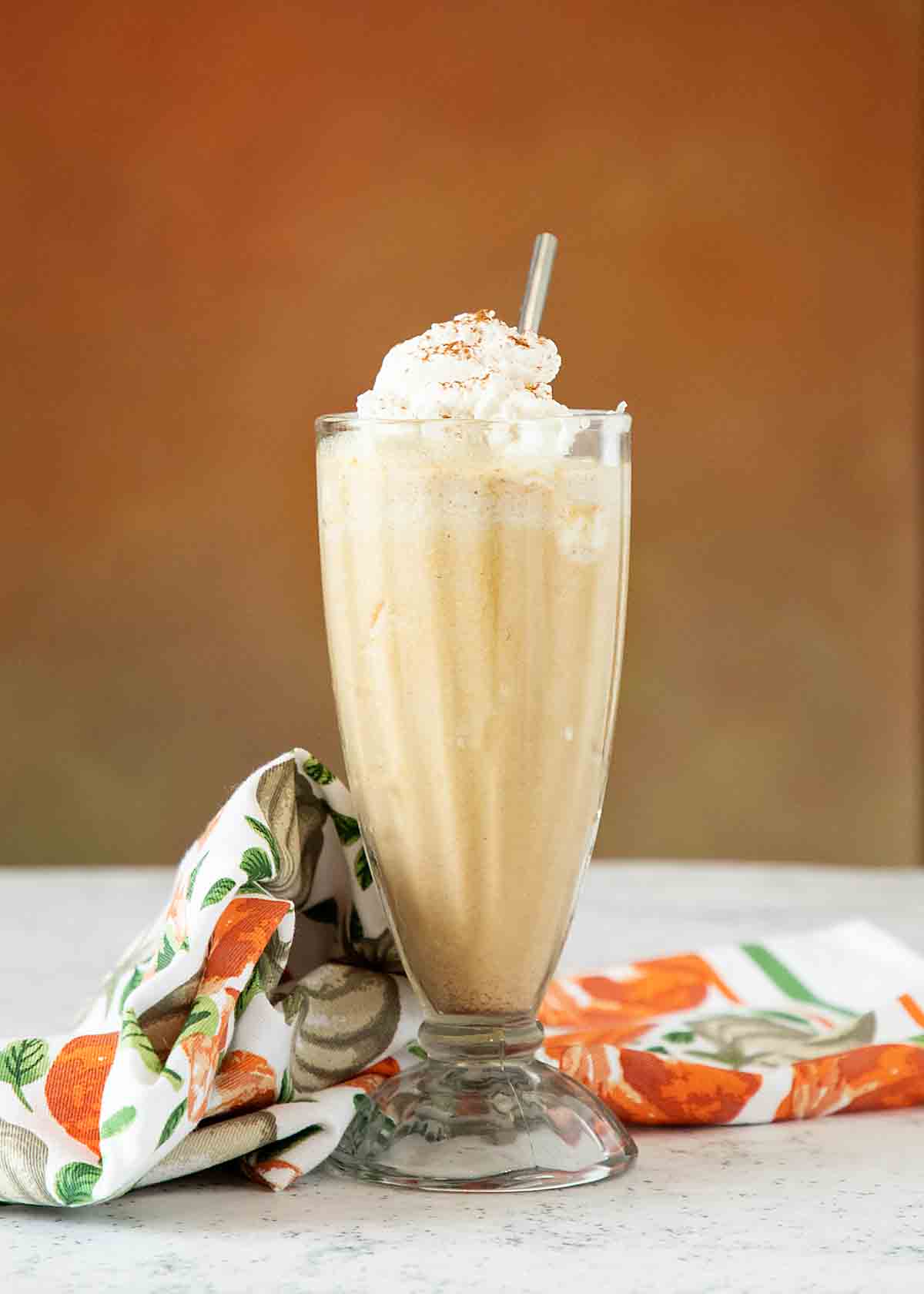 Gotta love fall. Besides the abundant harvest and glorious scenery, the weather's even good (okay, usually). That means fun fall hikes, long bike rides and beautiful sunsets.
And there's still time for one last ice cream drink–like this Pumpkin Milkshake!
Just blend up some pumpkin and spices along with creamy vanilla ice cream. It's like the essence of fall.
What is a Shake?
According to Wikipedia, a milkshake or shake "is a sweet beverage made by blending milk, ice cream, and flavorings or sweeteners… into a thick, sweet, cold mixture…. Milkshakes originated in the United States around the turn of the 20th century, and grew in popularity following the introduction of electric blenders"
Of course shakes are good all year round but a Pumpkin Spice Milkshake is especially good for fall!

Why You'll Love This!
Tasty. Just think of ice cream and pumpkin spice blended and served with a straw. Yum!
Fun. Right now, it's everything pumpkin time. What a way to celebrate!
Healthier. You could do a whole lot worse for nutrition in a dessert. If you take a look at the nutrition label from a TJ pumpkin can, you'll see that each serving of Pumpkin Shake has over a full RDA of vitamin A, plus a couple grams of fiber!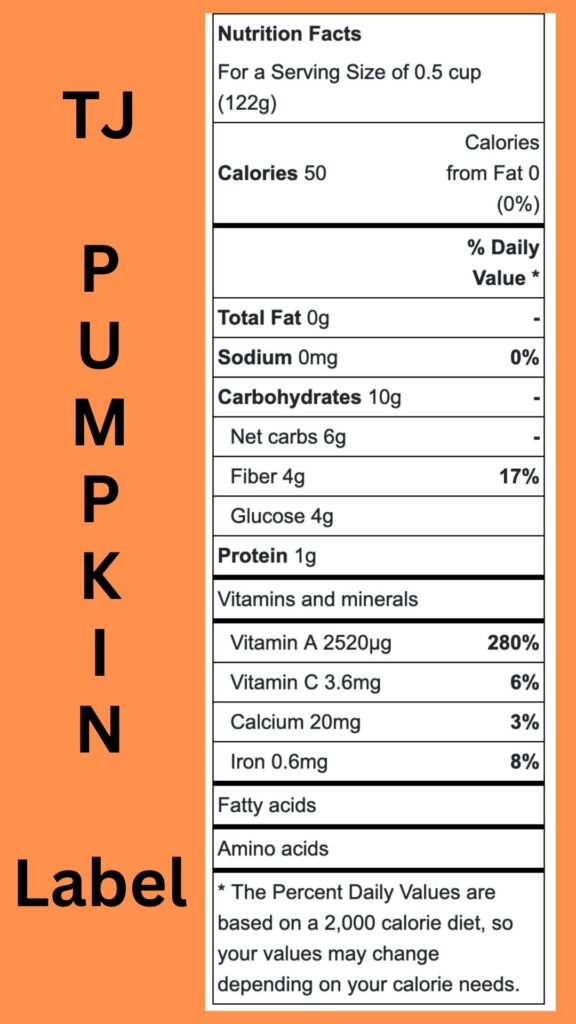 What You'll Need
Ingredient Notes
Ice cream. This provides thickness, sweetness and creamy goodness. You can use any fat level as well as non-dairy per your preferences.
Milk. This helps blend the ingredients together and adds calcium. Any fat level is fine, as is non-dairy.
Maple syrup. This sweetens and enhances the flavors. You can use a few drops of stevia or other sweetener if you're watching your sugar intake.
Pumpkin. This give it pumpkin flavor and adds nutrition.

Cinnamon, ginger, cloves, allspice. These provide the pumpkin spice flavor,
Vanilla wafers. These are crushed to add a little crunch and they harken back to pie crust. You can use graham crackers or another crunchy cookie if you prefer.
Special Tools
A good blender is helpful though you could blend this by hand.
Step by Step Directions
In a high speed blender, combine all of the ingredients except the vanilla wafer crumbs. Blend until smooth.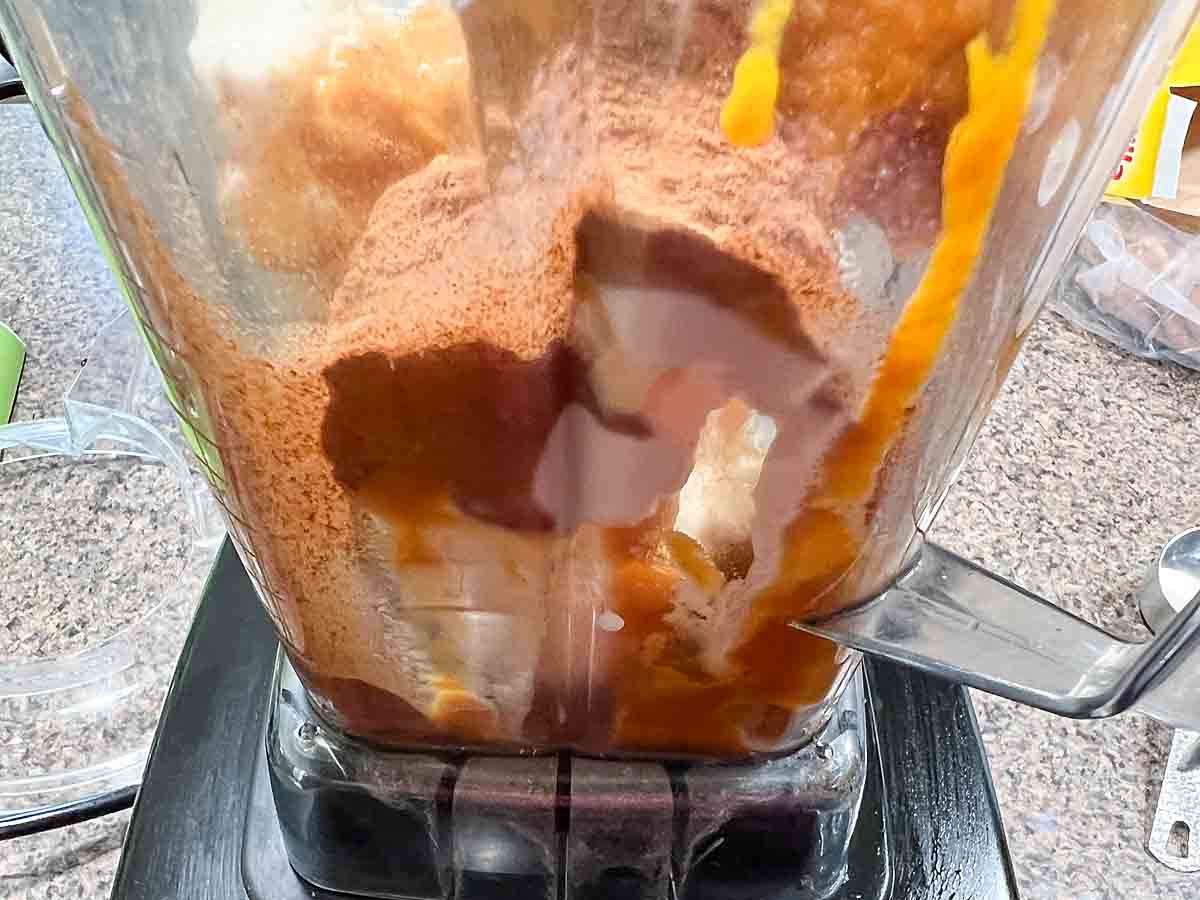 Stir in the vanilla wafer crumbs by hand or with a couple pulses of the blender.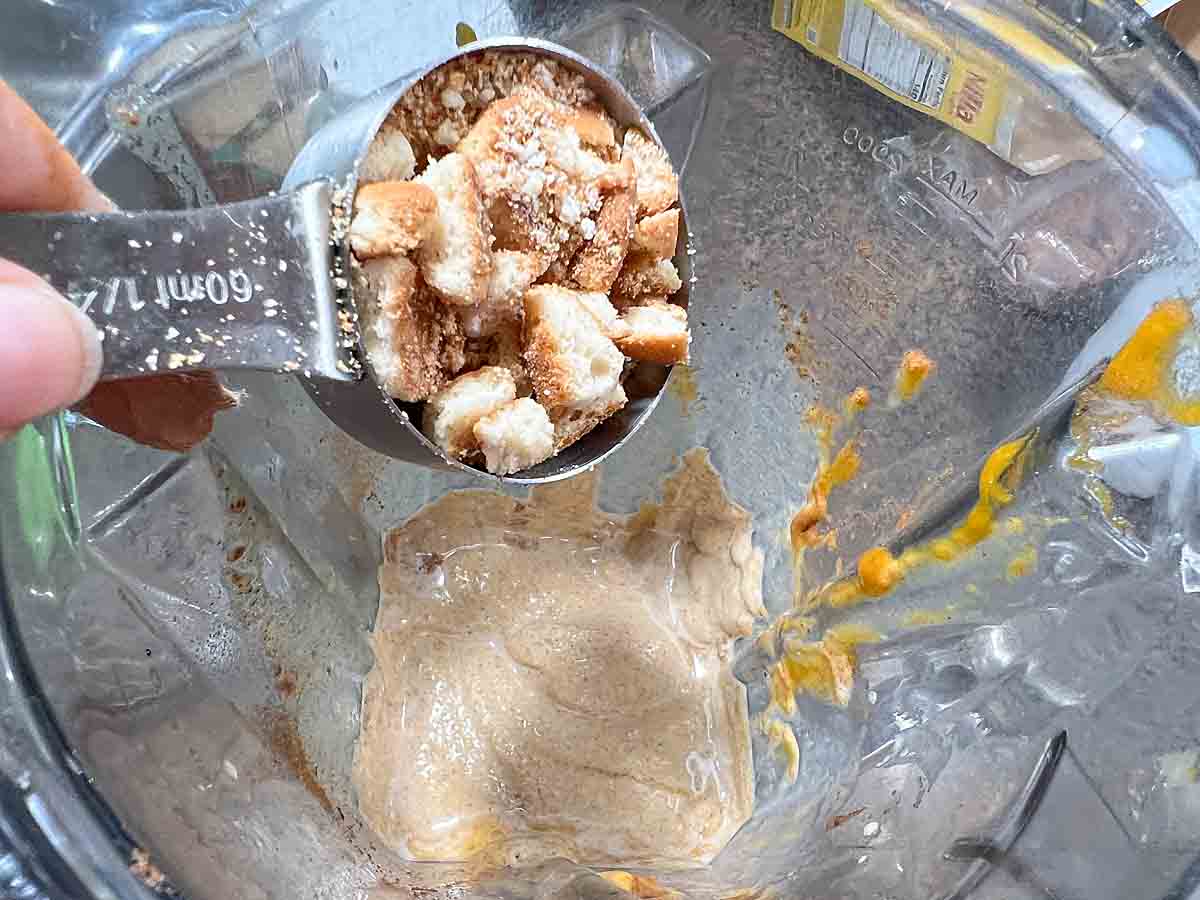 Pour into two glasses and top. Top each Pumpkin Milkshake with whipped cream and a sprinkle of cinnamon if desired.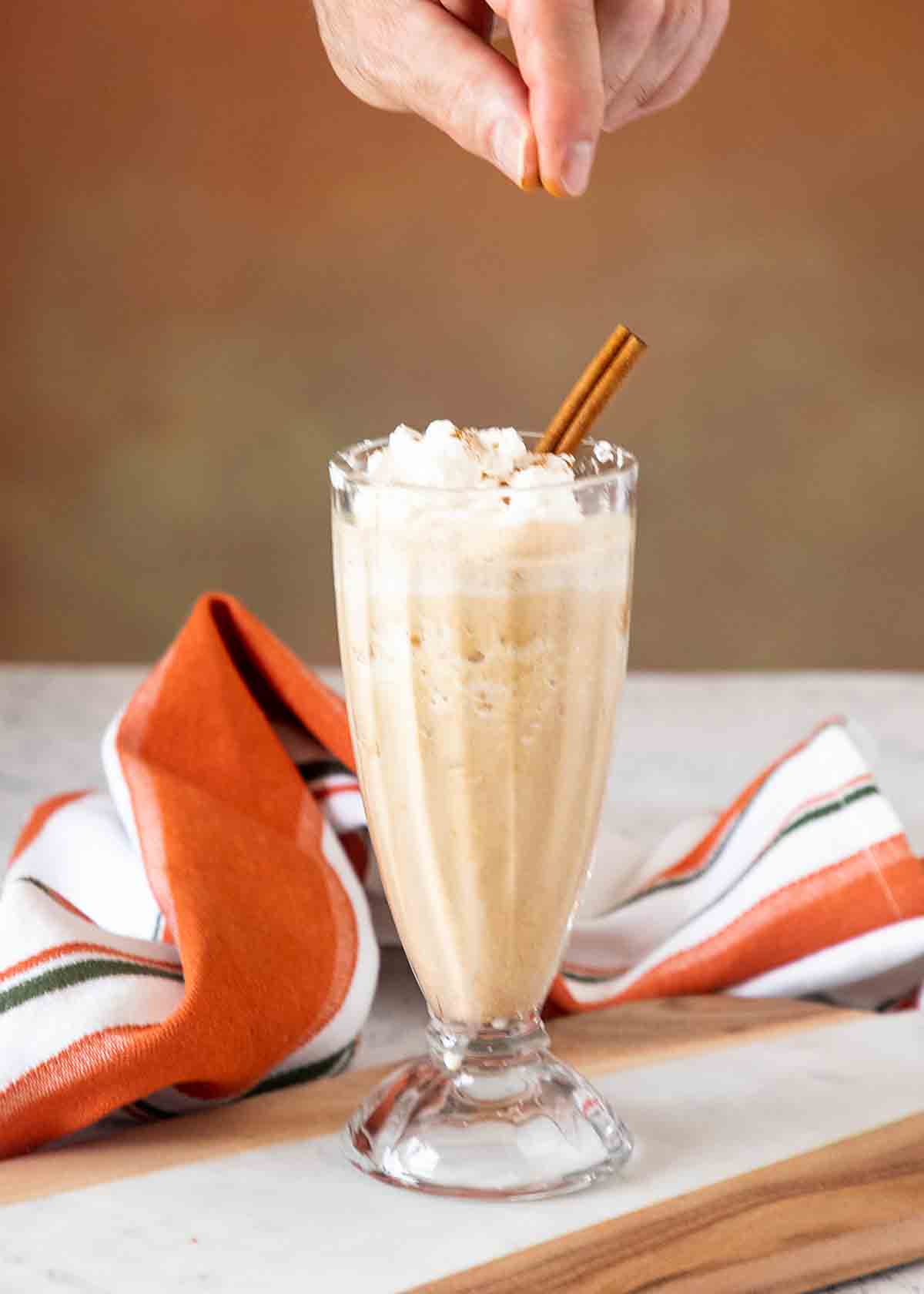 How to Serve
It's always fun to serve an ice cream beverage in special glasses. I got mine cheap at a second hand store so this doesn't need to break the bank! But any glassware you have will work.
I like to top my Pumpkin Milkshake with whipped cream. It adds to the fun makes the drink rise above the top of the glass. For extra flavor you can even use my Pumpkin Spiced Whipped Cream!
And how about sprinkling the whipped cream with cinnamon or extra cookie crumbs and maybe even drizzle with my easy homemade caramel syrup! How cute would that be!
I usually like to use a straw for an ice cream beverage. Of course, as a natural food blogger, I avoid unnecessary plastic, and the recent reports about PFAS in paper straws are also not encouraging. So I've decided on metal straws which I rinse right away–and which have a long handled skinny cleaning brush too!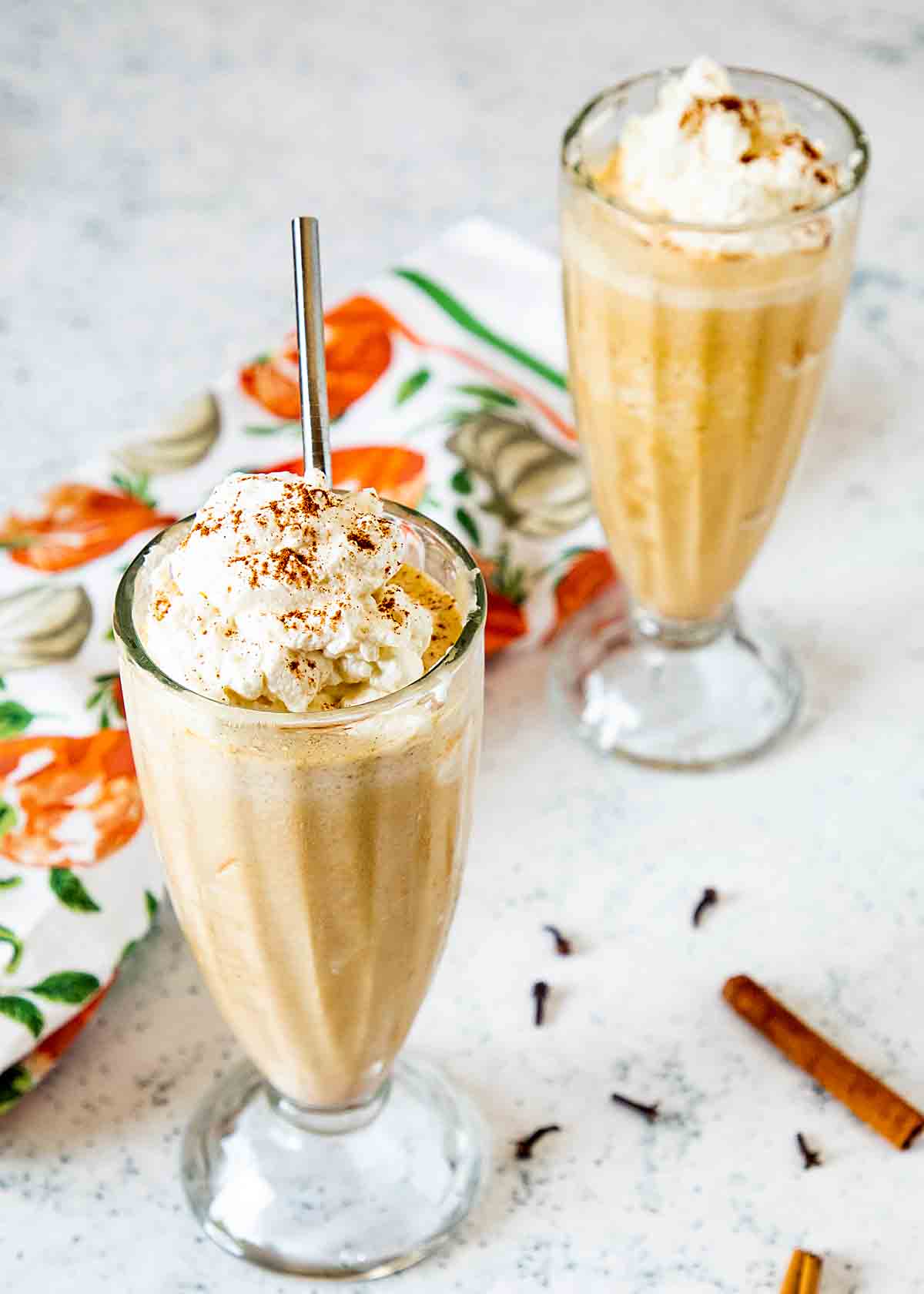 Variations and Special Diets
I added vanilla wafers because I read that this is what Dairy Queen uses in their Pumpkin Pie blizzards. And who wouldn't like a Copycat Pumpkin Pie Blizzard—like a very thick Pumpkin Pie Shake!
But you can also use crushed graham crackers. And I think that crunchy gingersnaps would be amazing as well. If you do want to go more DQ, reduce the milk, using the smallest amount you can to create a thicker shake.
I am a huge chocolate malt fan. If you are too, you can add 3 Tablespoons of malt powder (ideally plain rather than chocolate) for a Pumpkin Malt!
And to really go full on pumpkin this fall, take a look at my Pumpkin Ice Cream and the recipes from my blogging friends at the end of this post!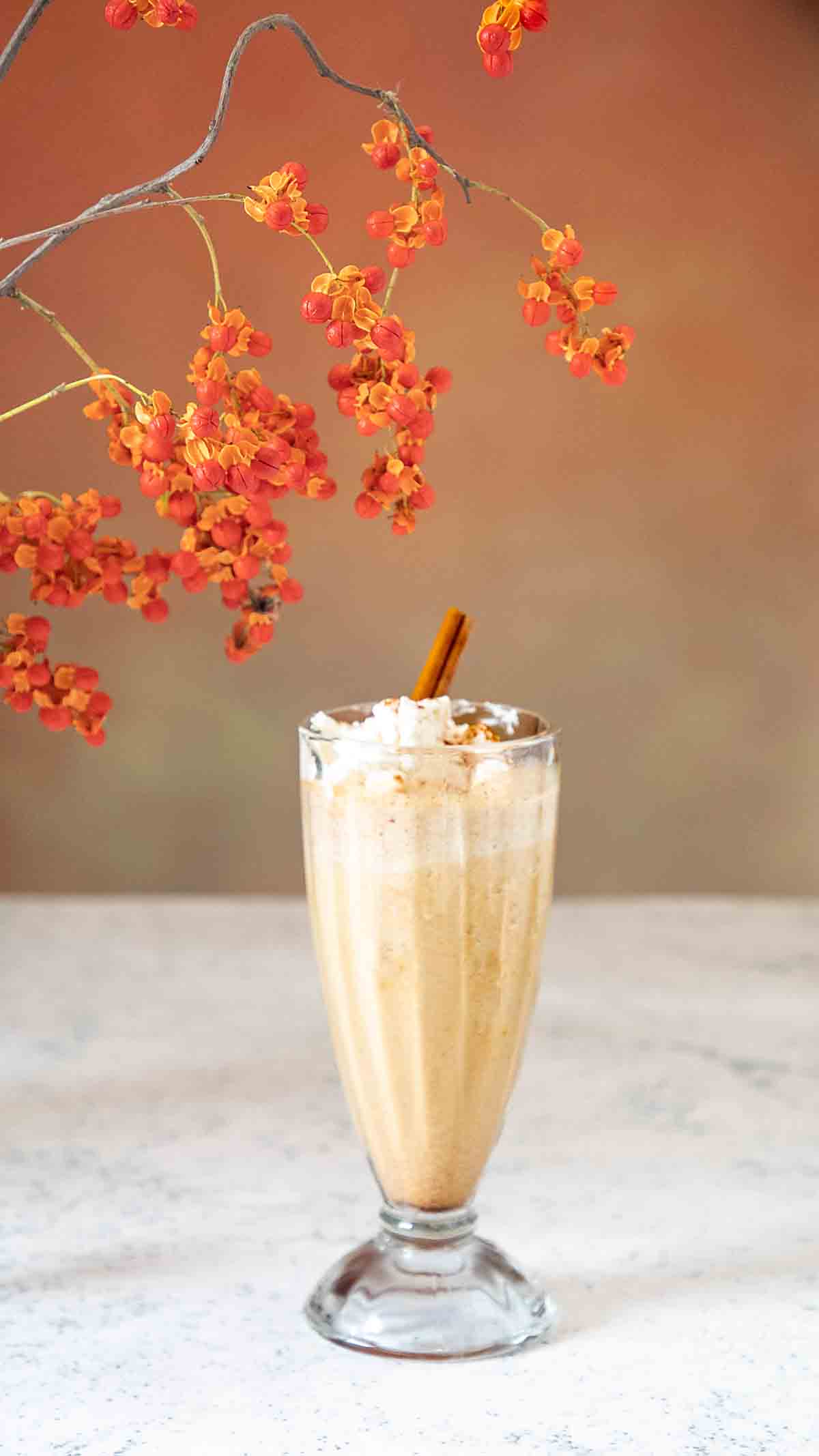 Special Diets
For a special diets, you can swap out the ice cream and the milk. Go with frozen yogurt or ice milk (which I've found easier to get) and skim milk for reduced fat. For vegan, you can use non-dairy ice cream and milk.
And there are products like Carb Smart that will trim a few carbs off. If that's your goal, also skip the vanilla wafers and use a sweetener like stevia or allulose instead of maple syrup.
Leftovers
In the extremely unlikely event you have leftovers, you can put them into a sealed container and pop into your freezer. Then you can blend up with some extra milk as needed when the time is right. I've never tried it with this, but I do it with my ice cream cocktails, like my frozen grasshopper, all the time.
Tips & FAQs
If you keep a pumpkin spice blend seasoning in your pantry, you can use that and eliminate the other spices. Or maybe still keep some of the extra cinnamon!
Cloves have a great flavor but get intense really fast (ask me how I know this). So, while you can go a little wild on cinnamon, watch the cloves.
Did you know that some people (including me) have an aversion to nutmeg? It's just not as common as cilantro or bitter almond aversions, so you won't see references to it everywhere. But it comes up in forums, so I know it's a real thing. This means that my recipes don't include nutmeg. But go ahead and add up to 1/4 teaspoon if you'd like. Just check with your milkshake buddy first.
How do I crush cookie or graham crumbs? If you are crushing a large amount of cookie or graham cracker crumbs, the easiest way to do it is in a food processor or blender. Start by pulsing a few times to see how quickly they'll break down, especially if you want to keep some bigger pieces.
No blender? This happened to me on a recent VRBO vacation, so I crushed some cookies between two sheets of wax paper using a rolling pin. (I first tried crushing them in a zip loc bag but found the cookie edges were puncturing the plastic.).
Finally, with a small amount of cookies to crush, like for this recipe, it may be easiest just to crumble by hand. That way you'll be sure to keep some "chunks" and you'll also reduce cleanup.
Pumpkin season is here, and we are celebrating our love of pumpkin with #PumpkinWeek hosted by Christie from A Kitchen Hoor's Adventures. All week-long 11 bloggers will be sharing over 30 pumpkin-filled recipes for all your Autumn celebrations, including breakfasts, baked goods, savory pumpkin recipes, desserts, and drinks.
More #PumpkinWeek Recipes Below: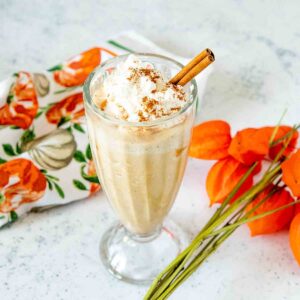 Pumpkin Milkshake
Cold and creamy with a tasty pumpkin spice flavor, this pumpkin milkshake is a fun fall treat! Make a tasty dessert or snack in minutes!
Ingredients
1/2

cup

milk

2

cups

vanilla ice cream

1 pint container

2

Tablespoons

maple syrup

or a few drops of stevia

½

cup

pumpkin puree

2

teaspoons

cinnamon

or pumpkin spice blend

1/2

teaspoon

ginger

or pumpkin spice blend

Pinch

cloves, allspice

(optional)

¼

cup

crumbled vanilla wafers

(may omit if desired)
Instructions
In a high speed blender, combine all of the ingredients except the vanilla wafer crumbs. Blend until smooth.

Stir in the vanilla wafer crumbs by hand or with a couple pulses of the blender.

Pour into two glasses and top with whipped cream and a sprinkle of cinnamon if desired.
Nutrition
Calories:
440
kcal
Carbohydrates:
61
g
Protein:
8
g
Fat:
19
g
Saturated Fat:
11
g
Polyunsaturated Fat:
2
g
Monounsaturated Fat:
5
g
Trans Fat:
0.04
g
Cholesterol:
66
mg
Sodium:
186
mg
Potassium:
520
mg
Fiber:
2
g
Sugar:
48
g
Vitamin A:
3129
IU
Vitamin C:
4
mg
Calcium:
292
mg
Iron:
1
mg
I am not a health professional and nutrition data is calculated programatically. Accuracy may vary with product selection, calculator accuracy, etc. Consult a professional for the best information.