Sparkling Strawberry Limeade
After many fits and starts, summer is… finally… gloriously… here. What better way to celebrate than with Sparkling Strawberry Limeade!
The local strawberry harvest will hit in a week or two–and southern "imports" have been around for weeks. Which means it's time to clear my freezer of the final, icy berries from last year.
Ah, poor me. 🙂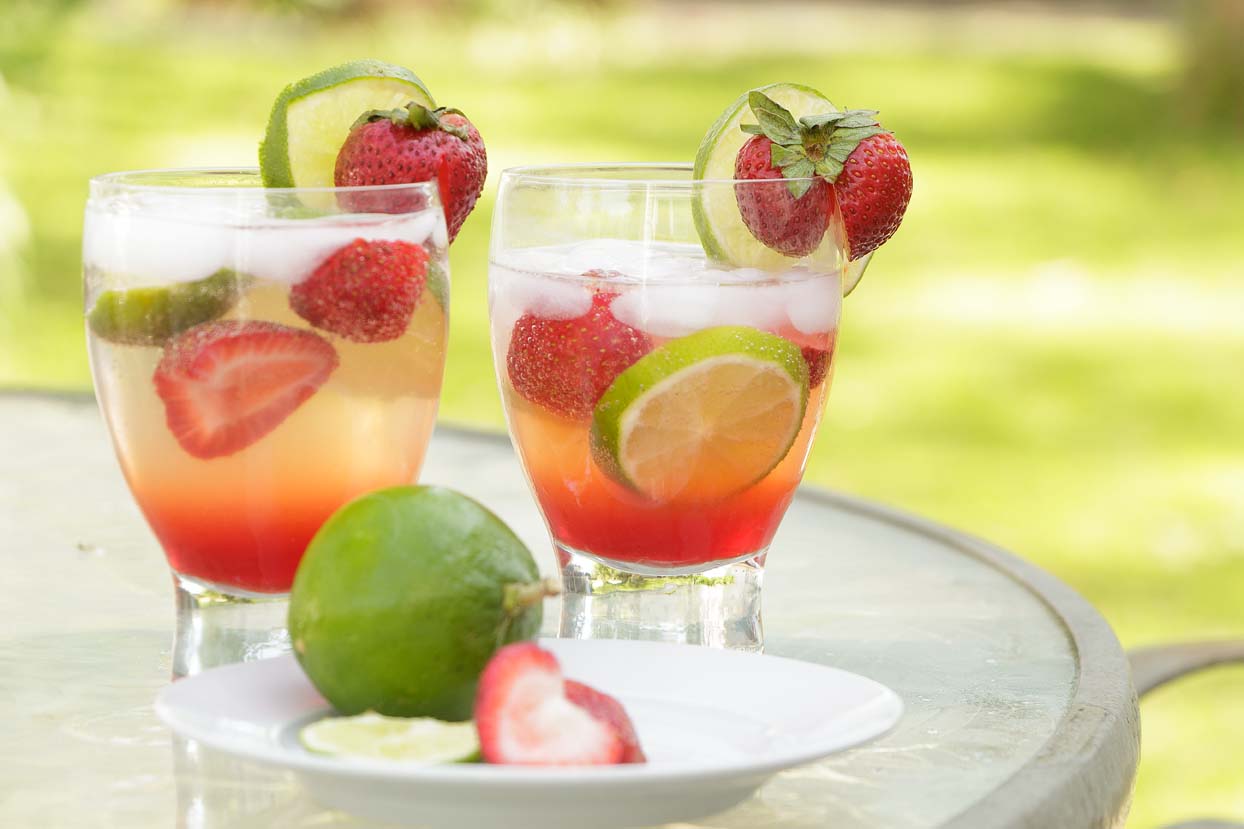 This Sparkling Strawberry Limeade is basically a homemade strawberry syrup (strawberries boiled with sugar & water), mixed with fizzy water and lime juice. No fizzy water? I'm sure this would be delicious with plain water like my Rhubarb Lemonade!
To tell the truth, I am especially excited about posting this recipe. The reason? Because today is the first day I'm feeling good after a recent surprise.
You see one morning last week I developed severe back pain and abdominal pain. After a day of trying to tough it out, my husband and I headed to the emergency room. There a CT scan and lab work yielded a diagnosis of a kidney stone. Lots of pain, five prescriptions and the name of a good urologist later, I left with a mission to HYDRATE!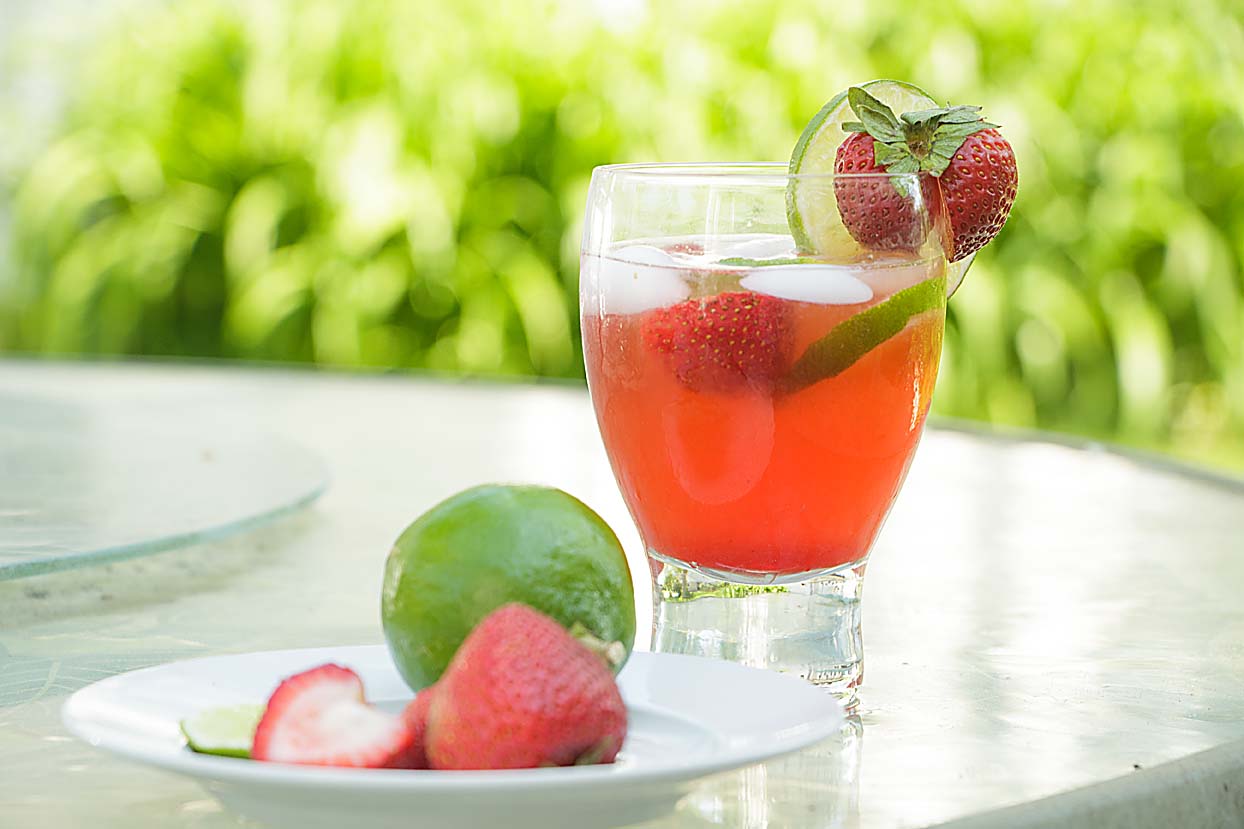 And what better way to make sure you stay hydrated than making beverages like Sparkling Strawberry Limeade that taste great! When I'm fully recovered, I may even toss in a shot of vodka!
Right now, I am loving the warm days and bright sunshine. AND I'm hoping for a much less eventful rest of the summer. But Sparkling Strawberry Limeade will definitely be on the menu!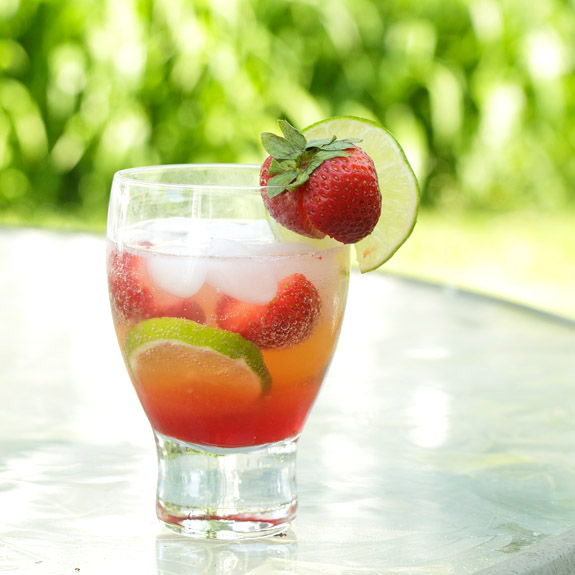 Sparkling Strawberry Limeade
Summer is… finally… gloriously… here. What better way to celebrate than with Sparkling Strawberry Limeade. Make a glass or a pitcher!
Ingredients
Strawberry Simple Syrup
1

cup

water

1

cup

sugar

1

pint

strawberries

about 8 ounces, fresh or frozen, stems removed
Ingredients for 1 serving
2-3

Tablespoons

strawberry simple syrup

½

Tablespoon

lime juice

8

ounces

fizzy

or not water

strawberries and lime slices for garnish
Instructions
To make strawberry simple syrup, combine water and sugar in a small saucepan and heat, stirring occasionally until sugar dissolves. Add strawberries, bring to a boil and cook until strawberries are soft and pulpy, 20-30 minutes. Strain the syrup (reserving the pulp for yogurt or pancake topping if desired). Cool the syrup.

For one serving, combined 2-3 tablespoons of strawberry syrup, 1/2 tablespoon of lime juice and 1 cup fizzy (or plain) water. Taste and adjust ratios to your personal preference. Serve with ice, garnished with lime slices and fresh berries if desired.
Notes
Leftover syrup will keep refrigerated for about a week.
I am not a health professional and nutrition data is calculated programatically. Accuracy may vary with product selection, calculator accuracy, etc. Consult a professional for the best information.
Save
Save
Save