Start the New Year Right with Whole Wheat Waffles
After my last post, I got a comment from fellow blogger Tammy (a.k.a. Agrigirl) that made me chuckle. She said that while she liked my blog and recipes, she wouldn't be making my Chocolate Dipped Oreos.
In truth, after a month of toffee and salted caramels and pies and cookies, I already knew that my treat-making days were numbered! So I started the New Year with a breakfast of Whole Grain Waffles topped with strawberries from the freezer.
And guess what? I didn't even feel deprived!
The recipe came from here and I modified it to reduce the fat a bit. Then I substituted whole wheat flour for the all purpose. If you are nervous about such a bold move, go ahead and make it with all purpose flour–or better yet, go halfsies and use half whole wheat. It's a great transitional step when starting to eat healthier.
I topped my whole wheat waffles with strawberries and a homemade strawberry syrup made from CSA strawberries last summer (some of which I canned for winter). Daughter #1 followed suit while my husband and the other two kids went with maple syrup, harvested and bottled just a few miles away. Hey, we're eating local in Wisconsin in January. And it rocks!
Now all of this thinking about healthier food–combined with the January 1 date of course– has me struggling with New Year's Resolutions. And so I have to ask–is there a difference between a New Year's Resolution and a goal? I am pretty sure taking off that pesky 10 extra lbs (that I try to deal with every year) counts as a resolution. But if I decide that I want to create a Garden Plan (thanks, Claire!), am I making a Resolution or setting a goal?
Of course this meant a quick internet search which at least turned up some advice…. If you want to jump start your goals, take a look at this from Forbes.
And Happy New Year's everyone!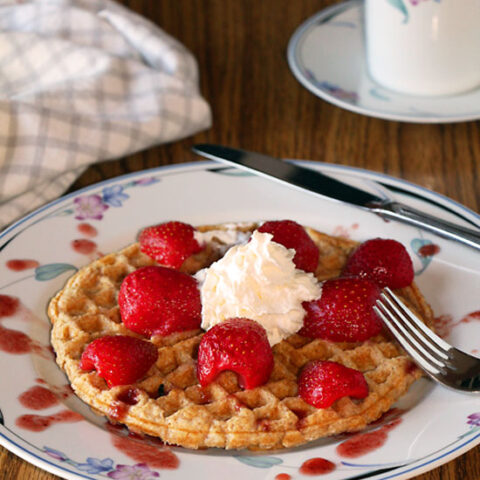 Whole Wheat Waffles
Ingredients
2 cups whole wheat flour, or all purpose or combination
1/2 teaspoon salt
4 teaspoons baking powder
2 tablespoons sugar
2 eggs
1 1/2 cups skim milk, or a bit more if batter is too thick
4 T butter, melted
1 teaspoon vanilla extract
Instructions
Preheat waffle iron.
Mix together flour, salt, baking powder and sugar; set aside. In a separate bowl, beat the eggs. Stir in the milk, butter and vanilla. Pour the milk mixture into the flour mixture; beat until blended.
Ladle the batter into a preheated waffle iron. Cook the waffles until golden and crisp. Serve immediately.
Notes
If you are a little nervous about using 100% whole wheat flour, but still want to eat healthier, go halfsies and use half whole wheat.

Nutrition Information:
Yield:

6
Serving Size:

1
Amount Per Serving:
Calories:

268
Total Fat:

10g
Saturated Fat:

6g
Trans Fat:

0g
Unsaturated Fat:

4g
Cholesterol:

84mg
Sodium:

612mg
Carbohydrates:

37g
Fiber:

4g
Sugar:

8g
Protein:

10g
Nutrition data accuracy may vary with product selection, calculator accuracy, etc. Consult a professional for the best information.