Can I blame Martha Stewart for my diet failures? After all it was her PBS show that got me thinking about plum muffins. In the end I converted her recipe to something a bit healthier–less sugar, less fat, all whole wheat (pastry) flour—and still tasty enough to make twice in a row. So I guess I can't complain after all.
The other part of my inspiration was the remnants of my brandied plums from last fall. Soaked in brandy with sugar, vanilla beans and cinnamon sticks, they turned out to be the easiest—and most popular—fruit I preserved all year. But I'm pretty sure that the muffins would be good with plain plums too (or the adventuresome can sub in a little brandy for part of the milk).
My final change was to mix everything in together like a standard muffin. Martha did a middle layer of plums and cinnamon sugar to make it more coffeecake like. The last time I tried this (I used an award winning coffeecake recipe to make coffeecake muffins), I found the muffins a bit hard to handle. And who wants high maintenance muffins?
At 200 calories per muffin, these work even on my diet. Here's to the coming return of swimsuit season!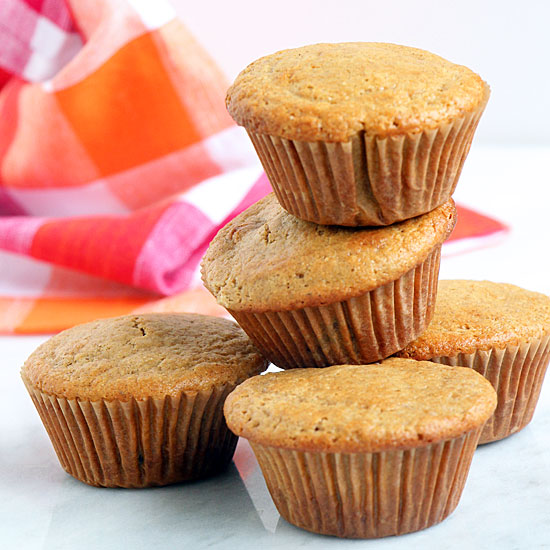 Vanilla Plum Muffins
2015-04-12 07:02:22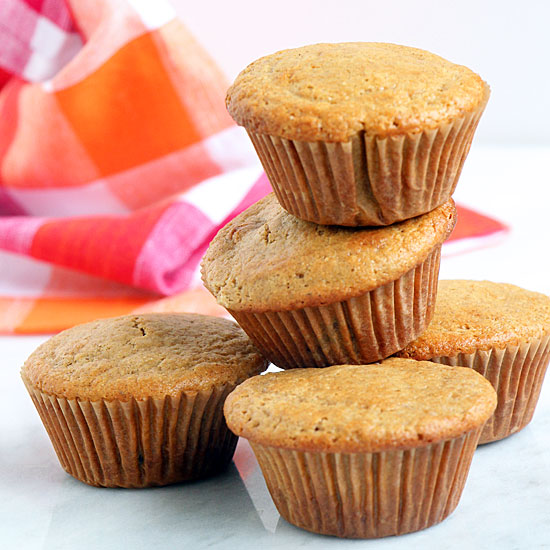 Based on Martha's Plum Coffeecake Muffins, these Vanilla Plum Muffins are modified for a healthier treat--less fat, less sugar, whole wheat (pastry) flour.
Nutrition Facts
Amount Per Serving
* Percent Daily Values are based on a 2,000 calorie diet. Your Daily Values may be higher or lower depending on your calorie needs.
Ingredients
• 2 1/2 cups whole wheat pastry flour
• 2 t baking powder
• 1/4 t baking soda
• 1/2 cup sugar
• 1 teaspoon ground cinnamon
• 2 eggs
• 1 teaspoon vanilla extract
• 1 cup milk
• 1/4 cup butter, melted and cooled
• 1 c chopped plums, about 3 plums (brandied if you can get them)
Instructions
In a large bowl, whisk together the flour, baking powder, baking soda, cinnamon, and sugar; set aside.
In another large bowl, whisk together eggs, vanilla, and milk. Whisk in the melted butter. Combine the liquid mixture into the flour mixture until just blended. Do not overmix. Fold in chopped plums.
Fill muffin cups almost to top, then bake 20-25 min (check at 15 minutes) at 375F, until toothpick inserted in muffin center comes out clean. Serve warm or cool.
Art of Natural Living https://artofnaturalliving.com/