4 Ingredient Orange Glazed Salmon
Salmon is a wonder. Just buy a nice fillet, season it, pop under the broiler and you have a delicious, healthy entree.
Until the hundred and eleventh time… then it all starts to feel a little dull. And you really need to switch things up. Orange Glazed Salmon anyone?
A couple years back, I joined a Community Supported Fishery (CSF). I've been enjoying lots of sustainably harvested seafood ever since and I finally DID hit the wall on simple broiled salmon.
But ultimately the inspiration for this recipe came from somewhere else–marmalade, in fact. What to do with a half dozen jars of orange cranberry marmalade made for the Food in Jars preserving challenge? (Though eating it all up with a spoon did cross my mind…).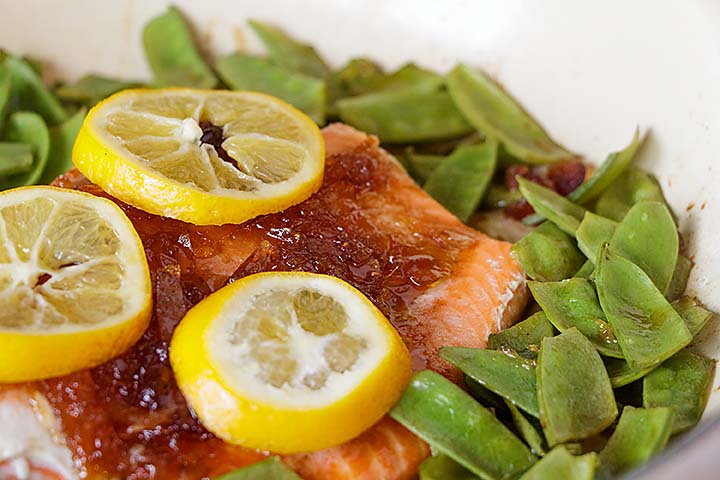 I decided on Orange Glazed Salmon on an especially lazy evening. Lazy, as in, I've just done a mountain of homework, please help me find a simple dinner and spend a half hour in peace. Before I start on the rest.
The first attempt came out slightly scorched, but after I switched from broil to bake, all was good. I've even added in pea pods when I've had them which almost makes a meal. Easy peasy (whew!)
Orange Glazed Salmon
2017-04-27 16:34:41
Serves 2
When you want something fancier than plain broiled salmon--but it needs to be just as easy, 4 ingredient Orange Glazed Salmon is perfect!
Nutrition Facts
Amount Per Serving
* Percent Daily Values are based on a 2,000 calorie diet. Your Daily Values may be higher or lower depending on your calorie needs.
Ingredients
¼ cup orange marmalade
1 T olive oil
1 T balsamic vinegar
12 ounce salmon fillet
Instructions
Mix marmalade, olive oil and balsamic vinegar and set aside
Salt and pepper salmon, then place skin side up in a baking dish. Bake at 350 for 10 minutes.
Turn salmon over and top with marmalade mixture. Return to oven and bake until desired doneness, approximately 10 minutes.
Notes
If you'd like to add pea pods, reserve 1 tablespoon of the marmalade mixture, add another tablespoon of olive oil and toss with 2 cups of pea pods, halved. Add to the baking dish when you turn the salmon over.
Art of Natural Living https://artofnaturalliving.com/