All Natural Side Pork Bacon
Thick, juicy and flavorful, side pork is like the bacon of your dreams. Unprocessed and cut from the coveted pork belly, it will rock your breakfast.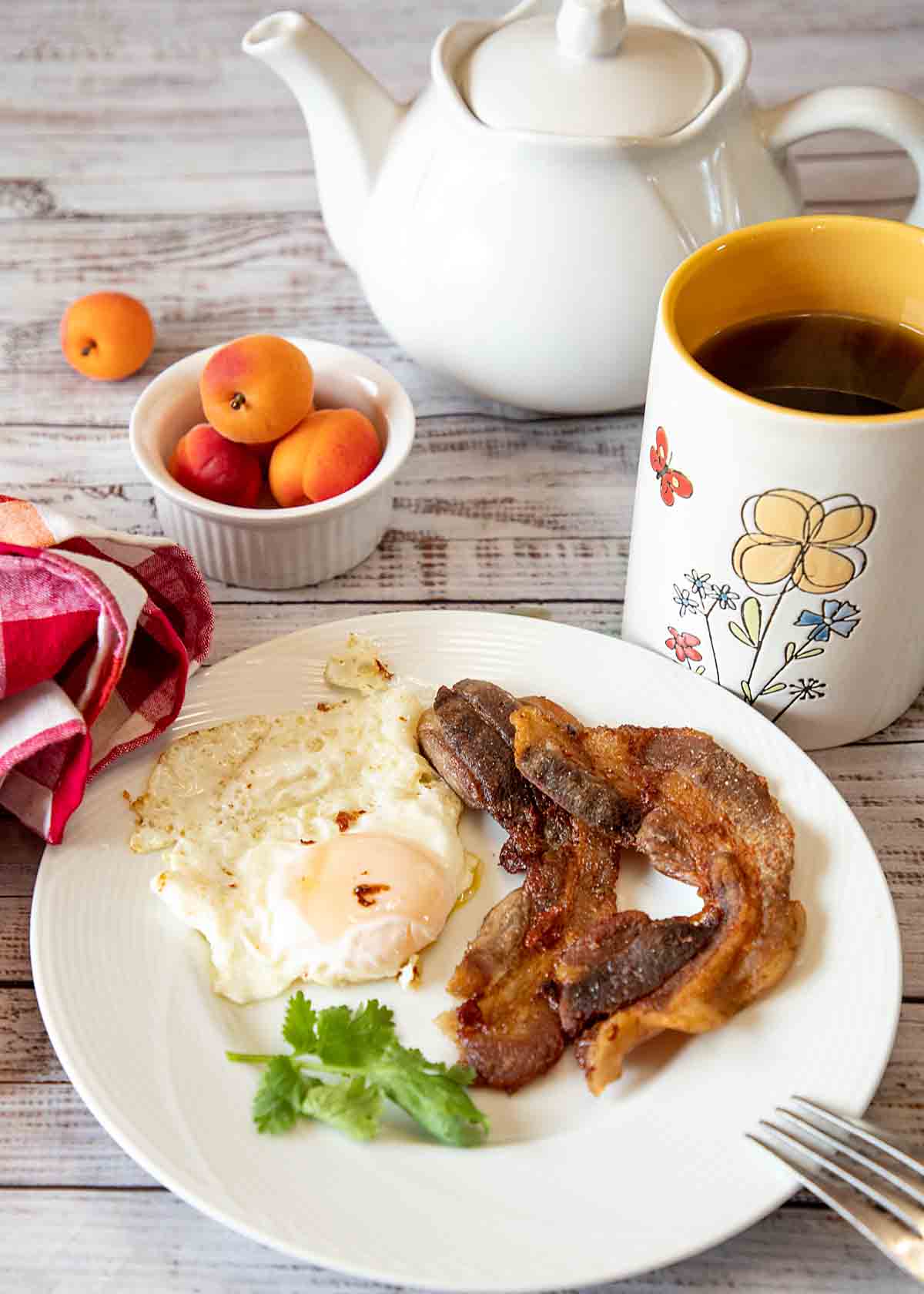 If there's one single reason I'd never become a vegetarian, it's probably bacon. I can't think of another food that is as delicious both as a stand alone item and in recipes.
But side pork has won over my heart. Thick, flavorful and even more succulent than bacon, it's a little bite of heaven. And this Side Pork Recipe is sooo simple. Basically, fry and salt the slices–then if you'd like, strain the fat since it's so good saved for frying or savory pie crusts!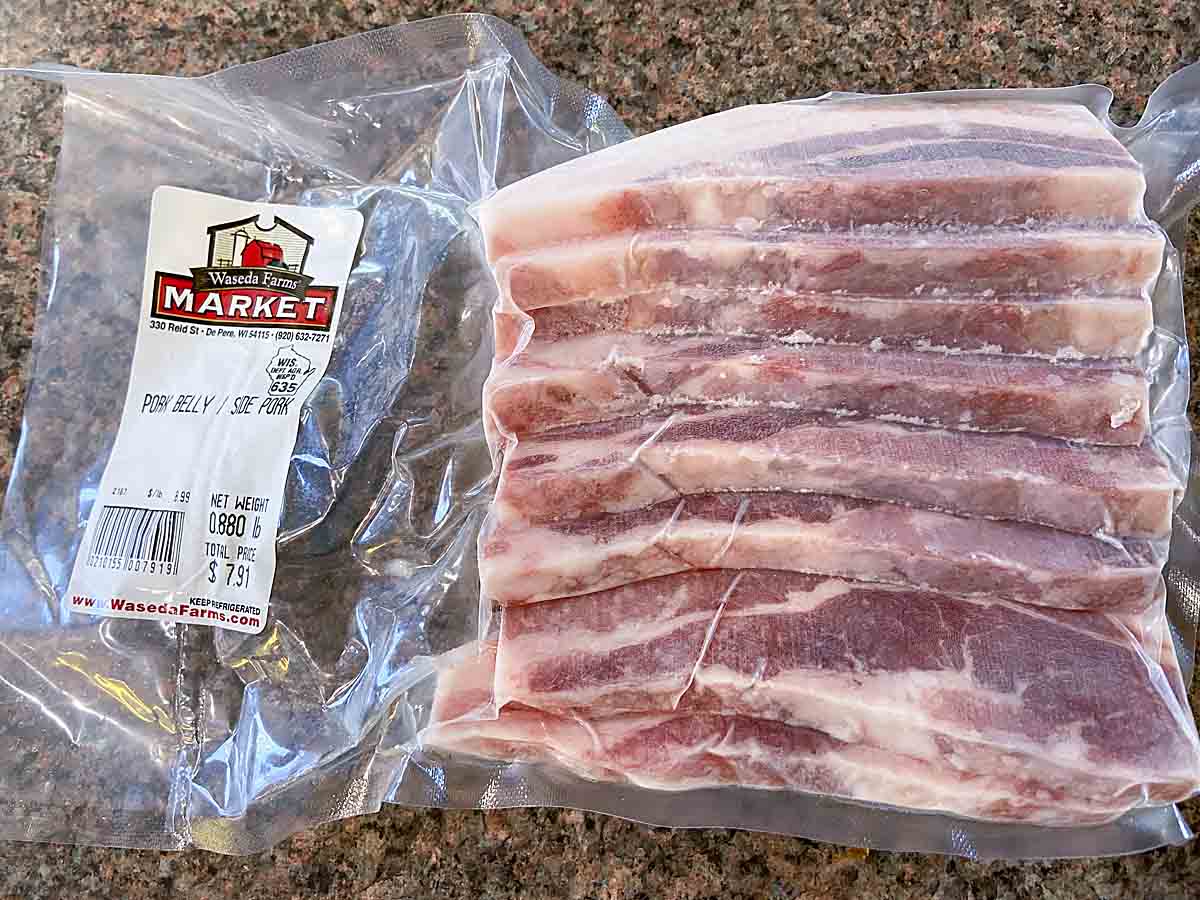 What is Side Pork (and where do you find it)?
Every year, when I get my side of pork, the butcher asks me if I want the pork belly turned into smoked bacon. Nope, I say, I want side pork!
Yes, like bacon, side pork comes from the cut of the pig known as the pork belly. Per the National Pork Board, "Pork belly comes from a hog's belly' or underside after the loin and spareribs have been removed. Fresh pork belly is succulent and richly flavorful and is often served in small portions. Pork belly is at its best and is most tender when prepared using a slow cooking method, such as braising."
Today pork belly is an increasingly popular cut in all kinds of gourmet cooking and especially popular in farm to table meals. If a recipe calls for pork belly, typically it is using a "slab" that is left whole to cook, or cut in the preparation of the recipe.
With side pork, however, the pork belly isn't left whole, but sliced, much like extra thick bacon. In the US bacon is also cut from the pork belly–though other countries also make bacon from other fatty parts of the pig.
Another key difference between bacon and side pork is that the latter isn't isn't cured with nitrates or smoked; instead it's ordinary raw meat. Well, extra good ordinary raw meat that is.
If you'd like to purchase side pork without investing in a half pig, try a country style butcher or natural meat producer. In my house the side pork always runs out first (go figure)! So sometimes I pick up extra at Waseda Farm in Northeastern Wisconsin (not sponsored).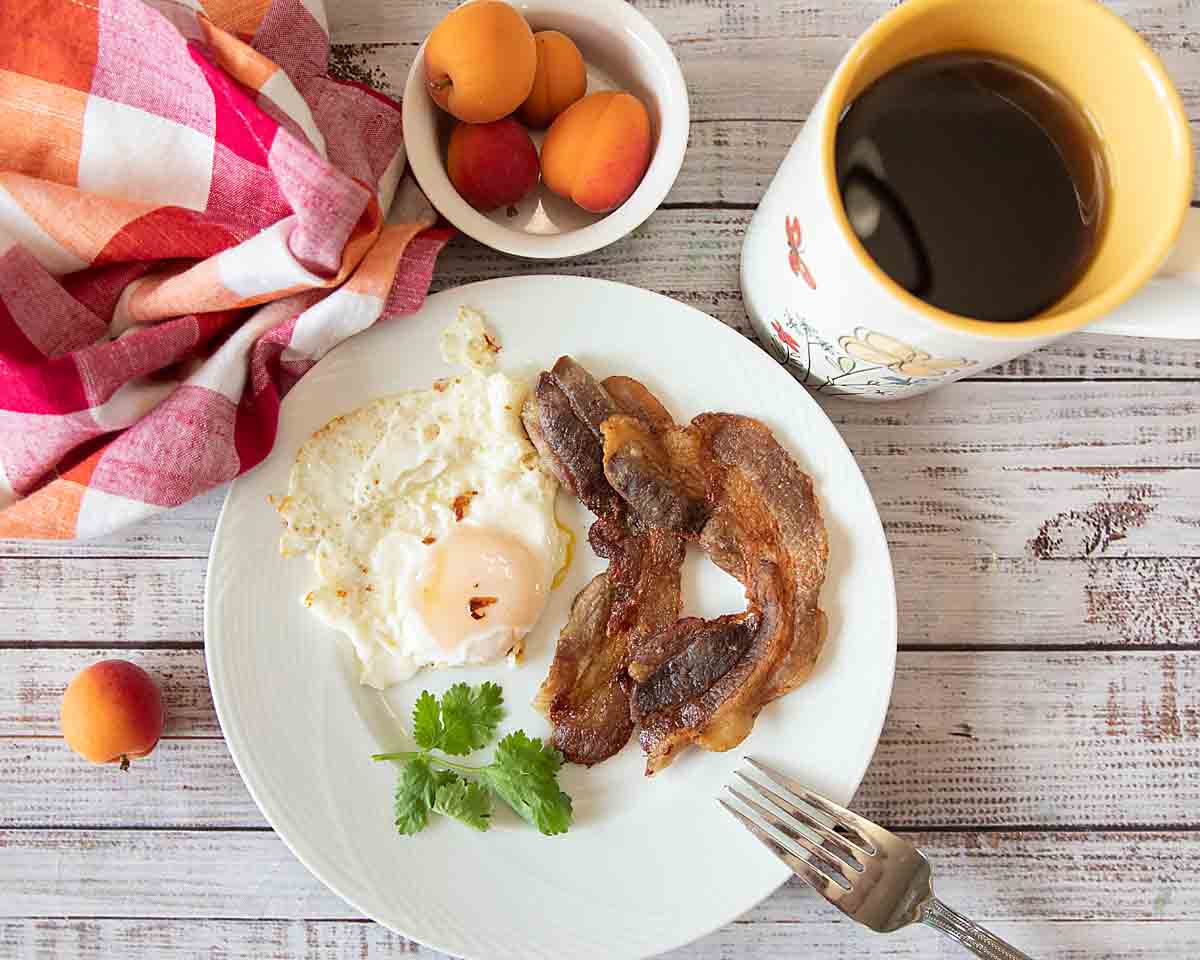 Why You'll Love This!
Crisp & juicy. I like bacon. But side pork is like bacon on steroids (in a good way). Extra juicy, almost unctuous, it's like the bacon of your dreams.
Preservative free. Side pork doesn't contain nitrates. And it may even be organic and pastured. Who's trying to cut down on processed food?
Fat for other uses. A fringe benefit of side pork is that it gives you useful extra fat! If your side pork is organic, pastured, and especially if it is corn and soy free, the fat is healthier than many alternatives–and very useful for frying. It is similar to Lard, praised here by the Spruce Eats, except that it has some fried bacon flavor to it.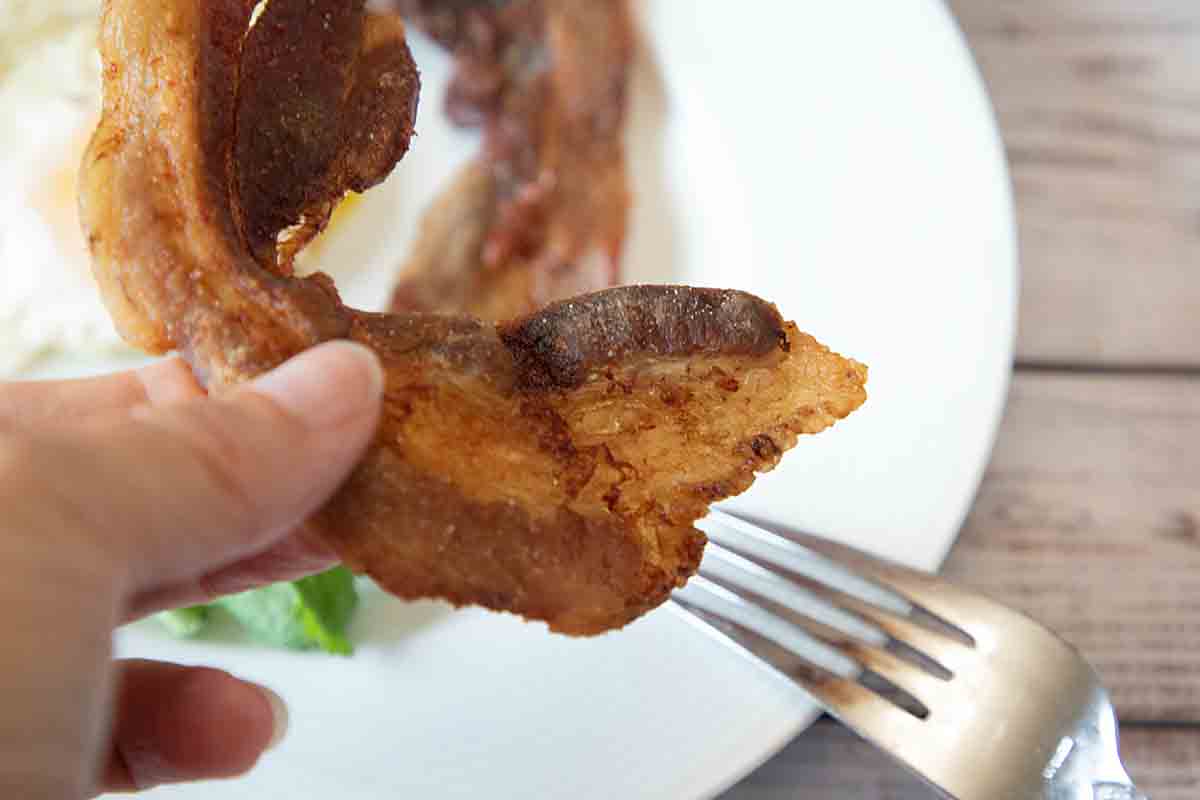 What You'll Need
Ingredient Notes
Side Pork, aka sliced pork belly. If you can get it organic and pastured go for it.
Salt. Since this is unprocessed you really need the salt.
Special Tools
No special tools are needed.
Step by Step Directions
Preheat a large skillet. When hot, add side pork to pan. Cook on medium low, turning as needed to achieve a crisp golden brown on both sides.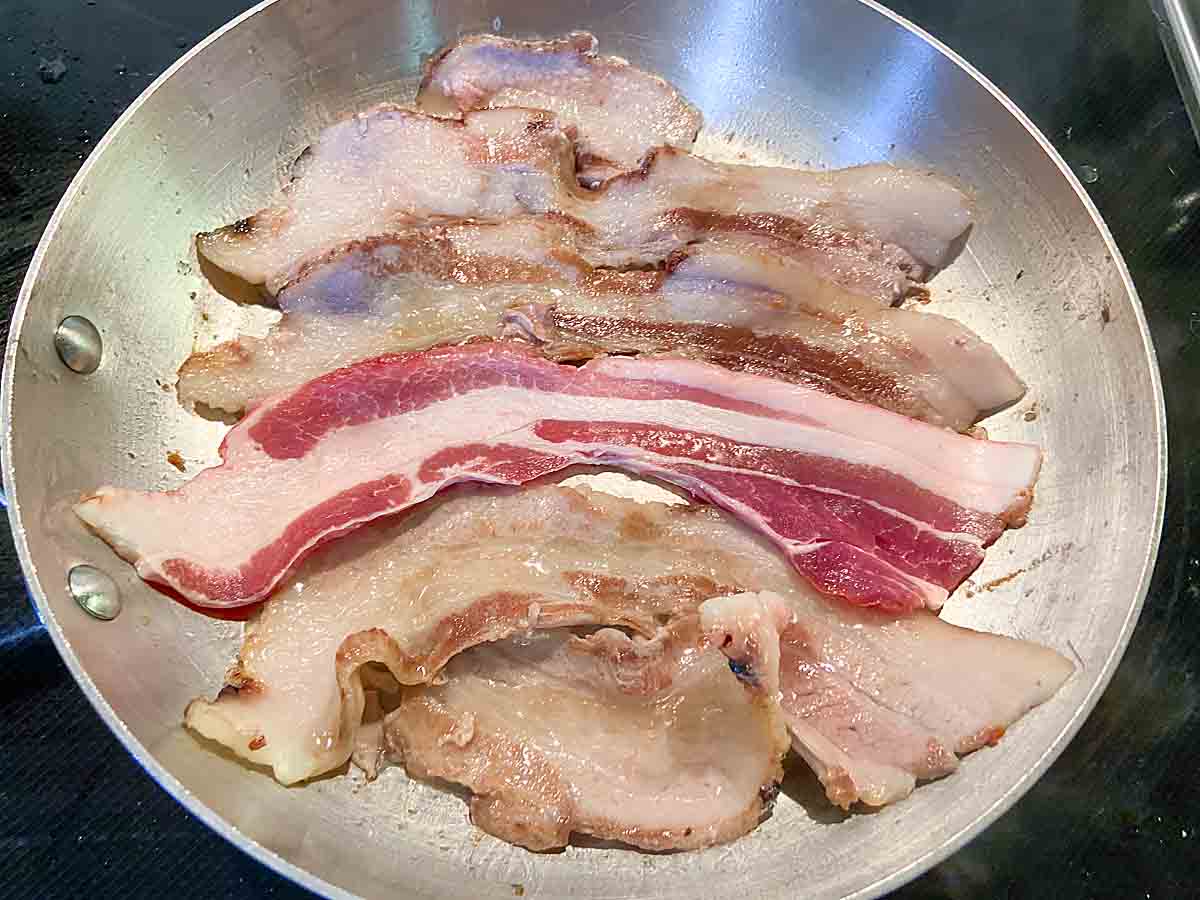 When done, remove from pan and salt.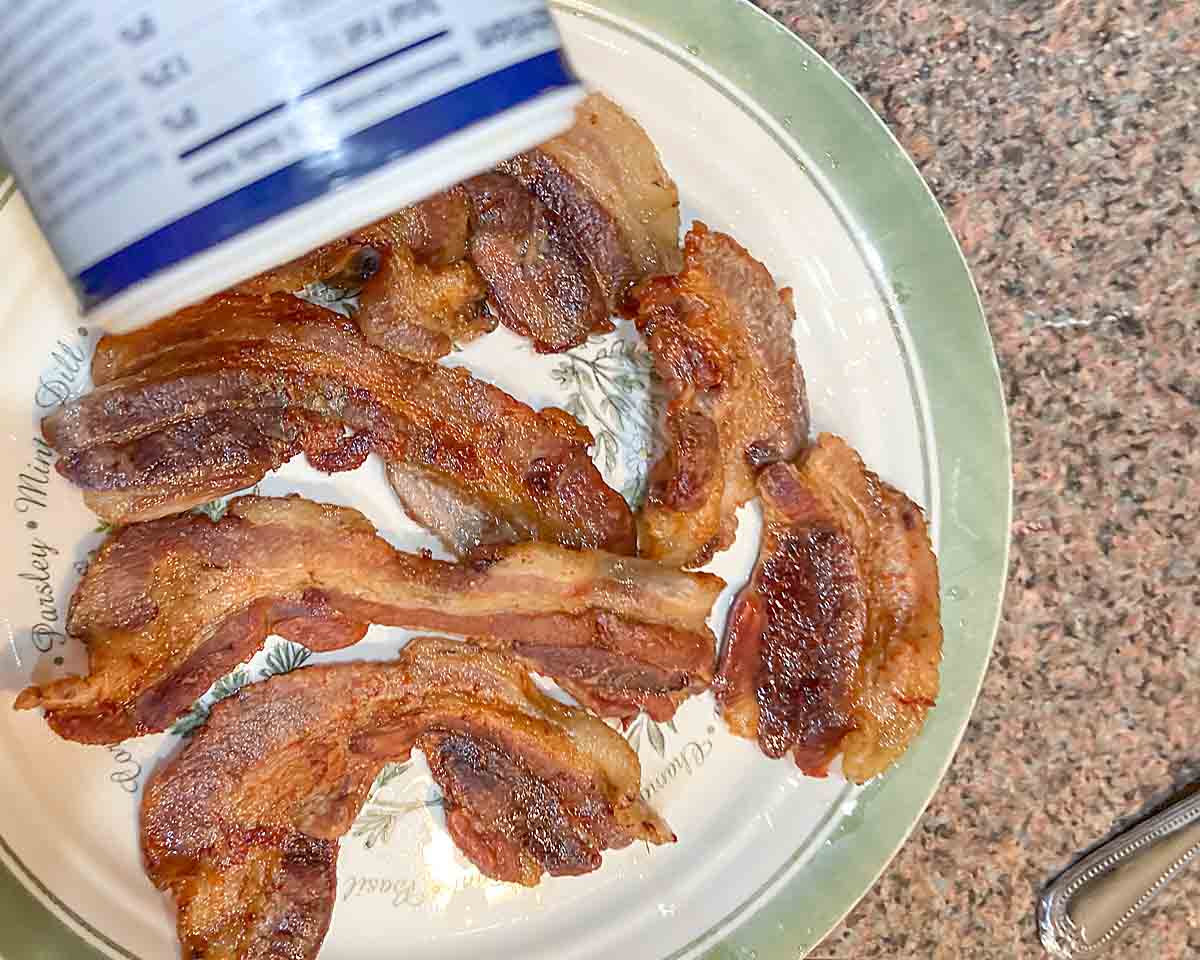 Save the fat, staining as needed, if desired.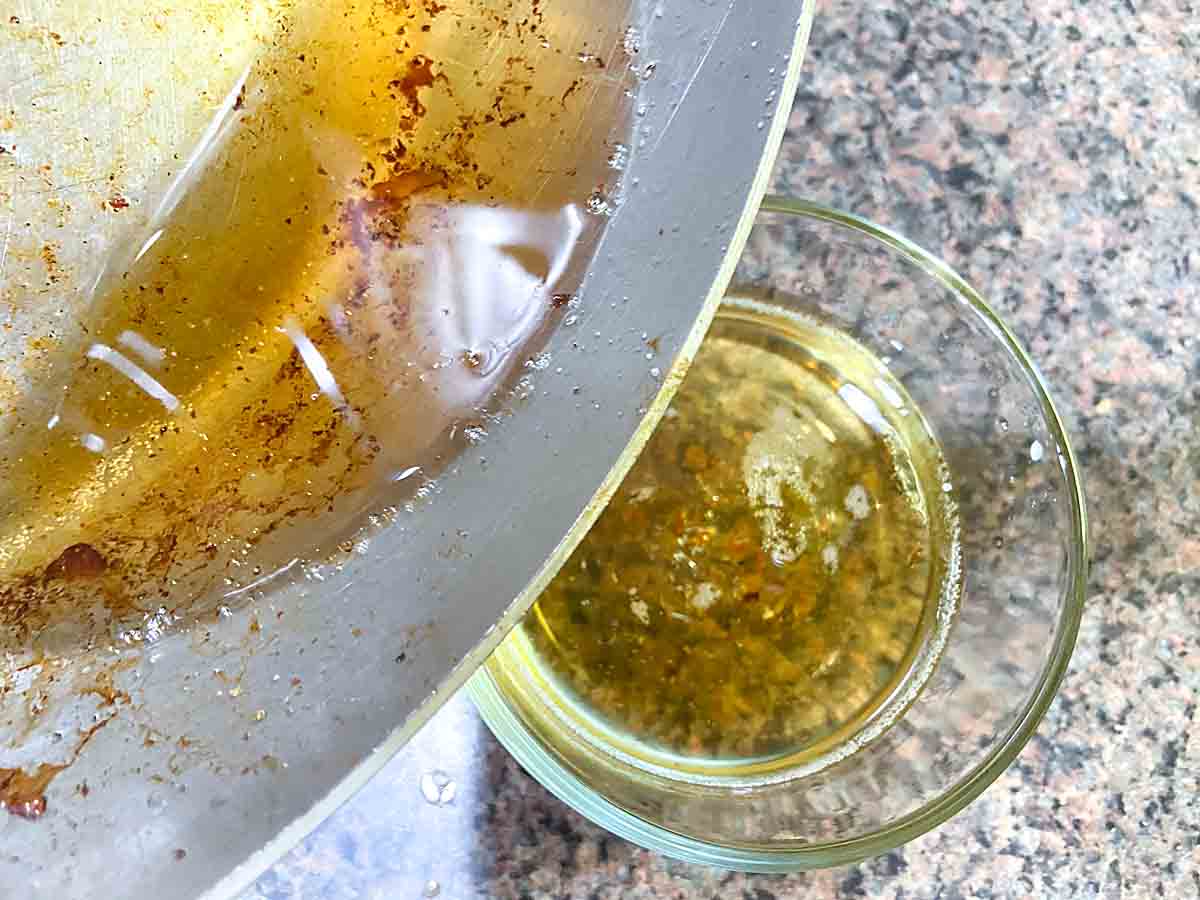 Note: I haven't tried it but side pork can also be oven baked (just as bacon can).
Animal Diets & Omega-6/Omega-3 Ratios
Now just in case you have the opportunity to be selective in your sourcing, here is something you should know–it can actually matter what your pig ate.
That's because, for both beef and pork, the fat composition changes as the animal's diet changes. And it's why you hear good things about grass-fed beef.
Now unlike cattle and sheep, pigs aren't meant to live on grass, but their diet can still be modified to provide healthier meat. The chart below from the Practical Farmers of Iowa research shows how the omega-6 to omega-3 ratios change based on diet. As you can see (bottom set of numbers), the pork that is grain free has a ratio is significantly lower.
Why are Omega-6/Omega-3 ratios important?
The Omega-6 to Omega-3 ratios in your diet are important because they can influence a whole variety of disease processes from cancer to heart disease. Per Pubmed "Several sources of information suggest that human beings evolved on a diet with a ratio of omega-6 to omega-3 essential fatty acids (EFA) of approximately 1 whereas in Western diets the ratio is 15/1-16.7/1."
They add that "Excessive amounts of omega-6 polyunsaturated fatty acids (PUFA) and a very high omega-6/omega-3 ratio, as is found in today's Western diets, promote the pathogenesis of many diseases, including cardiovascular disease, cancer, and inflammatory and autoimmune diseases, whereas increased levels of omega-3 PUFA (a low omega-6/omega-3 ratio) exert suppressive effects."
Today, most recommendations call for a dietary ratio of 4:1 or less–a number that the grain free pork is actually pretty close to. Hooray!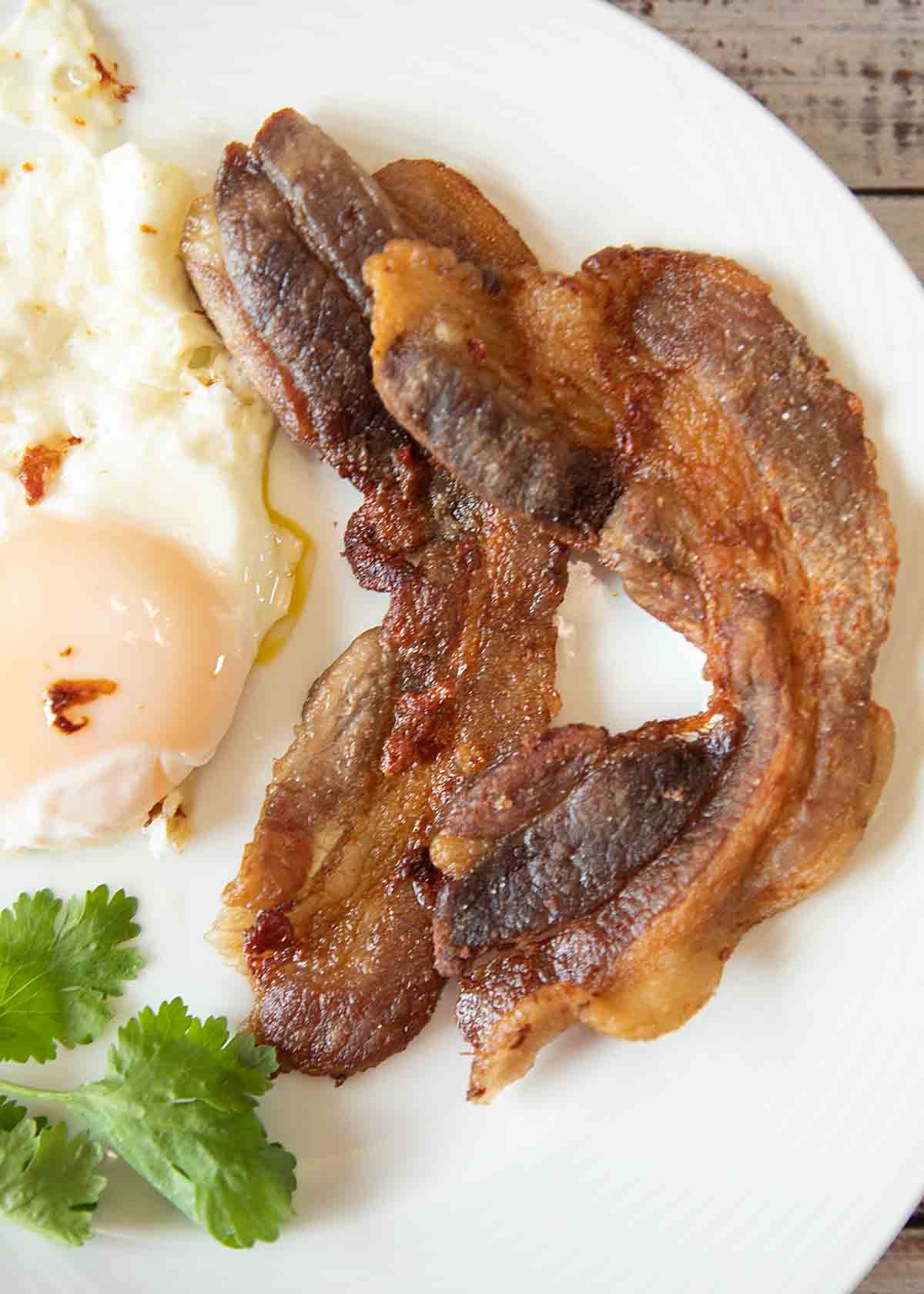 How to Serve
You can serve side pork anywhere you'd serve bacon! So having it with eggs is an obvious choice! I also like adding it to a slightly sweet meal like a Dutch Baby Pancake. Yes, a savory component seems to round out a sweeter breakfast food.
As a fringe benefit, the leftover rendered fat is great for frying other foods, so I recommend that you strain and keep it!. Store in the refrigerator for a few days or freeze. I use it to make my sunny side up eggs extra special. It's also the tastiest option for my Pan Fried Potato Slices. And this fall I'm going to try using it in a savory pie crust.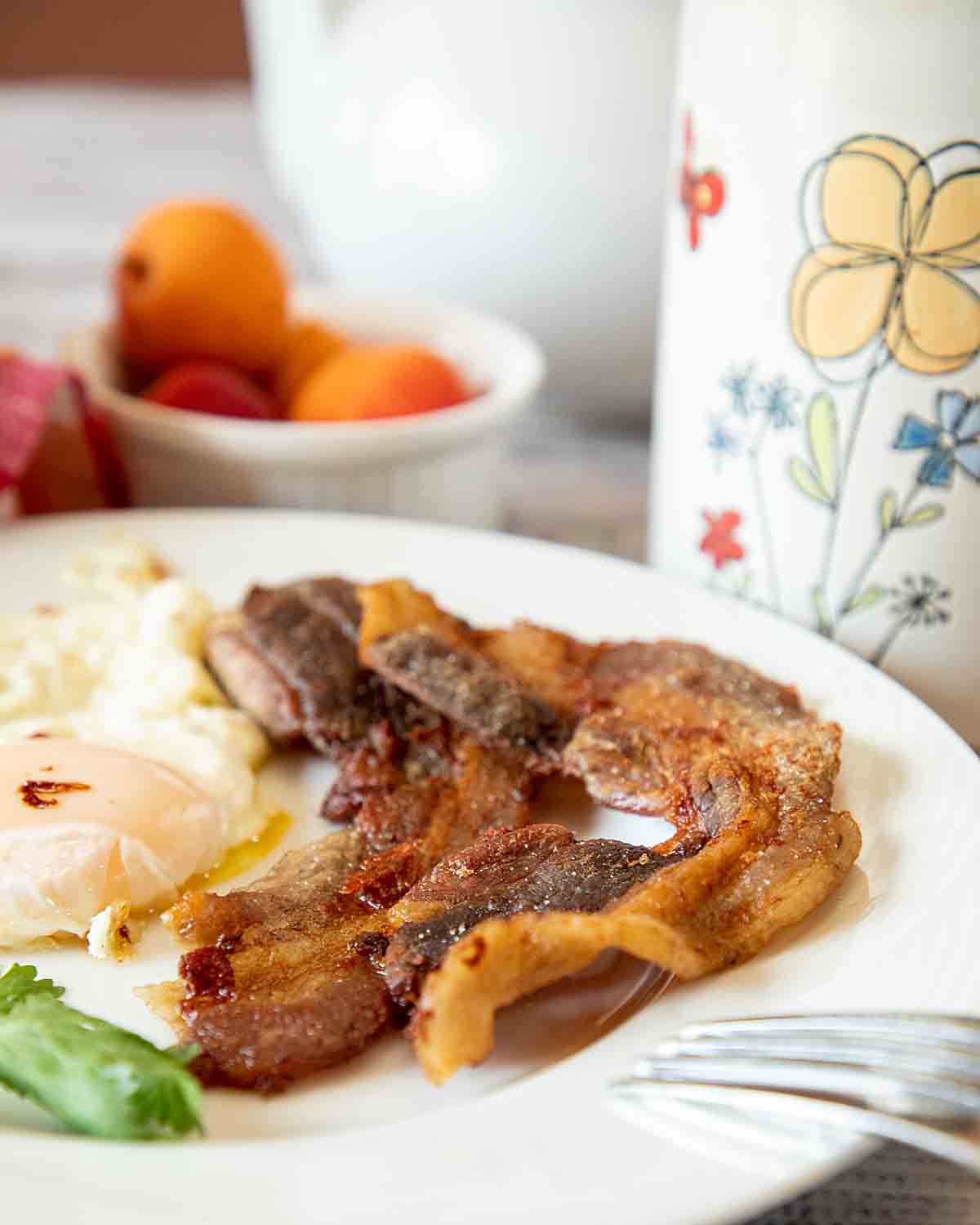 Leftovers
Since it is fresh pork and not processed like conventional bacon, side pork can be kept fresh and refrigerated about 3-5 days (source: foodsafety.gov,). Raw side pork can also be frozen.
Once cooked, you won't have any leftovers! Okay, if you suddenly go into labor or a plane crashes in your front yard, refrigerate it, covered, then heat it back to crisp within a couple days.
Tips & FAQs
Longer pieces may benefit from being cut in half to fit better in your pan. But side pork seems to shrink even more than bacon, so don't get too aggressive shortening it!
Bring on the Bacon!
We share Recipes From Our Dinner Table! Join our group and share your recipes, too! While you're at it, join our Pinterest board, too!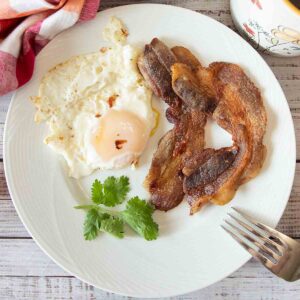 Side Pork
Thick, juicy and flavorful, side pork is like the bacon of your dreams.  Unprocessed and cut from the coveted pork belly, it will rock your breakfast. 
Ingredients
1

pound

side pork

1/2

teaspoon

salt

(or to taste)
Instructions
Preheat a large skillet.  When hot, add side pork slices to pan.

Cook on medium low, turning as needed to achieve a crisp golden brown on both sides.

When done, remove from pan and sprinkle with salt. Serve warm.

Save the fat, staining as needed, if desired.
I am not a health professional and nutrition data is calculated programatically. Accuracy may vary with product selection, calculator accuracy, etc. Consult a professional for the best information.