Orange scones have a sweet brightness and can add a little sunshine to any day. Perfect for breakfast, brunch, tea, snacking–or as a side to soup or salad!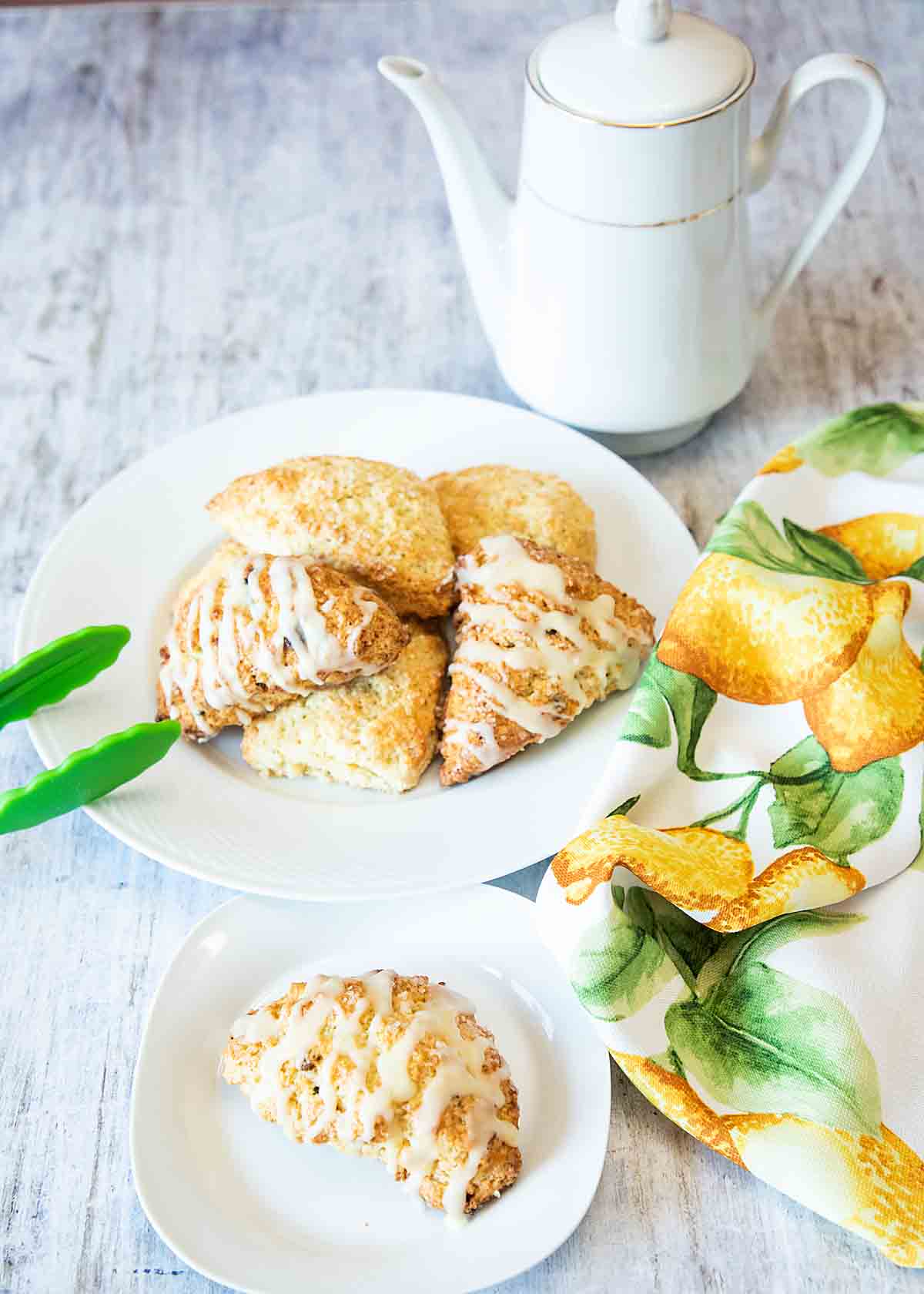 Scones are fun and tasty. And they're easy to make in lots of great flavors! Dress them up with pumpkin for fall, lavender for spring or gingerbread for Christmas.
Yes, pick your favorite flavors—or add in ingredients you're trying to use up. All good!
I originally created these Orange Scones to use some candied orange peel I had made. But who keeps candied orange peel around! Time to make some changes! Now these updated Sunshine Orange Scones have lots of bright orange flavor and are pantry-friendly!
The recipe is a variation on an old currant scone recipe from daughter #1. She started making scones in college and got me past my fear of turning out rock hard pastries. Once I learned how easy it is (shhh), I've made hundreds since!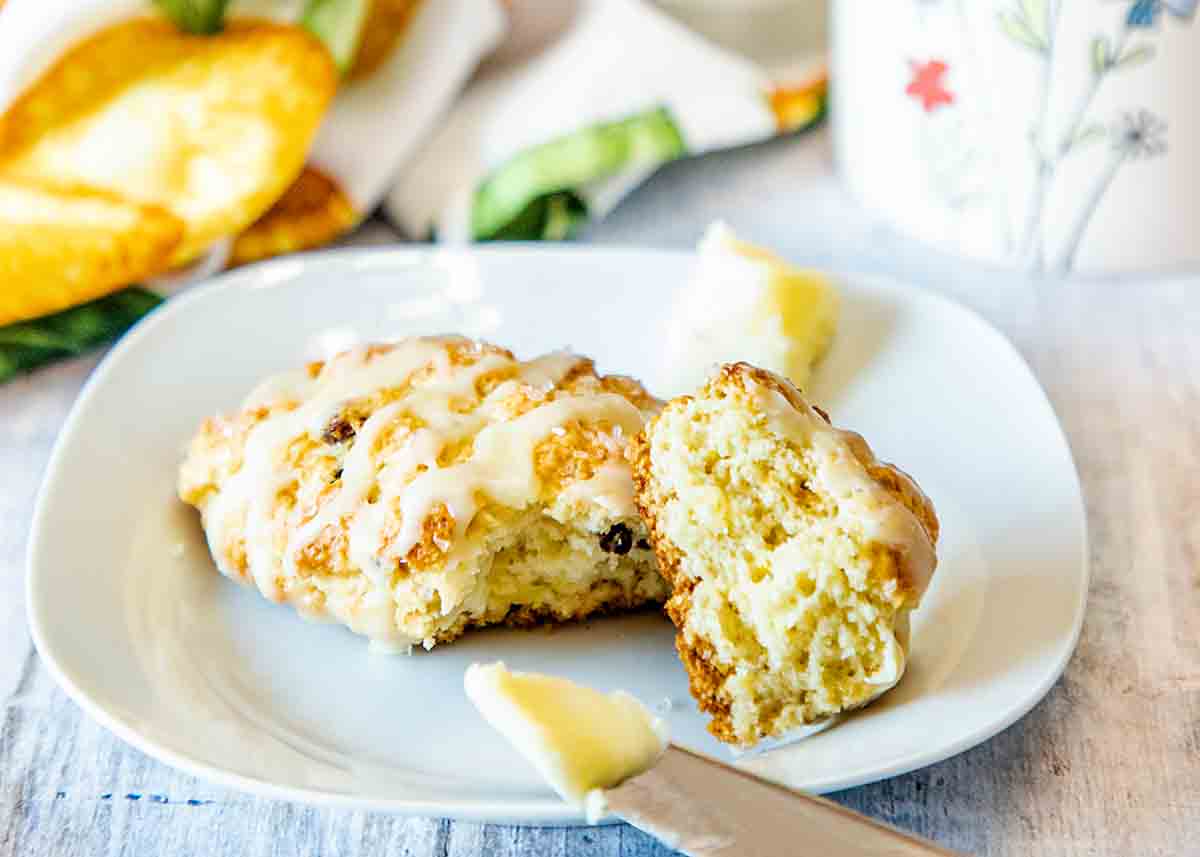 What are Scones?
Per Wikipedia, "a scone is a traditional British/Irish baked good, popular in the United Kingdom and Ireland. It is usually made of either wheat or oatmeal with baking powder as a leavening agent, and baked on sheet pans."
How are scones different from biscuits?
The difference between scones and biscuits goes beyond the obvious visual difference of American scones usually being triangular in shape and biscuits traditionally being round. Scones have a denser, more crumbly texture than their fluffy, flakey biscuit cousins. They also come in a variety of sweet and savory flavors whereas biscuits normally are unflavored.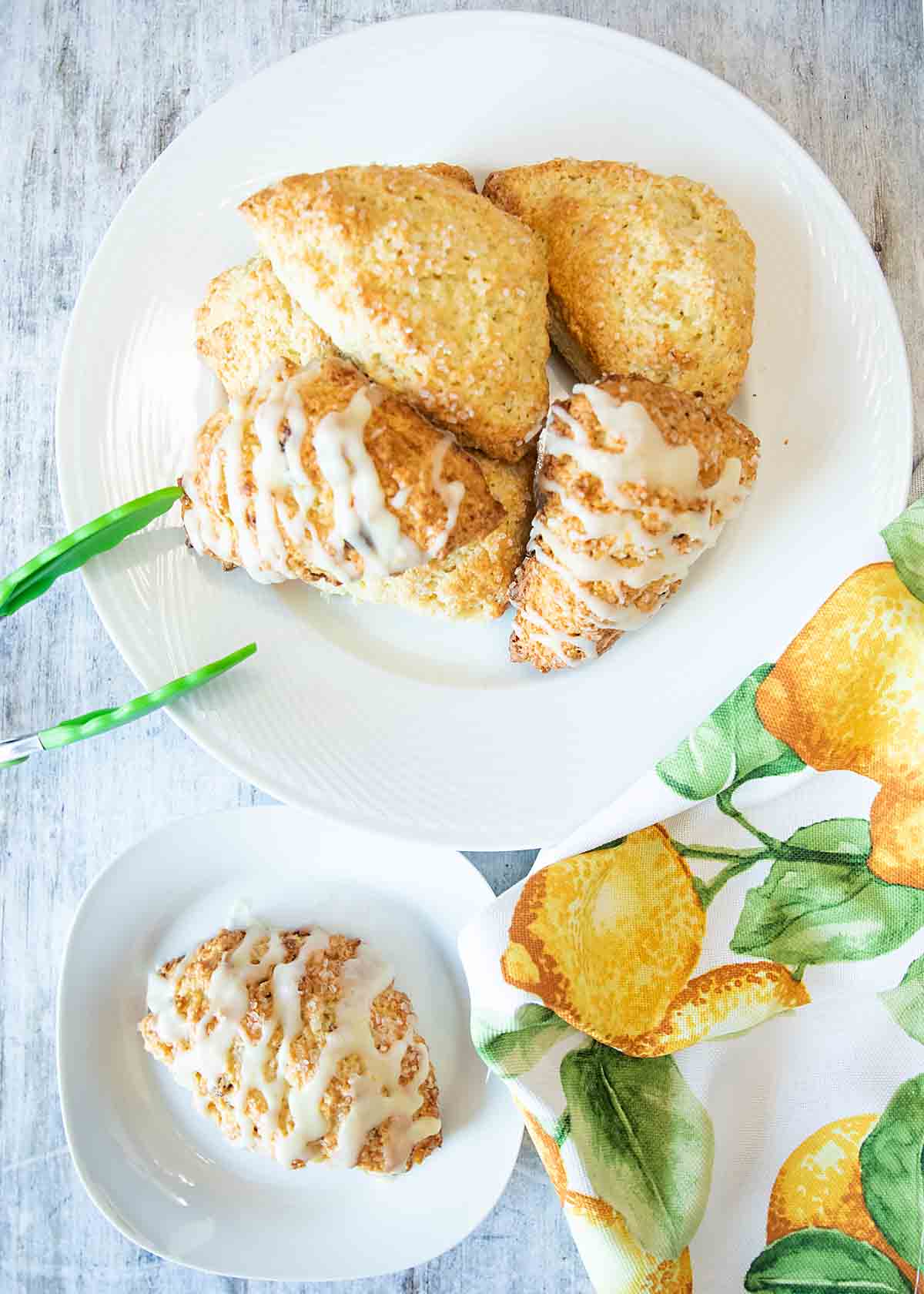 Why You'll Love This!
Versatile. These scones are great served as breakfast, dessert, or a sweet afternoon snack!
Tasty. With a gentle orange flavor and a glaze with a hint of ginger, these scones really are like sunshine!

Fun. Make breakfast more exciting or liven up a bread basket. It's hard to go wrong adding scones to a meal!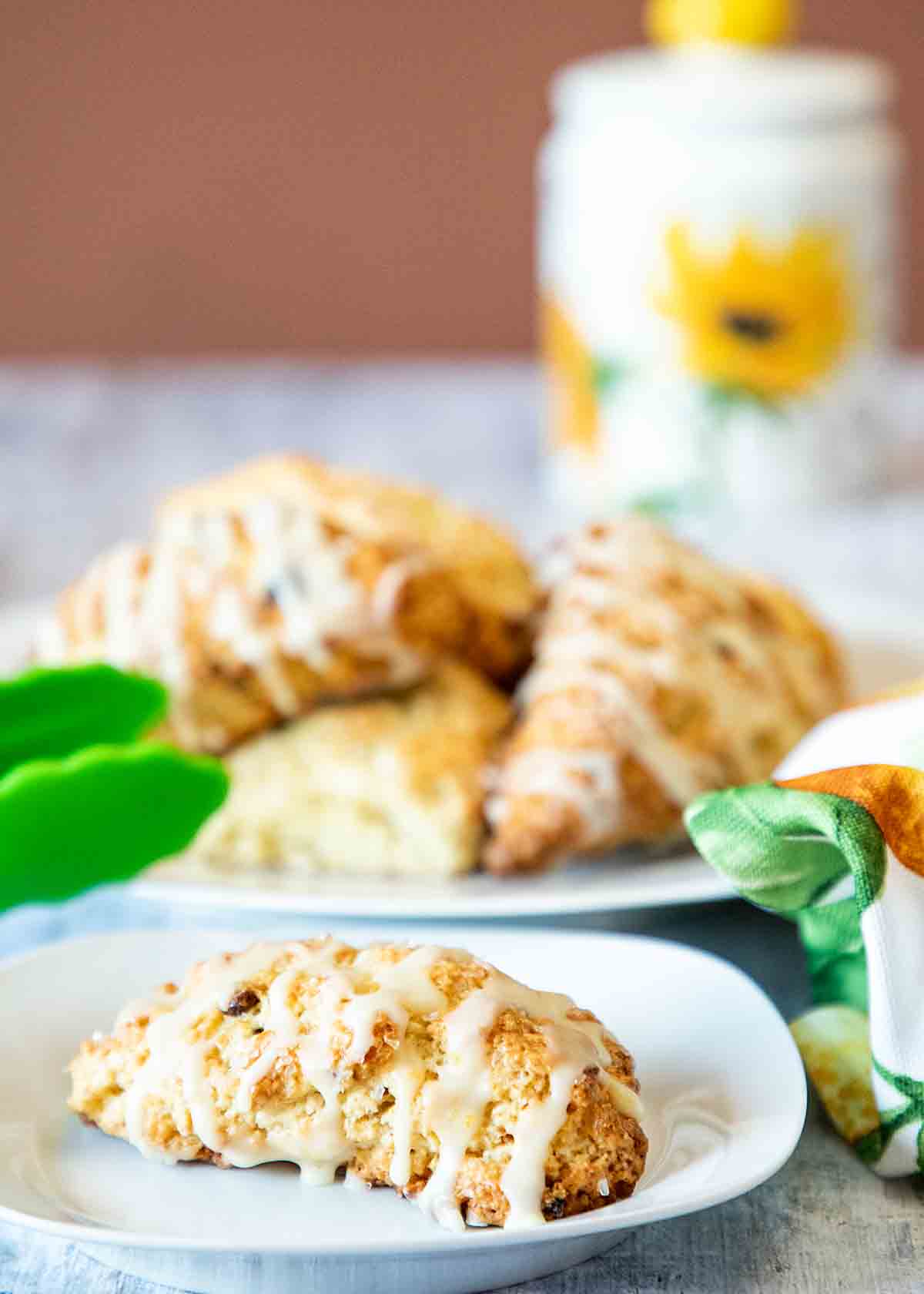 What You'll Need
Ingredient Notes
Unbleached flour. This is the main scone ingredient.
Orange. Zest is used in both the scone and glaze. Juice is used in the glaze.
Granulated Sugar. This adds sweetness to the scone.
Salt. Salt is a flavor enhancer.
Butter. Butter adds flakiness and richness to the scone.
Dried fruit and/or candied ginger. This provides a flavor punch and some texture. The first time I made this I used chopped candied orange peel. This time I used chopped dried currants with a little candied ginger. So pick your favorite dried fruit (though a little candied ginger is a great accent)! Just be sure to chop it small.
Eggs. Beaten egg is used both in the scone and a little is reserved for an "egg wash" to help the scones achieve their beautiful golden color.
Milk or cream. This helps moisten the scone and add richness.
Powdered sugar. This sweetens and adds volume to the glaze.
Ginger powder. This provides a flavor accent in the glaze.
Special Tools
A microplane is the best tool for getting the fine zest you need for these.
Step by Step Directions
Zest most of the orange, but leave some of the zest on to use later for the glaze.
Combine the dry ingredients, then cut in the butter with a fork, a food processor or your favorite method.
Chop your choice of "add-ins" and add these to the flour mixture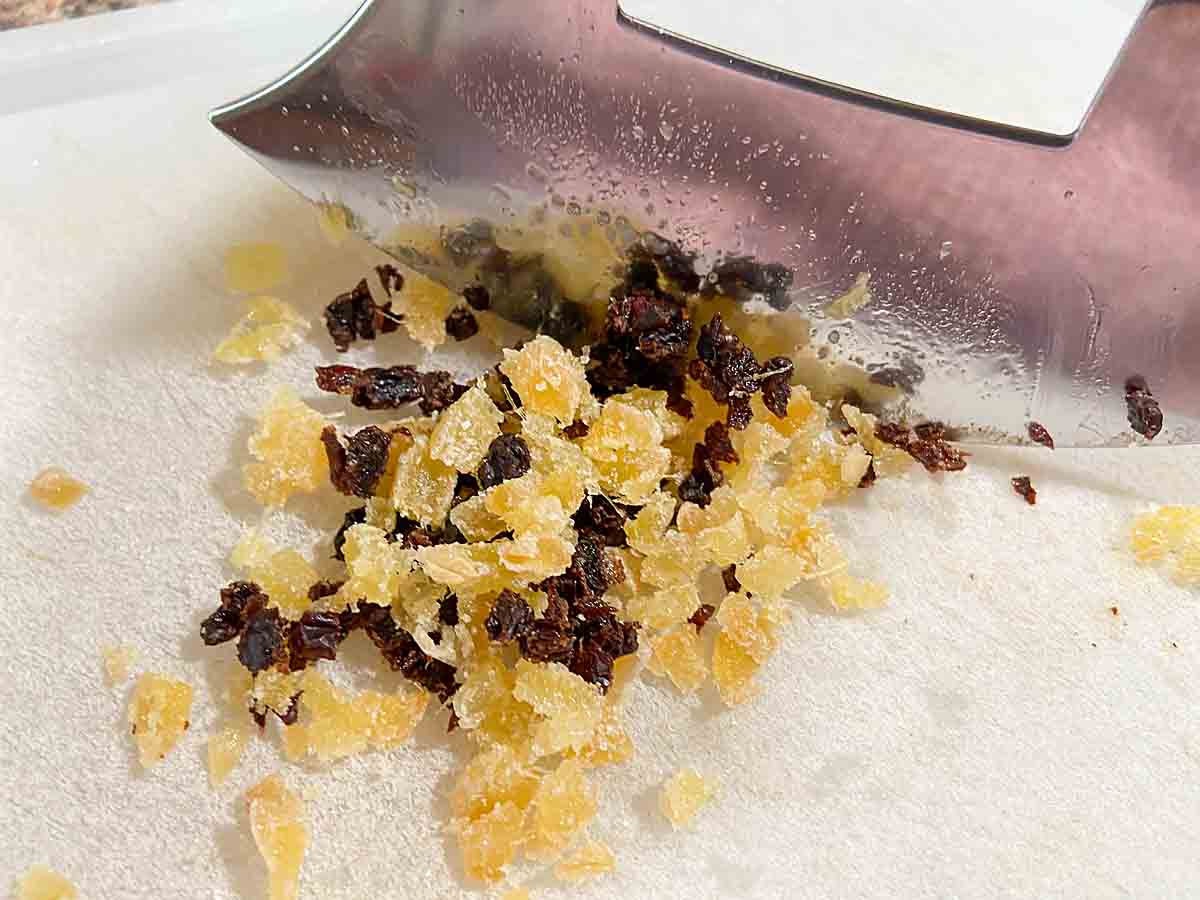 Beat egg, reserve a couple teaspoons for the egg wash, then mix with milk.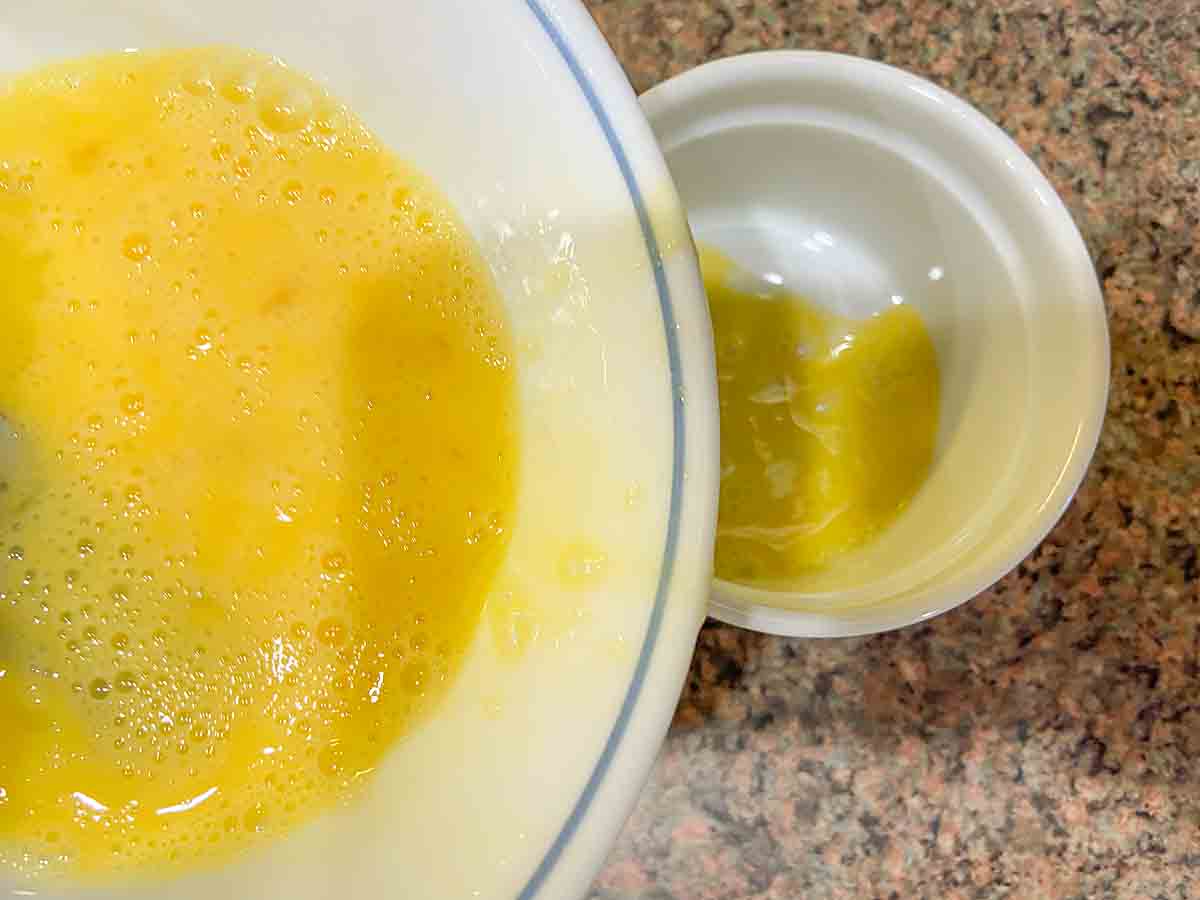 Add the egg mixture to the flour mixture, stir until just moistened, then pour out onto a flat surface.
Knead a few times until mixture holds together.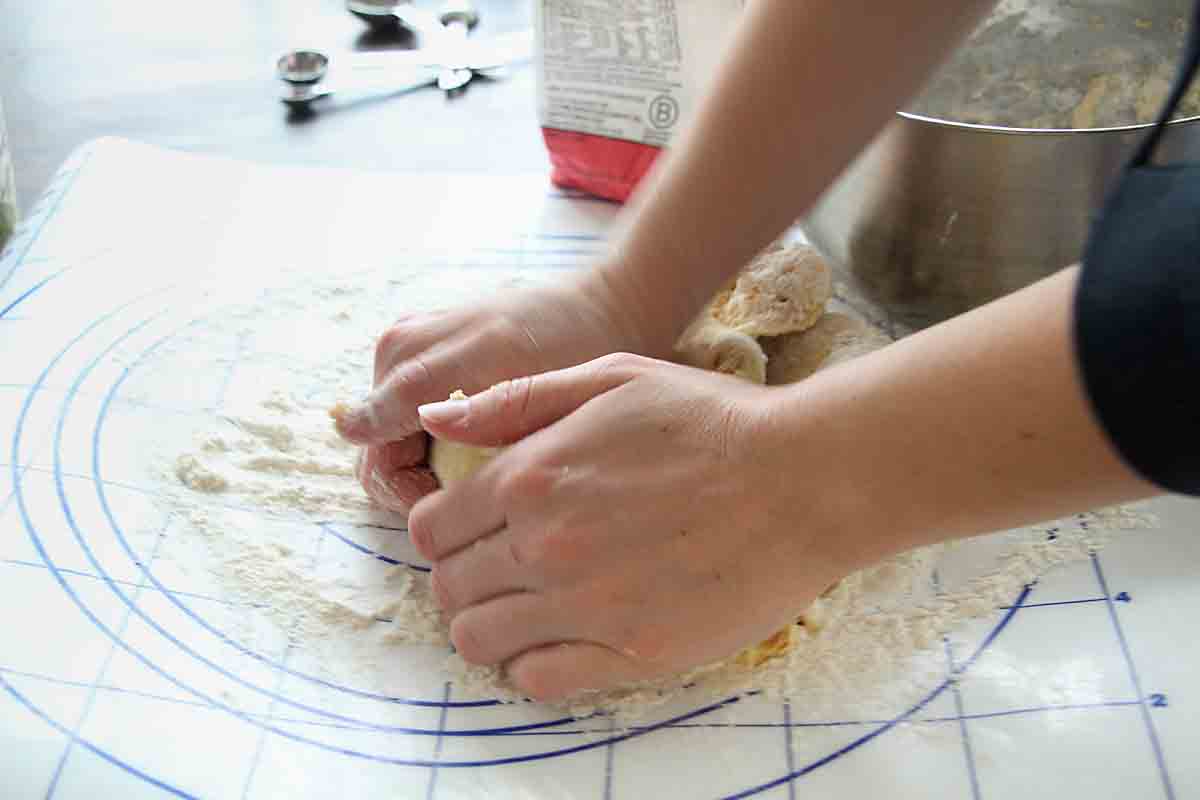 Then form into a 6 x 6 square (picture shows a larger batch). Cut the square into quarters, then cut each quarter on the diagonal to form 8 scones.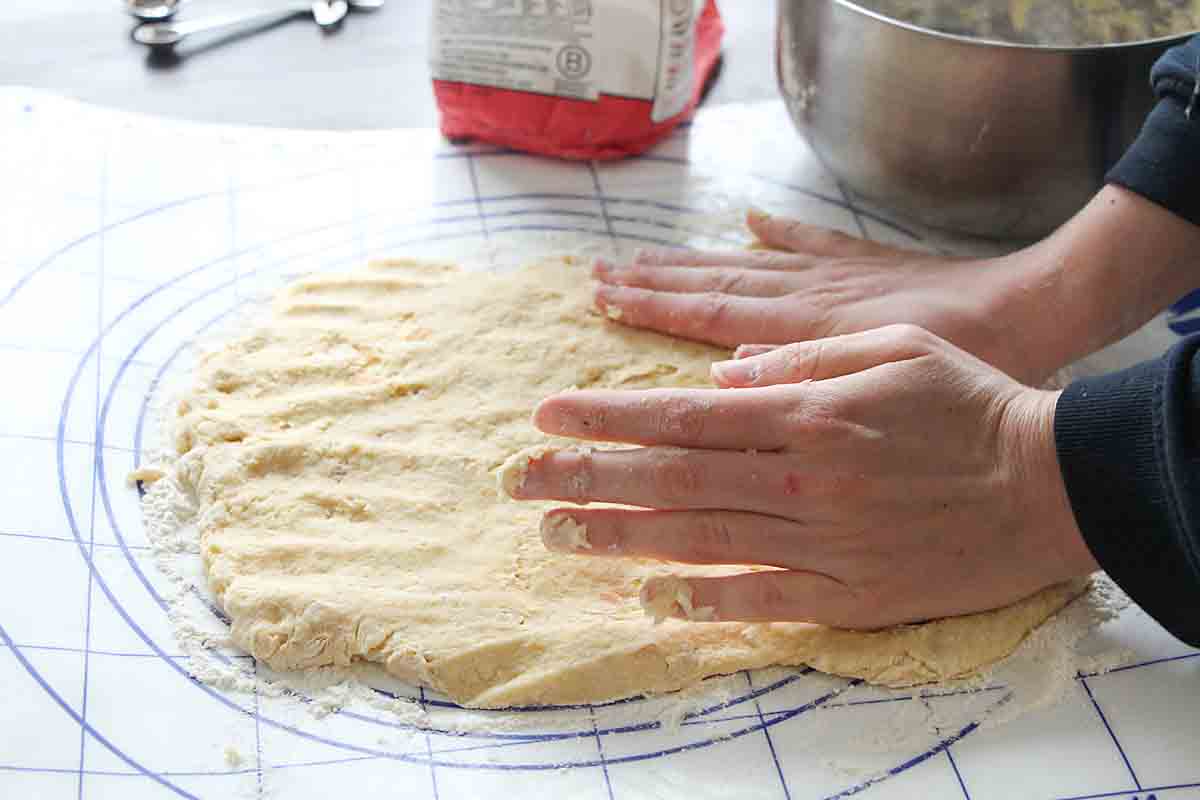 Mix the reserved egg with a little water, then brush on the scones.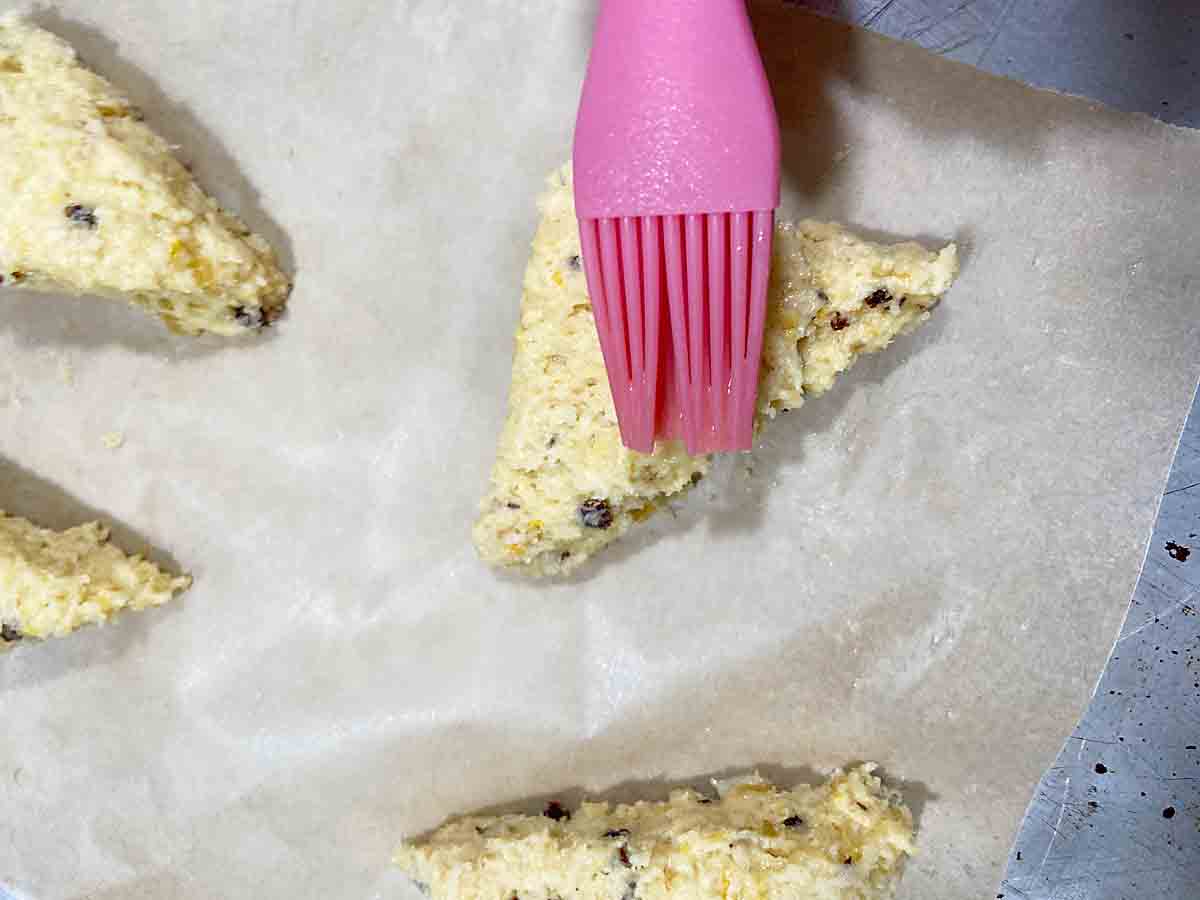 Bake and cool.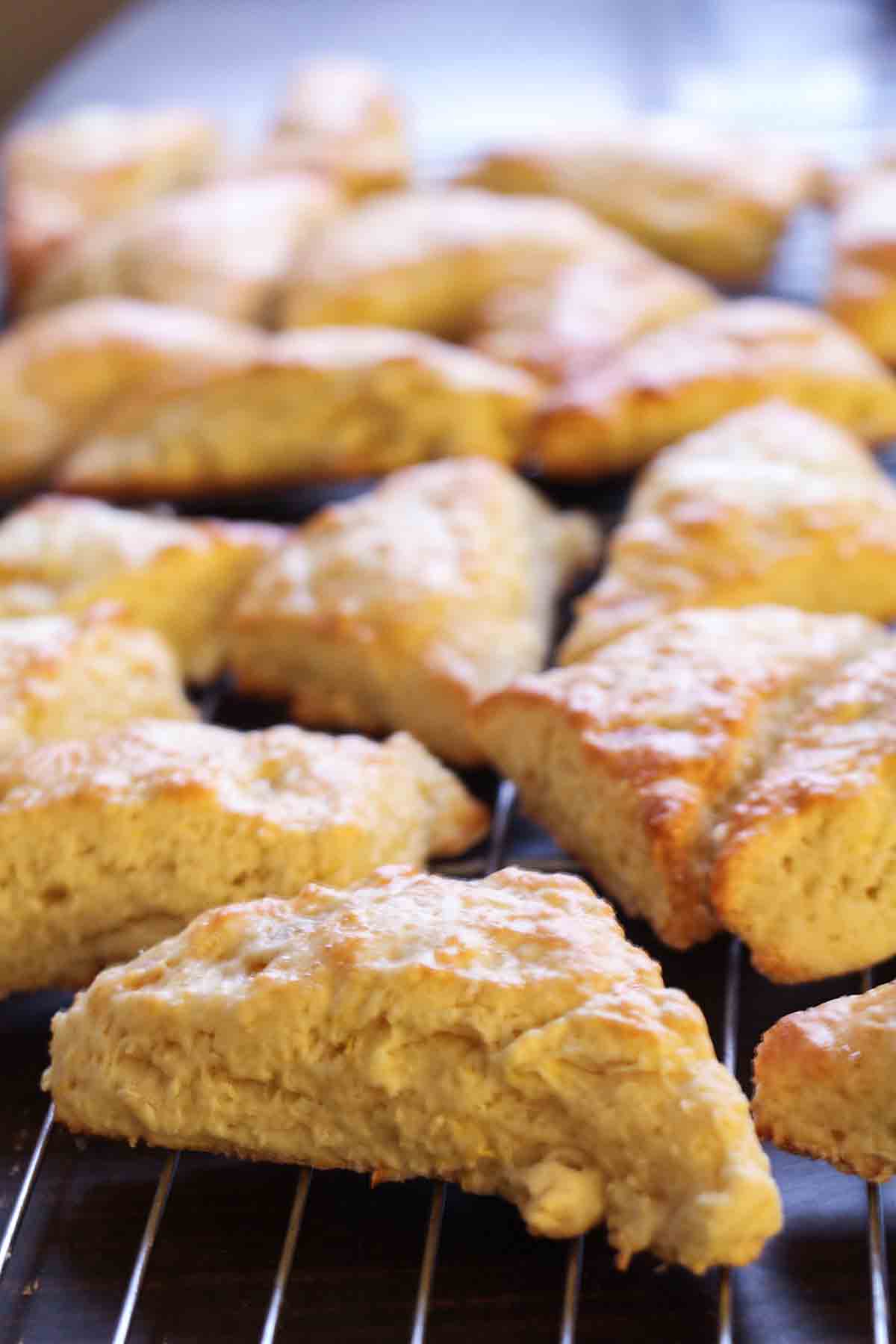 Mix glaze ingredients then drizzle over scones.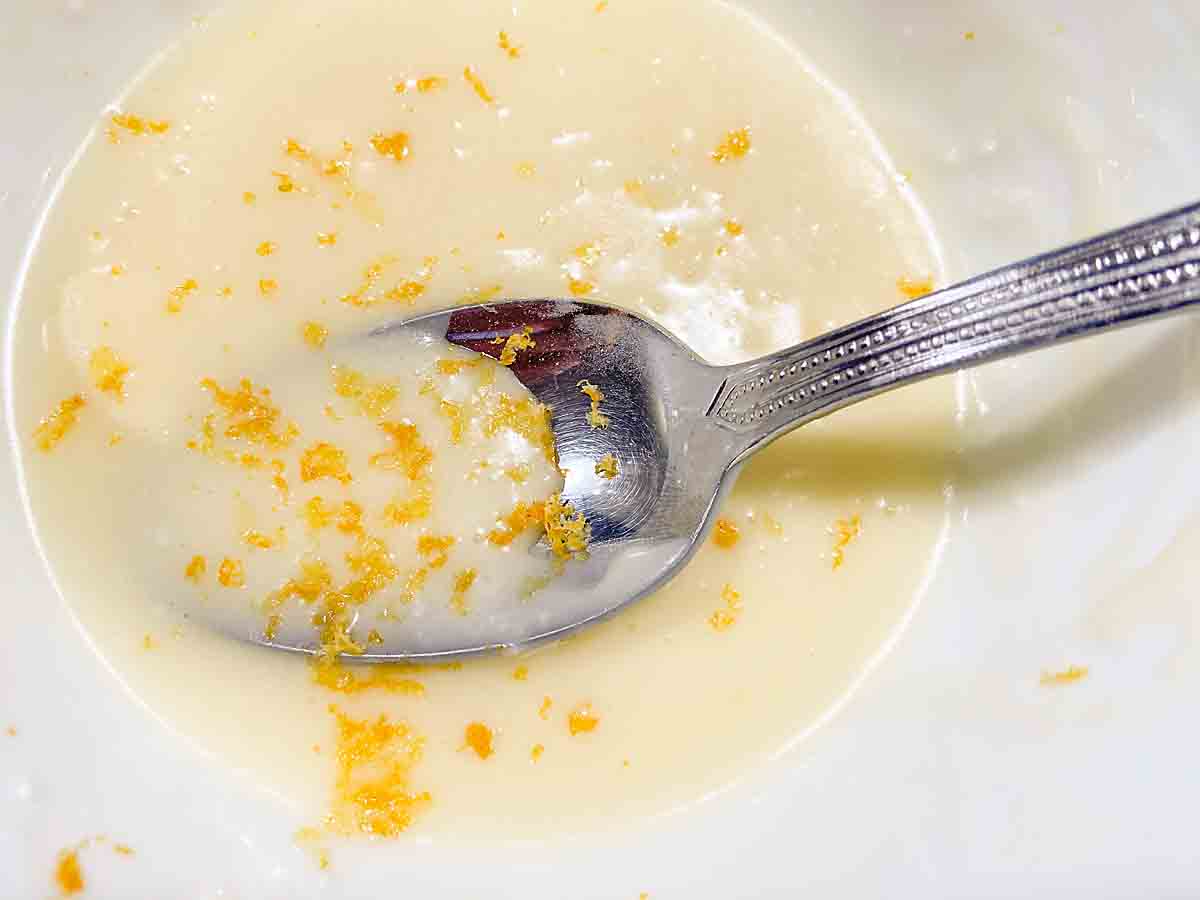 Enjoy!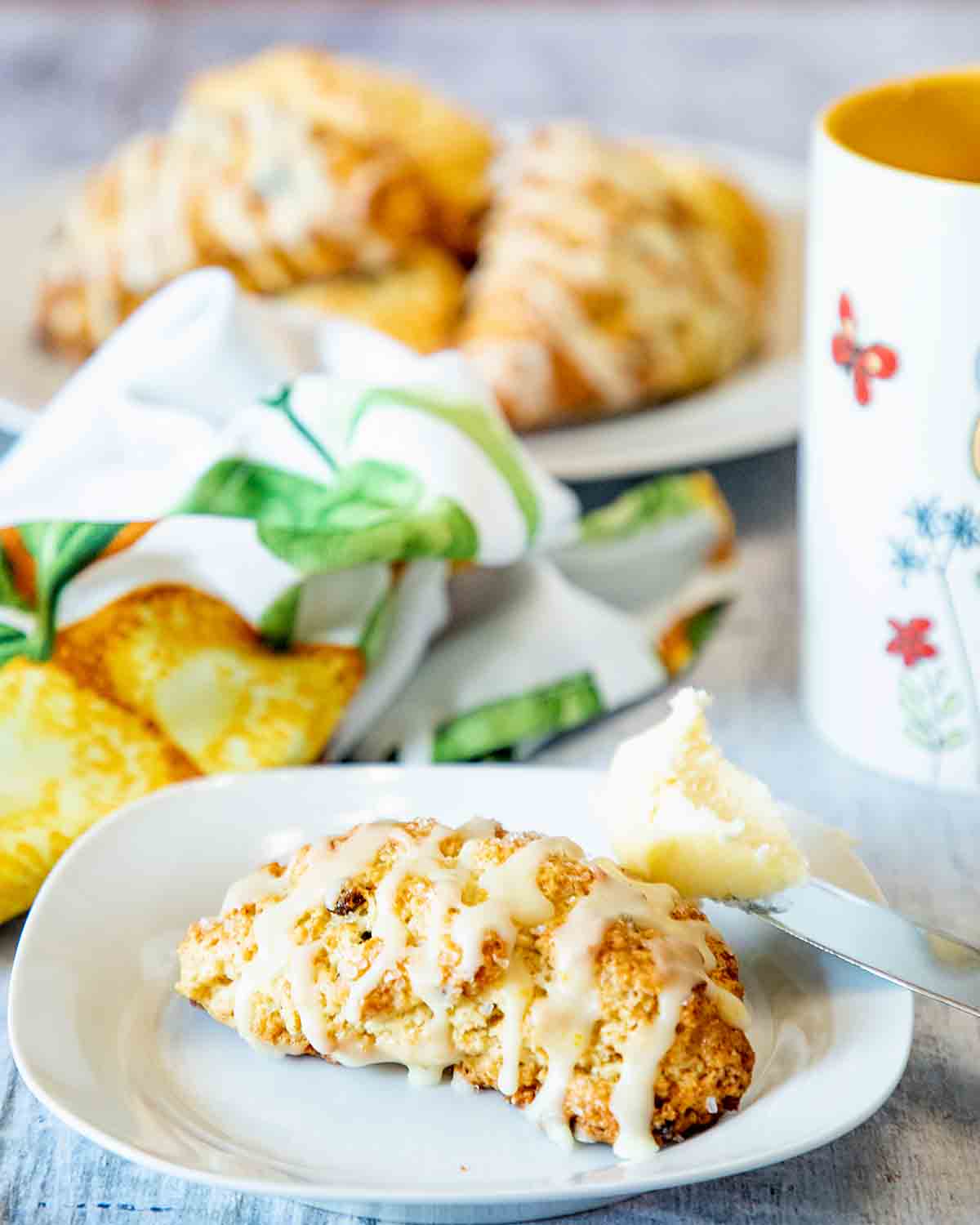 How to Serve
What better way to brighten your morning than with a beautiful fresh scone! Especially when they're flavored with orange–and are (almost) the color of sunshine!
If you're having breakfast or brunch guests they'll feel extra special with scones on the table. And don't forget that scones can be delicious for snacking anytime and a great addition to other meals!
For lunch, I love rounding out a hearty bowl of soup or entree salad with a scone or two. It turns a simple meal into something special. For dinner, scones can be a unique and festive add to a bread basket perhaps with some blueberry muffins and sliced sourdough.
And of course don't forget about serving tea–even if just for yourself. Consider sides such as butter, jam, marmalade and honey. So good!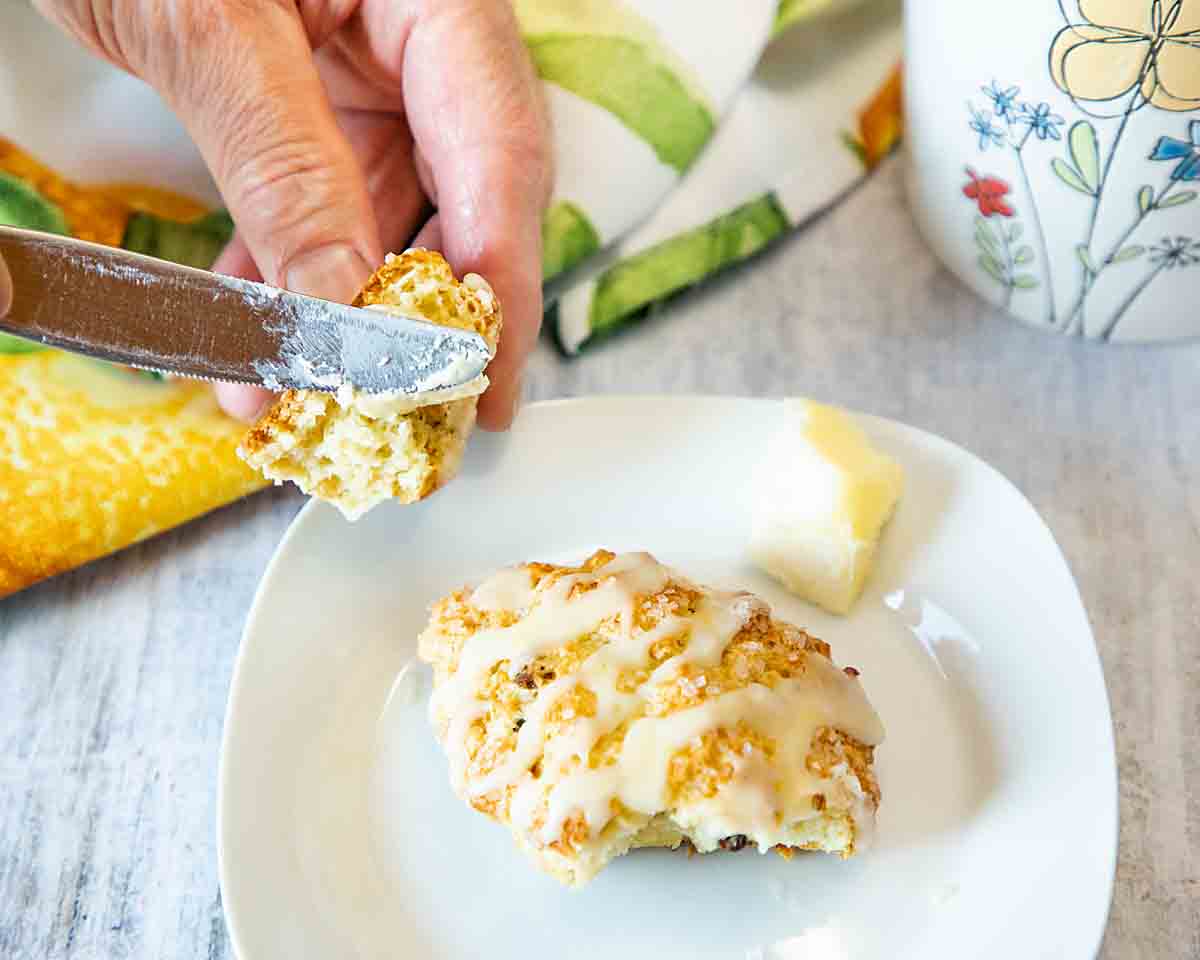 Variations
Besides the already mentioned scones, I also make tasty Cherry Maple Pecan Scones and Honey Matcha Scones.
And if you're in the mood for something more savory, how about my Smoked Salmon Dill Scones, great as a tasty dinner side or brunch option!
Should I Tops Scones with Glaze or Sugar
Most people like to see scones with a glaze, either as a full topping or drizzled on. But I go back and forth on whether to do this or to simply top my scones with coarse sugar.
The biggest issue I have with glazing isn't the work, it's the extra calories and sugar. For a little bit of glaze, the calories really add up, while coarse sugar is relatively lean. Using the amount of glaze I show here adds about 70 calories per scone than topping with a teaspoon of coarse sugar. If you fully cover the scones, it adds up to more.
Not surprisingly, usually I go with the sugar. But for these scones, the glaze seemed to add a lot. With the addition of a little orange zest and ginger, it had unfair advantage when we tasted. So (just this once), I recommend glazing. But if you use coarse sugar instead, I completely understand.
Leftovers
Scones are best the first day, but will still be good for a couple days. If that's not enough time, they can be frozen, well-sealed.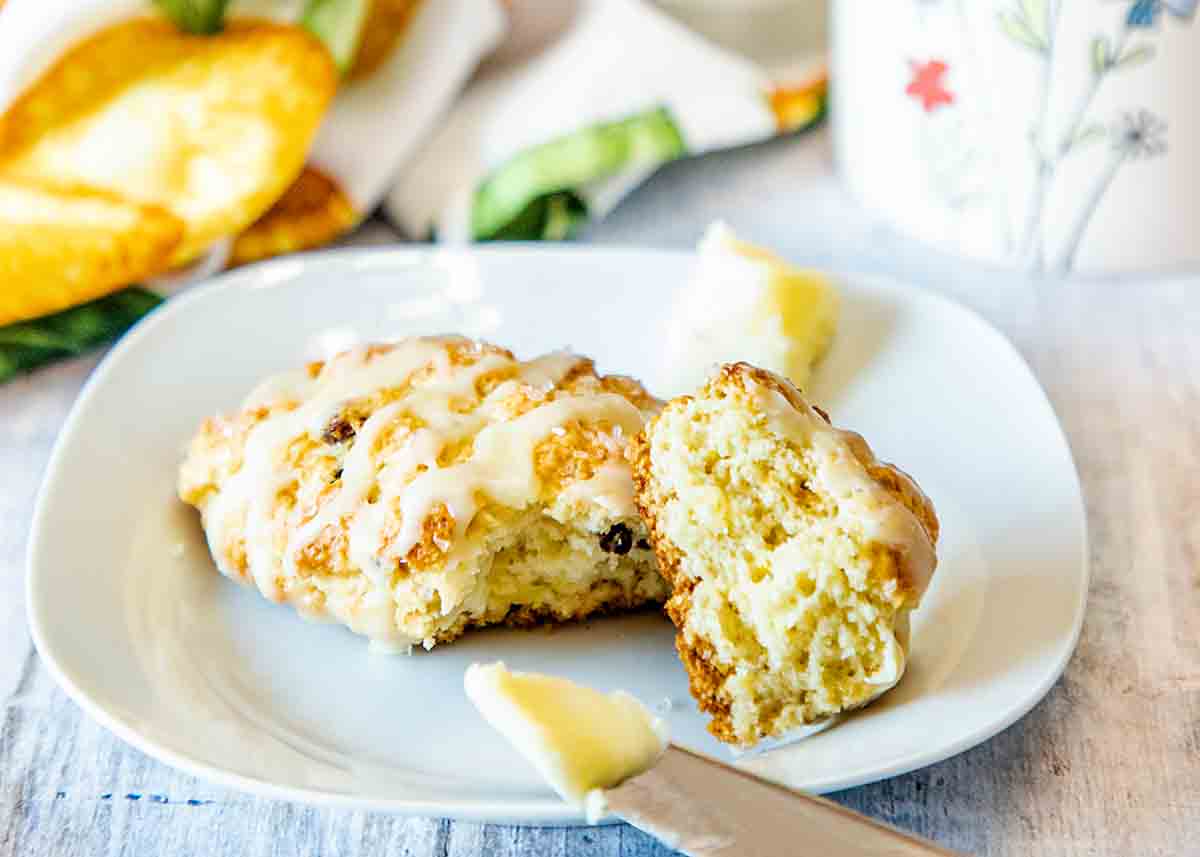 Tips & FAQs
The amount of glaze in this recipes should be enough to drizzle over the scones. If you want them covered in glaze, you should probably double the glaze recipe.
This recipe ask you to keep a little zest on the orange while the scones bake, then grate the final bit into the glaze. This is a nuance which I do because, once grated, the zest dries out quickly. You can grate it all off at once but you'll lose a little bit of flavor. Yes, this is obsessive, so feel free to ignore!
What is the best way to zest an orange or other citrus? The best way to grate any citrus is using a microplane. I used to think I detested citrus peel of any kind. Then I realized that it's only the white pith I dislike–since it's quite bitter. If you use a microplane, it takes off a very thin layer of the just brightly colored peel. This is loaded with flavor and brilliant citrus oils so is quite wonderful even for people who avoid bitter flavors.
Orange Scones
Orange scones have a sweet brightness and add a little sunshine to a drab day. Perfect for breakfast, brunch, tea, snacking or as a side to soup or salad!
Ingredients
2

cups

unbleached flour

zest from one orange

divided--leave some on the orange for the glaze

1/3

cup

granulated sugar

1

Tablespoon

baking powder

½

teaspoon

salt

4

Tablespoons

butter

1/4

cup

chopped dried fruit

chopped fine

2

eggs

divided--take out a couple teaspoons for the egg wash

1

teaspoon

water

to mix with reserved egg for egg wash

6

Tablespoons

milk

or cream
Optional Glaze:
2

Tablespoons

orange juice

2

Tablespoons

butter

1

cup

powdered sugar

1/4

teaspoon

dried ginger

1

teaspoon

orange zest
Instructions
Make the scones
Zest the orange, leaving about 1/8 of it un-zested. Set aside the orange for the glaze.

In a large mixing bowl or food processor, combine flour, baking powder, orange zest, sugar and salt.

Cut the butter into the flour mixture with a fork, pastry tool or food processor, until butter pieces are tiny and flour-coated. Mixture will resemble crumbs but will still be a fairly floury.

Add chopped dried fruit to the dry ingredients and mix in.

In a separate bowl, beat eggs , then remove about 2 teaspoons of beaten egg to a separate bowl and set aside. Add the milk to the larger bowl of egg, then stir the egg-milk mixture into the dry ingredients, being careful not to over mix. Add additional liquid or flour if needed.

Turn the dough out onto a floured board and knead once or twice, then form into a ball. Roll out or pat dough into a 6 x 6 inch square. Divide the square into 4 equal squares, then cut each of those on the diagonal to form 8 scones.

Spray a cookie sheet with a non-stick baking spray and place scones on the sheet. Beat the reserved egg lightly with a teaspoon of water and brush the tops of the scones. Sprinkle with coarse sugar if not glazing.

Bake at 400°F for 12-15 minutes or until golden, then cool on a wire rack.
Make the glaze (optional)
When the scones are cool, zest the un-zested section of the orange until you have about a teaspoon of zest. Juice the orange and measure out 2 Tablespoons. Melt the butter.

Whisk together the glaze ingredients until smooth. Set aside.
Glaze the scones (optional)
Using a teaspoon, drizzle the cooled scones with the glaze. You can heat the glaze for a couple seconds in the microwave if it gets to thick.
Notes
Calories are calculated with the glaze amount listed. You can subtract 70 calories if you top each scone with a teaspoon of coarse sugar instead.
Nutrition
Calories:
307
kcal
Carbohydrates:
48
g
Protein:
6
g
Fat:
10
g
Saturated Fat:
6
g
Polyunsaturated Fat:
1
g
Monounsaturated Fat:
3
g
Trans Fat:
0.3
g
Cholesterol:
65
mg
Sodium:
393
mg
Potassium:
85
mg
Fiber:
1
g
Sugar:
25
g
Vitamin A:
350
IU
Vitamin C:
2
mg
Calcium:
119
mg
Iron:
1
mg
I am not a health professional and nutrition data is calculated programatically. Accuracy may vary with product selection, calculator accuracy, etc. Consult a professional for the best information.
Updated from the Jan 18, 2014 post.