Make your desserts, breakfast sand tea times extra special with this homemade Lime Curd. Sweet, tart and flavorful, it's even easy to make!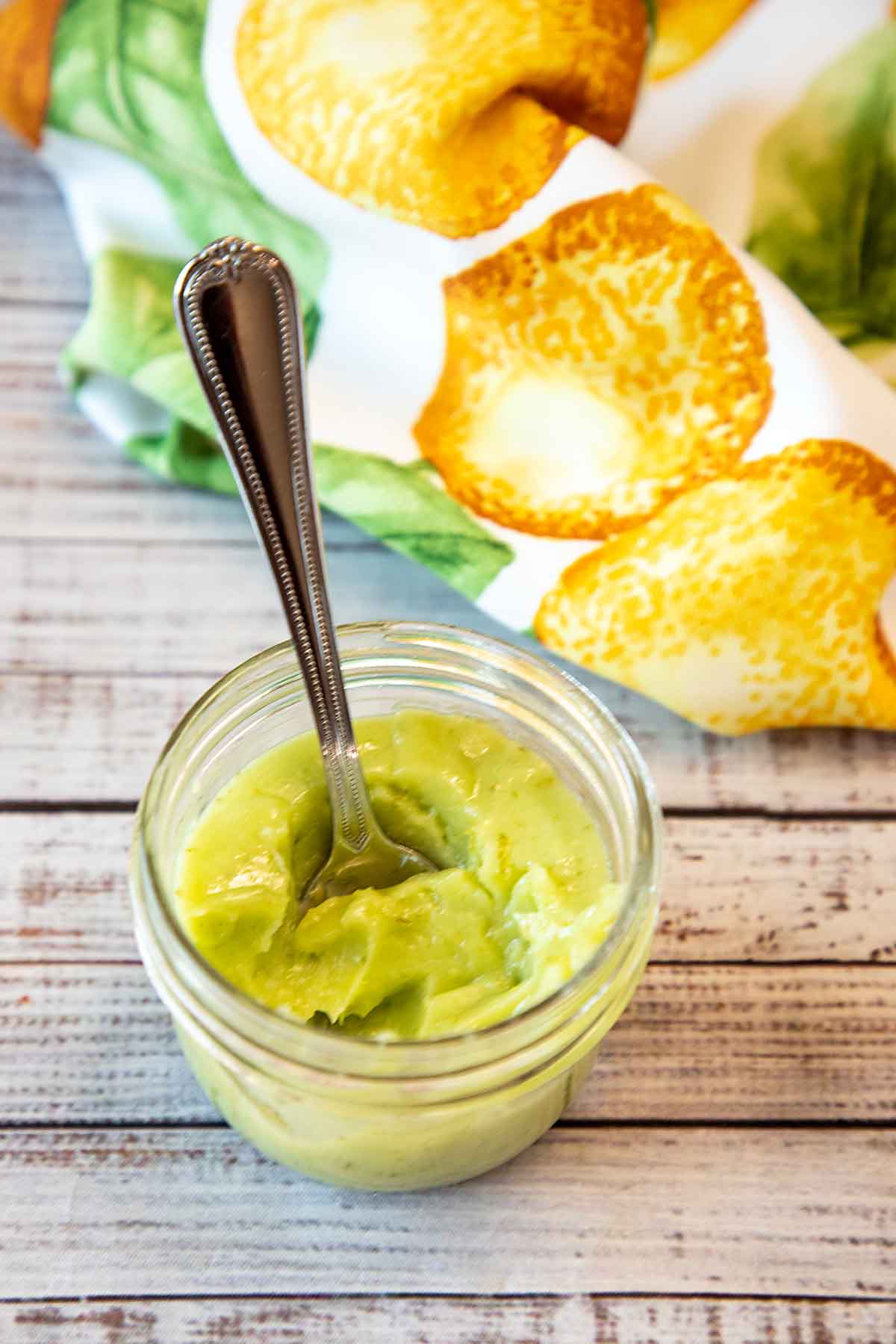 This post is sponsored in conjunction with #SpringSweetsWeek. I received product samples from sponsor companies to help in the creation of the #SpringSweetsWeek recipes. All opinions are mine alone.
If you're a fruit curd fan, why not make yours homemade! This tasty lime curd is the perfect addition to your cakes and cupcakes! It also works well as a topping for toast or scones or your favorite breakfast treats like yogurt, pancakes and waffles. Even better, you only need a handful of ingredients and around 15 minutes to prepare the recipe!
What is Fruit Curd?
Fruit curds are thick, rich dessert toppings or spreads that can be made with a variety of fruits, but are especially know for citrus. Made with eggs, butter, sugar, and a choice of fruit, everything is cooked together to create a taste sensation. Kind of like an uber-rich jam!
Fruit curds are very popular in Britain and an import shop I used to frequent carried jars in at least a half dozen flavors. Yum!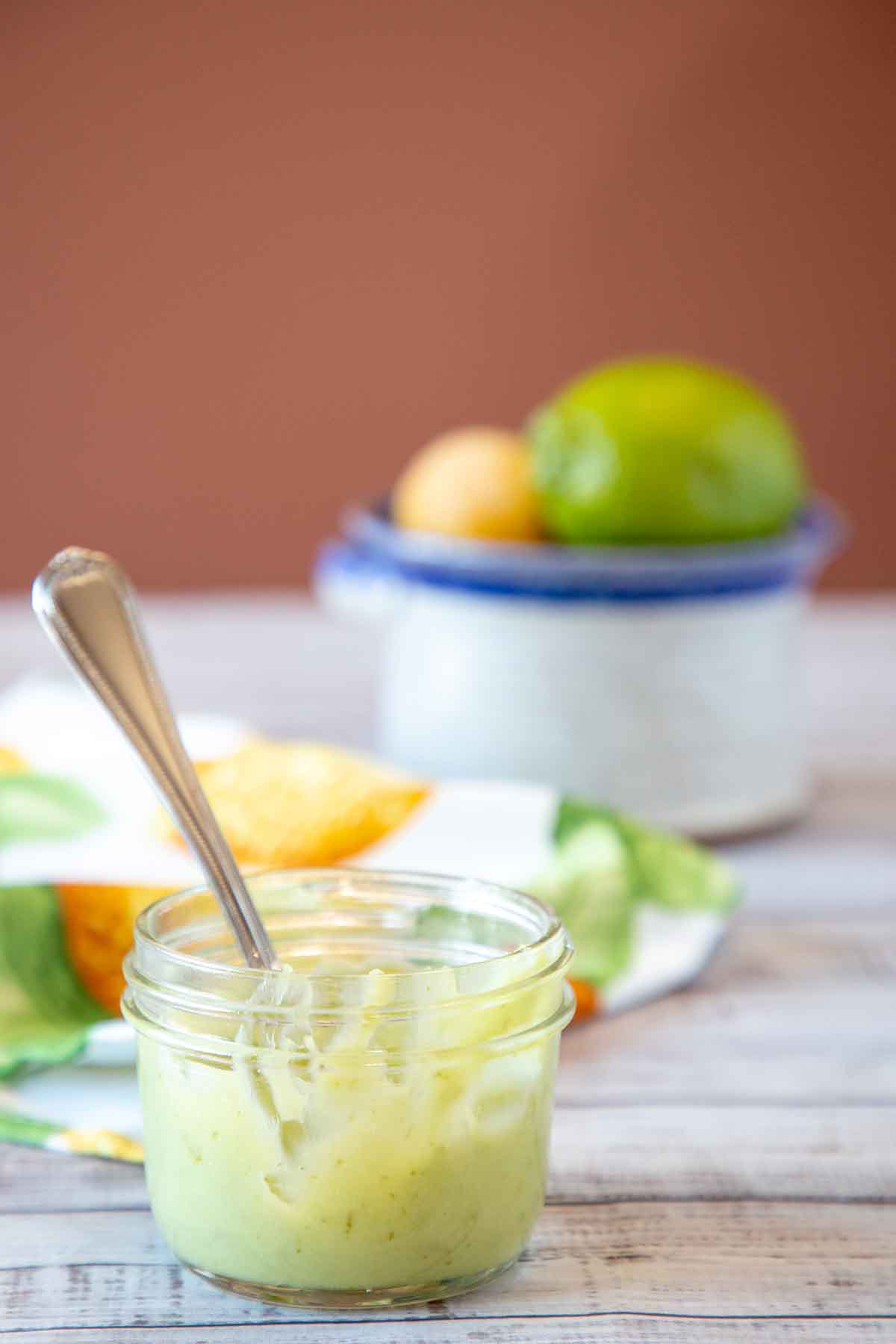 Why You'll Love This
Absolutely delicious. No matter where you use this lime curd, it's going to enhance the experience! It is rich in flavor, plus has the right balance of sweet and tart to brighten many desserts and snacks!
Easy to make. You'll only need a few simple ingredients and a few easy steps to make this recipe.
Have it your way. While you may be able to run to the market for lemon curd, homemade offers you any flavor you chose. And you can go organic and local (alright, if you live in Florida) if you want.
Versatility. If you get tired of topping scones, filling crepes or, my favorite, spreading on oat grahams, there's a lot more you can do with this. Check out all the ideas in How to Serve below!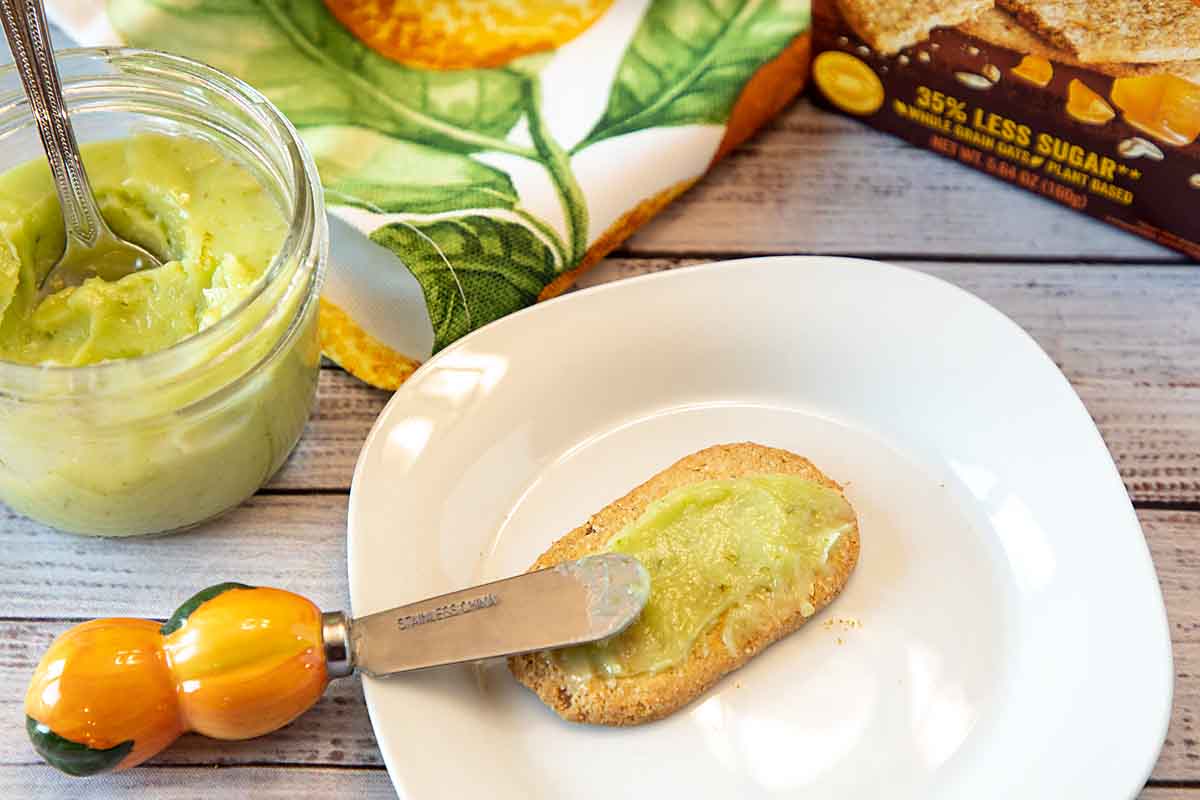 What You'll Need
I received and used some wonderful ingredients from our sponsors for this recipe! These included key limes from Melissa's Produce and sugar from Dixie Crystals. And then I spooned the lime curd on some oat grahams from Nairn's.
Yes, there's nothing to bring a Wisconsin girl out of her winter doldrums like a fresh produce box on the doorstep and a case of (always GMO-free) cane sugar to turn that into something even more special! Enter the giveaway below for a chance to win your own!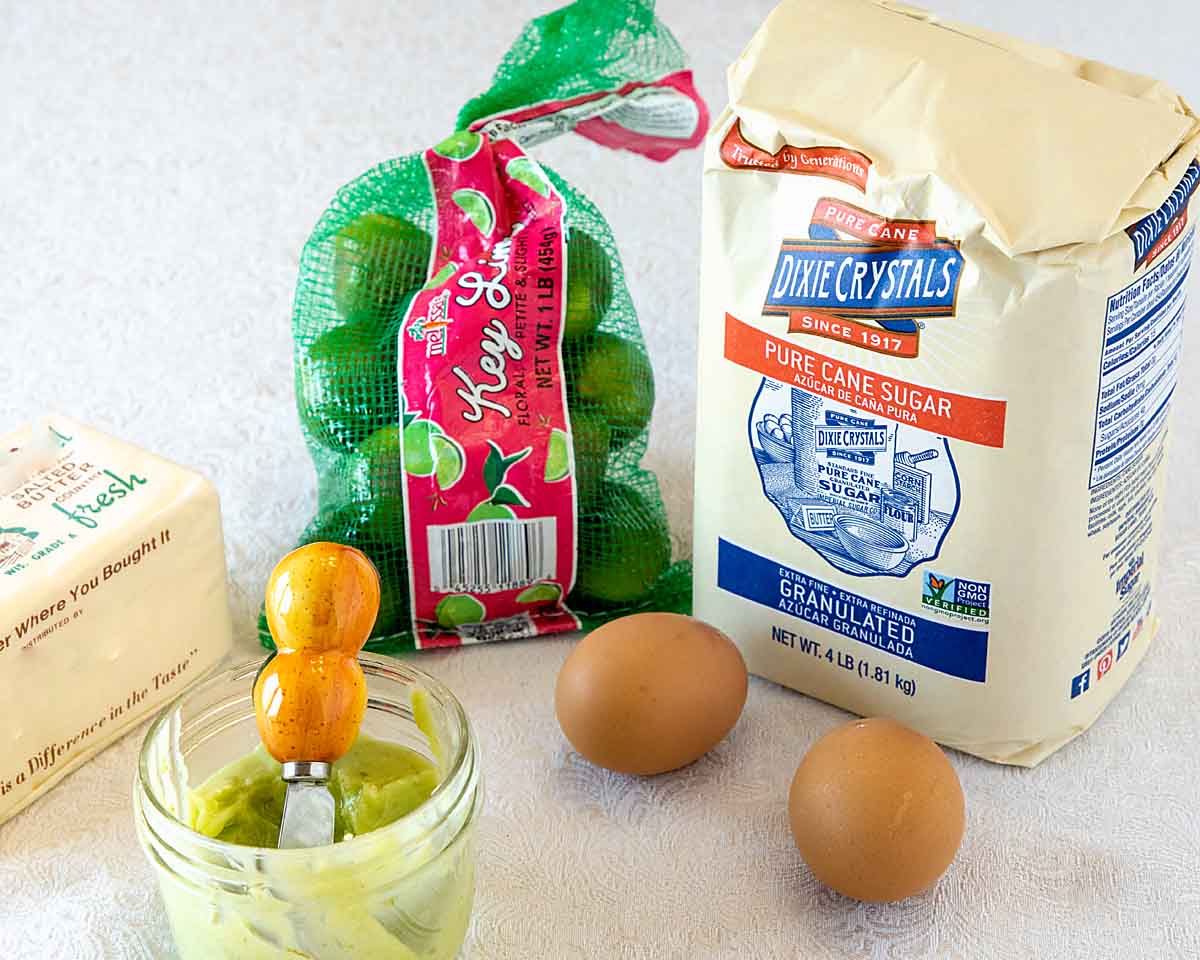 Ingredients and Notes
Egg yolks. Some curd recipes use whole eggs, but I like yolks for the richness. The other advantage is that, because the whites and yolks cook at different temperatures, this makes it less likely to get tiny lumps of cooked egg in the finished product. Just freeze the leftover egg whites for later use.
Sugar. Sugar adds balance and sweetness to the recipe!
Lime juice. This adds the flavor!
Lime zest. Adds a burst of lime flavor and freshness to this recipe. The lime zest is important because it adds flavor without adding extra liquid.
Butter. Adds creaminess and helps emulsify the ingredients.
Blue food coloring. Optional, if you are looking for a greener color. Between the egg yolks and the pale color of the juice, lime curd is naturally yellow. While I don't usually add color, in this case I was serving it with lemon curd and wanted people to be able to readily see the difference.
Special Tools
You can mix the ingredients in a blender–or mix them in the saucepan you'll be cooking them in.
I recommend a microplane to get a very fine zest, with as little of the bitter white pith as possible.
Step by Step Directions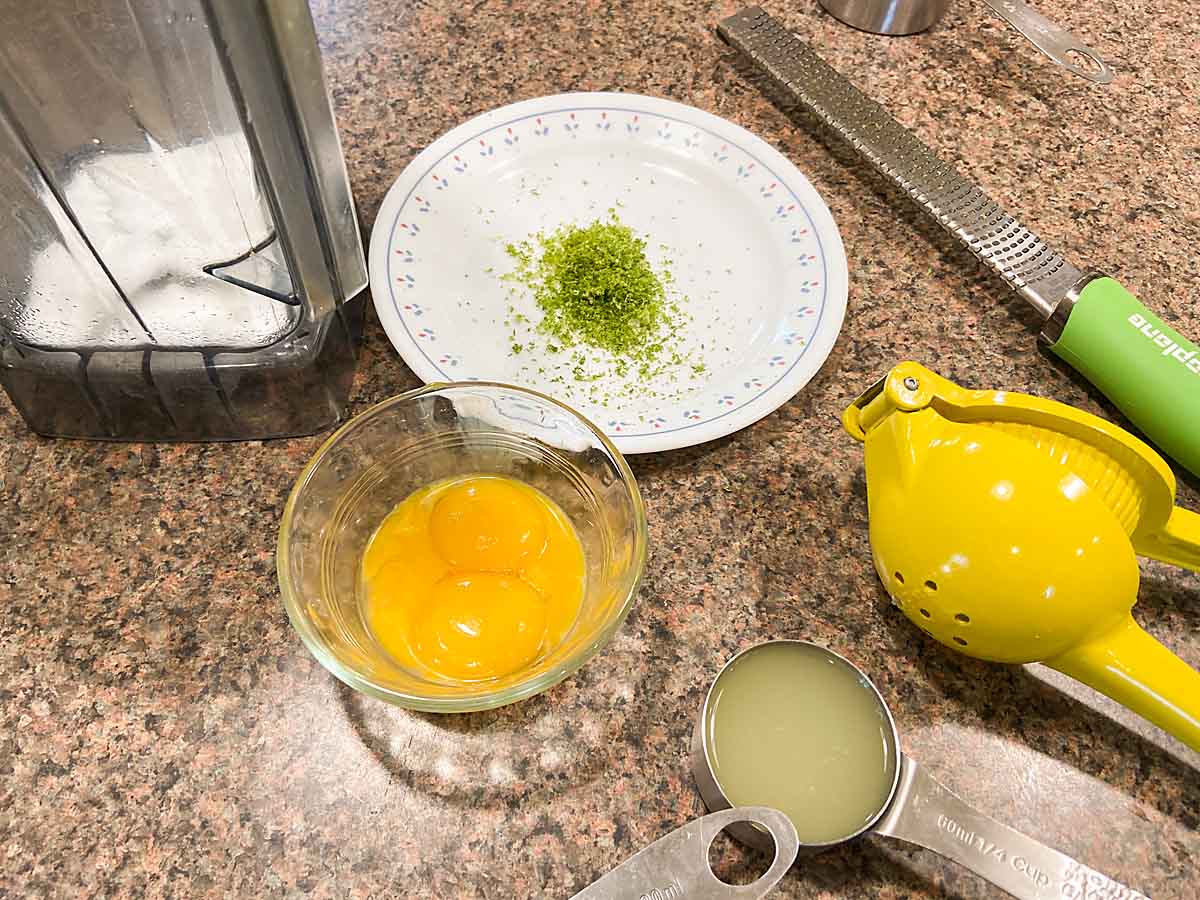 Thoroughly mix all ingredients except butter in a blender or whisk together in a small saucepan. If using a blender, pour the mix into a small saucepan.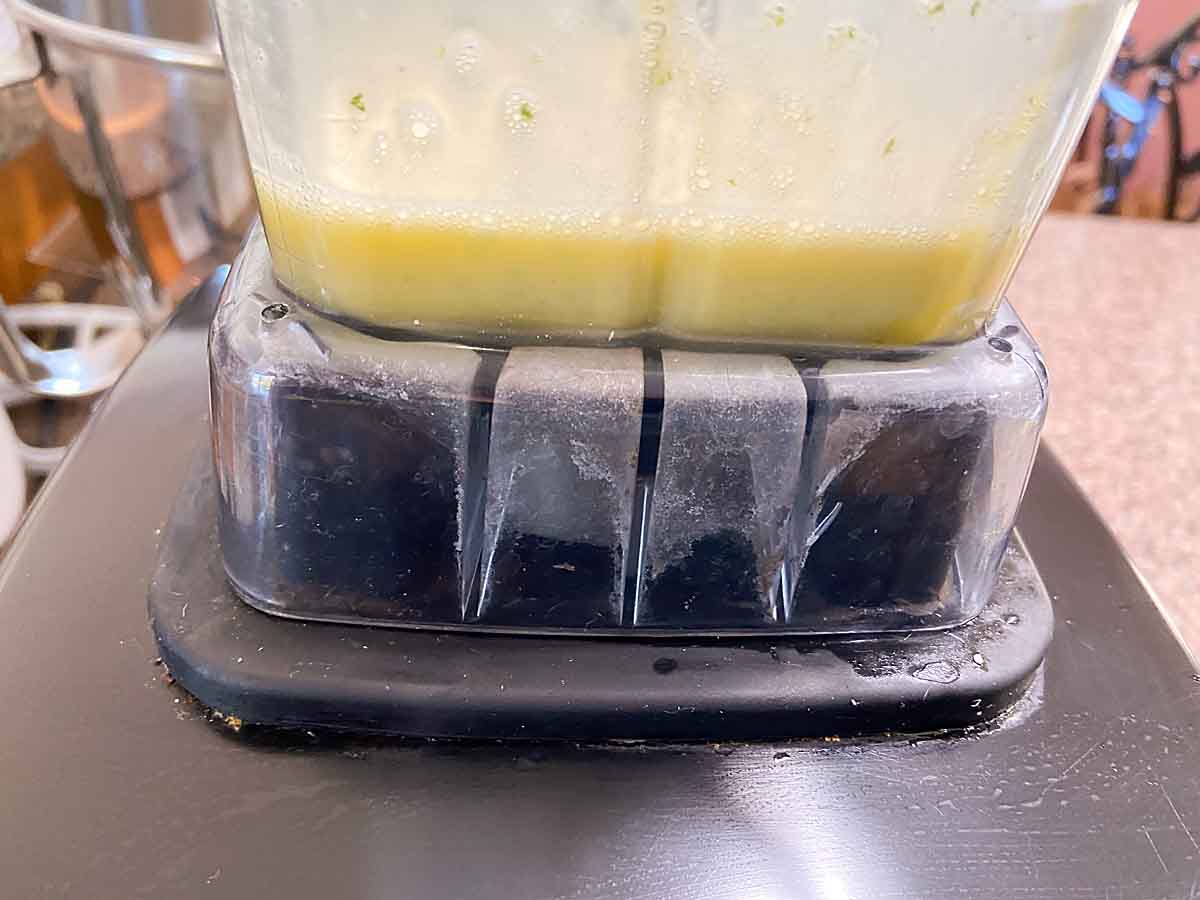 Heat on medium, whisking, until mixture becomes thick, resembling the texture of hollandaise sauce, about 10 minutes.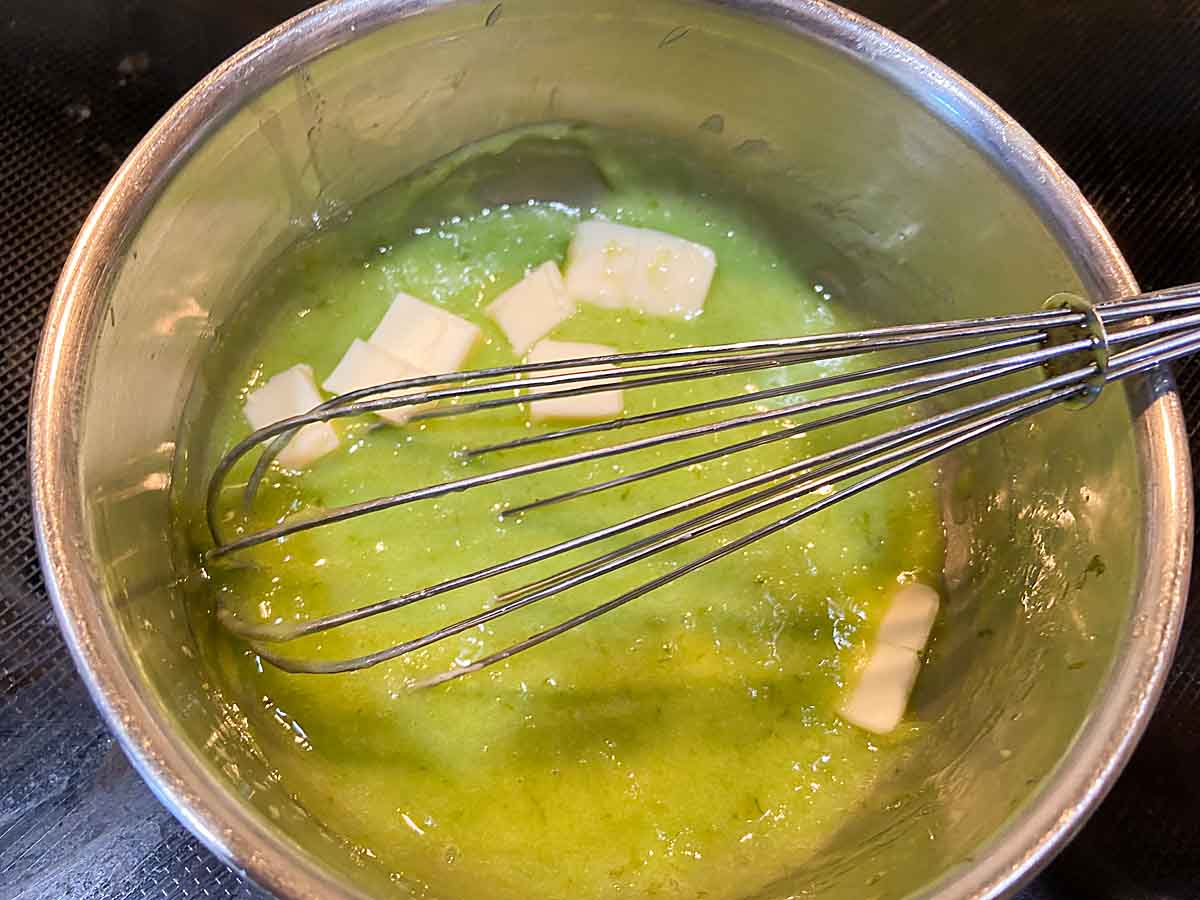 Remove the pan from heat. Cut the butter into 8 pieces, then whisk, a couple at a time, into the curd. If desired, strain curd, then pour into a storage container (I use a half pint canning jar) and refrigerate. The curd will continue to thicken as it cools.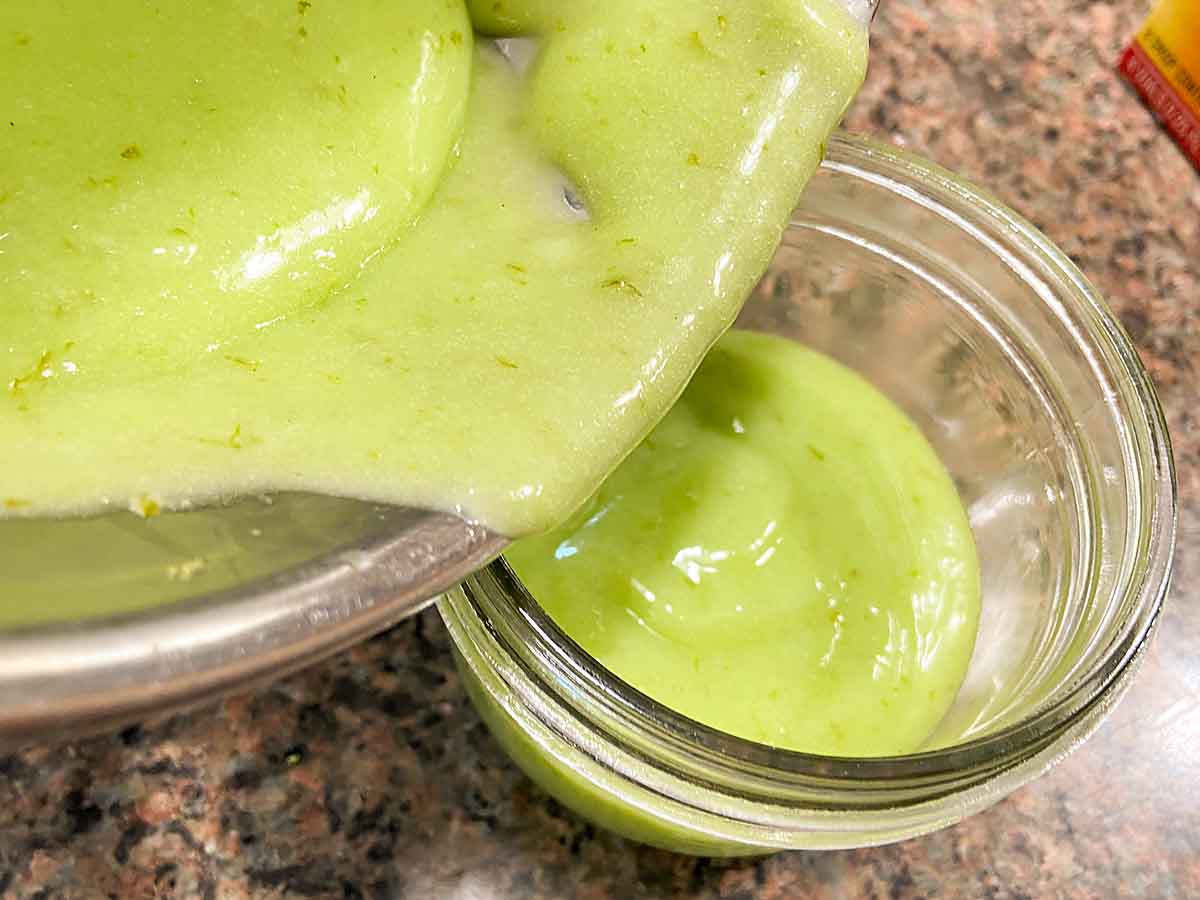 Cool at least an hour before serving.
Working with Limes
Fresh vs bottled lime juice
I find the flavor of fresh juice far superior to bottled. I do use bottled juice for canning (since the acidity of bottle juice is standardized), for acidifying milk to use in place of buttermilk, or for recipes that use small quantities. But when lime is the main flavor, like in this lime curd, I always go fresh (or home frozen–see below).
Key limes vs Persian limes
This recipe was made with key limes (thanks to the lovely bags of key limes from Melissa's), though I just call it Lime Curd because I consider them interchangeable for baking.
Once incorporated into a recipe, the flavor differences between key limes and Persian (regular) limes are pretty insignificant. I once made two "key lime" pies, one with key limes and one with Persian limes and my youngest (aka my "picky" daughter) and I tasted them side by side. Knowing there was a difference, we could definitely recognize the subtle herbal notes from the key limes and the slightly less astringency.
But we also knew that if you served either pie to us, it would taste like "lime" and our only reaction would be, "Great Pie!"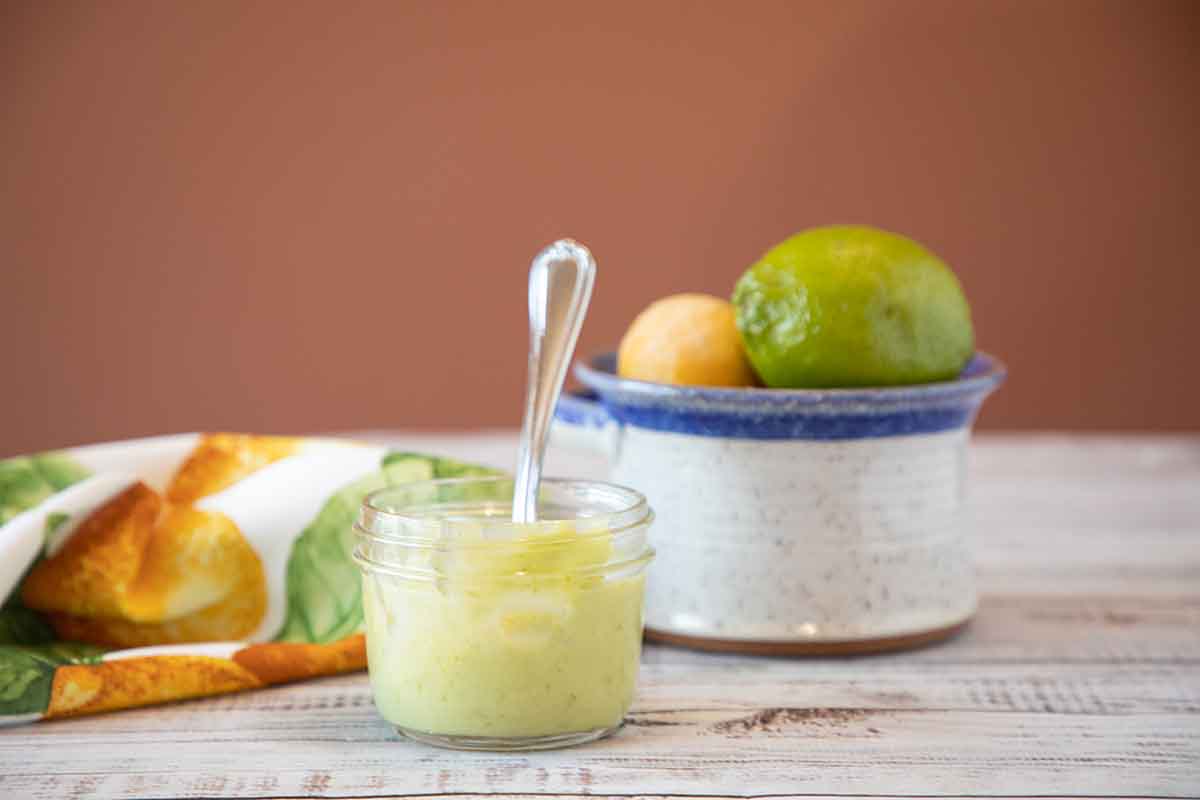 Freezing Limes
I like to freeze limes (and lemons) to make sure I always have them around. I just pop the whole fruit into a plastic bag, then into the freezer. If I need lime zest, I'll even grate the lime while still frozen. To thaw for juice, I usually pop into the microwave for 30-60 seconds.
And as an interesting aside, I once searched out commercially frozen lemon juice thinking it would be tasty and super convenient. When I finally found it, I felt that the flavor was more like bottled, despite the complete absence of additives. Since lemons freeze so well and taste great when thawed, I was (and still am) completely stymied by this.
Now if you agree that lime desserts are some of the best treats out there, then I'm sure you'll want to check out this my Key Lime Meringue Pie Tartlets and No-Bake Key Lime Yogurt Pie as well.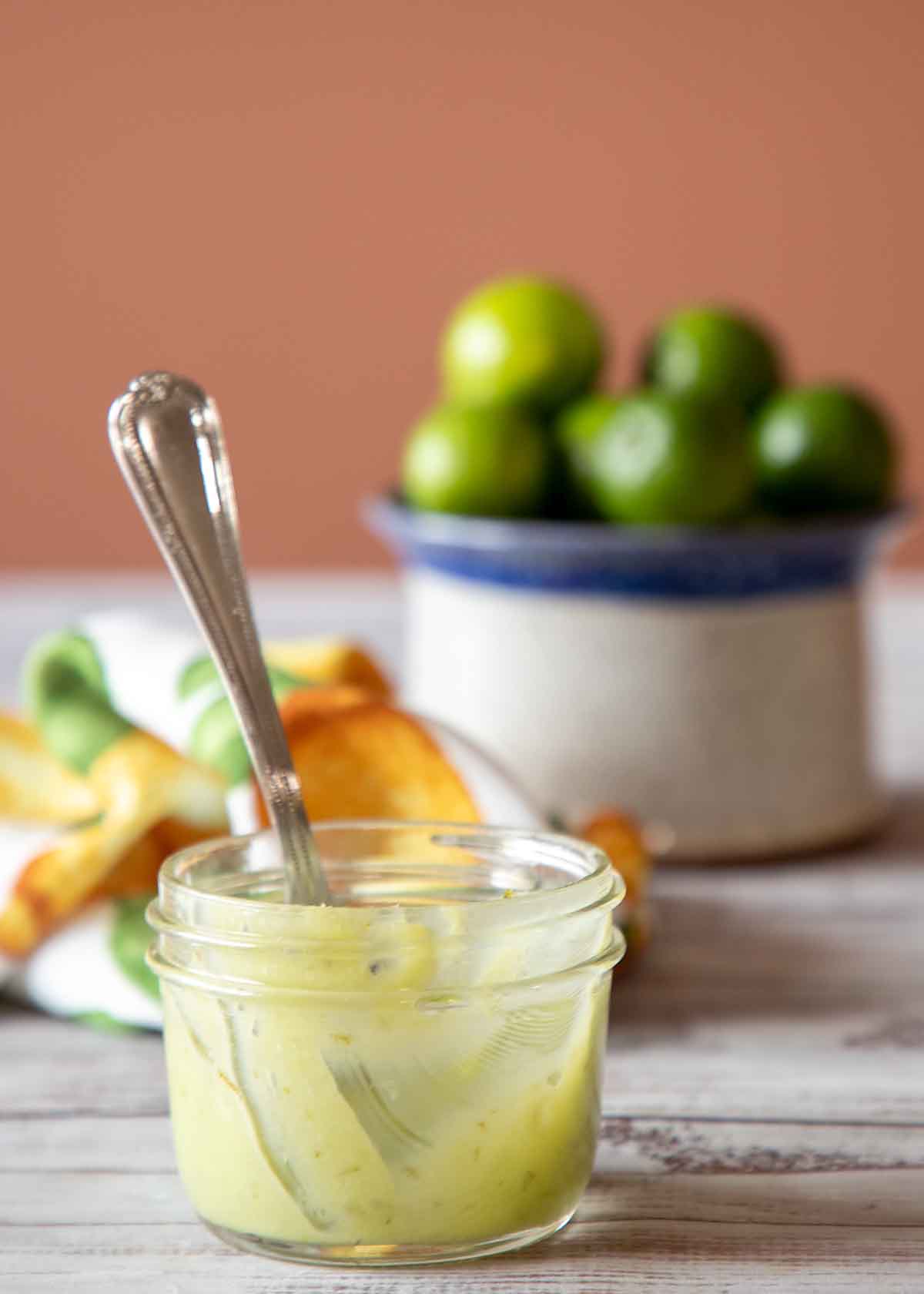 How to Serve
There are so many ways to serve lime curd! If you are wondering how, here are some ideas:
Filling for your cakes, cupcakes, or other pastries
Topping for your pancakes, toast, scones, muffins or crepes like these crepes with lemon curd and mascarpone,
For making lime bars or lime tarts
Stir into yogurt
Layer a parfait
Spread on a graham cracker to make an easy snack special
Yes, you can use a fruit curd pretty much anywhere you'd use jam. Plus a lot more places!
Variations
From a recipe perspective, lime curd is almost identical to the more common lemon curd. In fact, you can turn this recipe into a lemon curd recipe, just by using lemon (juice and zest) instead of lime.
But just about any type of fruit can be made into a curd–though as you change to less similar fruits, the recipe ingredients may vary more. When I made Orange Curd, I decided to add fall spices like cinnamon to give it extra "warmth" for winter. And just in time for spring, here is a delicious Strawberry Curd recipe.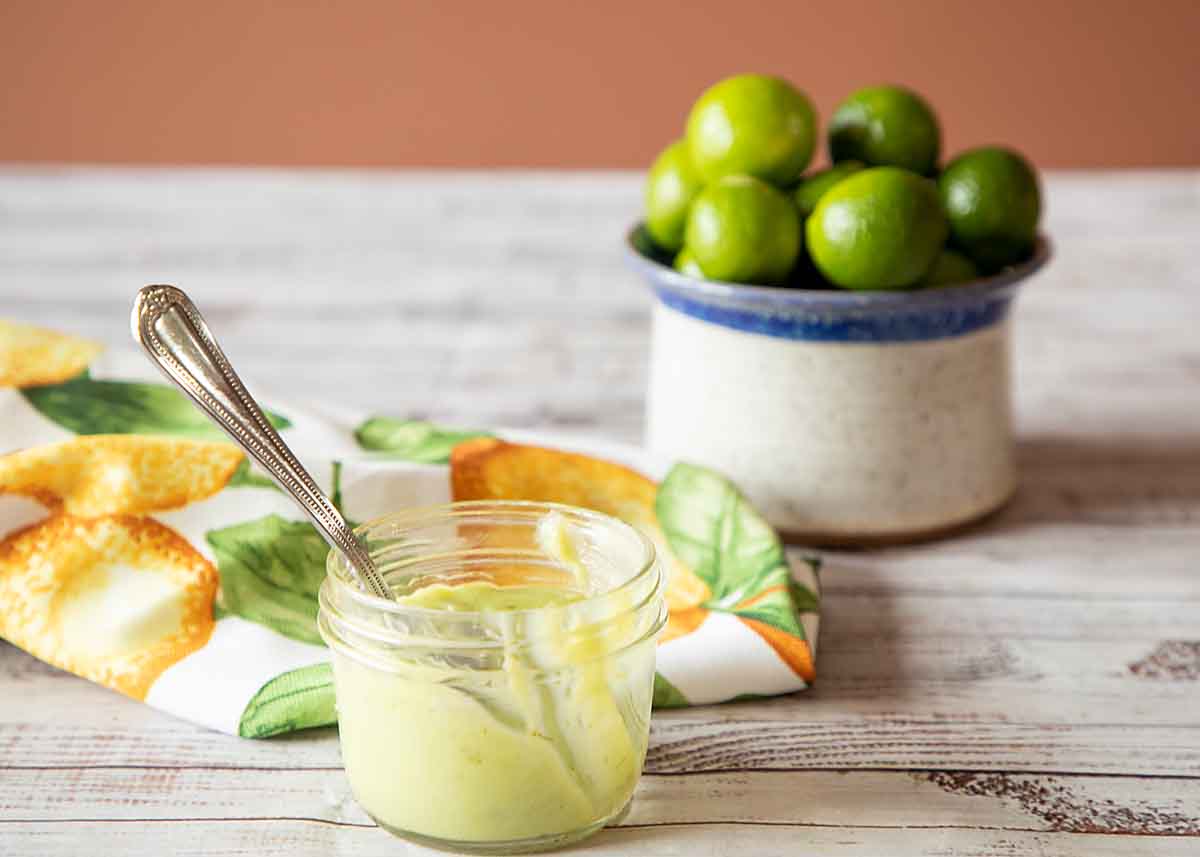 Tips and FAQs
This recipe makes about 8 ounces, which is a fairly small amount, but you'll be surprised how far this stretches in many recipes. I used to use a batch size twice as large until I realized that it's so easy to make, it may not be worth freezing the extras (you would understand if you saw my freezer chaos). But if you are putting it inside a large layer cake, there should be no problem doubling the recipe.
How to Store or Freeze Lime Curd
You can store lime curd in an airtight container in the fridge for up to four weeks. If you want it to last longer, you can freeze it for up to a year. Be sure you have cooled the lime curd first before placing it in the fridge or freezer.
If you go the frozen route, any freezer container should work, but I like to freeze in canning jars since they make nice serving jars after the curd is thawed. Just use the straight-sided jars, since the jars with "shoulders" can break if the contents push against them as they freeze. For more information on freezing in canning jars, take a look at Filmore Container.
To thaw frozen lime curd, simply place it in the refrigerator a day before you intend to use it. Yes, I've frozen a lot of fruit curd, with excellent results.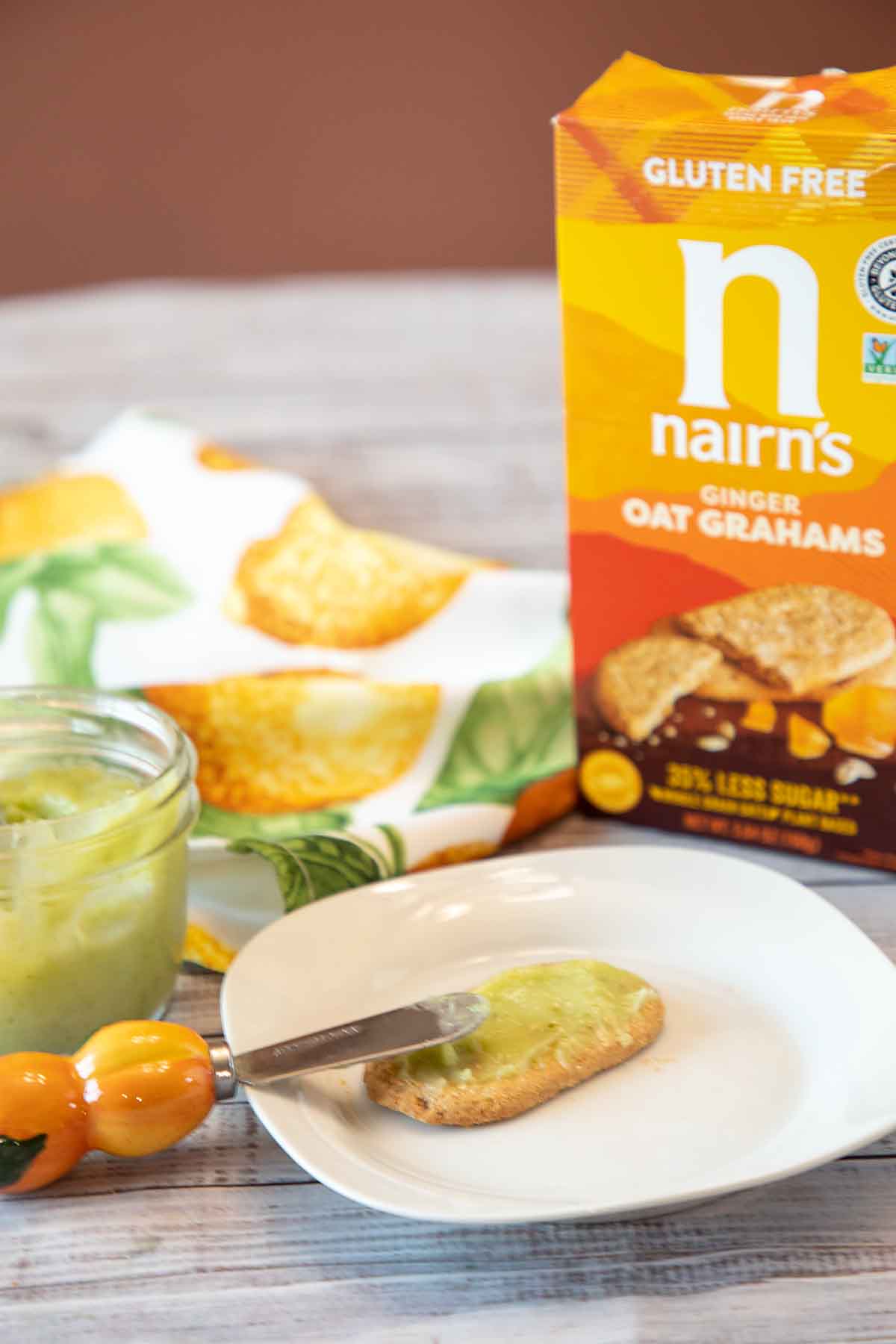 Can I water bath can this lime curd?
This recipe has not been tested for canning and in fact the home canning of citrus curds is somewhat controversial. Canning relies on a high level of acidity, which is challenging to achieve with all the butter and eggs in this. And it usually advises bottled juice which would compromise the flavor. But in the end, it's a nonissue since I hear it freezes better than it cans anyway.
To Strain or Not to Strain
If you want the very smoothest lime curd ever, you should strain it after you whisk in the butter. But I take a few steps that allow me to skip this sometimes messy step. First, I use only egg yolks and second, I remove the chalaza, that white cord-like string attached to the yolk. Finally I use a microplane to zest my limes which means my pieces of zest are very tiny. But ultimately, this is really a matter of preference.
Lime Curd
Total Time:
1 hour
15 minutes
Make your desserts and pastries extra special with this homemade Lime Curd. Sweet and tangy, this lime curd recipe is delicious and easy to make!
Ingredients
3 egg yolks, chalaza (white cord) discarded
1/3 cup sugar
¼ cup lime juice
1 teaspoon fine lime zest
4 T butter (2 ounces)
1 tiny drop blue food coloring, optional, if looking for greener color
Instructions
Thoroughly mix all ingredients except butter in blender or small saucepan. If using blender, pour mix into small saucepan.
Heat on medium whisking until mixture becomes thick, resembling the texture of hollandaise sauce, about 10 minutes.
Remove pan from heat. Cut the butter into 8 pieces, then whisk, a couple at a time, into the curd. If desired, strain curd, then pour into storage container (I use a half pint canning jar) and refrigerate. The curd will continue to thicken as it cools. Cool at least an hour before serving.
Nutrition Information:
Yield:

8
Serving Size:

1
Amount Per Serving:
Calories:

105
Total Fat:

7g
Saturated Fat:

4g
Trans Fat:

0g
Unsaturated Fat:

3g
Cholesterol:

84mg
Sodium:

49mg
Carbohydrates:

9g
Fiber:

0g
Sugar:

8g
Protein:

1g
Nutrition data accuracy may vary with product selection, calculator accuracy, etc. Consult a professional for the best information.
Tuesday #SpringSweetsWeek Recipes
We share recipes from #SpringSweetsWeek on Pinterest! Make sure you follow the board to see all the delicious recipes shared this week.
* * *
Welcome to #SpringSweetsWeek 2022 hosted by Heather from Hezzi-D's Books and Cooks! Flowers are starting to bloom, the weather is getting warmer, and we're celebrating with spring sweets and a fun giveaway! This year 22 food bloggers from around the country are sharing over 75 sweet recipes that are perfect for spring. So say bye bye to the snow and cold weather and get ready to enjoy amazing spring treats like cupcakes, cookies, pies, dessert boards, and even a few beverages! Our #SpringSweetsWeek sponsors are helping us give away some great prizes.
Thank you to Dixie Crystals, Melissa's Produce, Anolon, Sweets & Treats, Taylor and Colledge, and Nairn's for your generosity. We have an incredible giveaway with six amazing prizes and would love if you would take a moment to read about it and the prizes that you can win!
* * *
Prize #1: A $100 gift card to Melissa's Produce and a 3 month produce subscription.
One winner will receive a $100 gift card to buy the freshest produce around! Melissa's has everything from common apples and oranges to exotic passion fruit and rambutans. The winner will also receive a stunning selection of the most delicious produce around once a month for 3 months. At Melissa's Produce, the produce is selected at their peak perfection and packed by hand to ensure a safe arrival. A $224 value.
Prize #2: A candy making kit from Dixie Crystals
Perfect for the candy making novice or even the most advanced candy maker! Dixie Crystals is providing one winner with everything they need to make candy. The winner will receive a waterproof candy thermometer, silicone candy molds, and stainless steel double boiler. A $50 value.
Prize #3: A 5 piece Bakeware set from Anolon
Create dozens of bakeshop treats from gooey bar cookies to peanut butter and chocolate brownies to banana nut bread and more with all of the essentials in an expertly curated nonstick bakeware set. This bakeware is designed to stand up to the rigors of everyday baking with the convenience craved by creative bakers. This 5 piece baking set includes Two 9-Inch Round Cake Pans, a 9-Inch Square Cake Pan, a 14-Inch x 16-Inch Cookie Sheet, and a 11-Inch x 14-Inch Cooling Rack. A $65 value.
Prize #4: An assorted box of baking supplies from Sweets & Treats
Sweets & Treats will provide one winner with an assorted box of baking supplies including liners, sprinkles, toppers, and other fun baking supplies. Sweets & Treats has the best selection of cupcake liners, cupcake topper, paper straws, and molds.
Prize #5: A Selection of three extract pastes from Taylor and Colledge.
One winner will receive a selection of extracts to include almond, lemon, and lavender. In 1897, Taylor & Colledge won its first award for excellence in vanilla. Since then, the Taylor & Colledge commitment for unsurpassed quality has earned its reputation as one of the world's finest producers of vanilla.
Prize #6: A selection of three flavors of Gluten Free Grahams from Nairn's.
One winner will receive a box of each Nairn's Original, Chocolate Chip, Stem Ginger Oat Grahams. Nairn's has been baking oats since 1896. They use simple, natural, and wholesome ingredients in their products.
Thank you #SpringSweetsWeek Sponsors: Dixie Crystals, Anolon, Sweets & Treats, Melissa's Produce, Taylor and Colledge, and Nairn's for providing the prizes free of charge. These companies also provided the bloggers with samples and product to use for #SpringSweetsWeek recipes. All opinions are my own. The #SpringSweetsWeek giveaway is open to residents of the United States who are 18 years of age or older. All entries for the winner will be checked and verified. By entering you give the right to use your name and likeness. The number of entries received determines the odds of winning. Six (6) winners will be selected. The prize packages will be sent directly from the giveaway sponsors. The #SpringSweetsWeek Bloggers are not responsible for the fulfillment or delivery of the prize packages. Bloggers hosting this giveaway and their immediate family members in their household cannot enter or win the giveaway. No purchase necessary. Void where prohibited by law. This promotion is in no way sponsored, endorsed or administered by, or associated with Facebook, Instagram, Pinterest, Twitter or any other social channel mentioned in the #SpringSweetsWeek posts or entry.