Tangy Mango Pineapple Salsa
Sweet and tart with a little kick, Mango Pineapple Salsa is a tasty appetizer or side for meat, fish or poultry.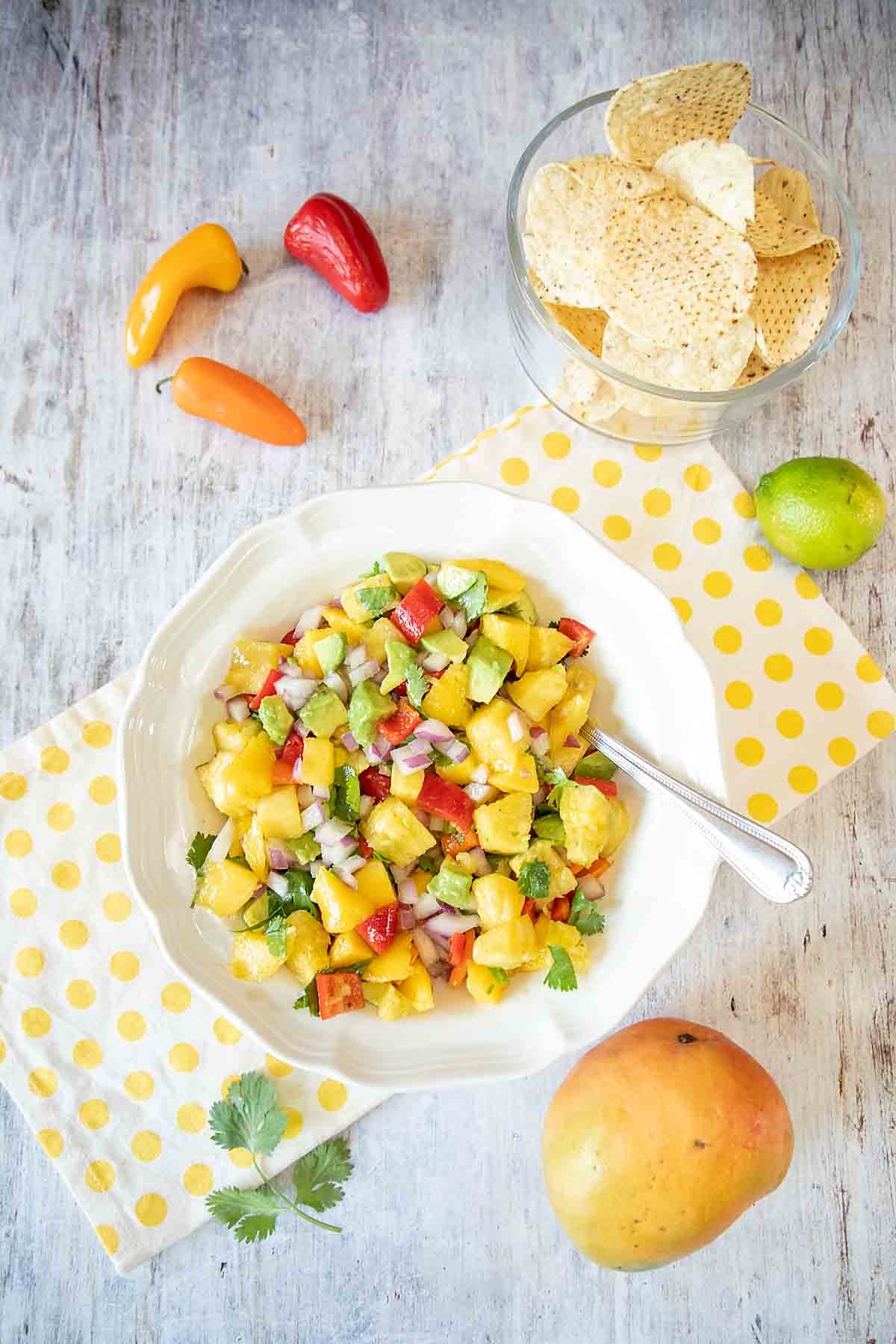 I love any kind of salsa. Well, other than those that are fire hose hot. Yes, how do you not love a dish that embodies the fun and the bounty of summer!
And the end of summer is indeed a beautiful time. Harvest great food, then enjoy snacks on the deck!
But while I've rarely met a salsa I didn't love, fruit salsa holds a special place in my heart.
The way I see it, tomato salsa is a tasty but a somewhat utilitarian food. "Give them some chips and salsa while I get dinner finished." Or "That's a little bland, add some salsa."
But fruit salsa is gloriously indulgent. A little sweet, some spice, a little creamy, some crunch… Yes, this has it all!
What is Salsa?
Per Wikipedia "Salsa encompasses a variety of sauces used as condiments for tacos and other Mexican and Mexican-American foods, and as dips for tortilla chips."
And when you have a dish that seems to be so tasty and useful, why stop at one variety? So in a nod to this ingenuity, they go on to mention that "tomato-based salsas later found competition from salsas made with fruit, corn, or black beans." All good!
Yes, so many salsas, so little time!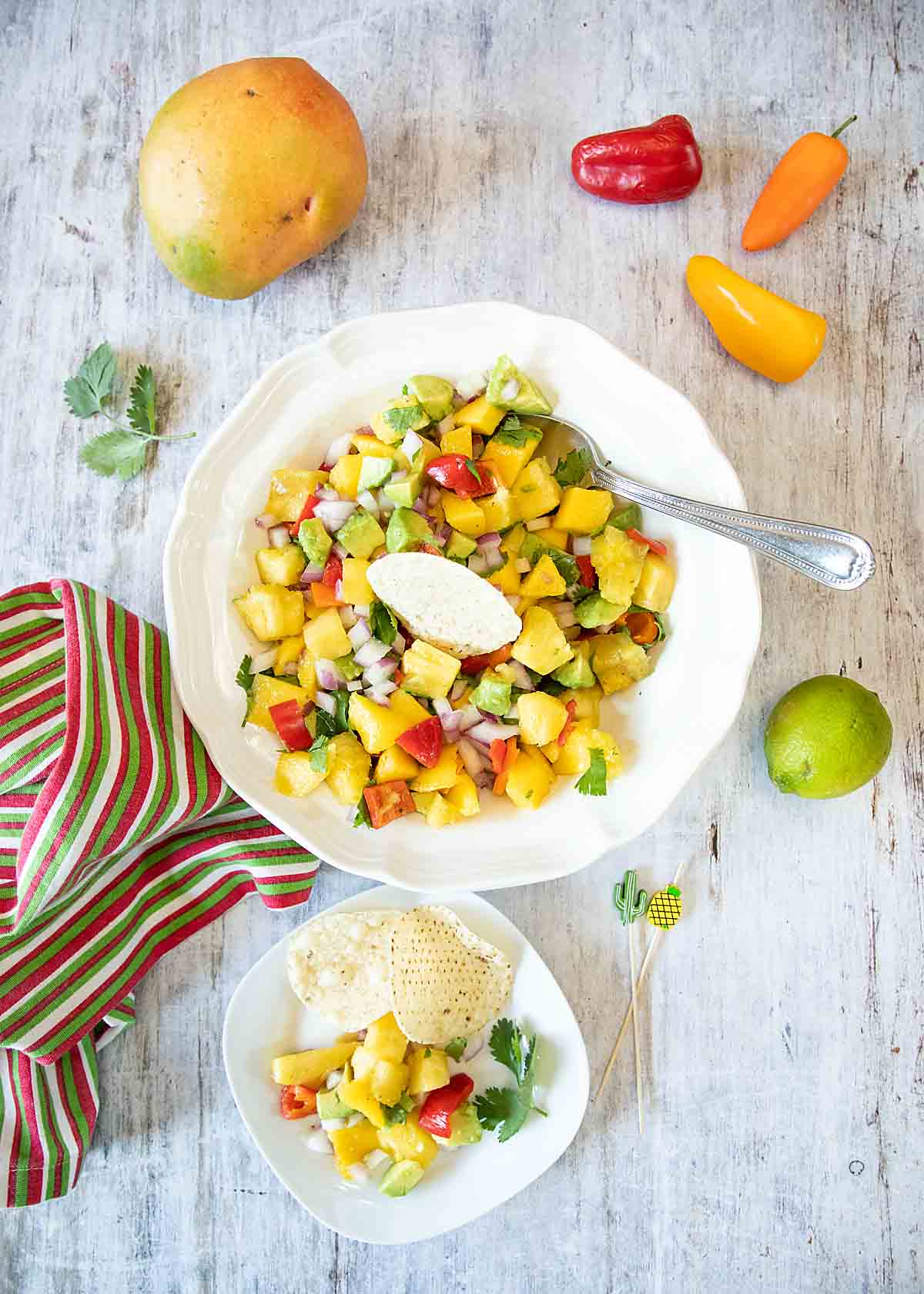 Why You'll Love This!
Flavorful. A little familiar, a little surprising, this creamy, fruity salsa is refreshing and tasty. And did I mention it was the hit of our last book club meeting?
Healthy. With so much fruity goodness and even the creaminess coming from a healthier fat (avocado), you can have your fun and not feel guilty.
Easy. Just missing out on the 5-ingredient trend, this requires only some quick chopping and a little mixing.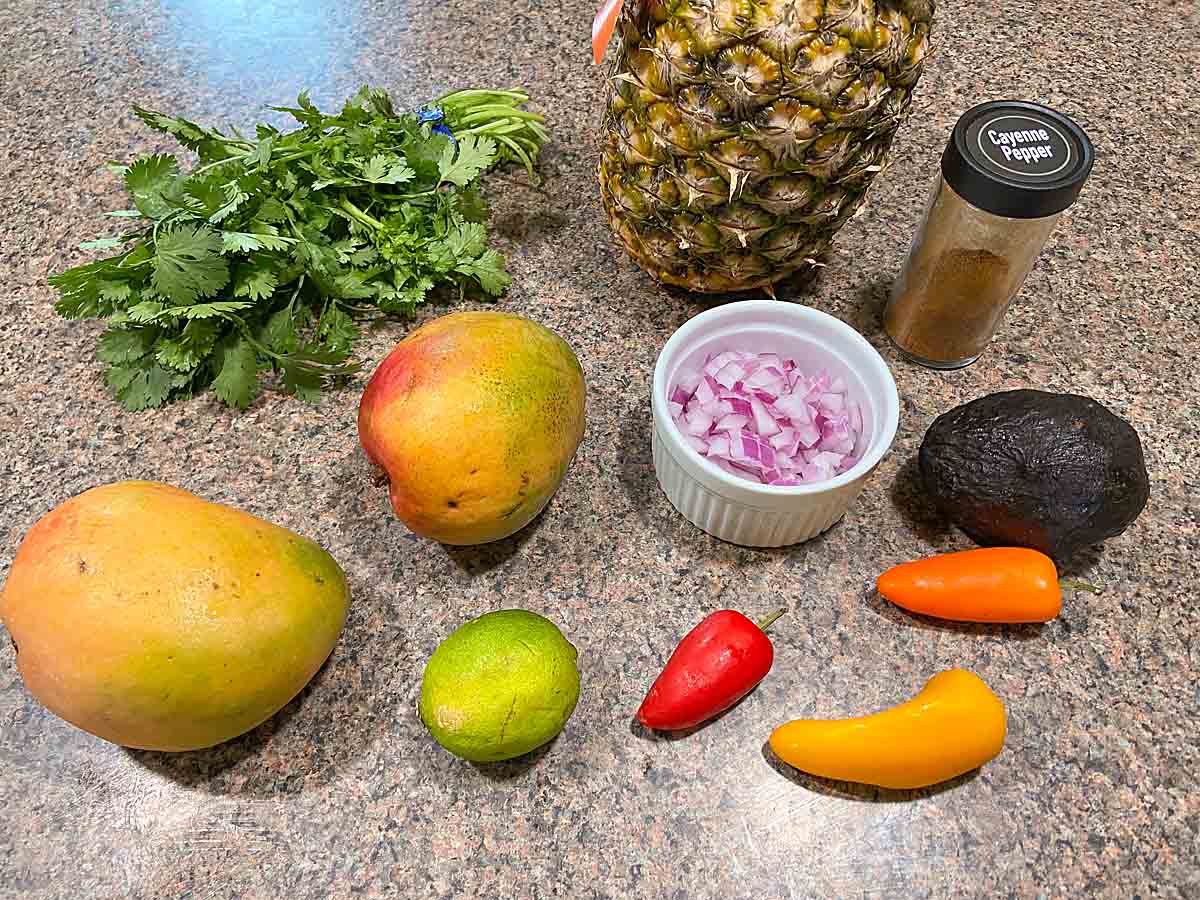 What You'll Need
Ingredient Notes
Mango. Provides a tropical fruity goodness.
Pineapple. Adds more tropical fruity goodness, but with a little tartness.
Red onion. This adds a savory note that balances the sweet.
Mild colored pepper. Adds another savory note. I have used bell pepper, mini peppers and banana peppers. Red is the prettiest.
Avocado. This adds flavor and creaminess.
Cilantro. This adds some characteristic salsa flavor.
Lime. This adds more characteristic salsa flavor and helps blend the different salsa flavors.
Dried Cayenne Powder. This adds heat. Using cayenne makes it very easy to vary the intensity. You can use a finely minced jalapeno if you prefer.
Salt. Enhances flavor.
Special Tools
No special tools required!
Step by Step Directions
Chop salsa ingredients as needed.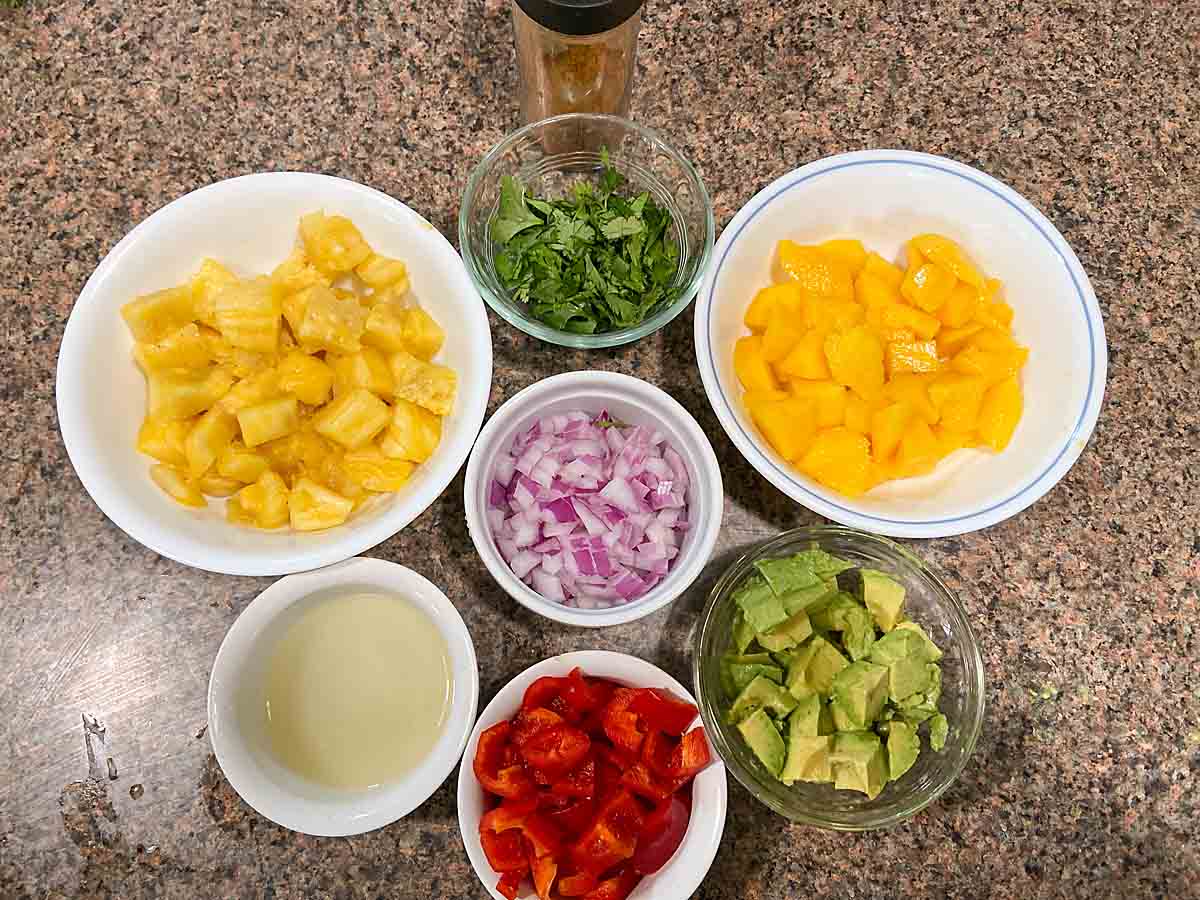 Combine in a medium bowl.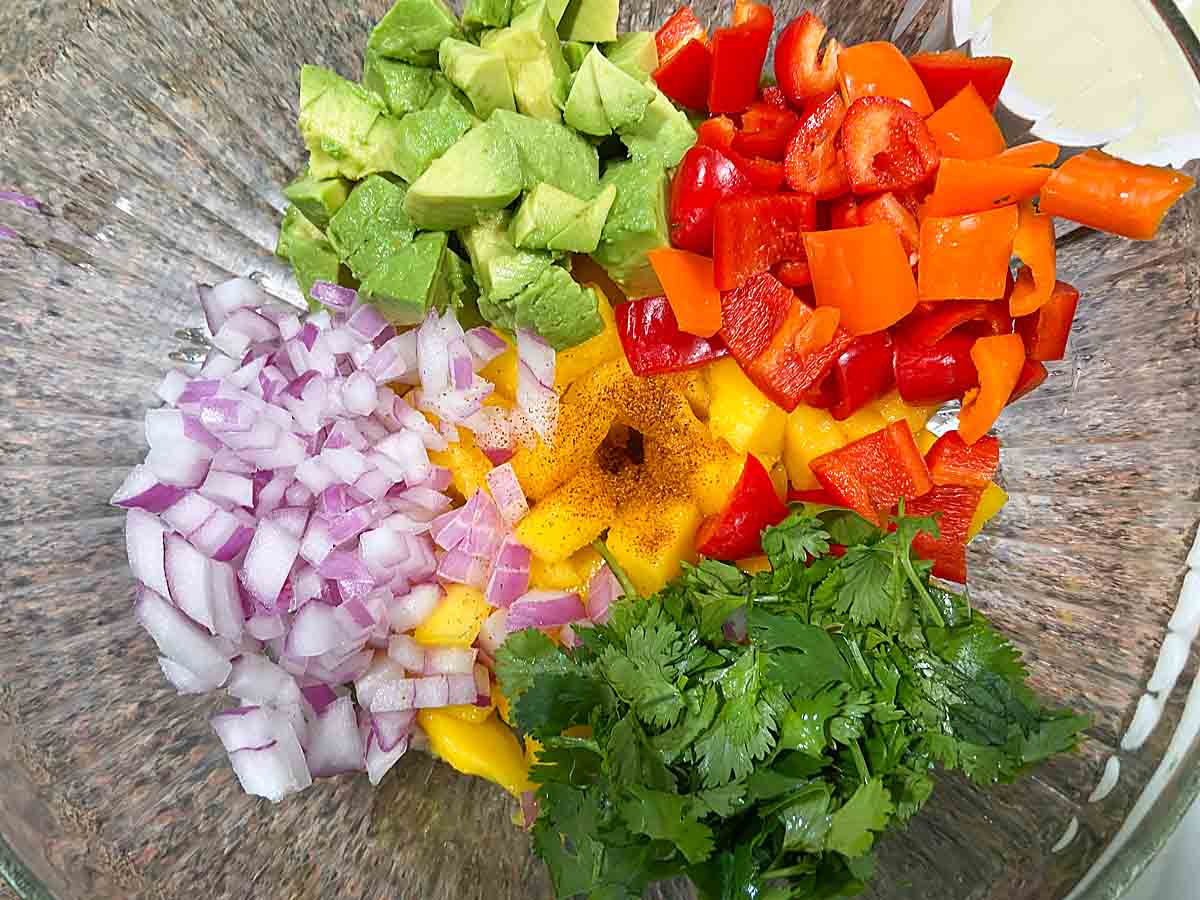 Juice lime. Toss the lime and cayenne powder with the salsa ingredients.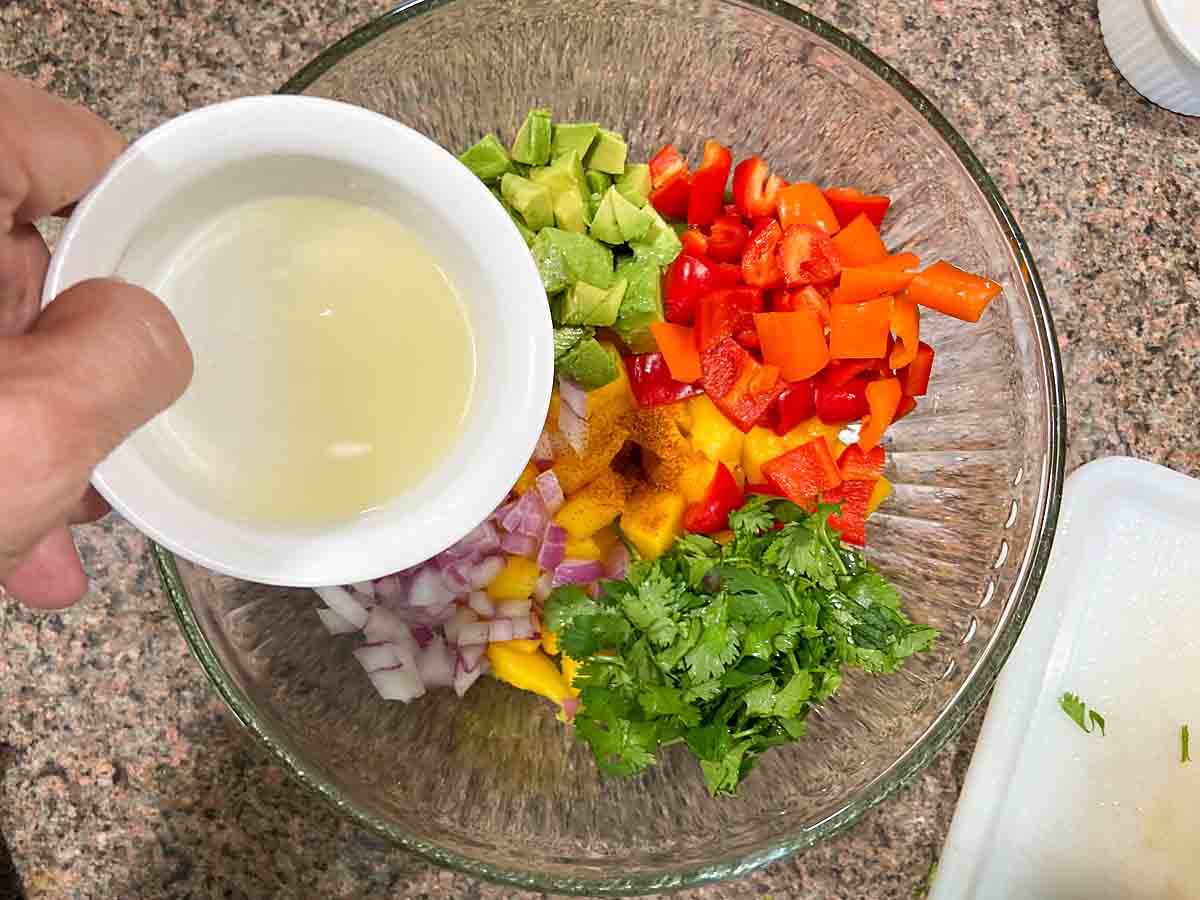 Taste and adjust cayenne and salt if needed. Enjoy.
How to Serve
Like it's vegetable counterparts, this Mango Pineapple Salsa can be used in many different ways.
Take it savory and serve alongside meat, poultry, or fish. The sweet tartness and light spice are an especially good counterpart to rich foods like juicy pork chops and I love a mango pineapple salsa for fish like broiled salmon. Or add it to a fish taco–or any taco–to give a fruity flavor punch.
I've even served a strawberry salsa with hot gilled bread cheese for a fun and tasty appetizer.
And don't forget the chips—tortilla chips for simplicity or cinnamon pita chips, just for fun!
Of course, adding a Margarita doesn't hurt either. Frozen strawberry or Peach Margarita anyone?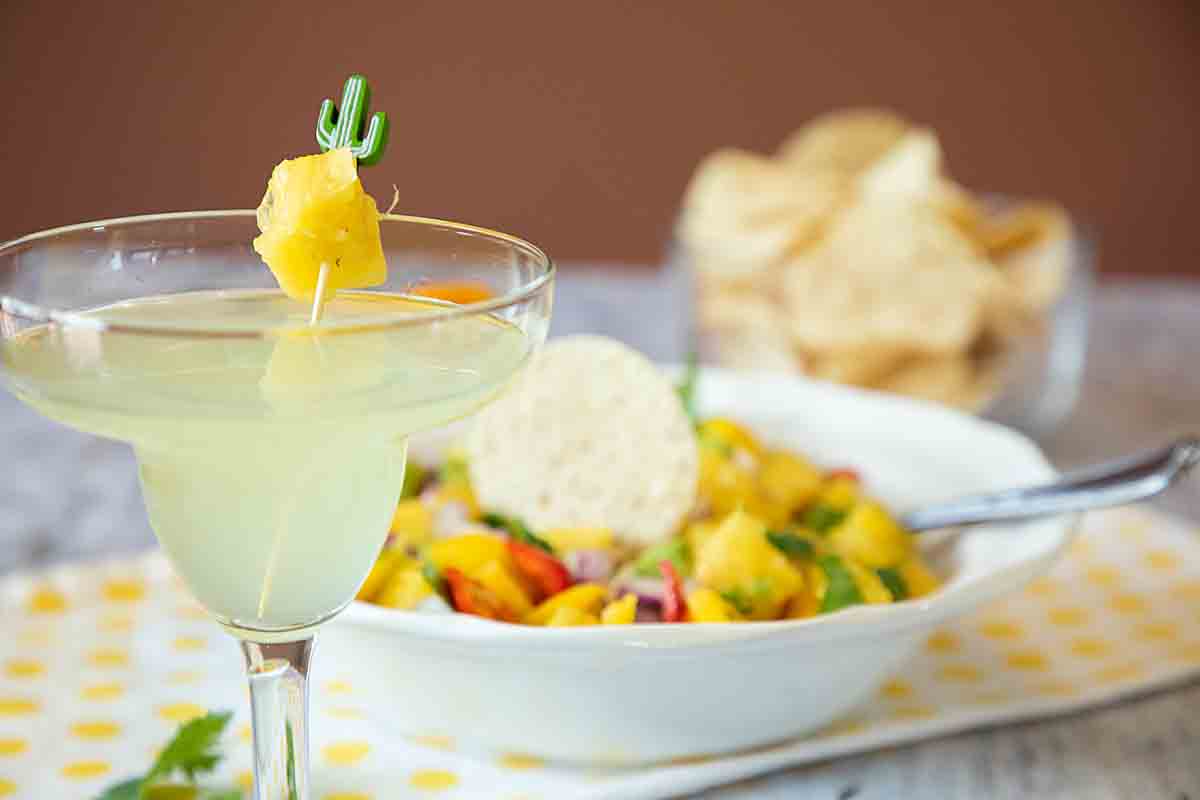 Variations
You can use almost any fruit in a fruit salsa. Raspberries might be an exception since they'd tend to get smashed. But I've even done Pomegranate Salsa–so pretty for the holidays! So have fun!
And don't forget bean salsas like this Black Bean and Corn Salsa.
Leftovers
I recently made Mango Pineapple Salsa when I was home alone and can happily report it was still good 2-3 days later. That's when I polished it off for breakfast. With chips. Hey, no judgment.
And even the avocado didn't brown—probably due to the generous amount of lime juice.
Like other fresh fruit and vegetable recipes, this cannot be frozen.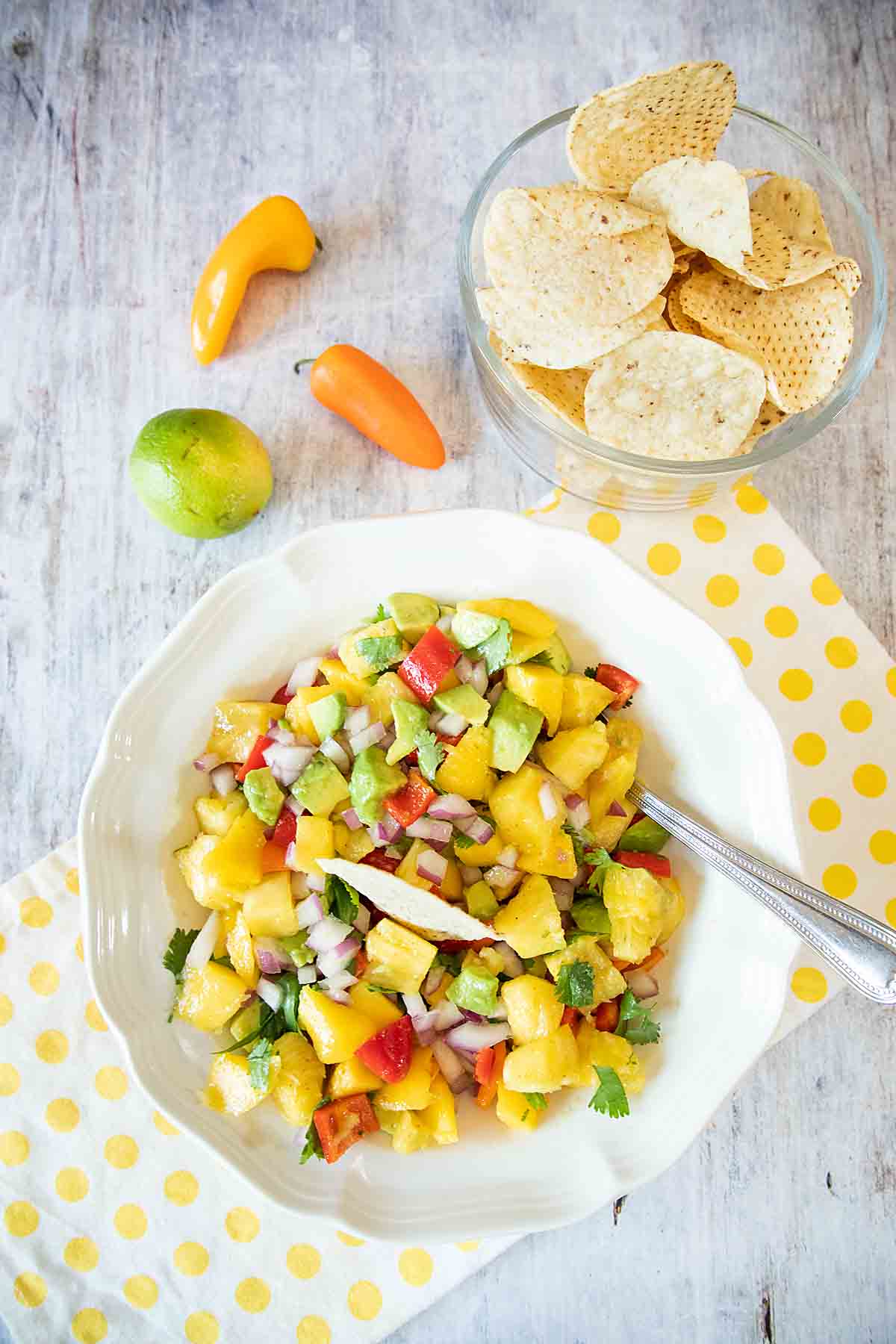 Tips & FAQs
I like to use red peppers in this recipe because the color contrast is so pretty. I've used ripe bell peppers, banana peppers and leftover mini peppers. They all work great.
And while, almost without exception, you can't use a frozen fruit or vegetable in recipes that call for fresh, peppers are the exception. While fresh is my preference, I've gone with frozen in a pinch. I freeze them every fall, raw and unblanched, with skin on, and no one will notice when they're chopped for a fresh dish like this.
If your family is a little heat-averse regarding hot peppers, using a pinch of cayenne is a wonder. You get a touch of heat but it's more diffused, easier to scale, and less intimidating. And you won't have to watch your youngest sifting through their salsa to pull out any minced jalapeno bits. But feel free to mince a jalapeno pepper if you prefer.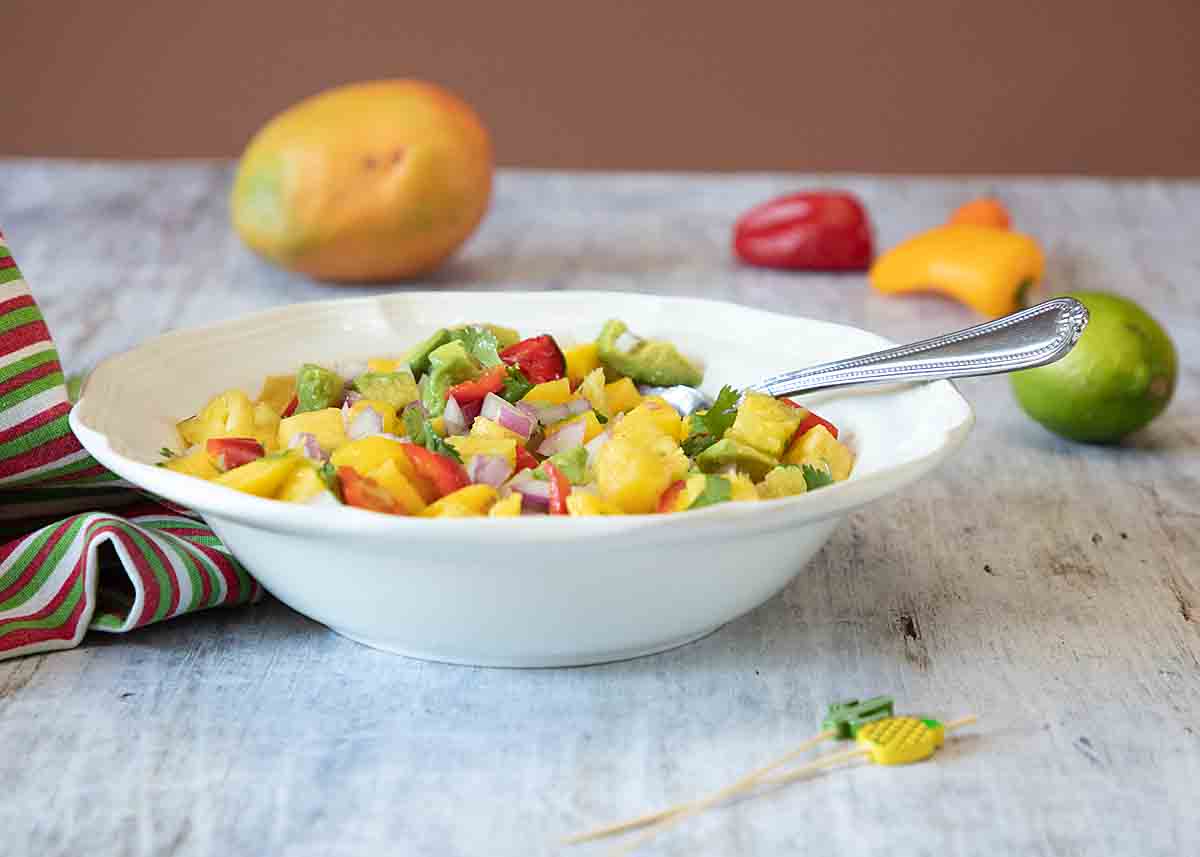 Mango PIneapple Salsa
Sweet and tart with a little kick, Mango Pineapple Salsa is a tasty appetizer or side for meat, fish or poultry.
Ingredients
Salsa
1

large mango

peeled, seeded and chopped

½

pineapple

chopped

1/4

cup

chopped red onion

about 1 small red onion

½

cup

chopped red bell pepper

or banana peppers or mini peppers

1

avocado

skin and pit removed, chopped

1/4

cup

chopped cilantro

about 1/2 a bunch

1

jalapeno pepper

optional (the cayenne adds plenty of heat), minced, seeds removed

Salt to taste

optional
Dressing
1

lime

juice only

¼ - ½

teaspoon

cayenne

or 1 finely mined jalepano (with seeds and ribs removed) to taste
Instructions
Chop salsa ingredients as needed.

Combine in a medium bowl.

Juice lime. Toss the lime and cayenne with the salsa ingredients.

Taste and adjust cayenne and salt if needed.
Nutrition
Calories:
122
kcal
Carbohydrates:
21
g
Protein:
2
g
Fat:
5
g
Saturated Fat:
1
g
Polyunsaturated Fat:
1
g
Monounsaturated Fat:
3
g
Sodium:
5
mg
Potassium:
361
mg
Fiber:
5
g
Sugar:
13
g
Vitamin A:
965
IU
Vitamin C:
75
mg
Calcium:
25
mg
Iron:
1
mg
I am not a health professional and nutrition data is calculated programatically. Accuracy may vary with product selection, calculator accuracy, etc. Consult a professional for the best information.